Kerryann started drag racing in 1999 and participated in autocross as a hobby with her street cars. After acquiring a sportbike in 2005, she quickly acquired an interest in road racing. In 2006, she began competing locally in her daily driver, a Mitsubishi Evo IX. This quickly turned into competing on a higher level. For the last few years, she's been building a Nissan Skyline BNR32 GT-R and is currently campaigning in west coast road racing and time attack events. At present, she's sponsored by Fontana Nissan / Nissan Race Shop, Cobb Tuning SoCal, and Garrett Turbochargers.
I sat down with Kerryann (and you didn't, haha!) and asked her to tell us all about her racing history, her current car, and her plans for the future. Let's see what she's been up to!
Hello, my name is Kerryann. This is my Nissan Skyline R32 GT-R. This is one of my actual dream cars, and to say I own one of my dream cars is actually not quite good enough, my desire is to build this tank to compete against her current rivals and technologically advanced predecessors. It may take some time for her to be at that level with my budget, but I'm patient, and this was never really meant to be a short term project or even something I planned on temporarily working on between other projects….this is my "baby", I'm in this for the long haul.
When I acquired the car it was already gutted and caged. Problem was the previous owner had not done a very good job in doing so. I still had my work cut out for me before I could even start, if that makes any sense, then again if it had full interior I would have my work cut out for me anyway. The very first thing I did was take the car to Robert Fuller (aka Robispec). Robert is most well known for his ability to fine-tune suspensions, but has many other talents including fabrication. Robert evaluated the cage and found areas that were not properly welded and would have not increased rigidity in the chassis – but more importantly, it would have been more harm than help in the case of a roll over. He addressed these to make sure the car is stiff, straight, and safe.
After Robert's work it was time for paint. I met Kenny from K&W Autobody (now Diamond Hills) in Diamond Bar, CA at Willow Springs at Redline Time Attack, and talked to him about painting the GT-R. After talking to a lot of people I knew in the industry I decided to seal the deal. I am so happy I decided to go with a high quality paint job versus the "cheap do the prep yourself one day paint job" – The car must look good for many reasons…But from the beginning I told myself, only the best for Godzilla. So, off we went, straight to Kenny and Asura at K&W for some aesthetic work. The car had a white, green and black paint scheme that was absolutely hideous and the body panels also had just a few minor dings that needed to be smoothed out. Initially I wanted to have the car painted a clean, under-the-radar color because that had always been my style with cars. I prefer a very clean and close to stock look, with no body kits, vinyl graphics or bright colored paint jobs. My first choice was a Porsche color: Meteor Grey Metallic and after really thinking about my goals for the car in terms of competing and marketability I decided to choose a color that would be a bit more attention-getting but not ridiculous. I decided to go back to her roots with a vibrant, rich shade of red.
K&W sent me home with a swatch of colors and I narrowed it down to 3 shades – after much thought and even sitting out in the sun on a late morning per their instructions, I decided to go with Calypso Red normally found on a Lotus. It was vibrant and powerful but not too orange, with no pearl or metallic. Simple, beautiful and eye catching. Done deal – but I had no idea how this was going to look! I never rendered it up in Photoshop or anything, I just hoped it would look as good as I thought it could. All I knew was this was the best choice for me as opposed to the 2 Ferrari reds – one that was more orange and the other too blue. The interior was already painted white but needed to be refreshed, especially with the recent welding on the cage.
After dropping off the swatches and letting them know of my decision for the choice of color, I saw they wasted no time with prep – a lot of the panels were already removed! They had begun the process of reinforcing the underside of the trunklid with carbon fiber, so that it could support and evenly distribute the down force created by an APR GTC-300 wing. They sent me photos with updates on the prep work and the beginning of the process of spraying the car. When the car was completed I did not get to see it as it had to be delivered the very next day to Fontana Nissan for their 2nd annual big meet.
Prior to my arrival, Emergency Hookers towed Godzilla to the dealership. When I arrived, I said my hellos to all the staff and vendors setting up and went straight to my car. I literally stopped in my tracks and was taken aback by the sheer beauty – it was a whole new car. During her stay at K&W, Seibon had asked to be a part of the build, and installed a TB Style Carbon Fiber hood. The vents offered an escape for hot air to help keep temps down, and it also weighed significantly less than the stock hood. The hood vents could've posed a challenge for design so I told K&W to use their creativity and design a scheme for the paint. I was pleasantly surprised with the finished product of perfectly placed exposed areas of carbon fiber at the exit points of the vents, which they faded into the Calypso Red. They repainted the interior white, and also had some venting on the front bumper painted matte black as well as the lip to create a dramatic but organic effect. It was perfect and I could not have imagined it any better. Overall it was second to none, a hands-down absolutely perfect quality paint job with tasteful design. There were no flaws in the paint and the clear coat treatment offered a pristine mirrored finish. I was floored, in fact at first glance I literally had to fight back the tears because I was so surprised at how well it came out.
That day the car was consistently flocked with admiring staff and attendees. I got a lot of praise for my choice in color and for choosing K&W to take care of it for me. So far the car was a hit with the crowd, and I hadn't even gotten started!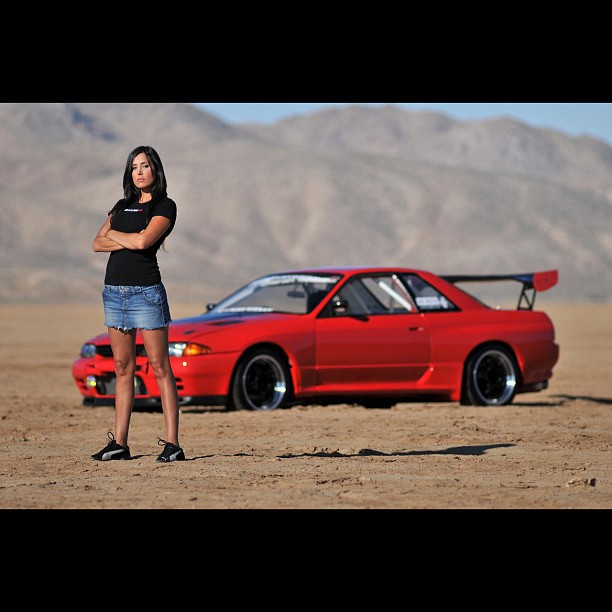 Ready to see what's next? We are too!
Click here to read Part II and see what Kerryann & Co. did to the GT-R next!