OnlineTires and GLS teamed up this month to see who could outdo each other in a race to the absolute bottom of customer service and ineptitude. I'm not sure who's in the lead, but here's why you should avoid both at all costs. Most of the time, our reviews are pretty positive, and sometimes even glowing. This one isn't. Buckle up.
In early December (12/3), I placed an order for a set of tires. As many of you know, 'New Tire Day' is a big deal here. We own 16 cars, and any time one of them gets a fresh set of rubber, it's a joyous occasion. Not to be the case in 2020!
Typically, I'll shop with TireRack, or buy locally from Discount Tire. Neither had the tires I wanted, so I decided to give OnlineTires a try. Placed my order and got a confirmation from OnlineTires, which states very clearly they'd be shipping via FedEx, but the tracking link didn't work.

Hmmm. No worries, maybe there's a delay in the system. Later in the day, I got an email from GLS stating I have a couple packages on the way, with a scheduled delivery date for the following day. OK, FedEx is probably outsourcing some of their deliveries to another vendor. Considering they're coming from Southern California, that makes sense. (
Suggestion to OnlineTires: Put the correct information in your confirmation emails – it's the professional thing to do.
)
No delivery the next day, and a check of the tracking info shows it's been bumped to the following Monday. No big deal – it's the holiday season and deliveries are understandably delayed. Monday comes and goes with no delivery, but the tracking info says it's been delayed again. The next day, I see a notice that a delivery was attempted, but there's some nonsense about a security gate preventing delivery… except we don't have one. Now it's time for a phone call.
After 18 minutes on hold I reach someone at GLS. "We're busy, it's the holidays, it's on its way, blah blah blah." OK. Then I see a notice on the tracking that says "We attempted delivery to the address below, but the shipment was not delivered because we were unable to obtain the required signature." Now, that's gone from inaccurate to blatantly dishonest. We live in a fairly remote part of the greater Phoenix area, and I know the UPS, FedEx, USPS, OnTrack and GLS drivers by sight. In fact, the GLS driver had just rolled by. I call back, only to get disconnected as soon as I get an agent. Ugh, we'll try tomorrow.

Here's their tracking jibberish. Maybe you can make sense of it, I sure can't.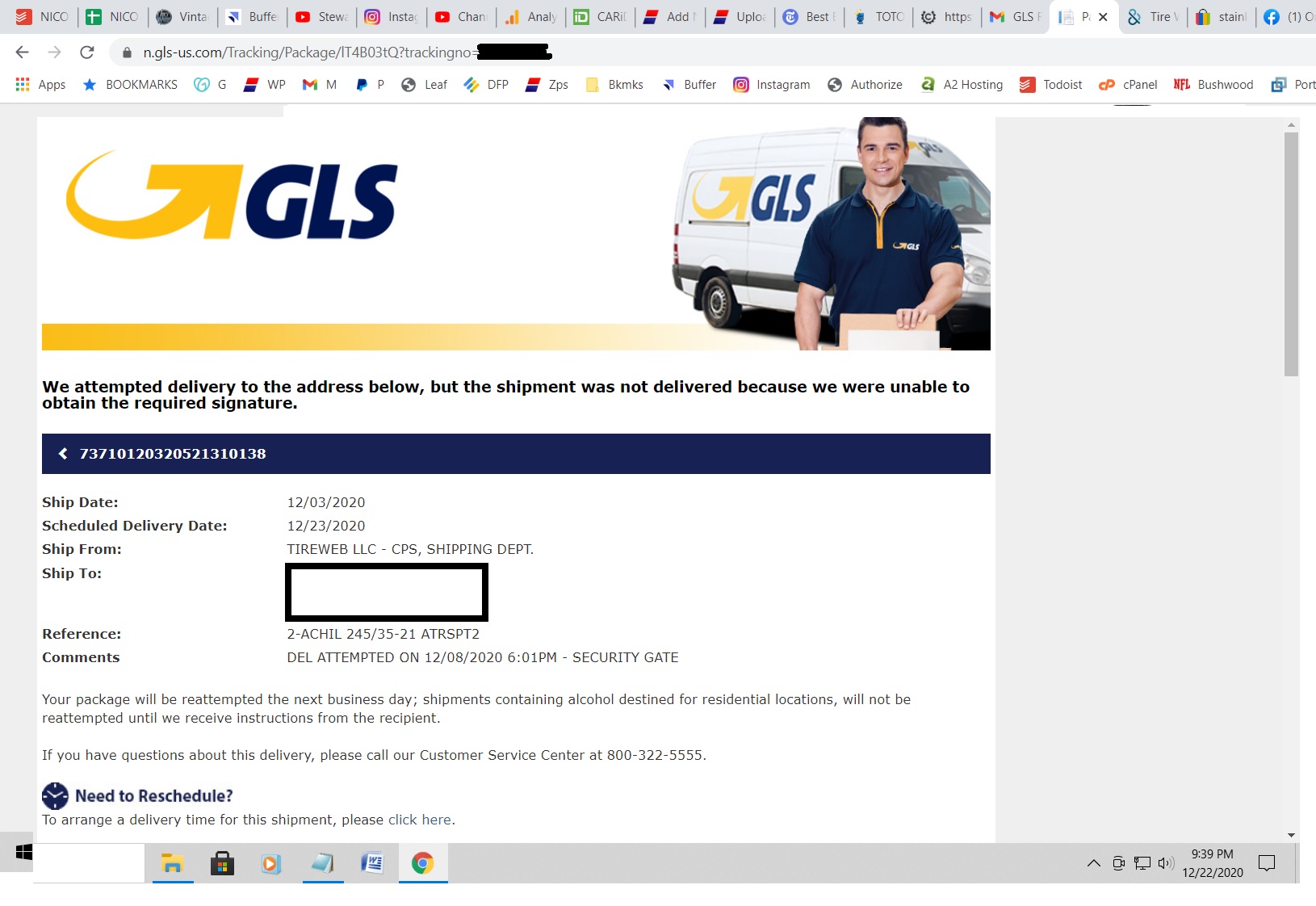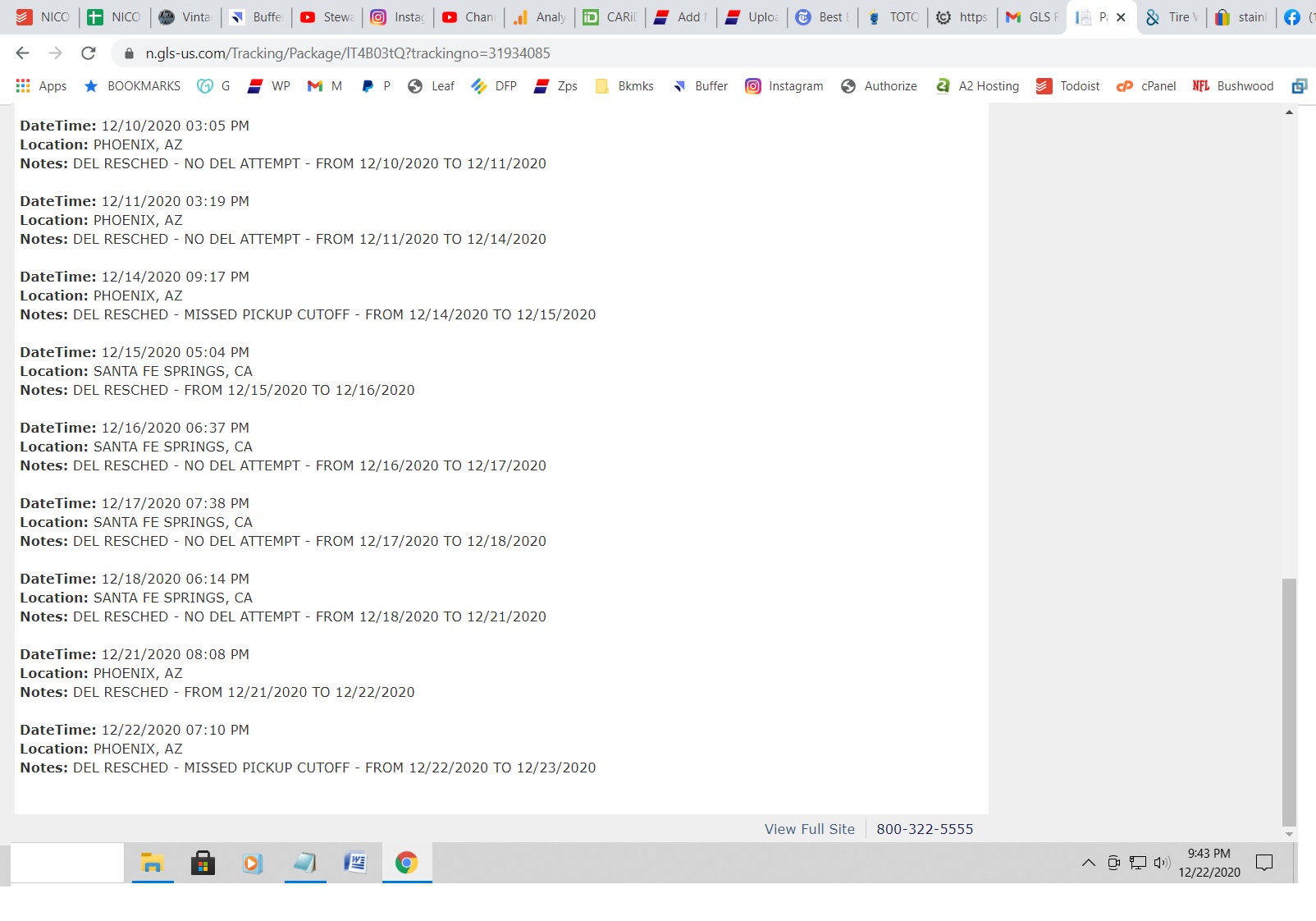 The next day, tracking says it's on route for delivery. Late in the day, no delivery. A couple more phone calls, lengthy hold times, and I give up. This goes on, as you can see, for the next several days. On the few occasions I reached someone, they'd tell me, "We'll investigate this and contact you back." Mind you, not once have I received a call from GLS, but here's a log of my calls to them – Seems a little one-sided, doesn't it?

So, I decide to try email. The first response goes as follows: "I do apologize for the delayed reply I have escalated this up to management to assist with the matter. If you have any questions don't hesitate to contact us directly." I get a similar response from a "Tier 3 Service Representative" the next day: "I am contacting you in regards to a packages addressed to [you]. We have confirmed the package is currently missing, and we have reached out to the shipper to initiate a trace investigation. Please accept my apology for the inconvenience this has caused you. If you have any questions regarding this information or need additional assistance please contact our Customer Service Department at (800) 322-5555 or [email protected]"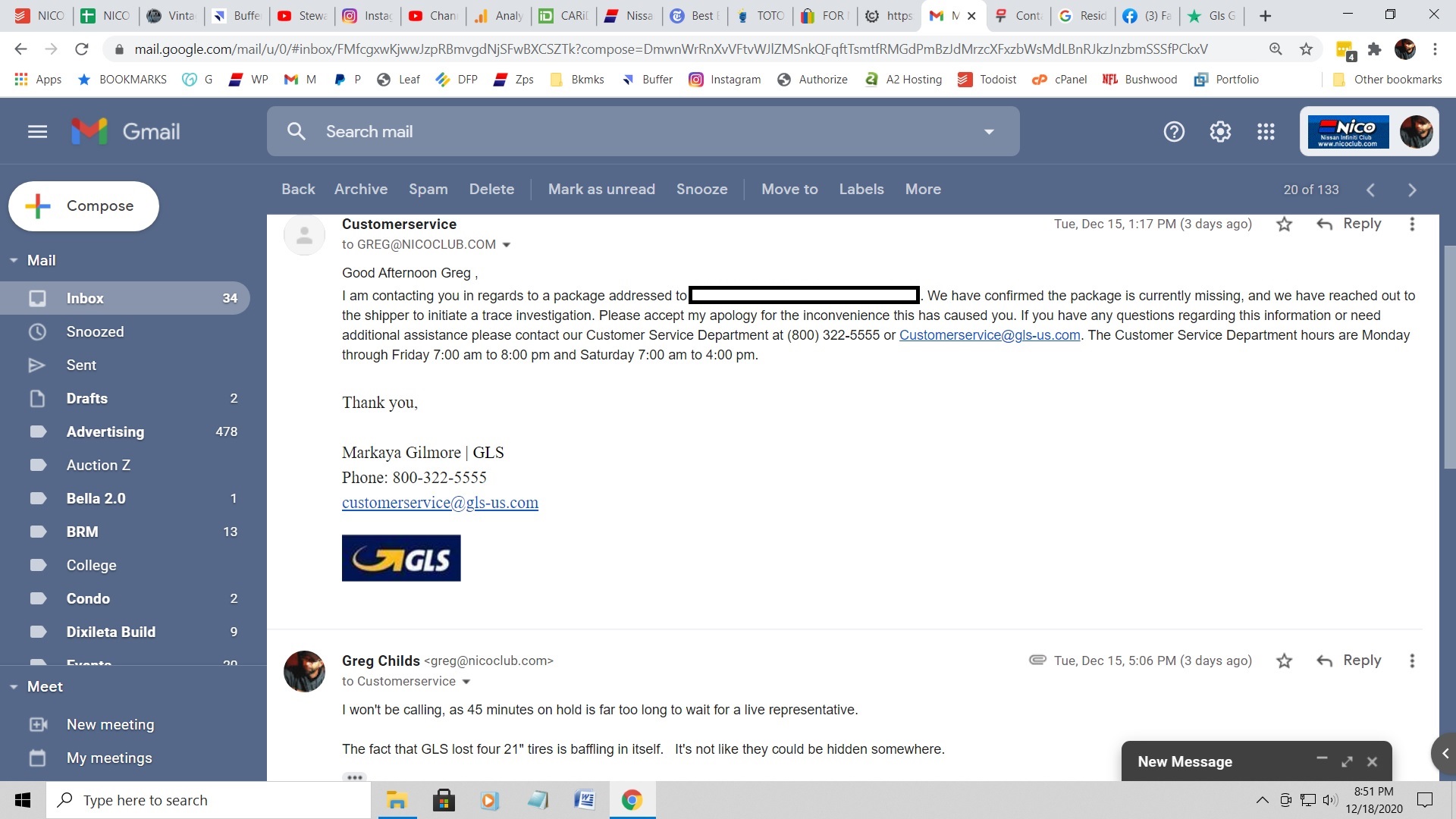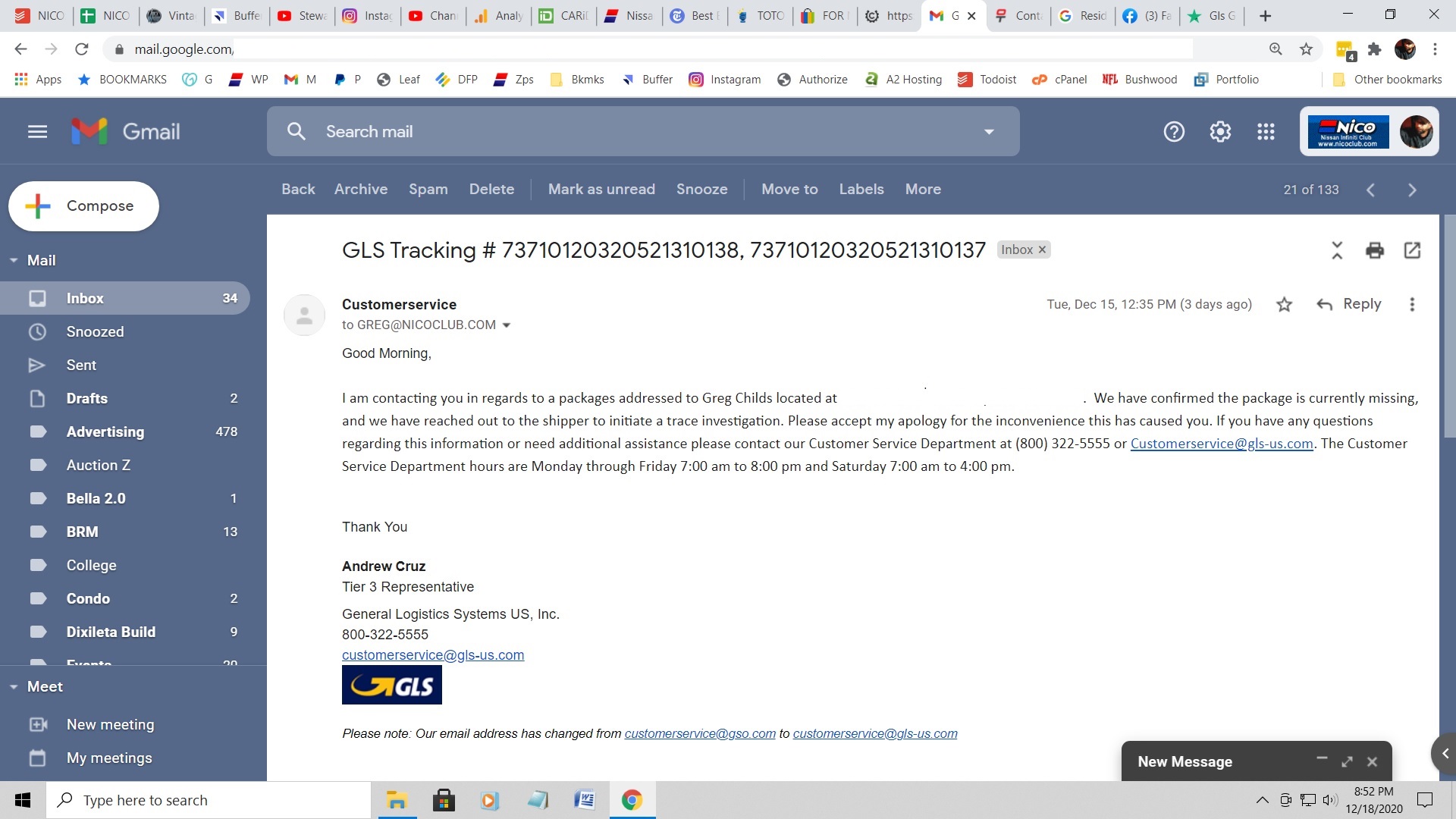 These employees actually think their phone number gets answered? Do they honestly believe someone will endure hold times longer than most peoples' lunch break trying to reach someone? No thanks. I responded to both emails, copying the address provided. No reply. Ever.
By the way, GLS has a neat online feature where you can chat with an agent. What's neat about it that is almost always says, "Agent Offline," even during business hours. The two times I actually got in the queue to speak with someone, it disconnected (after 15 minutes of waiting) and then immediately said, "Agent Offline." That might pass for customer service in the UK, but in the US, it's crap.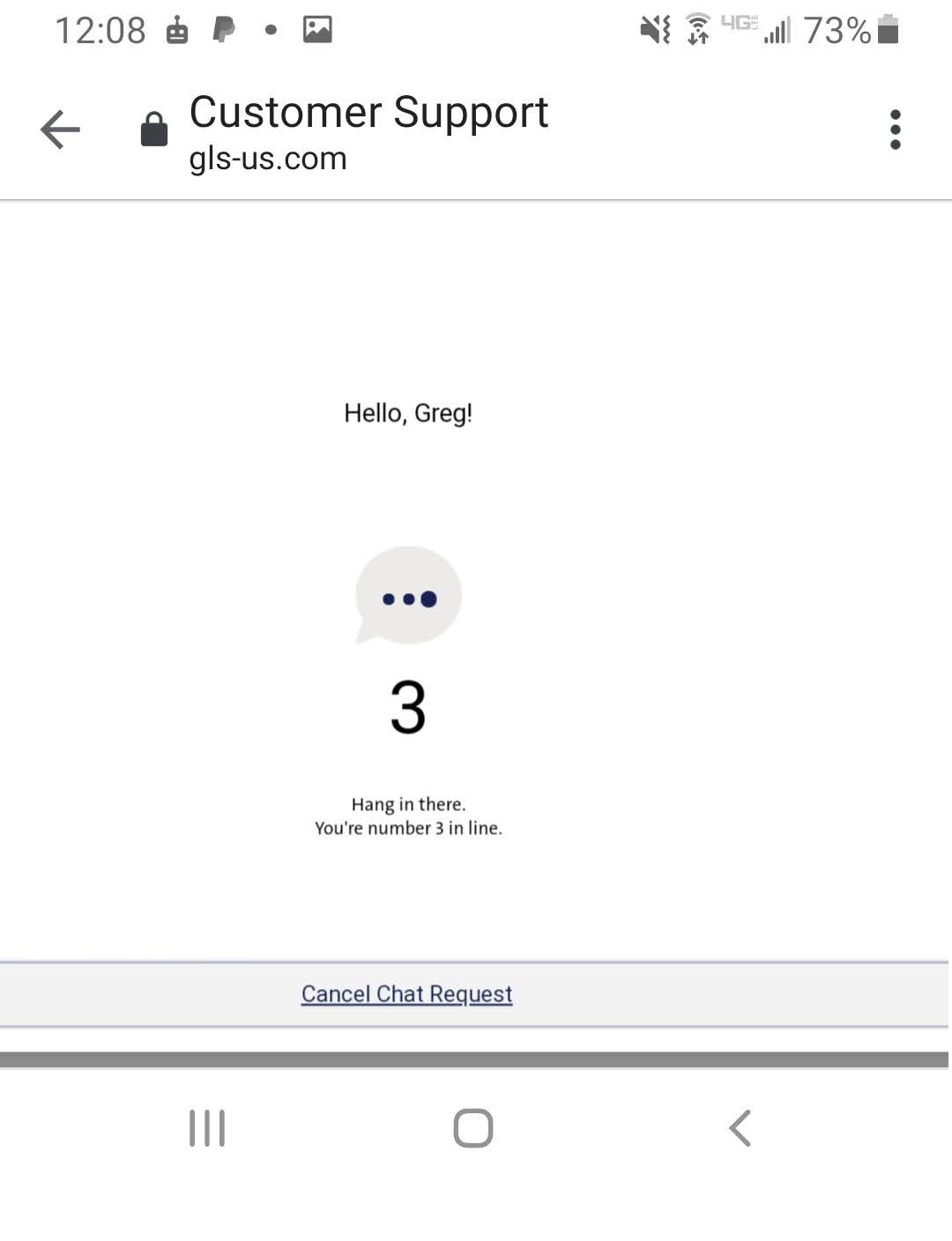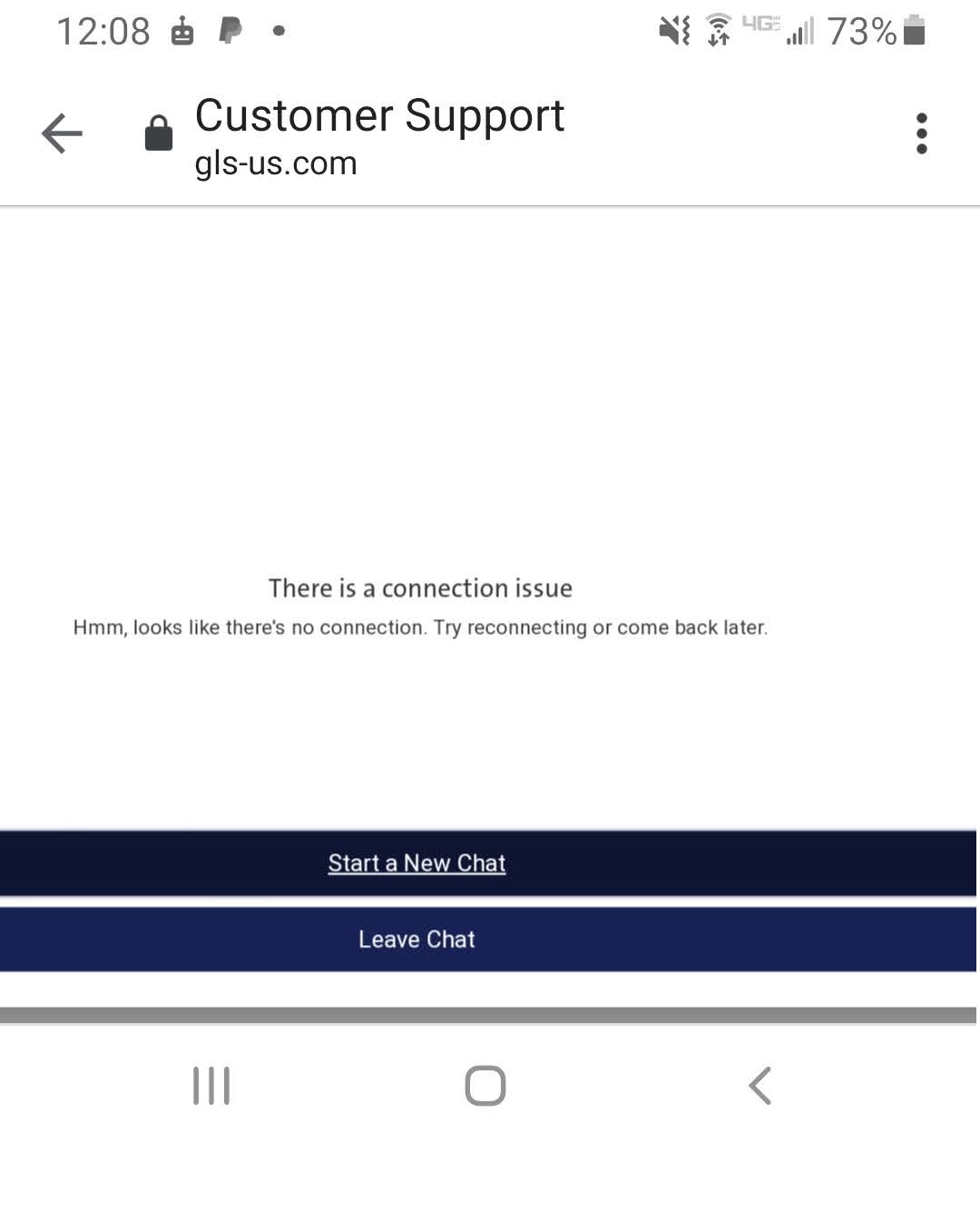 Two weeks after ordering, I decide to try to reach someone from GLS through their Facebook page. I reached a very friendly fellow in Marketing (Steve), who promises to escalate the issue to management (remember, this was allegedly already done four days prior).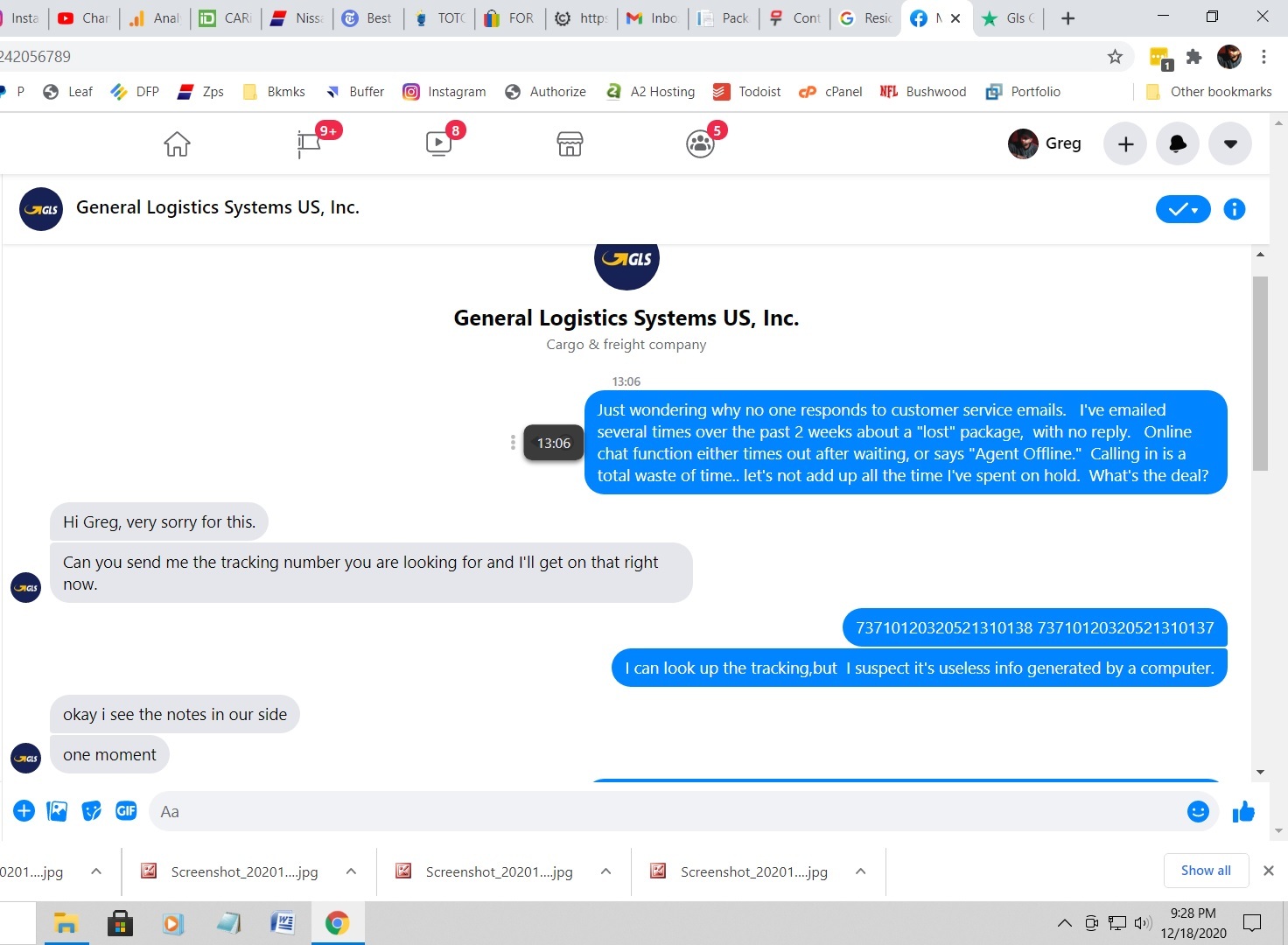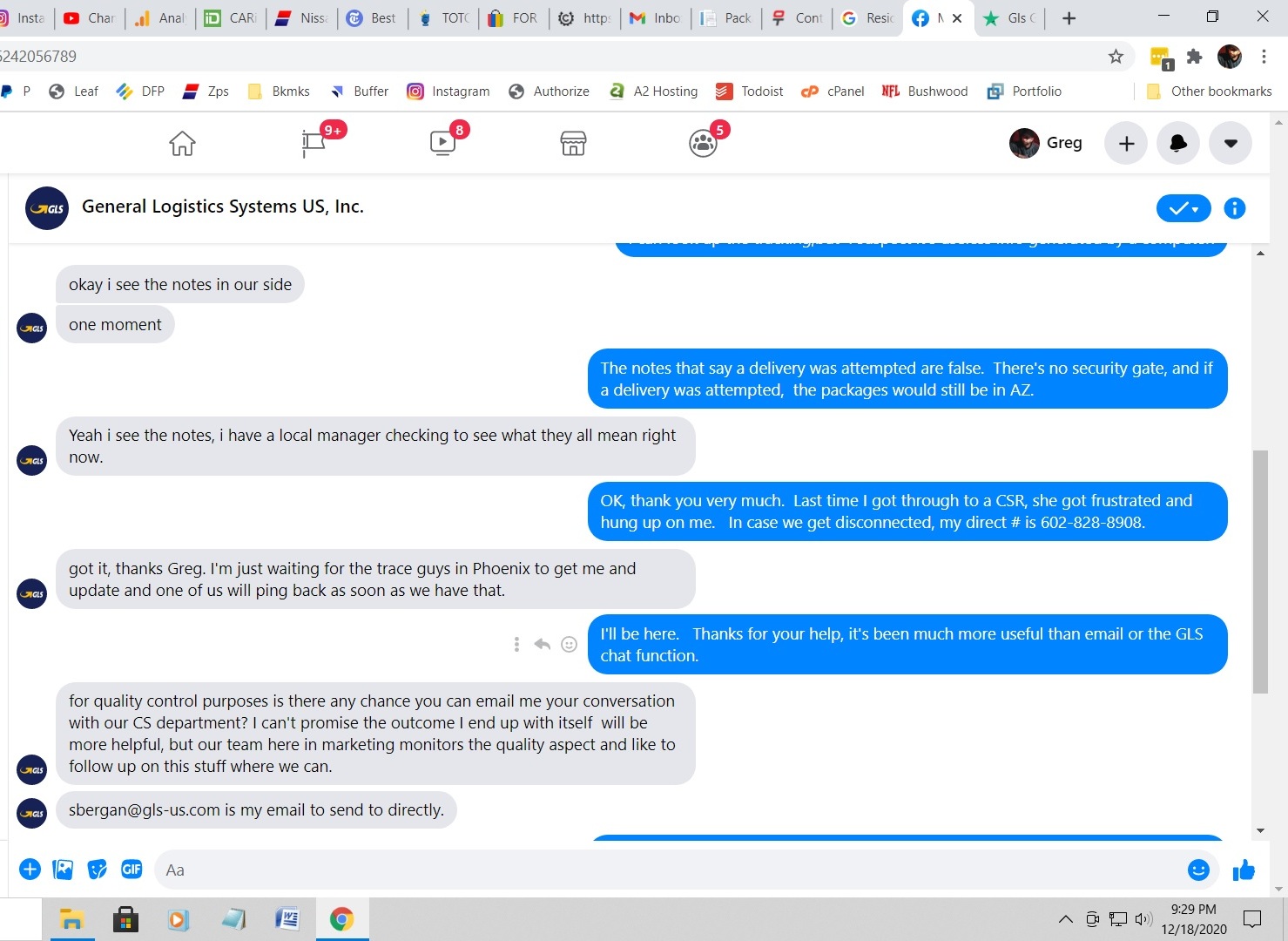 Steve asked if I'll provide copies of my conversations with their CSRs "for quality control purposes." Sure, I'll help out with that. So, I take time out of my day to screenshot and copy/paste all the emails and phone call records to the email address provided. And now, we wait….

After getting nowhere with GLS, I try to reach out to OnlineTires. First call: Disconnected. Second call: The representative tells me, "It's the holidays, all packages are delayed, and it's scheduled to be delivered today." Third call: The representative gets nasty with me when I explain to her that just because the tracking says it's en route, doesn't mean it's actually coming. All I want to know is, where are my tires that I paid for? She hangs up on me. Let's try this again. After a few more long periods of waiting on hold, I get to speak with someone else in their call center who [again] simply reads the GLS tracking information to me. NOT helpful. Subsequent calls are equally fruitless, and still no one has made an effort to handle the problem. Here's my call log to OT:



Now, this is a company whose very own website states: "OnlineTires.com will give you friendly service from an experienced staff of tire and wheel technicians that will answer any inquiry you may have. We encourage you to call us for any questions. Our business is committed to provide you the best quality name brands with customer friendly service." Let's dissect this. "Friendly"? If that equates to waiting on hold for inordinate amounts of time, being hung up on, and being told that I need to "be patient," then I suppose they've nailed it. "Experienced staff of wheel and tire technicians." Um, no. In fact, I got faster service pressing "1" for sales, and hold times were exponentially longer if I pressed "2" for customer service. Based on the few questions I asked, these folks don't really know tires.
OnlineTires has a Customer Service email function. After sending no less than six emails through their system and receiving no response, I gave up. A couple times, I drafted a fully-explanatory note requesting assistance, only to have their system malfunction upon submitting the message. How convenient – see below: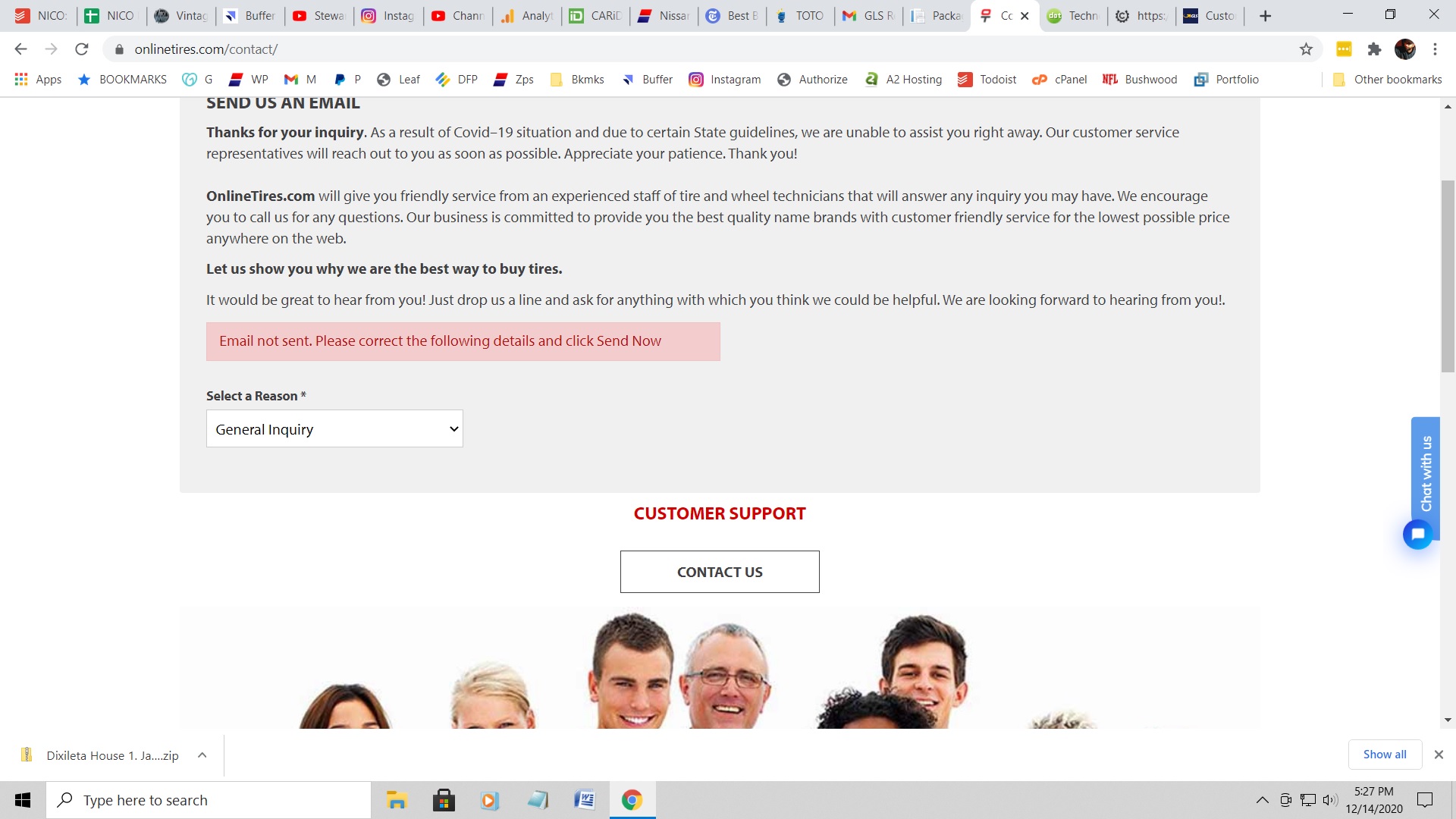 Maybe I can reach someone at OnlineTires through Facebook… Nope. Just an autoresponder. "Hi, Greg! Thanks for your inquiry. Due to certain State guidelines as a result of the COVID- 19, we are unable to assist you right away. Please email us at [email protected] and one of our customer service representatives will reach out to you as soon as possible."
Let's take a second to dissect this load of crap: What 'state guidelines' prevent a company from providing remote customer service from home? None at all. "Please email us…" Uh, no response there either. "One of our customer service representatives will reach out to you as soon as possible." Really? After 19 days, 7 phone calls, six emails, and a Facebook message, not one person from OnlineTires had contacted me at this point.
Typically, Facebook pages are a good place to get things accomplished, because, let's face it – no one wants bad publicity. However, no less than 10 minutes after requesting SOMEONE from OnlineTires reach out to me about a missing order from 19 days ago, the post was removed. So, they can suppress negative social media posts, but they can't perform actual customer service. Subsequent posts were also deleted (see below).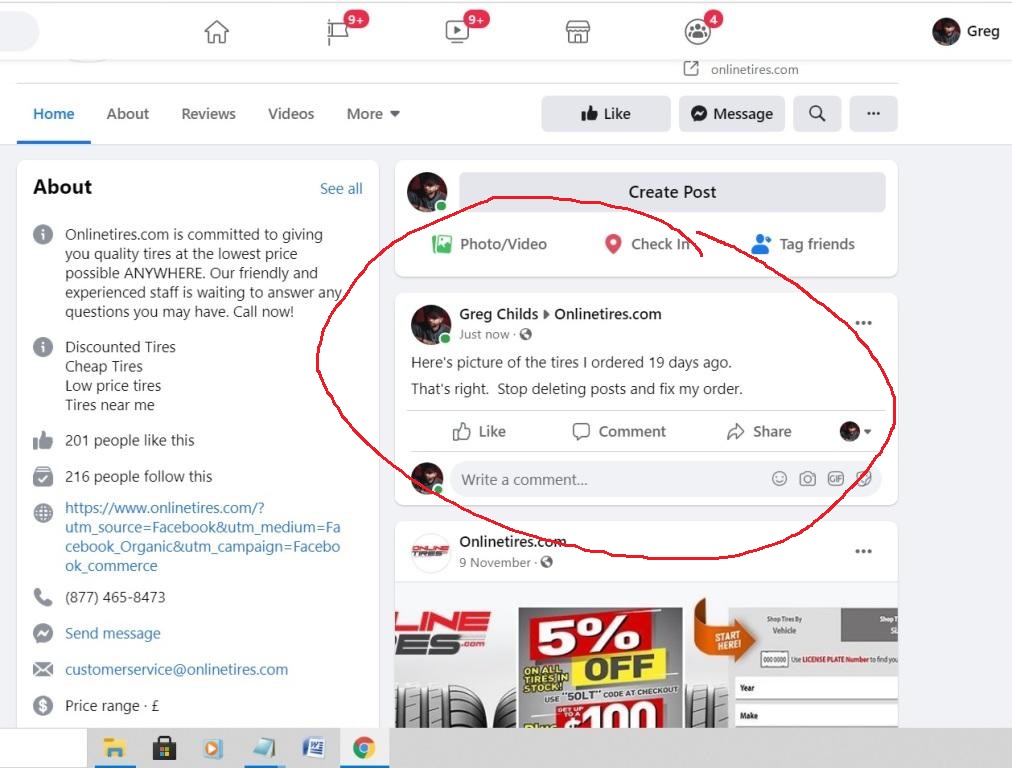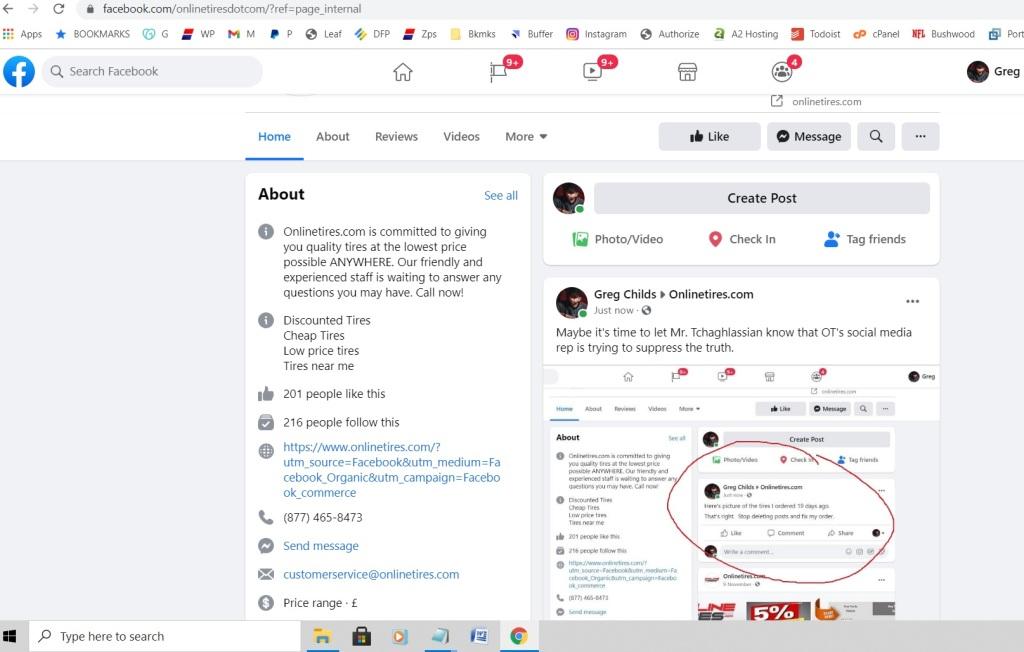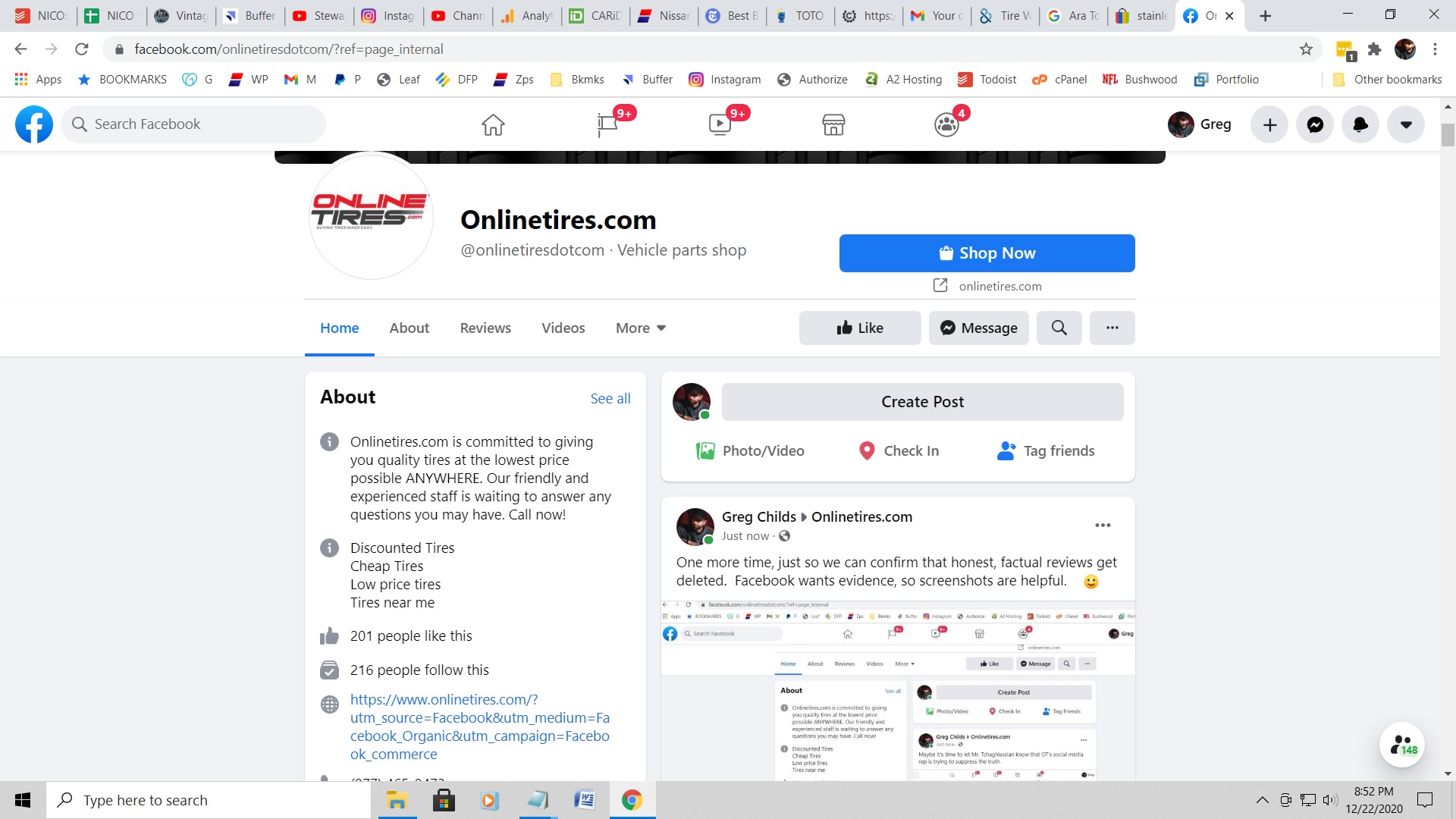 Guess what you can't suppress or delete? This website.
Going back to GLS's tracking function, I see that my package has somehow mysteriously made it back to CA… Or maybe it was never shipped in the first place. All I know is that between 12/15 and 12/22, I could have WALKED to Los Angeles to pick up my tires. On 12/21, 18 days after they initially accepted the packages, I finally get someone from GLS on the phone who is somewhat helpful. She promises to research this and call me back "within 24 hours – no less." Guess whose phone hasn't rung? And then I see the tracking shows my packages are back in AZ.

By now, I don't believe any of it, but whoever designed their tracking function should probably work for the government. It's useless at best, and fraudulent at worst. YES, I called it fraudulent. When inaccurate information is knowingly entered into a customer-facing interface, that's fraudulent.
After four days, I did hear back from GLS Steve in Marketing, who shared this: "Apologize this is taking longer than usual. The holiday rush is really impacting timeliness of traces right now. The packages at this moment have not scanned and I've marked them as lost so the claim can be approved without issue. If they do show up an alert will come out, but so far there has not been any positive response. Sorry again for the inconvenience and situation. This is highly abnormal all around." Let's keep in mind, over 19 days, NOT ONE person from GLS could be bothered to perform ONE customer service function, except Steve in Marketing.
Note to GLS: I'd fire everyone and promote Steve.
By the way, no "claim" can be processed, because OnlineTires hasn't filed one (the shipper has to initiate the claim), and they can't be reached. PayPal has been informed of the issue, so they can handle it from here. I'll get my money back, but I really just wanted my damn tires.
Now, let's be realistic – I find it hard to believe that FOUR 21″ tires could be "lost." But no matter. The damage has been done, and lessons have been learned. The "Tier 3 Representatives" from GLS told me the packages were lost on December 15 (four days ago). If that was truthful and honest, our friend Steve wouldn't have had to "mark them as lost." So, let's just agree that GLS is being dishonest across the board.
No one from OnlineTires reached out to follow up or check to see if my order arrived. After all their arrogance and snarky comments about my lack of patience (and deleting negative feedback posts on FB), we find out I was right all along. Meanwhile, their Facebook Messenger account still replies with an autoresponder.
On 12/23, I'm working in my shop and decide to ring OnlineTires one last time. After all, I'm building stuff, so I have time to sit on hold. After about 15 minutes, I get to speak with "John." John actually took some time, listened to the backstory, and assured me he'd look into this and call me back. About four hours later, John called. He explained that he'd also been unsuccessful reaching GLS (he was on hold twice, once for an hour and once for 20 minutes), and that while he was waiting, he pulled all of my email correspondence thus far. He assured me he'd work on a solution, and advised he has sent a mass email to his coworkers inquiring as to how this could have been handled better, and what can be done for a resolution.

Later in the day, John called to tell me that because I'd asked PayPal to get involved, the payment was on hold. I agreed to pull the PayPal case, sent him a copy of the confirmation email, and he said he'd get a replacement set of tires processed for shipment. Great. We shall see.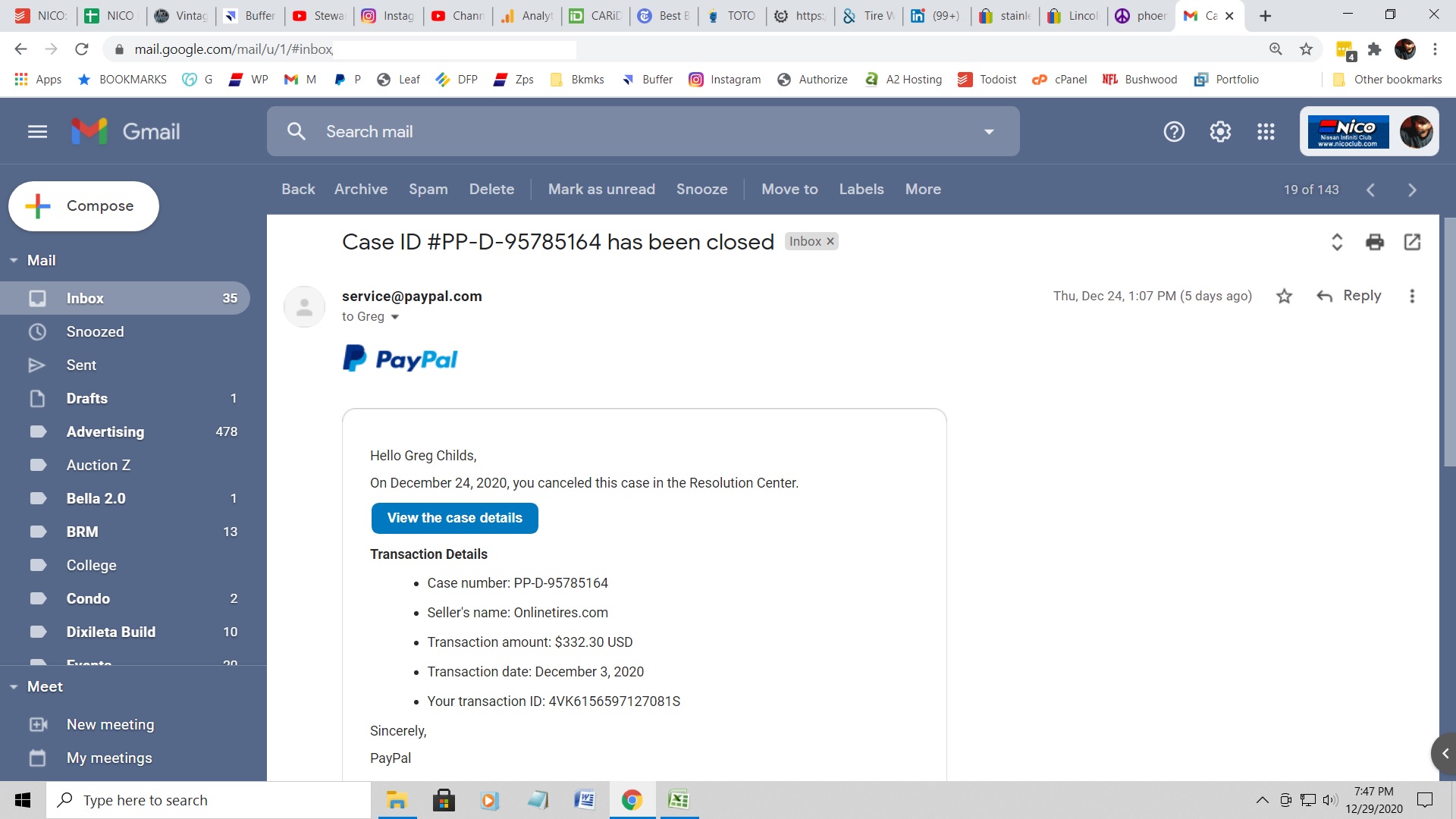 Fast-forward to 12/29. Six days afterwards, the holiday is over and people should be back to work. Yet, GLS tracking is still showing more made-up nonsense, no one has contacted me, and I still don't have tracking information. GLS's "Chat with an Agent" function disconnects me as soon as I input my tracking numbers. CHAT ENDED BY AGENT. Think I'm kidding? Check this out: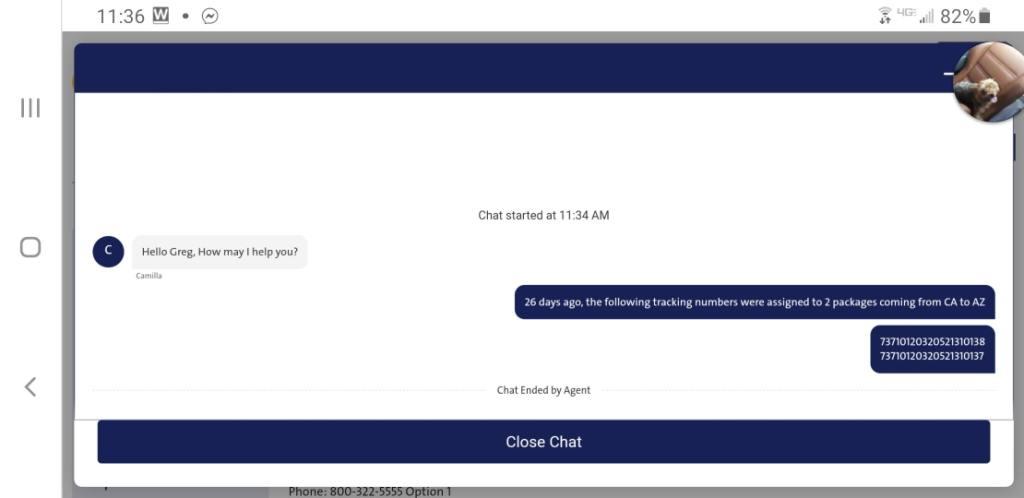 I'm persistent, so I try again. Here's how this works: You wait in the queue, the countdown begins, and then – POOF – you're disconnected. Another 13 minutes wasted on their clownshoes "help" system. See below: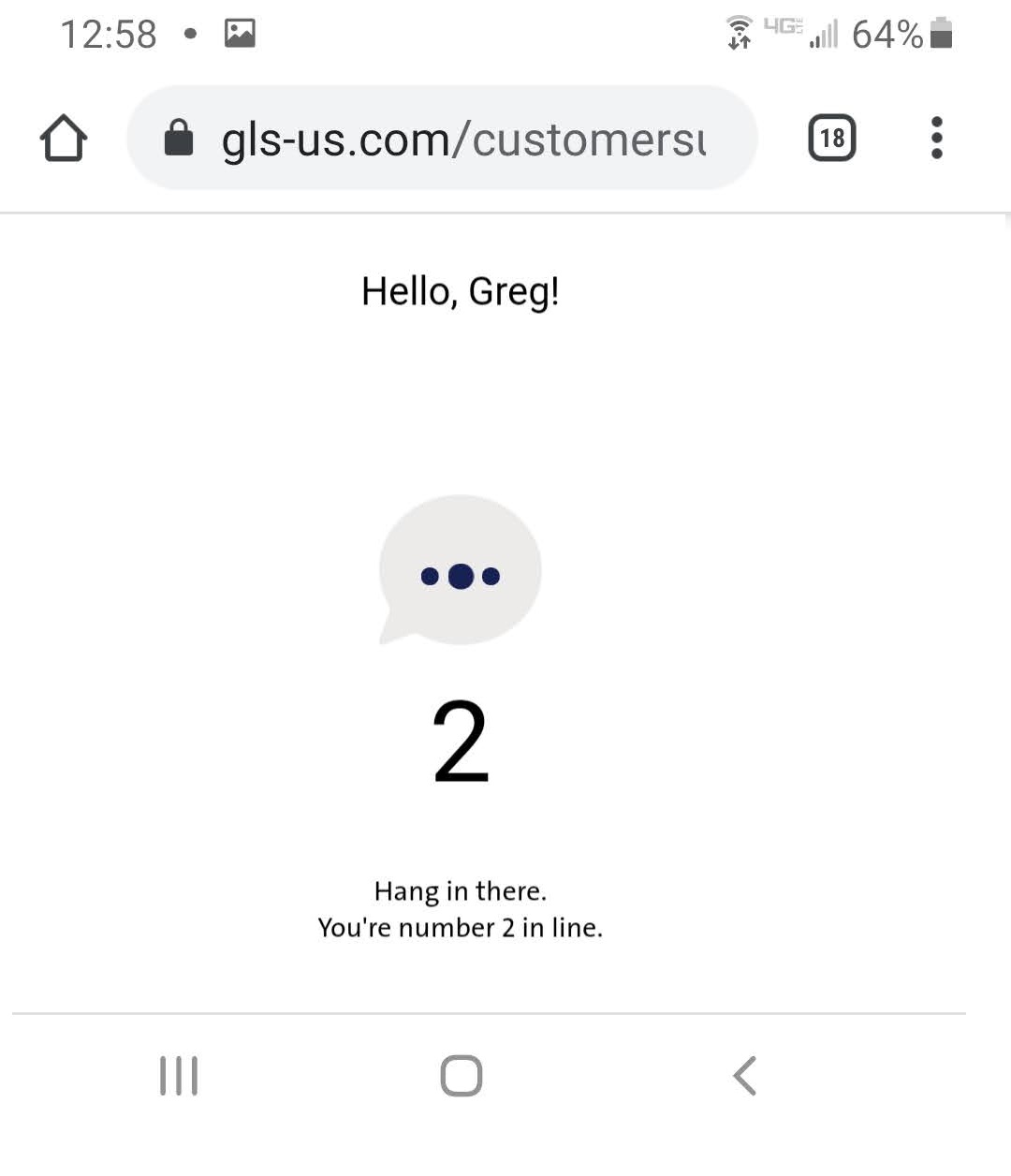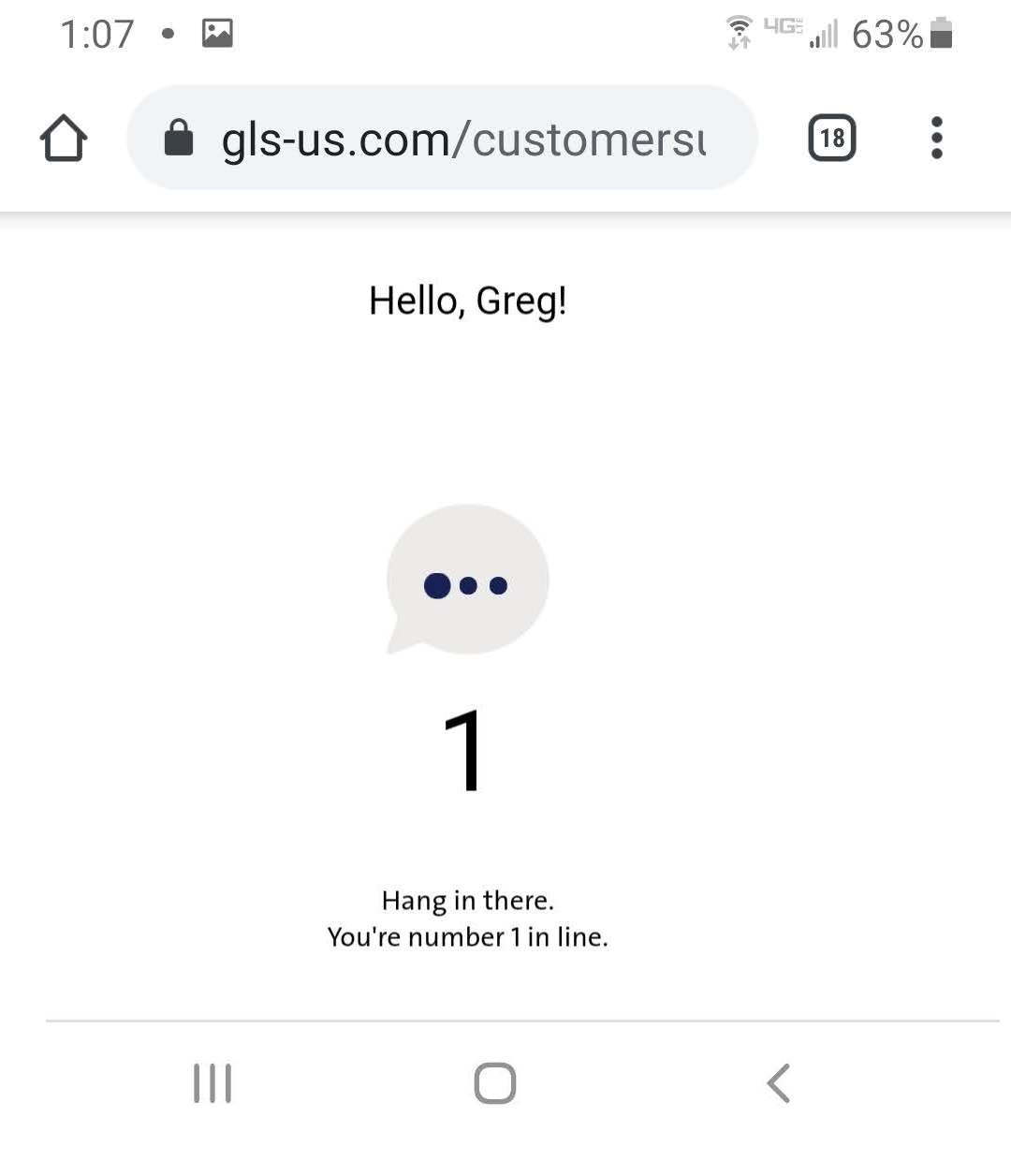 I called OnlineTires yet again. "James" tells me, "Your order wasn't processed because the payment could not be processed." Exasperated, I explain to him once again that the payment WAS processed, because otherwise, I would not have gotten an order confirmation and a set of tracking numbers. I explained to him what I had agreed upon with John, and asked if the tires had been shipped as John promised six days prior. Apparently not. "James" tells me he'll get that done today and promises tracking numbers before close of business today.

Later in the day, I get an email from "Kelly" from OnlineTires. Same nonsense. "Your order did not go through, it was tagged as failed payment." Again, I call "Kelly" at the number provided and explain exactly what had happened. She ONCE AGAIN asks for proof that the PayPal dispute was cancelled. Apparently they don't retain records or take notes. Fortunately, not only do I record my calls, but I retain all my documentation. "Kelly" tells me she has to attend to other customers (apparently, new customers are more important than customers who have waited nearly a month) but she promised to call back as soon as she can speak with "John," so I sent "Kelly" the confirmation (AGAIN) and waited.

In the meantime, I finally get through to someone at GLS. They're done dealing with this, and apparently this is what passes for customer service: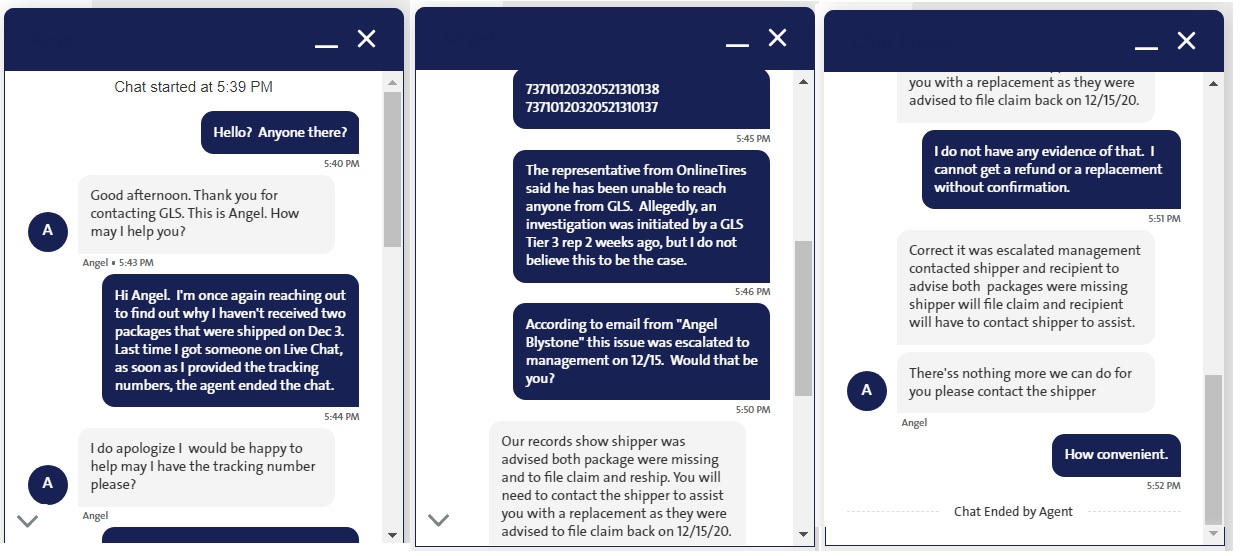 Pay attention, OnlineTires – THIS is the company handling your packages. So, they somehow lose FOUR 21″ tires and it's no big deal. Dismiss the customer, pass it back to the shipper, and go back to being really awful at your job. Got it. Angel Blystone, you could have at least copied me on the alleged communication with 'management' and the shipper. OnlineTires should drop this shipper immediately, because they certainly aren't helping your business.

As of the evening of 12/29, I've still not heard from anyone from OnlineTires as promised. I ring the number in "Kelly's" email. I recognize her voice, but it's loud in the background. She asks for my order number, and I can already tell she doesn't want to deal with me. I'm informed that she's "in a meeting" (who answers their phone in a meeting?) and that she'll call me back in 20 minutes. Guess who didn't call me back? Strike Three, Kelly. You're no help.
Meanwhile, let's not forget that 27 days have passed since the order was placed.
January 4, I decide to give this another try, and I get to speak with "Chris." After explaining the situation, Chris asked me, "Do you still want the tires?" He had no notes to reference regarding the order so far. Placed me on hold, then stated he checked with the warehouse, and no replacement order had been processed. Again, asked me, "Do you still want the tires?" Considering James, John and Kelly all failed to process a replacement, I informed Chris that I'd like to speak with someone in a managerial capacity. Again, I'm placed on hold.
Chris returns to tell me the managers are "in a meeting," but claims he found out a replacement order was processed, and the tires are at a GLS facility (note: I don't have tracking info for a second order). After telling Chris I don't believe any of that, and upon further questioning, he indicated he would be able to "transfer the shipping to FedEx." If this all sounds a little fishy, I'm with you. Remember, the first order was allegedly shipped via FedEx, and it wasn't. And remember, I was promised tracking numbers for the replacements on 12/29. Again, I asked to speak with a manager. Back on hold. 55 minutes into the call, I get "Calls may be monitored for training purposes," and I'm transferred to someone's voicemail. Another wasted hour. Thanks Chris.
I call back, and I get to speak with "John." We've spoken before. Remember, 13 days prior, he promised he'd get this handled (after I emailed him evidence of the PayPal dispute being dropped). I explain to him what happened while I was on hold with "Chris," so he puts me on hold to go speak with "Chris." John returns, and confirms that he is in receipt of all of my correspondence, claims he personally processed the replacements, but has no way of knowing what happened thereafter. He stated he would email his manager, "Jonathan" and the owner of the company, "Ara," and asked them to contact me. This call was 30 minutes long. Again, we wait.

After a couple hours, I get an email with a tracking notification… with the SAME tracking numbers from the initial order. John calls me soon thereafter to ask me what tires I originally ordered – wasn't this information on my original order? He's friendly and nice, but by now my frustration has gone from anger to resignation. Allegedly, management is already involved, so we'll see…

As a side note, it should be reiterated that OnlineTires should have grave concerns about a their inability to reach GLS, the very company that they entrust their packages to, as well as their functionally useless and falsified tracking system. Anyone who knows me knows that's NOT how I run my businesses – I'd hate to think of one of my customers going through this type of misery just to get what they bought and paid for. As someone who spent the better part of his career conducting process improvement and operational reviews (and no stranger to running online businesses), I'd give BOTH companies a below-failing grade.
Let's be clear here, this isn't about a set of tires. This is bigger. This is about not sucking at your job. This is about providing good service, not just claiming you do. This is about valuing peoples' time and business. But I have a platform, I have a keyboard, and I have a large audience. I'd like to help others avoid a similar hassle.
UPDATE: Late today (1/4), I received a call from "Arsen," a manager from OnlineTires. Very friendly fellow, who apologized profusely for the issues with this transaction, and we chatted for quite a while. He was very thorough in reviewing this transaction, and seemed to be unaware of some of the deficiencies from the customer-facing side of the business. As with a lot of companies in this day and age, they utilize dropshipping to fulfill orders, and as he said, "You're only as good as your partners." This is very accurate. The resolution was as follows: I received a full refund of my purchase price, and I now have revised FedEx tracking numbers. Arsen called me and emailed later in the evening to confirm that I received the refund and the tracking information. GLS won't be involved (thankfully), and I am hopeful that this issue might finally be resolved.

I recognize this may be difficult (or even painful) information to read about one's own company, but without documenting the failures, the successes are sure to diminish. We'll keep this discussion up for the time being, and I'll update accordingly.

What's the takeaway here? Well, a few things: When line-level employees are not empowered to actually provide REAL customer service, they are severely limited in what they can tell an irate customer. The conditions are compounded when there is a lack of communication and sharing of information amongst the staff, which serves only to increase wait times for customers and frustration from having to repeat the story over and over again. Further, when line staff are discouraged from elevating an issue to management at the first sign of trouble, they naturally will attempt to circumvent the real issue, or fill in the blanks with incorrect information, often making it worse. Lastly, the unavailability of answers via a customer interface (whether it be the company's website, Facebook, or email) paints a picture of unprofessionalism in the customers' eyes.

In this economy, service and communication is often more important than pricing or the product – and it doesn't take long for negative reviews to propagate and spread. I'm fortunate in that I had the time to pursue this issue, but I feel absolutely terrible for someone who works 9-5 and may be unable to spend this kind of time following up. How long could this have gone on, had I not had time to badger the customer service reps? It's a completely avoidable situation that is not only miserable for the customer, but also incredibly unfair to the employees who have to deal with it.