Ray Andersen's "910R" – A Maxima Wagon with a Surprise
We caught up with Ray a few weeks ago, and asked him about his ever-expanding stable of Nissans and Datsuns. One car in particular stood out to us, because of its uniqueness, so we wanted to share it with you guys.
We'll let Ray tell you the story from here – Enjoy!
I traded a 95 BMW 525i in Aug 2012 for this 1982 Maxima Diesel. Here's how it looked when I got it: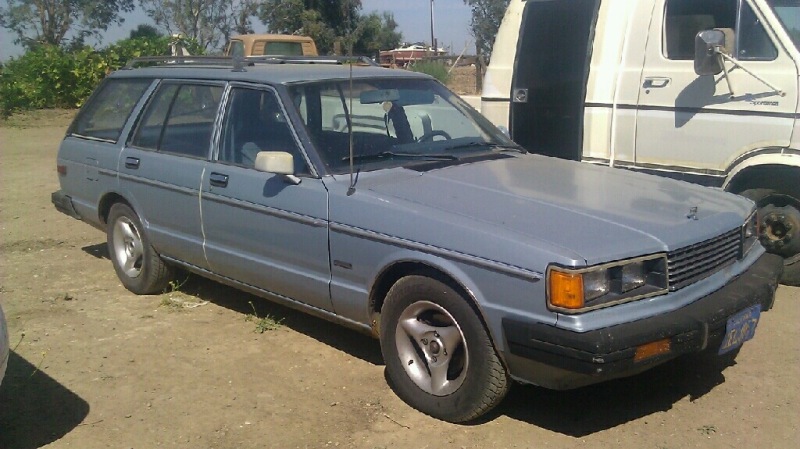 After some cleaning and detailing, it looked somewhat presentable – How about those sexy Prime 3-spoke alloys!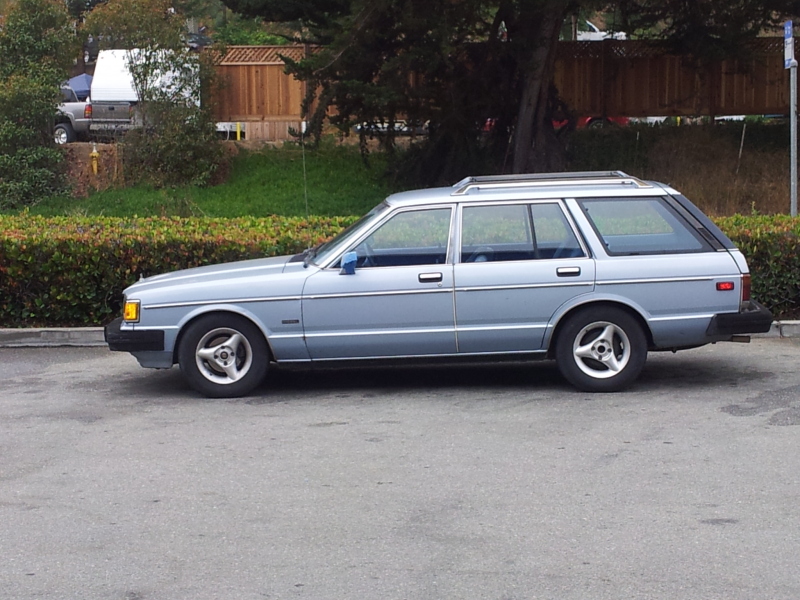 As soon as I got it, I did some internet digging and considered an L28et swap, but I really wanted to do another RB swap. Based on my experience swapping RBs into S30s, I thought the mounts and everything would line up well, being that the car was an L series derivative. It was close, but I had to modify a set of RB20det steel mounts and also notch the cross member to get it in perfect. The transmission mount and driveshaft bolted/slid right on. I used the RB20det transmission as the transmission tunnel is much to small to accommodate the big RB25det trans.
The old powerplant before removal: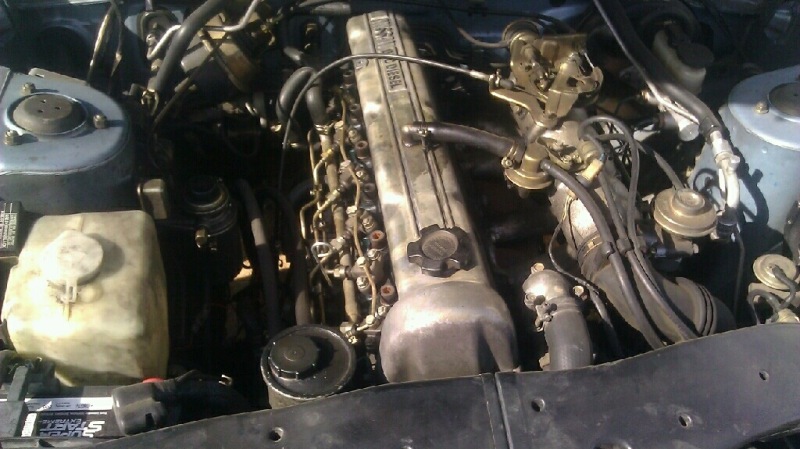 …and hauling her new heart transplant home: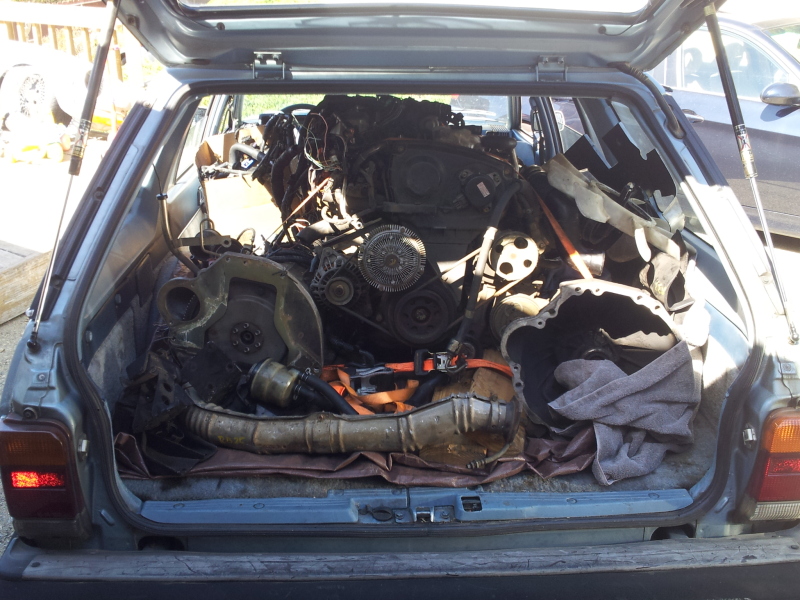 Before the swap, I painted the whole undercarriage after steam blasting it. I hate grease. I hate working in it and having stained hands.
I converted the car from an automatic to manual, so I had to change the pedal boxes out and run the lines as well.
The fuel tank was flushed out completely and setup to run an 8mm feed and an 8mm return since the stock lines were 8mm and 6mm. Then it was wired to run the fuel pump.
The RB25det NEO has to be one of the easiest RB swaps to wire. It was much easier than earlier RB swaps I have done.
I deleted all the ATTESSA bits and replaced it all with components from a Series 2 RB25 as needed (like the TB and TPS sensor). I was then able to strip out all the ATTESSA components from the harness as well.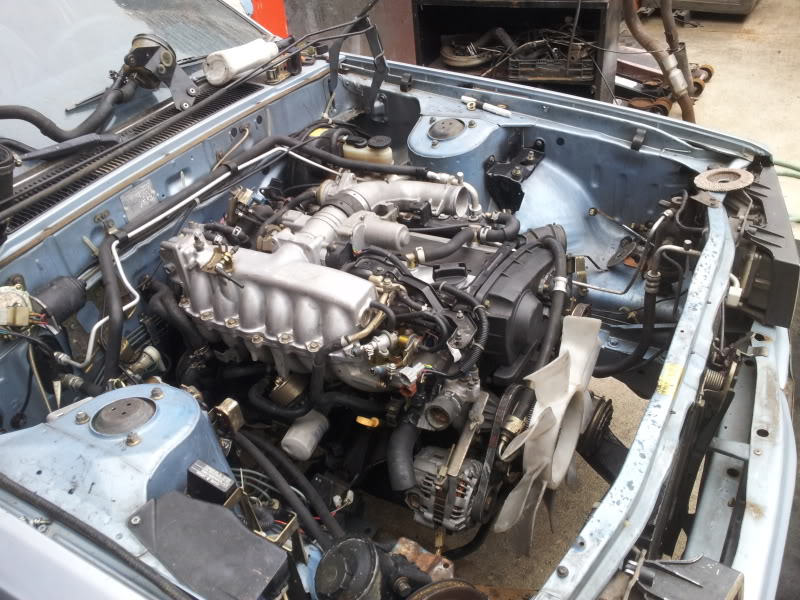 The car received a few cool items during the engine swap:
Exeddy Clutch
OBX side mount turbo manifold
Custom 3″ exhaust system
HKS adjustable wastegate
Aluminum S13 radiator with twin 10″ puller fans
APEXi power intake filter
Bosch 044 inline fuel pump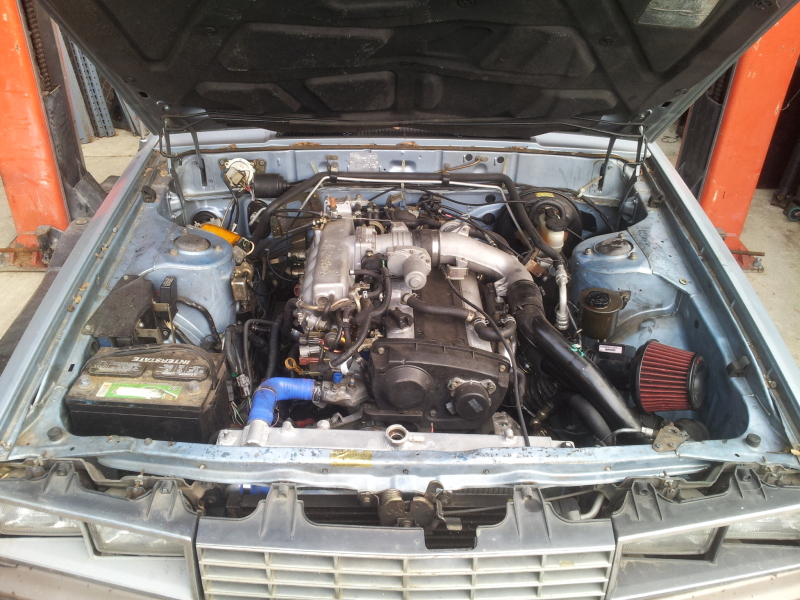 Suspension:
New polyurethane mounts/bushings for everything up front
New ball joints
Delrin TC kit for a S130
Lowered on S130 Suspension Technique front coil springs (likely to change these out to Ground control within the next 6 months), and 3″ lowering blocks in the rear with KYB shocks
Trying on some different wheels: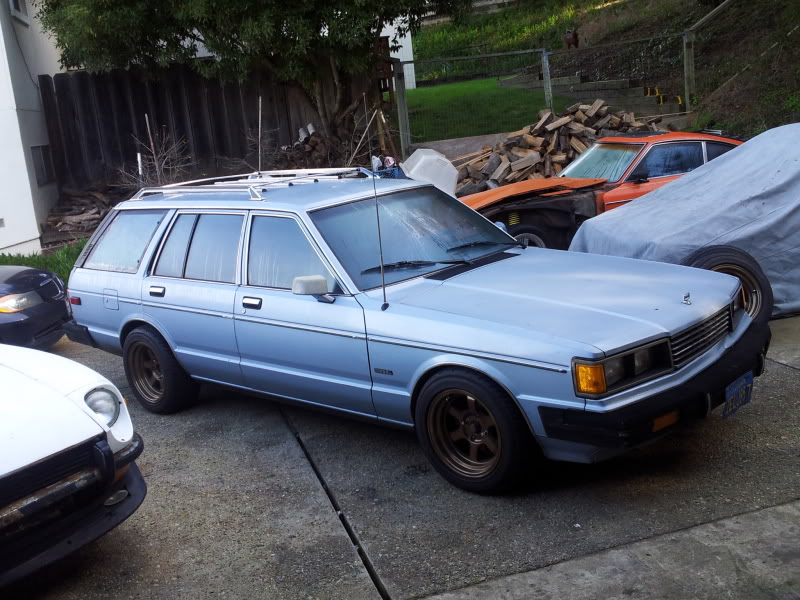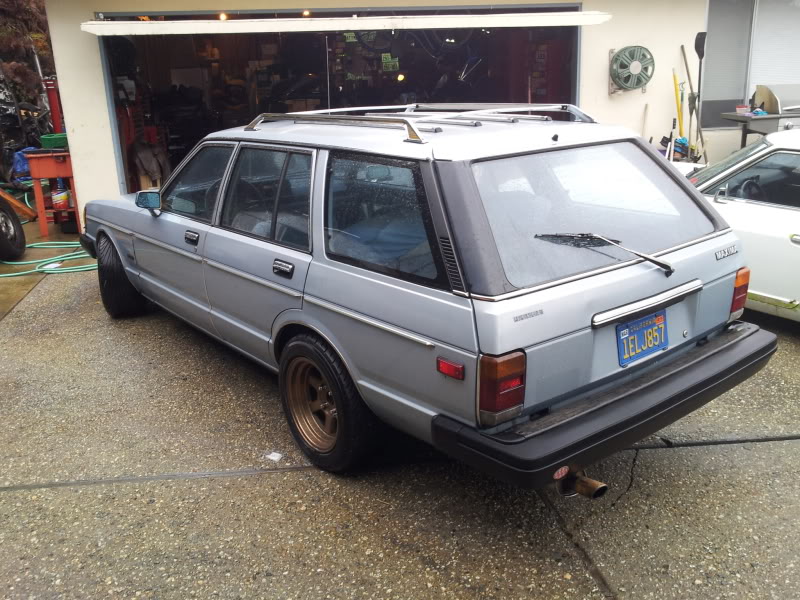 I was able to keep the air conditioning system by using the AC bracket from an earlier RB engine and the Datsun 910 AC pump bolted up. I haven't mounted the clutch yet with the ribbed belt pulley, but that is going to happen soon.
The power steering was pretty easy since I have a nice hydraulic line maker. I re-flared 2 lines and routed them to the 910 steering rack. It's very similar to the S13 RB PS conversions.
A lot of parts are very simlar to the S13 on this car. I debated installing the whole front and rear suspension to the 910 from an S13 for a while. I had the front on there, and decided I didnt want to deal with new wheels to get the correct offsets and how that would affect scrub radius and other suspension geometry. So for now, at least its on stock front and rear suspension with an open H190 differential. At some point, I will be changing the rear drums to disc brakes from an S12, and the front brakes will likely get changed out to some Z32tt brakes I have around already.
I installed S15 silvia front seats. They nearly bolted in… again very similar to the S13. The rear seat mounts had to be modified.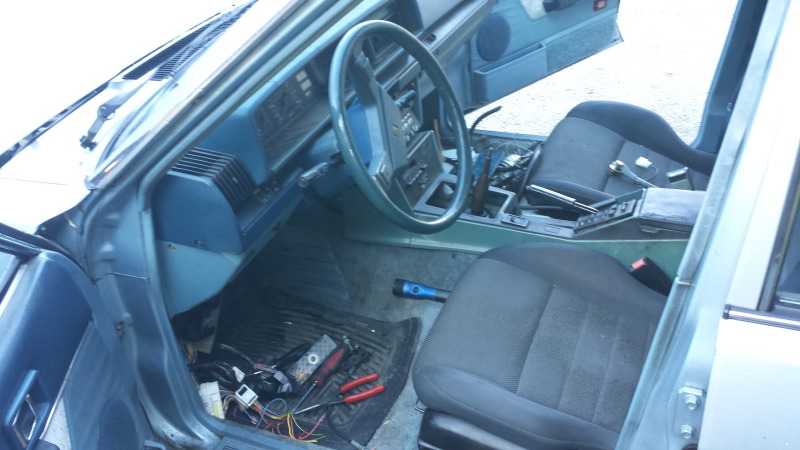 I haven't yet figured out the cruise control cable, but Im confident with a little work I can get the cable mounted to the intake and use the factory 910 cruise.
The stock R34 intercooler and piping was used. I was able to mount this up and cut the required hole through the inner fender well, and then cut the valance for an inlet. An FMIC was really out of the question as there is so much crap in front of the radiator support and I don't plan on getting crazy with this setup.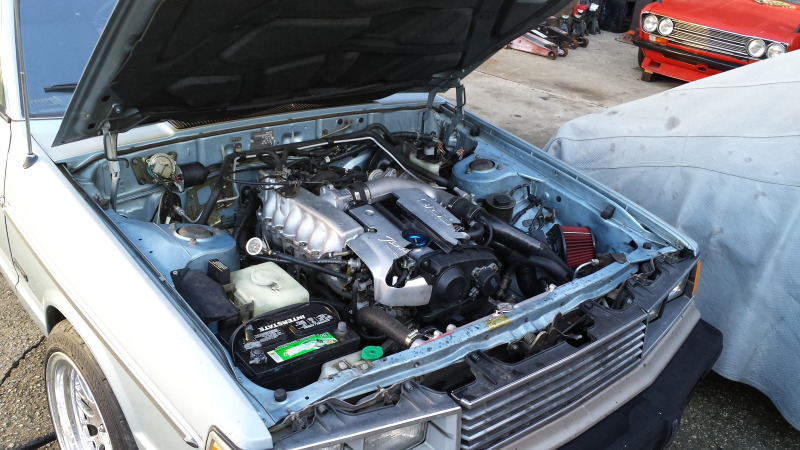 The wheels are XXR 531 16×8, 0 offset.
I've been building this car on the side as I have time. It's turning out to be a lot of fun. Ive tried a lot of different things(like wheels for instance) to see how it would all fit together, and it came together much better than I anticipated because of this.
At present, the car is running 7psi of boost. Its rated for 310hp at the flywheel, but as I have seen in the past I can usually get an RB to lay down flywheel ratings at the wheels once I get on the dyno. I am on the hunt for an APEXi PFC that is reasonably priced for that.
The car has the potential to get even more wild as I have parts laying around to bolt on for some real fun. Greddy intake, GT35R turbo kit I built for an S13 with a Toyosports manifold, and Tial wastegate. I'm not pulling the trigger yet though. There are some supporting parts like upgraded coil packs and LSD rear end that I'd like to add first.
The car is a blast to drive. It pulls hard and sticks well for a tankly SOB. When you think about it, the car went from 80hp to an estimated 310hp… so it feels like a rocket sled now.
Another of my big plans for the near future is to notch the driveshaft tunnel in the rear a few inches to clear the H190 and driveshaft yoke. I can feel it hit the diff snubber on hard launches. Also, if I plan to keep the H190 I need traction arms, as I have a world of axle wrap going on back there.
I hope you've enjoyed this article about my crazy 910 project. I'd really encourage you guys to select a "off-the-wall" older car and play around with it – You might just come up with something amazing, and have a blast doing it!
A HUGE thanks to Ray for walking us through his 910 build – We'll see you guys in the Datsun Forums!