We test the most commonly-available pre-moistened wipes so you can choose wisely!
Every shop needs a solution for cleaning up dirt, grime, grease, dust, lubricants, oils and paint.
Typically, cleaning up around the shop means wiping your hands and your tools with whatever you have nearby. My shop is used for fabrication, restoration, maintenance, and all kinds of messy jobs. I've got a bad habit of using my shirt or shorts. My shop buddy uses paper towels like they're free.
The problem with these two solutions is obvious: I ruin my shirts, and my buddy goes through a roll of paper towels in a couple hours.
Most people simply stock up on rags or cloths that are suited for the various jobs in their shop.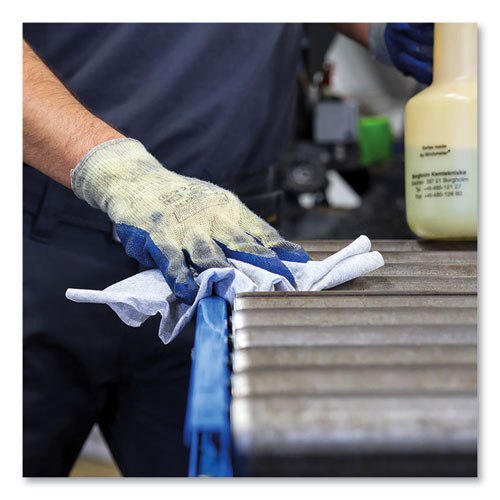 In my experience, the problems with rags or cloths are as follows: They're typically not conveniently located nearby, they're a hazard to dispose of, you've got to keep track of what you wiped up with each one, and when welding or grinding sparks meet a grease-soaked towel, you've created a smoldering fire.
ALSO, for most messes, you'll want some sort of moisture on your cleaning rag, whether it be a solvent or a soap-based cleanser. Wiping up gear oil or axle grease with a dry rag is a recipe for a bigger mess. This means you've got to have a spray bottle of cleanser nearby AND your rags or towels. That's a huge hassle. SO, we're going to skip the common solutions like shop towels, Bag of Rags or microfiber wipes, because they just don't make sense in our multi-use shop.
We want convenience, ease of use, and budget consciousness. With those criteria, pre-moistened cleaning wipes check all those boxes. Let's look at a few:
The old standby…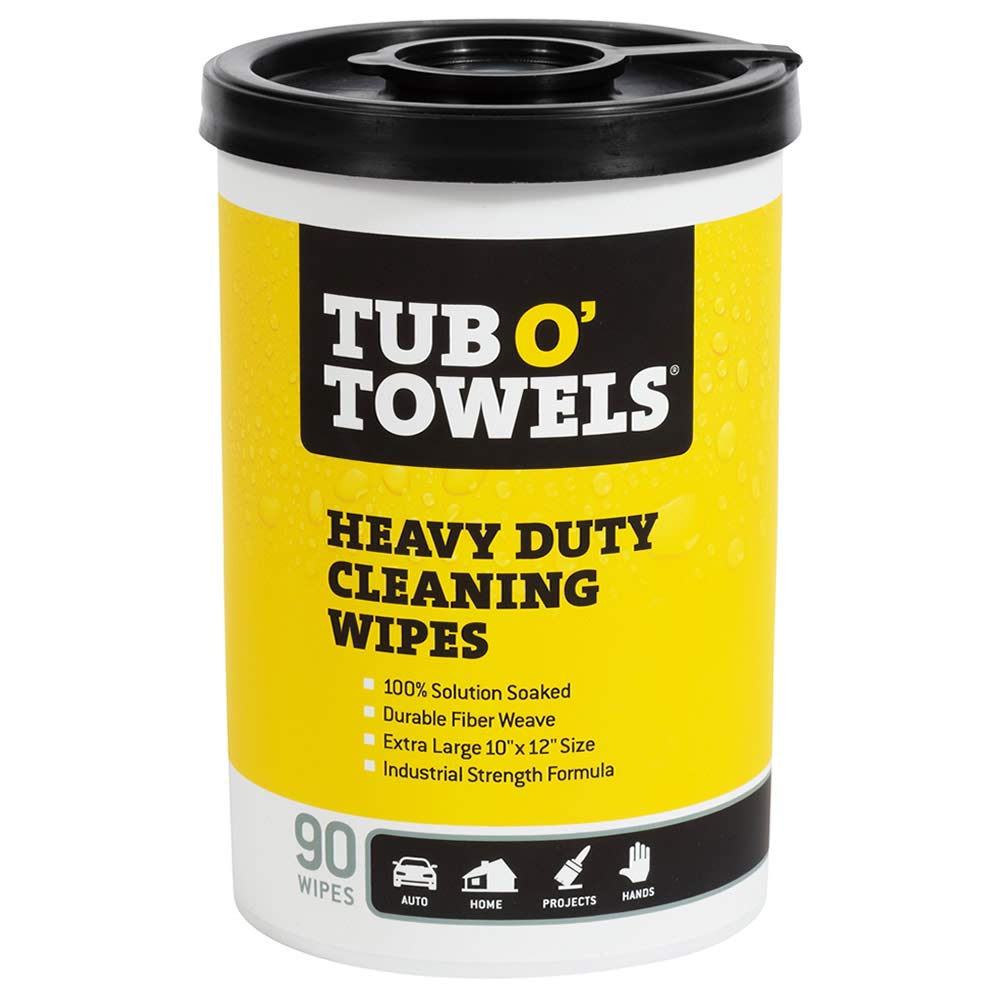 Tub O' Towels Heavy-Duty Multi-Surface Cleaning Wipes
I've been using these for years. Now, let me clarify that… I have a nice big shop, but I'm also notoriously frugal. After all, you don't get to build a 2600-sq ft garage by pissing money away, right? So, for hand cleaning, I just scrub up at the sink. But, I've historically kept a tub of these next to my toolbox, primarily for wiping down tools and for cleaning up after a project… From getting those drips off the engine hoist to wiping down my workspace, these are great. They're not cheap, so I use them sparingly – and sometimes, that means having to put in more effort just to avoid 'wasting' a cleaning wipe.
…a challenger appears…
This year at AAPEX, I spent some time with the crew from Dirteeze – The "Wipes with a Difference" guys. I watched the demonstration, asked some questions, and that turned into a conversation with the representative. All of their wipes contain aloe vera, and all are mostly biodegradable, unlike the competitor's polypropylene wipes.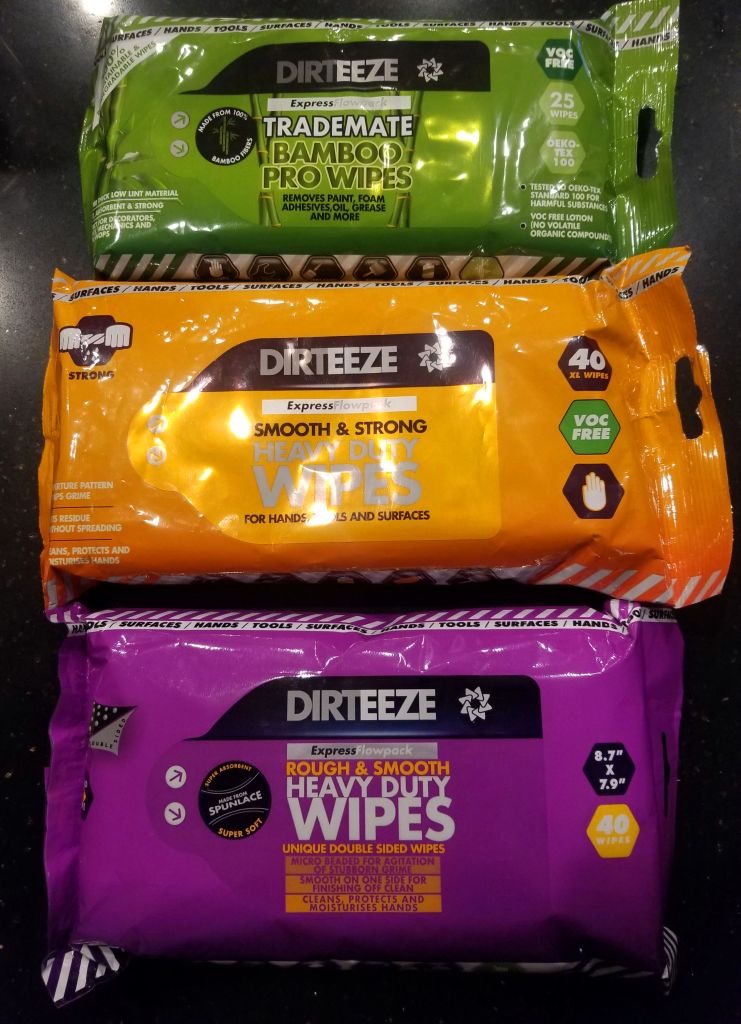 They've got three disposable shop wipe products in the lineup, so we'll assess all three (in order of durability):
Dirteeze Rough and Smooth Heavy Duty Wipes
These are the workhorse wipes in the lineup. Each wipe is dual-sided, which means one side has micro-beads for mechanical agitation and cutting through grime, as well as a smooth side for wiping away the broken-down messes. It's a higher-strength wipe that's more suitable for rough surfaces, and even though it's pre-moistened, it still has good absorbency so spills get wiped up faster. I tested these against some dried-on spray paint on my hands and nails, and it did a great cleanup job. For a heavy-duty fab shop, a heavy equipment environment, or a shop with a little more propensity for greasy messes, I think these would be a perfect choice.
Dirteeze Strong and Smooth Heavy Duty Wipes
These are a little less aggressive, but still super-strong. They don't tear as easily as the Tub O' Towels wipes, and they're larger so you don't need to use as many. I like these because they're a little less aggressive but get into crevices better. I tested these by cleaning some cutting oil (which has the consistency of honey) off a bunch of drill bits, and one towel did the job (and still had the capacity to clean off my drill press surface). My favorite feature about them is that if I leave one laying out, half-used, it stays moist and usable for an hour or so! These get my vote as the product I'll keep on-hand in the shop at all times. They're a nice compromise between the more aggressive "Rough and Smooth" wipes and the softer bamboo wipes.
Dirteeze Bamboo Pro Wipes
If you're all about environmental sustainability, these are the ticket. Bamboo grows up to two feet per day, so it's an ideal basis for a replenishable resource – AND the bamboo makes these wipes super-strong, but soft. These blow through paint, grease, adhesives, and oil. I used two wipes to do a quick underhood detail on a car I had listed for sale, and it turned out fantastic. For general wipe-down and cleanup, these are my new go-to for keeping in the car and in our laundry room… and yeah, I've wiped my face with them a time or two. Not their recommended use, but I do what I want.
Price analysis: Buying wipes in smaller quantities, or at your local auto parts store, is going to be more expensive – regardless of which product you choose.
PRO TIP: If you purchase your disposable shop wipes in larger quantities, the cost-per-wipe is substantially cheaper. For example, the Tub O' Towels 2-pack (180 wipes) works out to around 13 cents per wipe. The similarly-sized Rough and Smooth Heavy Duty Wipes and the Strong and Smooth Heavy Duty Wipes can both be had for around 18 cents per wipe, and the Bamboo Pro Wipes come out to around 32 cents per wipe.*
Where the Dirteeze products make up ground is with their longevity. The durability of the wipe (and the length of time it remains moist) means you get about 2x the cleaning capacity out of each wipe, which saves money in the long run.

As I mentioned earlier, I'll be buying the Dirteeze Smooth & Strong and Bamboo Pro Wipes for my uses from now on. Check them out, I think you'll like them too!
If you're an entrepreneurial type, Dirteeze is looking for distributors, so here's their website for more info: http://www.dirteezeus.com/

EDIT: The guys at Dirteeze just sent over a link to get 15% off your purchase on Amazon – Check it out! https://www.amazon.com/gp/mpc/A35ILHLTIP701P

*I couldn't find a link to a larger quantity of the bamboo wipes – but I'd assume they would be substantially cheaper in larger quantities.