Editor's Note: The beauty of being one of the largest independently-owned automotive forums on the web is that we're not beholden to the product manufacturers… If we review something, you can bet it will be thorough, straightforward, and above all, honest. Good or bad, you'll get to know exactly what we think. Good luck getting that from a corporately-held automotive forum or magazine.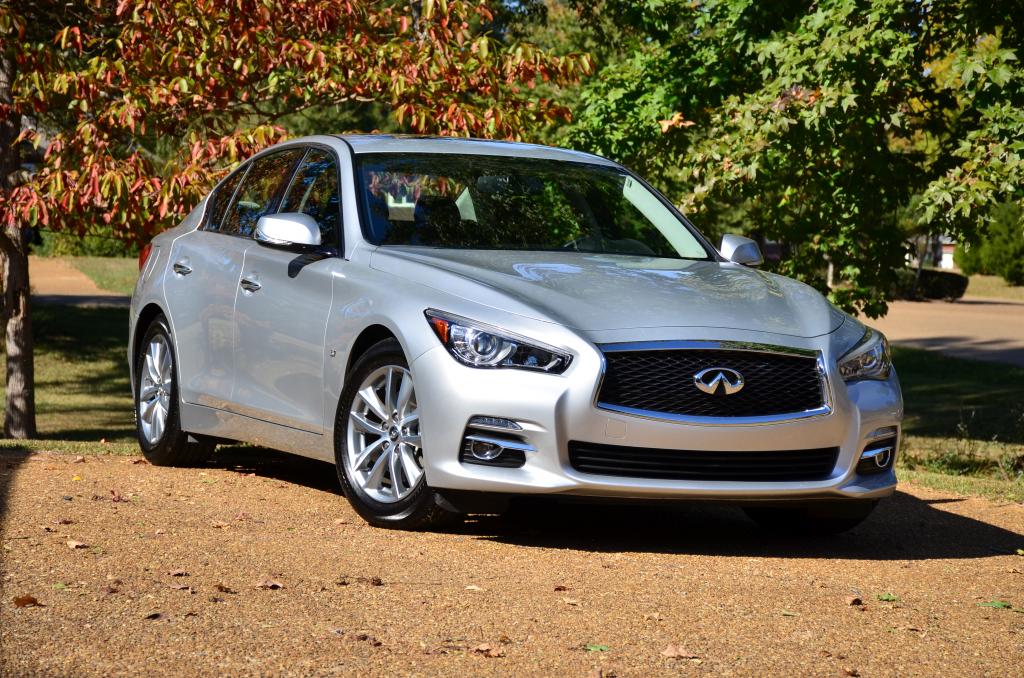 I recently had the opportunity to drive a Infiniti Q50 for a few weeks. My parents were flying into town and I needed something a bit larger than my Prelude to haul everyone around. The owner of the car was out of town and let me borrow it, provided I detailed it before returning it. Sounds like a good deal to me!
So, let's start with the trunk. My parents were stacking vacations (which started in Florida), so they weren't exactly packing light… figure one large suitcase each, and something smaller, like a backpack.
The trunk is pretty shallow (most likely thanks to space taken by rear wheel drive goodies like the rear diff), although it was tall enough to fit the large suitcases and one backpack – thanks to gas struts that keep the trunk lid open, compared to space-robbing springs found in cheaper vehicles. The rest of the small items had to ride in the passenger cabin. No big deal.
What WAS a big deal was when I tried to make a turn while some vigorous oncoming traffic was headed my way shortly after picking my parents up. You know the situation – it looks like you've got plenty of time, but there's one super-determined person that is just hammering on their throttle, so you do the same to get the heck out of the way. This is when the Q50's 7 speed transmission flat out sucks. You nail the throttle, the car hesitates, then downshifts, then hesitates again, then downshifts again, and maybe gets the right gear. Sometimes it'll downshift to put you damn near redline (where there is no power) before shifting again, and sometimes it'll get the right gear after the normal amount of hesitation. This is a recurring Kayne West-type theme with this car: "I'ma let you do that… but first…"
Which brings me to my next point – this friggin' thing: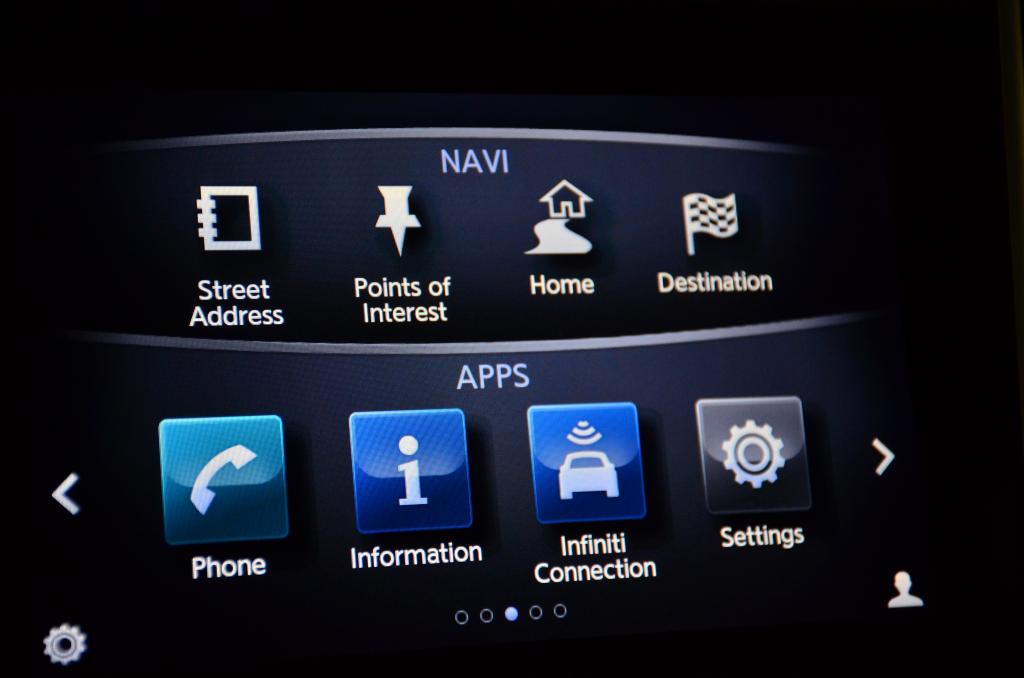 Now, I know a lot of companies have caught a load of flak for their infotainment systems lately (especially Ford), and you're probably sick of hearing it… but damnit, these things really do suck. It takes a LONG time to start up after you start the car. Once it starts playing music, you are locked in to whatever you are listening to until all its apps have loaded, and will let you change channels. That doesn't sound bad, but when you get in and for some reason Justin Bieber is playing, you have to either suffer through it, or turn the volume down super low (which again, incurs a delay), then remember to turn it back up and change the channel later. It just doesn't seem fitting for a luxury automobile.
Also, back when my iPhone actually worked with it (yes, it stopped working one day for no reason- the apple cable and phone work on all my other devices), it wouldn't let you skip the track until the album artwork loaded. Let me say that again – the car would tell you "No, I will not switch tracks right now, I'm loading the album artwork", which again, took a while. Why do I give a crap about the album artwork if I'm just going to switch tracks anyway? Once you got everything dialed in, the sound quality was OK. It had the typical "no highs, no lows, must be BOSE" feel to it. You couldn't get a good bass drum thump without everything else sounding muddy. It also seemed to have this strange tendency to quiet one section of music as another section would come in. For example, if a song opened with some vocals, it would be loud, and then once the rest of the band joined in, the vocals would be quiet again. Same thing for bass, and all other frequencies. Just weird.