Eighteen months, 20,000 miles, a bunch of modifications, and countless questions from passers-by… The story of our Nissan Cube thus far (by Becky Childs – nissangirl74).
In May, 2009, Greg and I were planning our wedding. Greg hears that the the new Nissan Cube had made its way to the Valley so he and I go down to check it out. I have to be really honest with you. The first time I saw it, I didn't like it at all. Greg, on the other hand, loved it. We both went for test drives. I disliked it even more and Greg was sold. He was ready to sign the papers. Fortunately for me, he only wanted black and there wasn't a black one in stock. I figured that given a few days, I could talk him out of the purchase, or at least distract him with something else. Not one to be hampered by a little thing like dealer stock, Greg called the manager of Peoria Nissan and told him that if he could get him a black one, he'd buy it, that day. Later that afternoon, Greg calls me. Charlie found him a black Cube, the exact one he wanted. When we were sitting next to each other in the finance office, I looked at him and asked, "Why are you buying this car?" He looks at me and grins, "I just want it. It's perfect for my commute. It's gonna be a hit and I want one." The rest, my friends, is history.
Before any tinkering: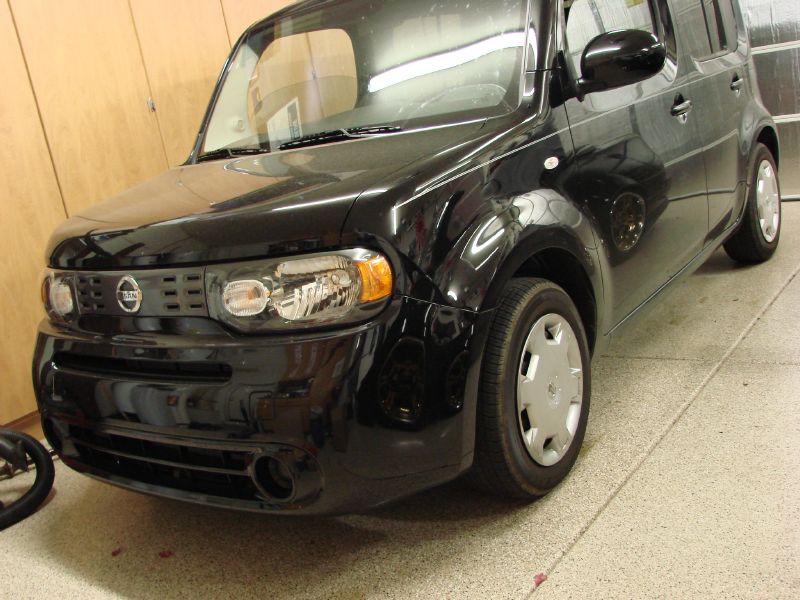 Here we are a year and a half later and guess what? He doesn't drive it and I DO! How's that for role reversal? Never in my wildest dreams did I ever believe that I would voluntarily get behind the wheel of this car. Now, it's pretty much mine and I have decided that I like it so much that I'd like to keep it and do a transmission swap, from the CVT to a 6 spd manual. Here's the story of how the first 20,000 miles completely changed my mind about the boring little black box I swore I would never drive….
The ink was barely dry on the receipt when Greg and I took our first trip in the Cube. We drove it to Sedona to get married. It carried the two of us, our three youngest kids, and all of our clothes. The kids were really impressed with how much room it had, they could actually move around without crowding each other. I had to admit that the seats were very comfortable and the gas mileage was pretty phenomenal. We were getting almost 31 mpg, fully loaded. Impressive for something that looked like the most aerodynamically-challenged design on the road. The people we met in Sedona were just blown away by it. "Is that the new Cube? What the h#$% is that thing? Looks like a box on wheels!" The overall impression was they either loved it or hated it, not much in-between. Greg was estatic. Even though it was r-e-a-l-l-y slow, especially in comparison to what he had been driving, he was just all about this car. He couldn't wait to start tearing it apart so he could begin the modification process. As he said, just because it is slow, that doesn't mean we can't tweak it a bit.
The modification list has been rather tame. This car was never meant to go fast. It was bought as a daily commuter, a car that could pretty much drive itself. Point and steer, no effort required. However, we discovered that many small things have added up to make this car a lot of fun to drive. The first change we made was the most dramatic overall, we lowered it. The new Tokico D-SPec adjustable shocks and Megan springs made it feel as if we were driving a gocart. Her turning radius, already impressive, seemed to shrink. Oh yeah, this was gonna be fun. That right there was my turning point. I loved the way it handled. It was actually fun to drive now. Let the modifications begin in earnest!
Lowered!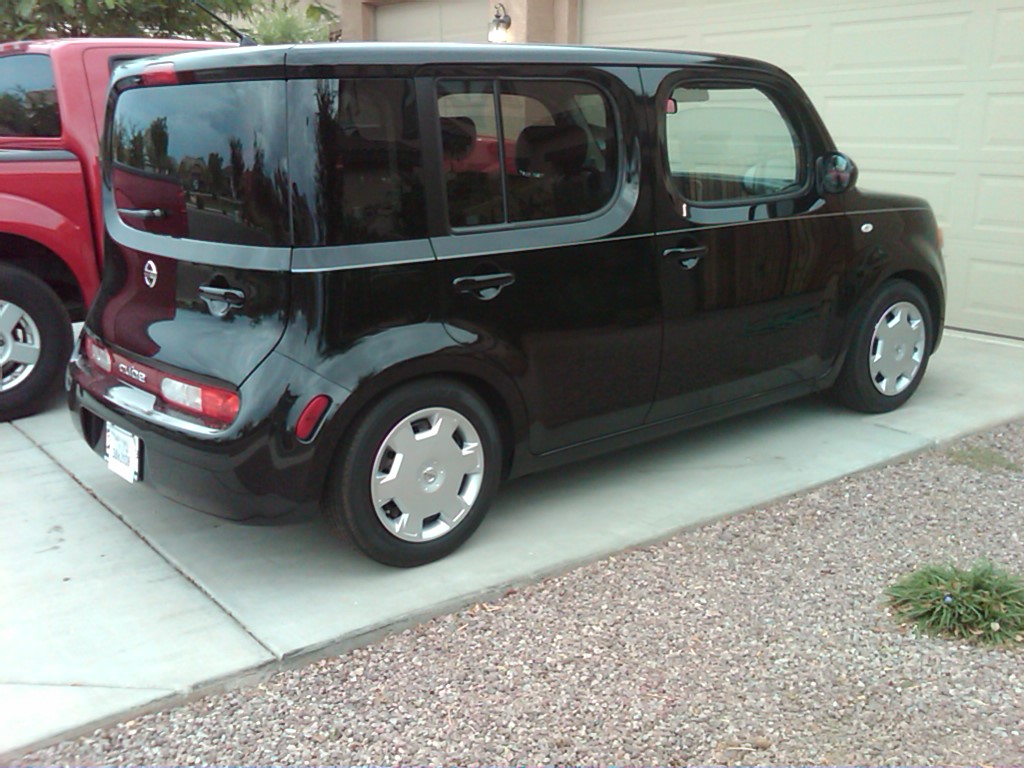 Next episode: A lot more modifications and plans for the future!