Arriving in the tailgating area, we were treated some incredible BBQ, catered by Big Bob Gibson. Again, an open bar, big-screen televisions, and all the food you could eat made this the most amazing tailgating experience imaginable. Click the pictures to check it out:
Equally awesome was the virtual Heisman House, set up by Nissan. It looks like the front of a college fraternity, and parked in front were two 2013 Nissan Sentra sedans, wrapped in Michigan and Alabama colors, respectively.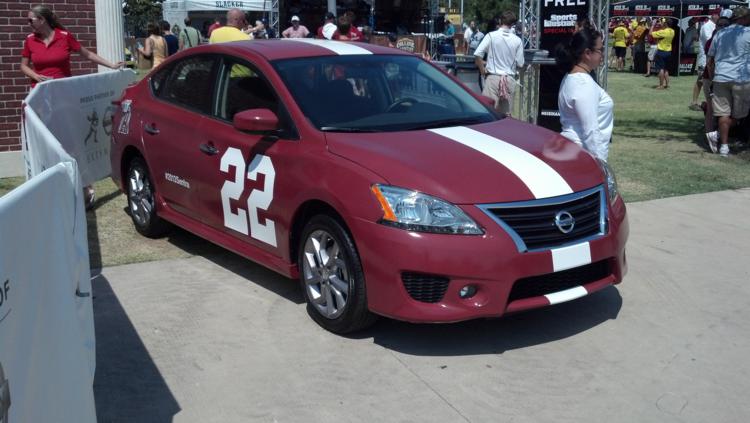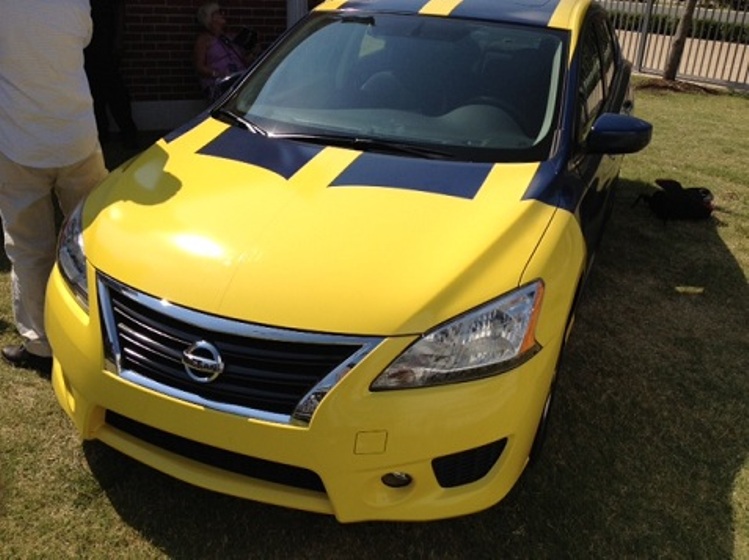 Inside the Heisman House, fans of college football can experience the game in virtual reality. Participants get a scannable lanyard as they enter. Then, for example, if a fan does the field-goal kick game, their results are automatically uploaded to their Facebook page because the lanyard gets scanned before they make a kick… same with all of the other events.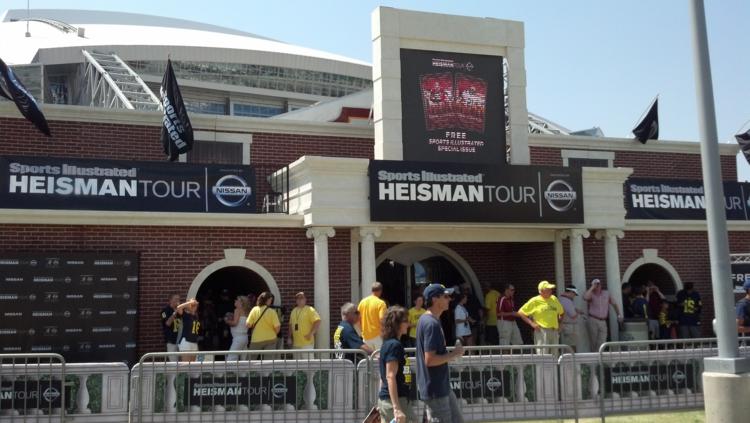 While enjoying the tailgating, I got the opportunity to meet Dan Patrick, who cruised through for a visit – How cool is that!!! Oh, and the 100-degree temperatures and brutal Dallas humidity was no match for the countless ice-cold beverages…
Right before game time, I got the chance to meet University of Alabama Heisman Trophy winner and current New Orleans Saints running back Mark Ingram – and his mom (pictured below). Now, being born and raised in Alabama (ROLL TIDE), this was a special experience for me… I wish my Dad could have been present, he'd have been ecstatic. This one's for you, Dad: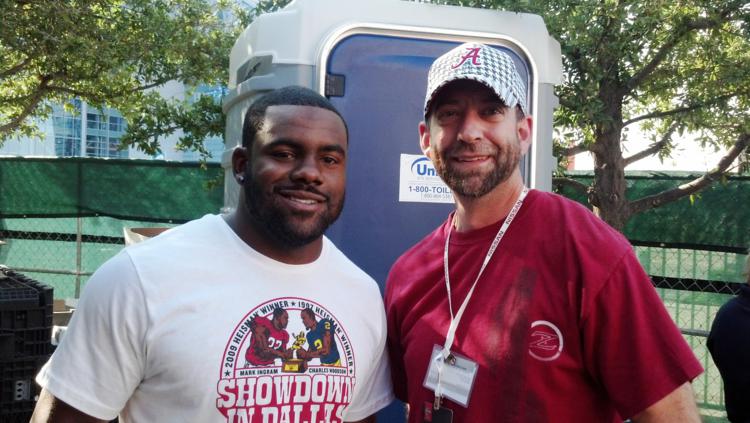 Even if the day had ended right then, it would have been one of the highlights of my life – but there was MORE to come… The folks from Nissan got us all together and gave us our tickets to the game. Now, COwboys Stadium is incredible, enormous, and majestic – I couldn't wait to see the colossal screens that everyone had been talking about and the amazing facilities in "The House That Jerry [Jones] Built". Little did I know we'd have a field-level, catered suite! Check THIS out: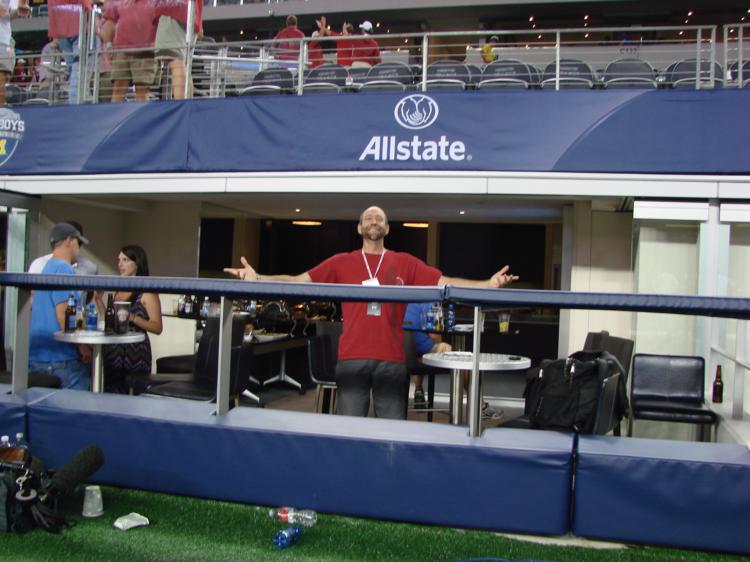 As if that weren't perfect enough, Nissan also had box seats for everyone, right above this area… I chose to watch the game from field level, and while everyone had high hopes for an evenly-matched battle between two iconic college football teams, Alabama came out strong and never let up, hammering Michigan in true SEC football fashion.
The enormous video screen (one of many) in Cowboys Stadium, the down marker for the Cowboys Classic, and some of the team from Zocalo Group and Nissan (Hi Rob and Madelyn!)

Alabama's "Million Dollar Band" pre-game show:
Alabama scoring the first of many touchdowns (sorry, Michigan fans!):
Hey look – Right in front of me – It's ESPN's Lee Corso! He turned around to say HI, and I promptly dropped my camera… Duh!
Hey look – ALSO right in front of me – It's ESPN's Samantha Steele! Interestingly enough, she didn't say HI… No matter, I'd have dropped my camera again.
Right before halftime, I got to chat with some of the members of the 'Bama Band… Made me miss my marching band days – These kids are the best of the best!
I'll add the rest of the pictures below so you guys can peruse them as you wish – Of course, I had to get the cheerleader pics for my staffers! I hope you guys enjoyed this little glimpse into my weekend with Nissan in Dallas. Please feel free to share the article with friends on Facebook, Google+, and other forums… Please also help support the Heisman Trust, and go out and test drive a new 2013 Sentra!
Thanks for joining me – Enjoy the rest of the pictures (click for full-size), and until next time: Go Nissan and ROLL TIDE!