Definitions… These are helpful terms to know as you begin to plan out your AN lines project:
Male fitting: Has threads on the outside and threads into another fitting.
Female fitting: Has threads on the inside and accepts a threaded fitting.
Simple enough? Birds and bees stuff here, kids!
Under Head Length – Distance from under hex to end of fitting or flare. This is important when threading into female ports so the fitting does not "bottom" on the hex prior to contacting the flare sealing surface.
Seals on Thread – Taper contact seal with sealant or tape. Also known as National Pipe Thread (NPT).
Seals on flare – Using one of each (concave & convex) flare to create a seal. The angle may vary, but needs to be consistent between both sealing surfaces.
Convex – Male flare seals common on -AN (male) and some metric (male) unions and some threaded ports. Convex male fittings will seal on Concave female fittings.
Concave – Female flare seal common on -AN hose ends, most metric (male) unions and some threaded ports. Concave male fittings will seal on Convex female fittings.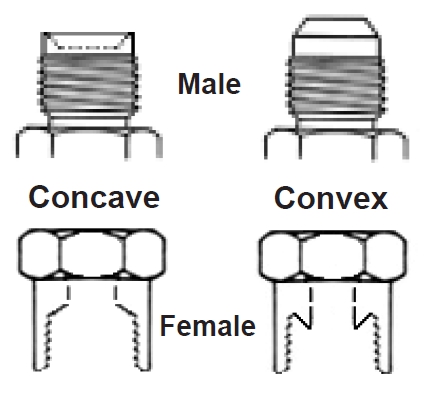 Flat – These have no sealing surface; instead, you will use a crush washer under the hex head.
Inverted flare (or reverse flare) is a term used in place of concave and convex, but always refers to concave on male and convex on female (note: inverted = opposite).
Globe Seal – Much less common, the British Standard Pipe (BSP) and Metric (female) hose ends use a radius sealing surface with a range of fixed angles.
Here's a great diagram that shows how the AN fittings are assembled on hose ends:


In the next section, we'll look at some more advanced information and even some tips and tricks to make hose assembly a little easier – Part 3!