Nothing beats the clean, purposeful, and serious look of an engine bay with properly-sized, clean and orderly braided stainless steel lines and aluminum AN fittings.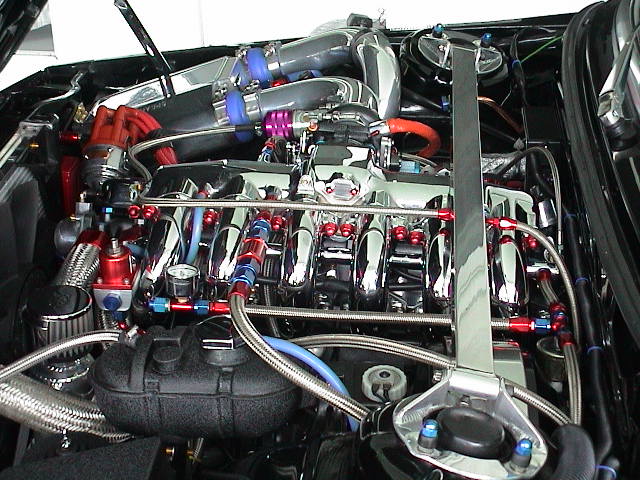 Whether for an oil cooler, coolant, turbocharger oil or coolant lines, power steering, or fuel delivery, the professional installation of AN hoses and lines shows you're serious about performance and reliability.
Before we start tearing out those ugly rubber hoses and cheap worm-drive hose clamps, we need to know a LOT more about AN fittings. I'll admit, I'm not an expert, although I have run a few oil coolers, trans coolers, and an oil filter relocation kit or two. Let's consult with the experts in order to give you some accurate information.
What the heck is an AN fitting? Simple enough. AN stands for ARMY / NAVY and refers to a standardization of common sizes of hoses and fittings, developed by the US military. The fitting sizes refer to the outside diameter of the rigid tubing that the fittings are intended for. AN fittings incorporate a 37* angle at the ends to create the seal, and they're sometimes referred to as JIC fittings.
When referencing an AN fitting, we're going to use a term called "dash sizes." When written, it is written with a – and not spelled out. So, if you had a -4, -6, and -8 fitting, you'd say, "I have a dash four, a dash six, and a dash eight." These refer to 1/16th of an inch. So a -4 fitting or hose is 4/16ths of an inch, or 1/4″ – meaning it's used for 1/4″ tubing (outside diameter). As you can imagine, since tubing and hoses have various wall thicknesses, the "dash number" does not necessarily tell you the inside diameter of your lines.
Here's a handy table that'll help: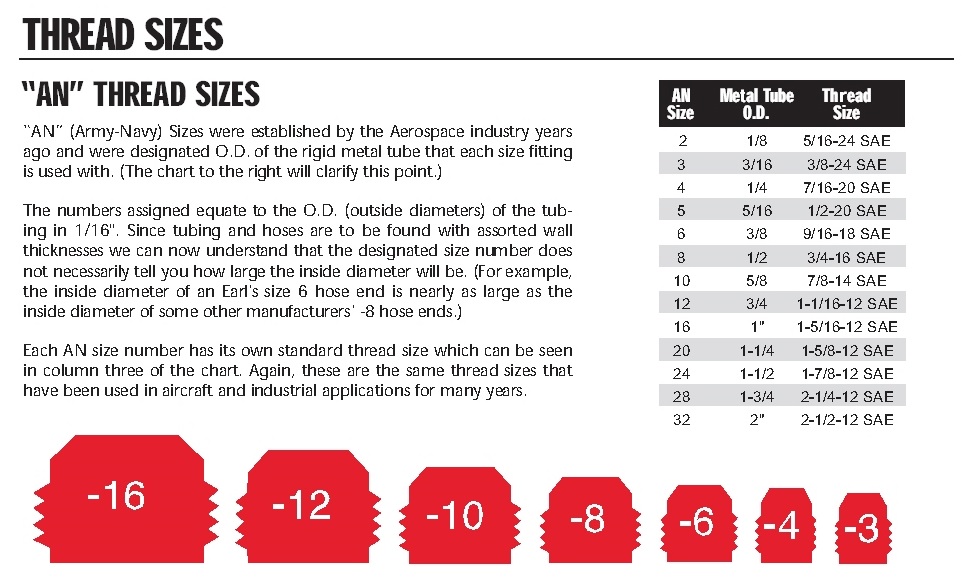 Got it? Well, let's make it a tiny bit more confusing (and then clear it all up): For fuel delivery systems where AN fittings are used, it is pretty common to see "NPT" (National Pipe Thread) fittings used in conjunction with the AN fittings.
NPT threaded fittings require the use of a tape to create the seal, whereas AN fittings do not. When using an NPT fitting, it is common to only get a few turns tightening the fitting. This is because the thread is tapered and is not meant to thread all the way in – excessive tightening will NOT make a better seal, but can damage the fitting.
Here's another handy table to explain NPT threaded fittings.


OK, so now that we have the basics out of the way, let's move on to some more in-depth information. On the next page, we're going to get into some definitions and more detailed application information – Part 2!