Nobody seemed to want to drive in the snow, so I volunteered. Might as well get used to the girl before I take it on a thrash, I figured.
We met up with the BRZ and the M3 at a gas station and proceeded to convoy further east, towards Deal's Gap. By this point, the storm was mostly rain, although the Q and a few other cars showed signs that they had come from an area where it had been snowing relatively hard.
The M3 accelerated fairly aggressively on the onramp in order to merge. "Its going to be one of THOSE convoys!" I thought. I fed the Q some throttle and the back end immediately stepped out, even with a trunk full of luggage and wine mass, and the vehicle in ECO mode. "Whoops… there will be none of that!" I informed the passengers.
Once on the highway, we settled to a fairly steady 80-ish mph cruise through some mostly minor hills and traffic. In Eco mode (which basically de-sensitizes throttle response and holds a lower RPM), the Q delivered 27-28 MPG. This particular Red Sport was optioned with the Premium Plus package, which includes a mostly useless navigation (more on that later), remote start, heated front seats, heated steering wheel, and a couple other insignificant items.
Being that it was snowing out, I thought it was appropriate to sample the heated seats and heated steering wheel. I've driven other vehicles that only heat certain sections of the wheel, as to suggest that that's where you should keep your hands. The Q played no such games, and heated the whole 360 degrees. Other standard features included Infinti's BEAUTIFUL Iridium Blue paint, 7-speed automatic with paddle shifters (more on that later as well), and illuminated kick panels (not exactly a "standard" feature, but good luck finding one without this option).
Notably absent was Infinti's awful "Direct Adaptive Steering" system, AKA steer-by-wire. This system has been complained about since it was just a concept, and I'm thankful this vehicle didn't have it. If you don't want that option, you aren't allowed to have the technology package, including lane departure prevention, distance control cruise, adaptive headlights, blind spot warning, etc. Overall, this smartly optioned Red Sport came in at a touch over 52 grand.
It was around this point that I asked if the center arm rest could move forward. "That's a big negatory" my friend said. The problem is that with the steering wheel telescoped out as far as it will go, your elbow STILL lands on this unpadded hard corner section of the arm rest. This is unpleasant for a luxury car. Minus 1 for Infiniti here. 6-foot-plus people with long forearms might not have this problem.
The front seats are excellent. Adjustable side bolstering and tilt lets you really dial in the feel for cruising vs aggressive driving. The rear seat predictably had essentially no "bucketness" to its cushions. Dropping the center arm rest provided a structure for back seat passengers to brace themselves on in the twisties.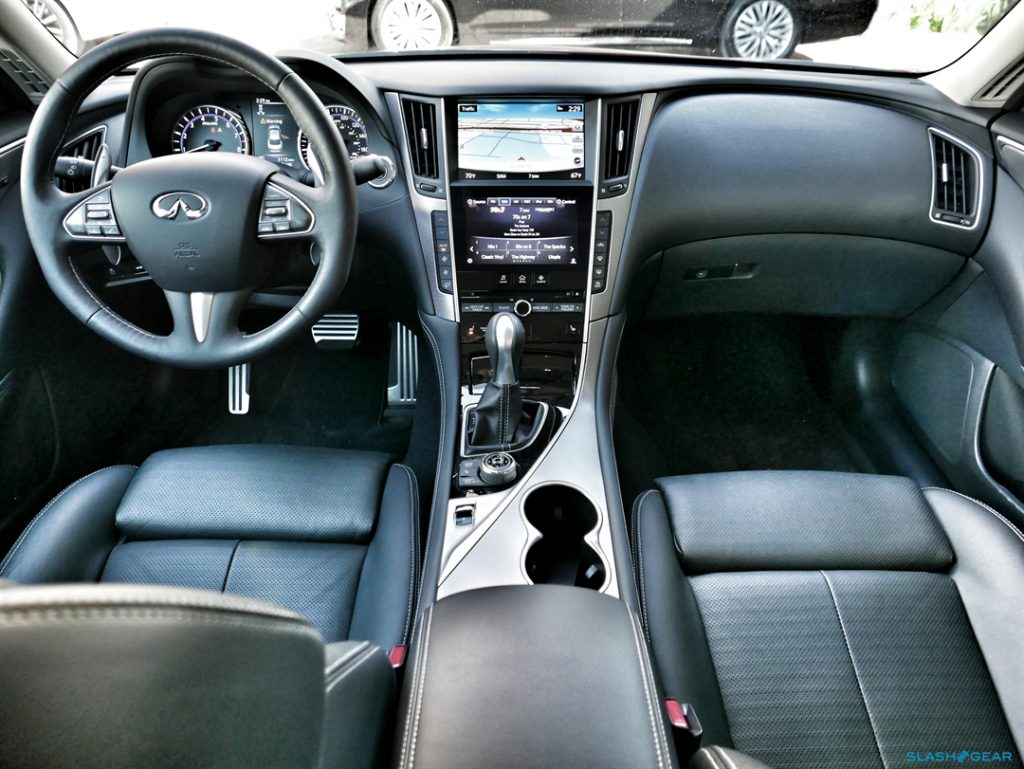 One major contention I had with the car during my drive was the windshield wipers. As far as I could tell, there was no "intermittent" setting. There was off, "auto", and Warp 10. Auto is supposed to be some kind of rain sensing system that flat out does not work. Minus 1 more point for infiniti. The worst part is that they still give you the dial on the stalk to adjust what would normally be the intermittent time, so you THINK you have that feature, but apparently it's just to adjust the sensitivity of the automatic system…[continue reading]