As we looked ahead at the weather forecast days before the 8th annual NICOFEST Carlisle, we were not surprised to see rain, rain, and more rain. After all, it has rained nearly every year of this event, so it was nothing new. Little did we know it would turn out to be some of best weather we've ever had there. That's not to say that it didn't rain, but compared to most years, it was a relatively dry weekend.
For the first time in quite a few years, NICOFEST Carlisle, a part of the larger Carlisle Performance & Style Show, returned as a 3 day event. Although the gates weren't open until Friday evening, the NICOclub staff was there bright and early Friday morning getting the track set up for the weekend. We absolutely enjoy this event, but as staff, one of the down sides to the event is that we are busy all weekend, and don't necessarily get as much track time on Saturday and Sunday as everyone else. Well, we are car enthusiasts like the rest of you, so we want our fun too. That being said, on Friday, the NICOclub staff got to enjoy a day of private track time. Some spectators, perhaps those taking a break from setting up other vendor areas, stopped by to watch as we put dozens of laps on the track, you know, to "test" the configuration.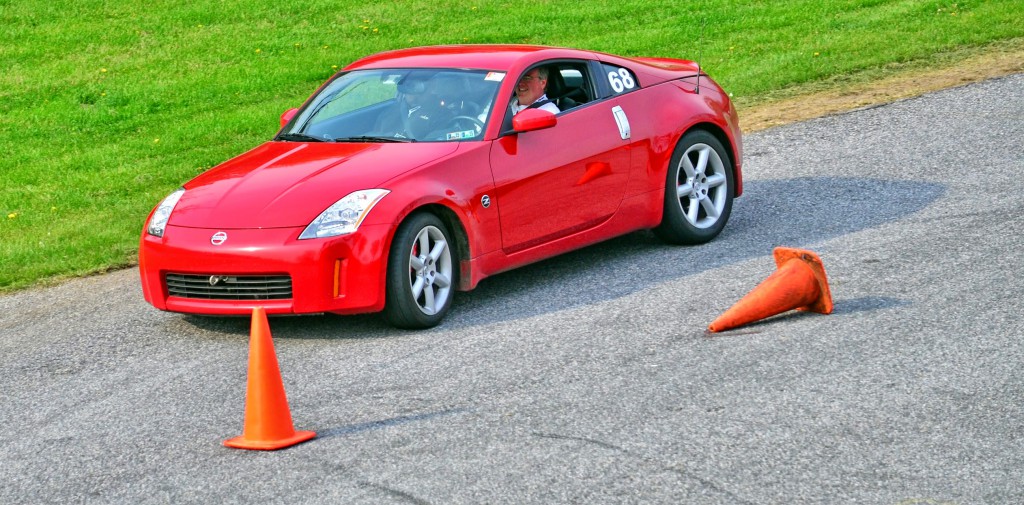 By early evening on Friday, the track was set up and broken in so both us and our cars were tired, so we headed back to our hotel. That wasn't without first handing off the track to the Gentlemen Street Club for a little bit of a drift demo Friday night. With the gates to the fairgrounds open, some early attendees got a sneak peak of the weekend by watching cars get a little sideways late into the evening on the drift track.
Meanwhile, Friday night we headed back to the hotel to kick back a few beers and hang with the rest of the NICOclub staff. As much as this event is about autocrossing, drifting, and abusing cars, it's as much if not more about the people. It's the one time a year that we can get together in person and enjoy a few cold beers and some good conversation, face to face. This year was a bit smaller of a Nissan crowd than year's past, and we're all older now than we've ever been, so needless to say, we turned in earlier than typical for a Carlisle weekend. Instead of our usual 2 hour sleep nights, we managed about 4.
Saturday morning we headed back to the track for some more fun. We've learned from the past, never schedule drifting early in the day, and that ended up being just as true this year as ever. We're not sure if autocrossers are used to getting up early for Sunday mornings, or if drifters just like to sleep in, but as usual, the autocross line was longest in the morning and there were no drifters to be found. In fact, we had scheduled a 12pm drift session that we ended up skipping because nobody had shown up yet. Autocrossers weren't too disappointed though, as they got an extra hour of track time.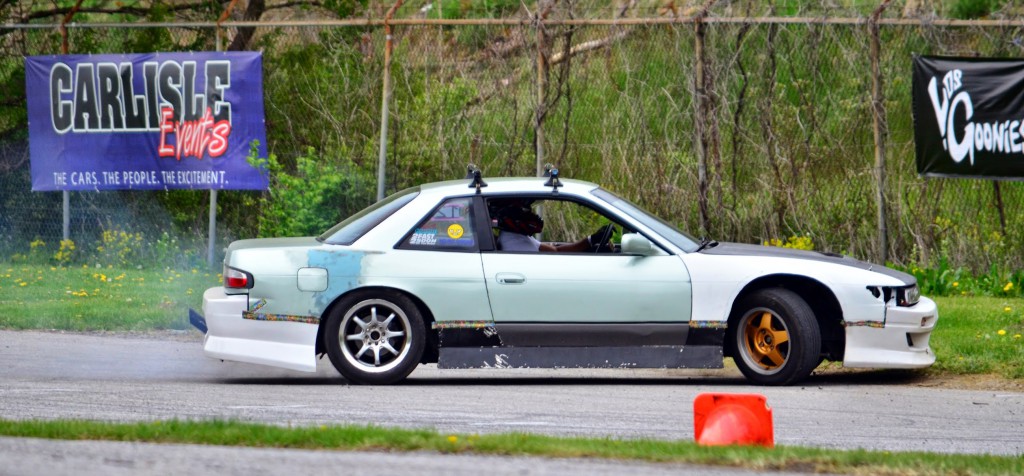 Later in the afternoon, the Gentlemen Street Club returned for another drift demo. They really put on a show with some amazing talent and amazing vehicles. The '69 Camaro they brought stole the show. With the brute force of the ground shaking V8, smoking its tires into a cloud of rubber, there wasn't a person around that was disappointed. This year we saw it all. Even a motorized drift tricycle hit the track. Nothing like a big kid's big wheel sliding sideways! There were a couple of short bursts of heavy rain, and spectators huddled under the NICO tent to stay dry. But it blew over quickly and before long, we were back on the track.
Saturday evening was a repeat of the night before. We handed off the track to the Gentlemen Street Club, but due to more rain that night, there wasn't much for entertainment on the track. Ready to relax, the NICOclub staff once again headed back to the hotel. Some of us picked up some food on the way back, while others headed to TGIFriday's for a few "purple dranks." Showing our age, we turned in even earlier on Saturday night, getting a much needed 6 hours of sleep.
As Sunday came, the day was much more mellow and relaxed than the day before. Most track participants were already registered, so they headed straight to the paddock when they arrived. A couple of new cars tried their share at drifting, only to end up broken on the side of the track. As the day went by, the large crowd of people that had earlier been in attendance slowly dwindled. By mid-afternoon, only a handful of cars remained as we started to pack up and head home.
Overall, the layout of the paddock and track this year was excellent. We appreciate the folks at Carlisle Fairgrounds who help us pull off such a spectacular event every year. We look forward to next year, and hope to see you there!
Article by Torry Skurski
Photos by James Sisson