MONTEREY, Calif. (July 19, 2014) – For race car driver Steve Millen, anniversary gifts don't get any sweeter than this. To mark the 20th anniversary of his – and Nissan's – win at the 1994 24 Hours of Le Mans, Millen brought his legendary No. 75 Nissan 300ZX twin turbo racer out of retirement at the Rolex Monterey Motorsports Reunion in California.
"This Monterey historic reunion is the biggest and best of the classic car races in America," said Millen. "I've always come up here as a spectator thinking I'd like to do that one day. This time we decided to come to compete and celebrate the 20th anniversary of our Le Mans, Daytona and Sebring and championship wins. We had so much success for this car in 1994 that we had to come and celebrate our 20th anniversary."
The 800-horsepower No. 75 Nissan 300ZX twin turbo was one of 550 vehicles invited to compete in what has become the cornerstone of the Monterey Peninsula's annual Classic Car Week. Cars are selected based on each vehicle's authenticity, race provenance and period correctness.
In fact, this car – chassis No. 7 – still has its inspection sticker from Le Mans 20 years ago.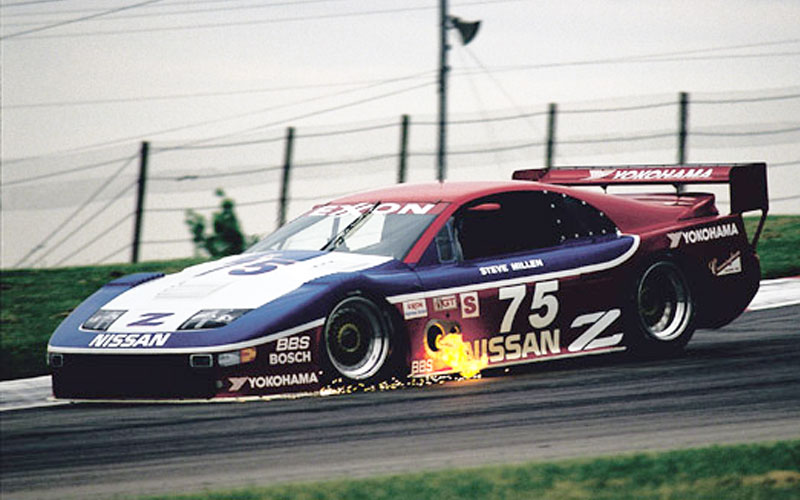 "We had a lot of success with this car. But, the car sat dormant for 20 years essentially. So when we decided to come to this event here in Monterey we ran right through the car from front to stern. Mark Honsowetz rebuilt the engine and freshened that up for us. We put on new shock absorbers. We put on new AP Racing brakes. So we had to restore the car back and get it to where we could run it hard like we are doing this weekend," said Millen.
Millen retired from racing in 1996 after an accident at Road Atlanta. He stays connected with Nissan through his performance parts company that specializes in Nissans – STILLEN.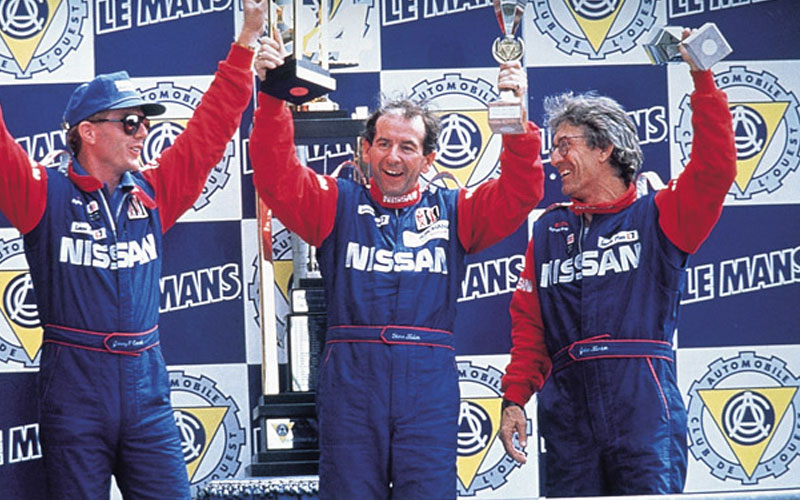 "I like doing tarmac rallying, and I've done quite a few Targa rallies in the GT-R, which is really the best car you can have for something like that," said Millen. "I really haven't done very much racing, so to come back here for the first time, it was quite daunting initially on the weekend. On Thursday I thought heck do we really have to go this fast? But now I am really enjoying it."
At the race event, Nissan had a special Laguna Seca garage area for spectators. The new 370Z NISMO and GT-R NISMO were also there for guests to enjoy.
"We have much racing history with Nissans in the past 50 years," said Shiro Nakamura, Senior Vice President, Chief Creative Officer, Design and Brand Management, Nissan Motor Co., Ltd. "So NISMO is Nissan Motorsport company, which really had its heyday taken from our motorsports assets. So now we have a 370Z NISMO and we have GT-R NISMO, and we will have much more NISMO coming to the market. I've been here almost 10 years. Always, people come to enjoy the motor race. I think it is very important to have Nissan present here."
As far as Millen and the No. 75 Nissan in the race?
"The cars are working great, and it is just so much fun to be out there racing against other competitors," said Millen.