Another NICOclub exclusive review by David Muramoto
Way back in 2002, Nissan introduced the first true crossover utility vehicle (CUV) when it coaxed the first generation Murano to life. Up until then, the CUV market was just the figment of a product planner's imagination. Its sleek and futuristic styling was at odds with the burly, offroad-ready appearance of most of the other SUVs at the time. Murano was designed to be more than proficient in performance on pavement and offered more "car-like" capabilities to prospective SUV buyers at that time. It was a risk that paid off: Murano has proven to be one of the best performing vehicles in the North American Nissan lineup over two generations of this model line.
But for 2015, Nissan elected to push the envelope on design of the third gen Murano. Or rather, they simply tore up the envelope and pushed it out the door! It wasn't long ago I recall examining the Nissan Resonance show model on display at the Nissan 360 event in 2013. The Resonance had debuted in Detroit earlier that year and word was that many features of the next Murano were featured on it. And while it hasn't been standard practice to bring a show car to life as a production vehicle, the Murano may have just shattered that mold. "At Nissan, we create concept vehicles with an eye toward production, rather than just for entertaining auto show audiences," said Shiro Nakamura, Nissan Senior VP and Chief Creative Officer. "Likely few people who saw Resonance in its North American International Auto Show debut imagined that we could build such a futuristic design. But here it is, ready for the roads of the world less than 24 months later."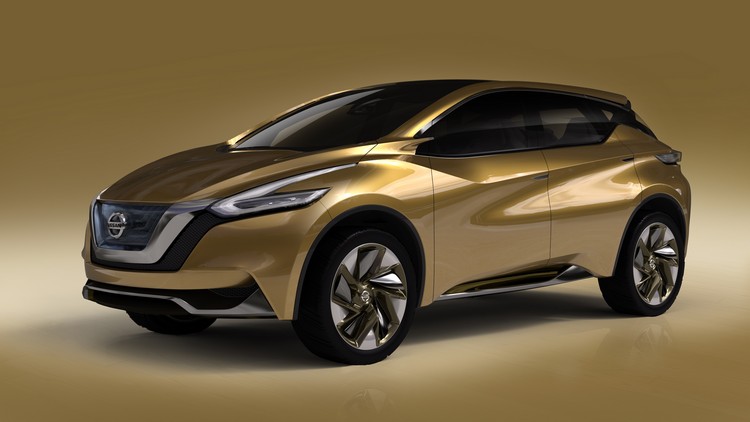 Looking at this 2015 Murano SL AWD (MSRP: $42,305), the myriad of dynamic and aerodynamic design details flow well. From the V-Motion chrome grille and boomerang headlights through the double pressed side body panel curves and on to the so-called "floating roof" c-pillar and beautifully shaped LED taillights, this Murano is virtually identical to the Resonance show car I inspected just a few years ago. With a 0.31 Cd rating, even the roof rails are carefully shaped and lowered into the body panel itself.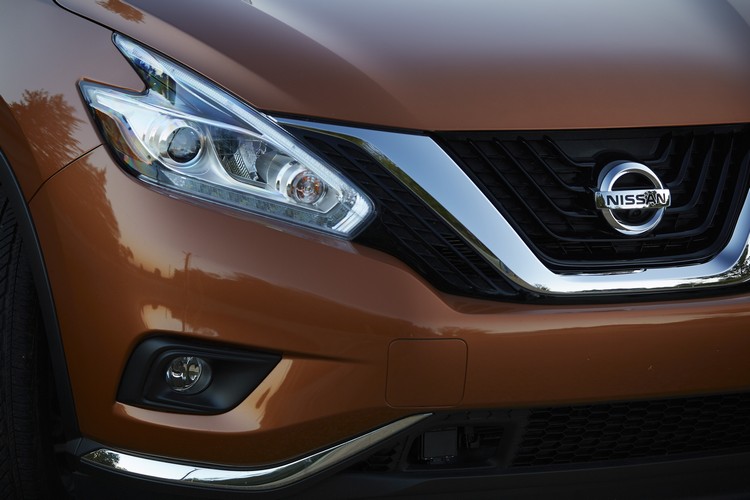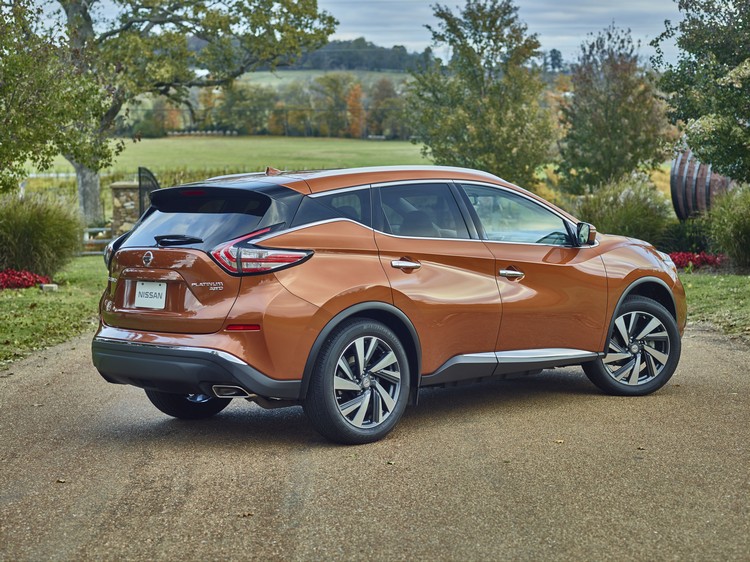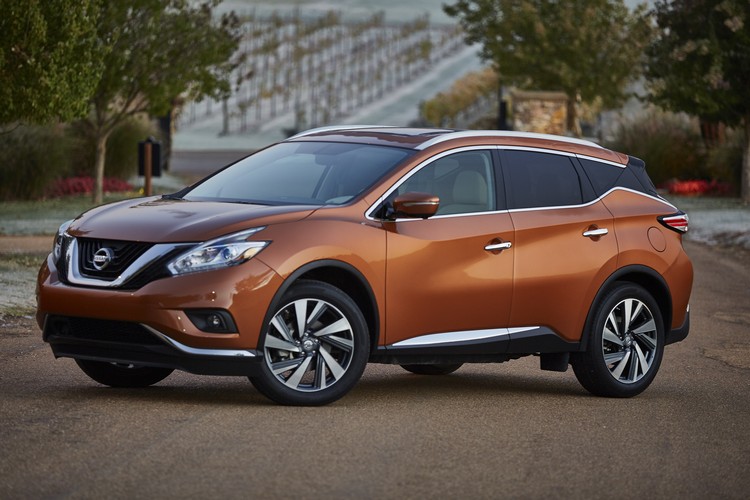 But getting into the Murano shows interior styling was given equal emphasis with a functional, yet stylish theme. Like many recent Nissans, the IP has a flowing curvature to it. High quality plastics and silver accents abound, but Nissan stylists employed a stitched leather binnacle cover above the tach and speedo display for a nice touch. Also notable was the superb feel of the four spoke leather steering wheel that looks like it was lifted from Infiniti. The 7.0" full-color monitor sits in the upper center of the waterfall IP and has many of the latest apps for this always connected world. It requires a cellphone connection to be fully functional, but Nissan wisely made them available only when the Murano is parked. The back seats are comfortable, although headroom is limited with the sloping roofline and there's no seatback reclining mechanism. The storage area behind rear seats is huge with plenty of luggage space for four adults.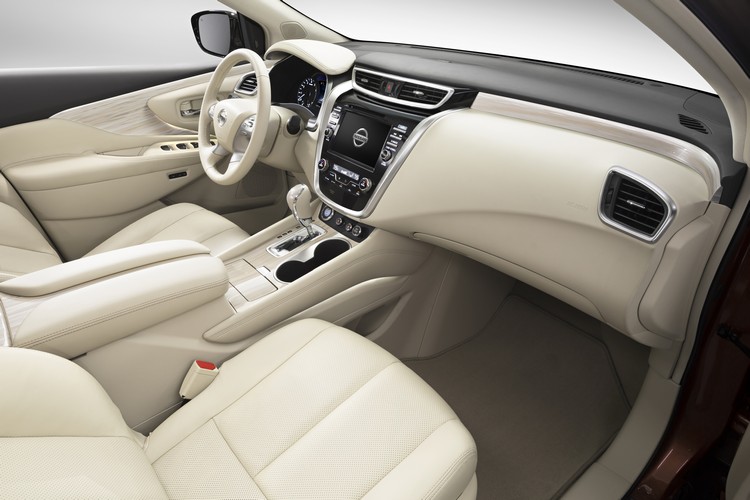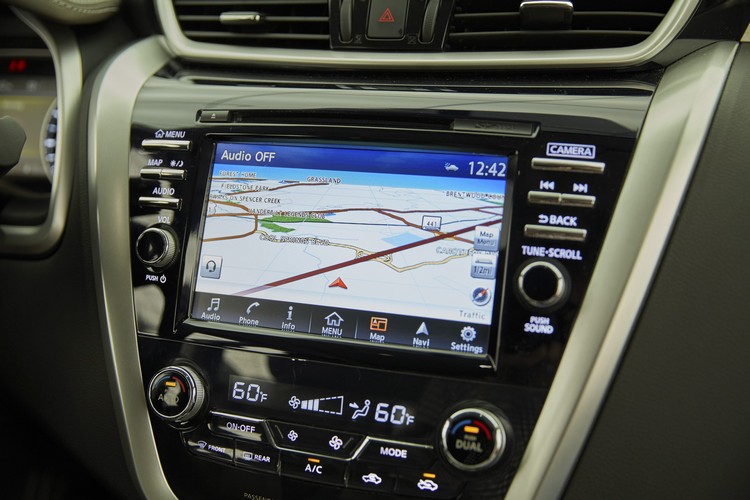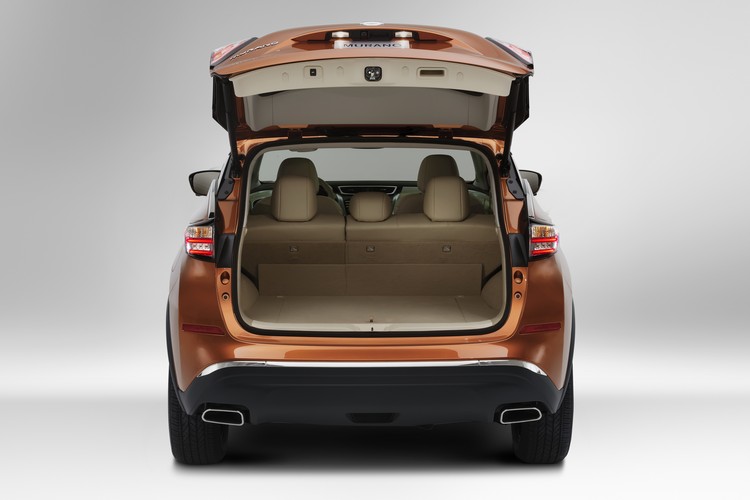 So how does it drive? That's what really matters to this racecar driver turned scribe. I'm happy to report this latest version of the VQ35DE (260 HP/240 lb-ft TQ) is very responsive when mated to Nissan's latest CVT. The throttle has a very linear feel in incremental steps in comparison to the last Murano. Better yet, when combined with a 145 pound weight reduction (compared with the last-gen Murano) and refinements to engine and tranny, this Murano gets 21-city, 28-highway, 24 MPG combined on unleaded regular fuel. In comparison, the Nissan V6 gets virtually identical EPA figures with competitors like the Ford Edge and Hyundai Santa Fe, which use turbo or NA four cylinder motors. Just put your foot down and smooth Murano power will blow 'em all away! While I didn't get a full test on the AWD operation of the Murano, rain showers didn't seem to affect traction much at all.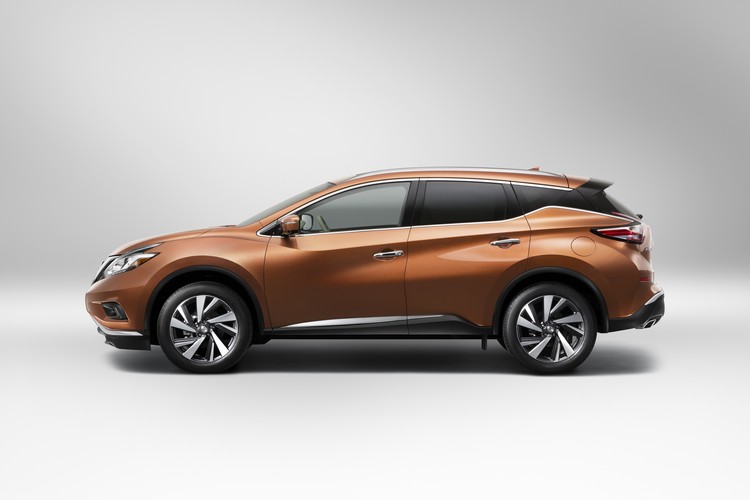 Handling is predictable for a near 4,000-pound CUV with 59% front and 41% rear static weight distribution. You can easily judge the cornering limits with understeer appearing shortly after the Murano takes an initial set in a tight turn. ABS brakes are strong with 12.6" front rotors and 12.1" out back, although they were a touch over-boosted for my tastes. This Murano SL also had an optional tech package with predictive forward collision warning (PFCW), which sounds a chime if the closing rates to a car in front of the Murano get too rapid. PFCW must work in conjunction with the brake master, as adding just a touch of pressure to the brake pedal deactivates the chime.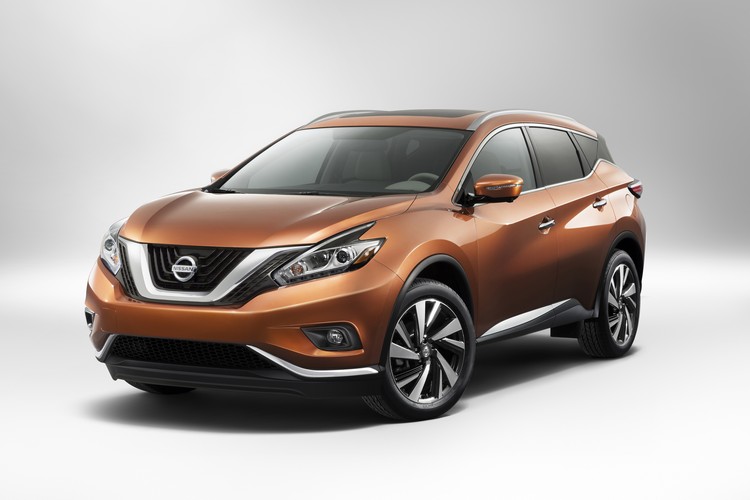 So beyond a good ride, excellent build tolerances and futuristic design, it's no stretch to say this Murano is likely to be a strong seller in the North American marketplace. The only limitation may be how many units Nissan's Canton, Mississippi plant can churn out. But watch out- with the Murano now being sold worldwide, if this stylish product catches on with other markets, Nissan may have to get their idle Japanese plants back to work pronto!