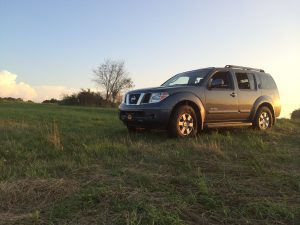 In July of 2014, I was searching for a new daily driver. I had been driving sedans for a few years and really wanted a truck, or something more rugged for myself to drive that I could also pull a trailer with when needed. I began searching for Nissan Frontiers and Xterras, along with looking at Toyota 4Runners and Jeep Grand Cherokees. I knew I wanted something with some offroad capability as well, so I knew most of these would be my best choices while still offering room for traveling with the family. We had previously had an Infiniti QX4 that I really liked a lot, but by this time it was hard to locate one of those with lower mileage and in decent condition. As I browsed Autotrader.com, I located a 2005 Nissan Pathfinder 4×4 Offroad at a local dealer with just over 100k miles on the clock and looked to be in great shape from the photos. I honestly had not even thought about or considered the Pathfinder, because the Xterra was really high up on my list, but the Offroad package on this particular Pathfinder was exactly what I was looking for.
The Offroad package added features normally seen on the Xterra and some Frontiers such as larger 265/75 R16 tires and wheels specific to this package, Skid plates, Hill Descent Control, and a VLSD Differential. In addition to that, the Offroad package sits the vehicle a full 2 inches higher off of the ground compared to other Pathfinder models during this generation.
So I went that evening to take a look at this Pathfinder and the next day I went back in, test drove it and bought it on the spot. It had been very well cared for, aside from a few flaws in the paint and had every possible option you could get on this model, including an OEM rear seat entertainment system. Little did I know that over 4 years later, I would still be driving this same Pathfinder and that it would be the best vehicle purchase I've ever made.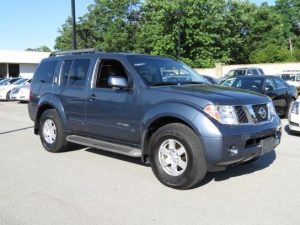 Later that week, I started looking over the vehicle seeing what it may or may not need, as with any used vehicle they typically need maintenance. Much to my surprise, I browsed through the glove compartment and found that the previous owner had filled out all of the maintenance records on it. He had recorded every single visit from the day it was new and even more surprising, it was almost always serviced at a dealership and had every bit of recommended maintenance done. I was absolutely shocked – I have never owned a vehicle that the previous owner so meticulously took care of and kept such great records. Obviously this Pathfinder was special to the previous owner, because I had also found records of it being shipped out of the country for a short period of time as well.
As I dug through the records, I realized that it was time to change the spark plugs and it was also in need of a serpentine belt. I performed a TSB on the intake manifold and throttle body at the time of service, as the upper plenum needed to be removed to access the spark plugs. Again though, I was shocked at how well cared for every inch of this vehicle was as I inspected it for more issues. It needed absolutely nothing at this point aside from routine maintenance. It's very rare to see a vehicle cared for, especially when you purchase it from a dealership that likely knows nothing about the history of it.
I won't go into every detail of what I've done to the vehicle in between, but it has needed very little up until the past year or so. It was pretty much 50,000 miles of completely reliable motoring without fail, other than a couple of sensors and basic maintenance. This past year I replaced the shocks and struts with OEM Rancho RS9000XL replacements, along with repairing any issues in the suspension system I could find. I also added AifLift air bags to the rear suspension to help with the sagging rear spring issue that is a common occurrence with the R51 Pathfinder. I also had to repair the Bose rear subwoofer amplifier due to a short in one of the relays. I've had to touch up the paint a few times as this color and the paint from this era of Nissan vehicles had horrible bonding issues, but it was only a minor annoyance to respray and blend the panel whenever this happens.
Overall, it currently has 162,000 miles on the clock and it's a true testament that if you care for a vehicle properly, maintain it like the owners manual tells you to, and repair it properly whenever it breaks you can truly drive a vehicle for years and years without fail. Now of course there are some things you can't stop, like rust and corrosion, but even those things can be prevented (or at least drastically slowed down) in most areas if you stay on top of it. I can't stress enough how important it is to properly look over a vehicle before buying it, or if you don't feel comfortable doing it yourself, then pay to have a certified repair shop do an inspection for you. If you start off with a good bill of health, it's much easier to keep it that way.
This generation of Frontier, Pathfinder, and Xterra had their flaws, but if you stay on top of maintenance and get ahead of the few issues they do have, you will be hard pressed to find a vehicle more reliable and rewarding to drive. Here's another 2005 Nissan that was equally well-loved. These vehicles were truly special and are often overlooked, because Nissan chose to slowly phase them out in favor of Crossover SUV's instead. These type of SUV's are truly a dying breed and the vehicles that replaced them don't even hold a candle to them, but we live in a world where these "dinosaur" SUV's are shunned because of their mediocre fuel economy by most buyers.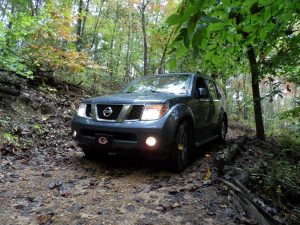 We have driven this Pathfinder all over the southeast on trips and to the east coast a few times, it's been on offroad adventures in the Smoky Mountains of Tennessee, it's hauled trailers when we've moved and to help friends, it's safely transported us anywhere we want to go – even during a 14″ snowfall that covered the interstate. It has basically become a family member that we have grown to trust and love. I never hesitate to hop in it, or hand the keys to someone else and always expect it to make it to its destination. I would drive it from Kentucky to California tomorrow if I needed to and I know it would make the journey the same as it always does. I have often described the thought of selling it like "shooting the family dog", because it is something I would genuinely be sad to not walk out to my driveway and see sitting there. I have owned few vehicles that I could say that about in my life and I honestly could count them on one hand.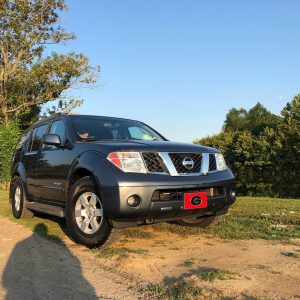 Rarely do I ever get this attached to a vehicle. Nissan has made plenty of terrible decisions in recent years, but in this particular situation I tip my hat to them and say well done. I would someday love to meet the engineer, or even someone from the team that built this particular Pathfinder, because it is truly special. I hope it stays in the family for many years to come, not just because of how attached I am to it, but because I can't think of a suitable replacement for it in our current market. So, here's to the 56,000 miles I've already put on it and hopefully to another 100,000 miles and beyond.
Thank you for reading and I hope to add another installment to this story in another 50,000 miles. In the meantime, check out our Pathfinder forums and follow us on social media!
Chris Longino
Forum Username: Kompresshun
Instagram: @kompresshun
Twitter: @Kompresshun