How to Turbo a 3rd Gen Maxima
I get a lot of emails from people asking me where to get a JDM engine but in my opinion, after having done the swap and such, that's not the way to go.
I think the best way to turbo you VG maxima would just be to use the stock engine and turbo it. Reason being, you're already starting with a 9:1 c/r engine. Its not too high and not too low. It'll spool a turbo a lot faster than a low compression VG and you'll retain the stock low end power not to mention you'll have more power at the same boost as you would a stock VG30ET simply due to the c/r being .7 higher.
The low end power is a big concern. I notice a massive difference off the line between the stock VG and the VG30ET I'm using. Its actually quite a bit slower off the line because of it and if I did the turbo setup again, I would definitely stay at the 9:1 compression. If you were to build up a motor I would personally not go below 8.5:1 unless you were wanting to run massive amounts of boost. Even then though… its all in fuel tuning. Supply enough fuel and keep it from detonating and you can run as high boost and compression as you want (so to speak). That's how you're seeing guys like Hal making 500+ hp on a stock block VQ. The VG's are very strong engines and handle a lot of abuse but no engine can handle detonation so keep the fuel supply up.
Basically I think the best way to do a turbo setup on our Maximas would be to purchase two right side (rear) manifolds from a 2nd gen Maxima or a 300ZX. These are the manifolds that go straight to the crossover pipe. This will ensure excellent flow to the crossover pipe. From there you'll need to have a custom crossover pipe made. Two 90 degree mandrel bends from the manifolds to a turbo flange will make this setup just plain sweet. The flow should be unmatchable unless you go with a custom tubular header or really work those manifolds over.
The stock Z manifolds have been proven to flow enough exhaust for 400 rwhp in a Z31 so I wouldn't be a bit surprised if this design will flow even more.
Now for the crossover pipe, you'll want to have a flex section welded on near either of the manifolds. This allows for a much easier time getting it on and off but also adds the ability of being able to allow expansion and contraction when the metal heats and cools. This keeps the welds from breaking and the pipes from cracking and such (and is why the stock crossover pipe comes with a flex section as well.) If you want to go cheap you can probably cut the flex section off of a stock crossover pipe but I would recommend buying a new one as flex sections tend to not last a very long time. Granted the ones on the crossover pipe should last much longer than one on the stock y-pipe I still wouldn't take any chances and go with a quality new unit to ensure no exhaust leaks for maximum power, efficiency, and to keep spool times down.
One thing to note is that the cylinders are offset of each other so when you put two of the same manifolds on the engine one will stick out further than the other (I want to say the front one will appear slightly longer). I don't believe this will cause any problems as using the mandrel bends on the crossover pipe will help equal things out . If you want equal lengths just cut a section out of the "longer" manifold and weld it back together. If you take it to a shop a lot of them will say you can cut and weld cast iron but these are very high quality manifolds and weld incredibly well. I believe they're actually considered cast steel. Once they start working on it they'll realize its some good stuff. (they're too used to crappy cast iron manifolds on ye old domestics or something)
(This is kind of a crude drawing but you should get the idea pretty easily.)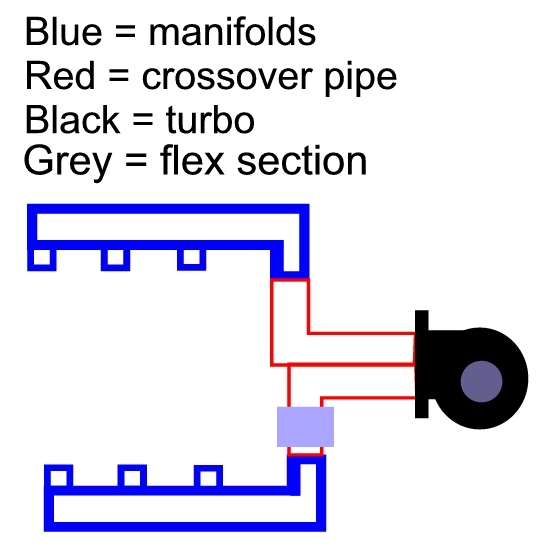 After you get the exhaust dealt with everything else is pretty much cake. All you have to do is decided which route you want to take for the fuel control (e-manage, s-afc, JWT, romulator, Zemulator (I'd probably choose this since its been said to work on the VG), etc. etc.). If you go with the e-manage or s-afc you won't be able to go much larger than the 259 cc injectors due to them being able to only adjust fuel +/- 50%. 370 cc injectors are more than 50% larger than the stock 180's which will make it a bit harder to tune properly. This is where going with a JWT, Zem, or the romulator will come into play.
From there find yourself an aftercooler if you're wanting to run higher amounts of boost (I believe they say anything above 7-8 psi, maybe 10 psi… just depends on the turbo used). If you're going for maximum performance go with nothing less than a true bar and plate aftercooler. If you see a picture of one of Spearco's bar and plates looking through the inside of the core and compare it to a tube and fin you'll be blown away. (I'll get some pictures of this a bit later. There's a picture of a Spearco in Turbo and High tech Performance, I believe, so I'll get that one and show you the comparison with my "hybrid" tube/fin and bar/plate aftercooler that I bought off of ebay).
Having the optimal setup for the piping is a bit trickier due to the design of the intake manifold "elbow" (the aluminum piece that curves to the driver's side and connects to the plastic intake pipe). Reason being is with that elbow no matter how you do the piping, besides running an aftercooler with the inlet and outlet on the same side, the pipes run over the hot exhaust at some point and there can be some extreme bends (180 degrees). This can be fixed if you have the elbow modified to point to the passenger's side or you can simply use an aftercooler of this design: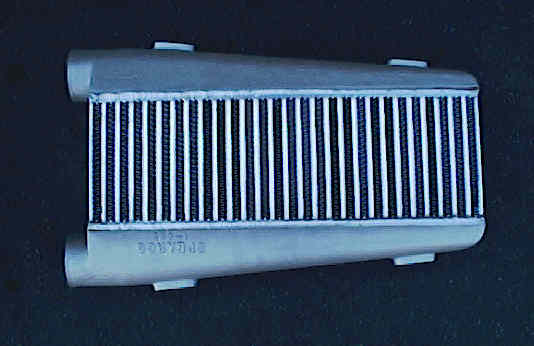 The only restraint with that design is running multiple pipes through the same hole gets a bit tight, but its not impossible. Probably the biggest piping you need for the intake on these cars is 2.5 inches though so its not too bad. You'll need to get a 2.5 to 3 inch converter coupler to go to the aluminum piece or something similar to hook it up but that's not all that hard. http://www.hightempsilicone.com has some pretty good pricing on silicone couplers and converters like that and also has some very high quality clamping solutions. I'd personally recommend nothing less than a t-bolt clamp. The constant tension clamp is probably not necessary but if you want to get it for the all out best setup you can.
The exhaust, fuel, computer, and intake has been covered so far so that basically leaves the clutch and wheels/tires. Get a good clutch to handle the power this thing will make (ACT, SPEC, Exedy, RPS, etc.) and some nice, wide wheels and tires to help put the power to the ground without slipping and you'll be set.
Really the only thing you'll have to worry about now is if the Borg Warner POS tranny will survive the power the VG can put out. Import Performance Transmission (www.ipttrans.com) knows of the input shaft bearing problem and can put in a larger, stronger bearing to fix the issue. I'm not sure of pricing so you can just give them a call to see what they charge for that service. They can also build it up even more if you'd like to. For a full buildup I'd say you can expect to pay about $1,500 or so. Expensive… but not as expensive as replacing the tranny constantly and not to mention the headaches it will save. The tranny is one reason why I'm pretty much done with my Maxima.
Hopefully this helps those of you looking to turbo you VG. If you have any questions I'd be more than happy to answer them. You can PM me or email me, either way works.
Good luck to those wanting to turbo their Max!
Article courtesy:mtcookson