Afterword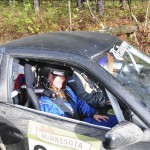 With my half of the race over, it was time to hand the keys to Chris. I was nervous, but he promised to keep the girls safe. If Jen trusted him, then so should I. It rained hard, and he did a great job with the greasy roads and the new to him drive train. That part of the story is his to tell though. Hopefully someday he will. They ran clean, with only some minor damage to a tie rod from something in the road. When they pulled up to FTC, I could tell they were both tired. Sometimes healing can take a lot out of a person.
The next morning, Jenny had to leave before we finished loading the truck. Too much driving to do, she missed the group photo. Adding her digitally doesn't feel right, we left a space for her, but there were truly 2 people missing from the group.
This experience couldn't have happened if it weren't for the help from those around us. Thanks go out to all of you; most of all to my wife for putting up with my insane need to risk my life rocketing pell-mell through the woods. To Cale, for being the man with the garage, I made a mess of your space for 2 years putting things together. Maybe one day you will have a project of your own. To John, Andrew, and Chris T., for helping Cale service. The extra manpower made the weekend slip by without issue; your generosity will not be forgotten. To Mark, for loaning me a set of harnesses – without them, we never would have made it to Tech. To Tony for the use of your truck, it made towing a joy, even if Cale did all the driving. To the people at Rally Minnesota; for putting such hard work into a great event. To Chris Gordon, for bringing Jenny on board. This weekend, she joined our team… in reality, we joined hers. To Jenny: You made for the greatest weekend any of us could have asked for, and I could tell the group missed you before your car even disappeared over the horizon. Wherever life takes you from here, I sincerely hope it involves Team 240 in some way. And lastly, to Marker: Jenny paints a picture of you that I hope to mirror as I move forward. You put strength within her that she now shares with all of us, and that is the best gift anyone can give. Words cannot describe how sorely you will be missed. P.O.R.
-Ian Seppanen
__________________________________________________________________________
I would also like to thank NOS Energy Drink. They provided us with a canopy to keep us dry, and a bunch of free energy drink to give away to people. Both were a huge help. Thanks also go out to Dave (Ajax) for his support getting us to the event, as well as David Muramoto, for the Nissan Sport Magazine vinyl.
Photos Courtesy of:
Tighe House and Amanda Ingle, as well as Chris Tuominen and Ian Seppanen.
Other links:
Follow the Project 240SX Rally car build
In-car videos
_______________________________________________________________________________________
About the author:
Ian Seppanen has been a member at NICOclub since 2004, and has been a Moderator for three years. His off-road shenanigans in a 240sx are legendary, and anyone who meets Ian comes away impressed with his cool-headed approach and technical expertise. As an accomplished fabricator, we've enjoyed watching Ian make an old RWD economy car do things in the dirt and mud that it was never designed to do.
While Ian keeps improving the Rally America-spec Group 2 rally car, we hope you'll follow his career and consider supporting Team 240 with a sponsorship or financial contribution. You can reach Ian for more details at [email protected], or just post up in the 240SX Rally car build thread! Make sure to share this article, and help spread the word about this remarkable team… We're proud of Ian and Team 240.
On behalf of Team 240 and the staff here at NICOclub, thanks for spending some time with us – be safe, and Godspeed.