With the car having passed Tech, there's still several more hurdles ahead.
As we walk out of headquarters, the rain that has begun to fall can't dampen my spirits. I spot the rest of the service crew. We all head back to our hotel parking lot. Just enough time to finish some last minute things before Parc Expose. We set up the canopy… The crew begins swapping on a fresher set of tires, and applying some more vinyl. I rain-x the windshield while Chris works with Jenny making notes to the route book.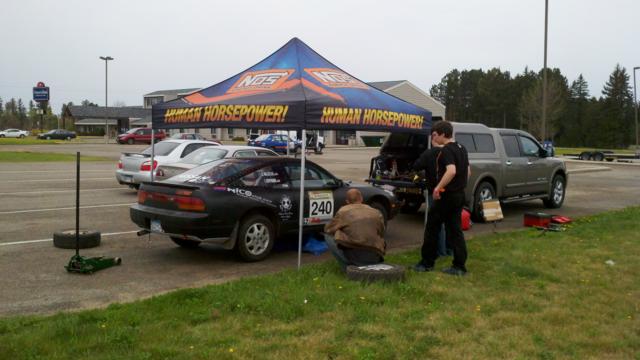 Parc Expose is due to begin after 4pm. Jenny and I hop in the car, and head to a gas station to top off the tank and do a last minute re-check of tire pressure. When we arrive on Main St, I park near the end of the pack and climb out. The rain is coming down harder now, I'm glad there is an overhang near the car to keep us dry. Competitors, workers, and spectators all mill about, attempting not to get wet. One of the Event Stewards walks over and hands me a few more event sponsor stickers, Jenny and I struggle to put them on. They stick surprisingly well considering the rain. Just before 5 pm, we head down the block for the mandatory drivers meeting.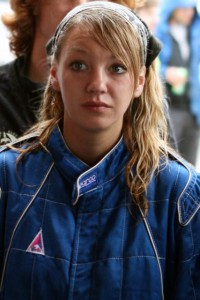 After a short discussion on changes to the route book and some other safety related items, we are cut loose. First car is due out of MTC 1 at 6 pm. We are left with another half hour to kill. My nerves are building again. Is the car going to be reliable? Am I going to be reliable? Did we make the correct tire choice? As Jenny and I stand near the car, we chat with Chris, his sister, and her husband. I can tell Chris is nearly as nervous as I am.
I promised him before the event that I would keep Jenny safe; it is a promise I will keep. I glance at my watch, 10 minutes to 6. I look at Jenny, and ask if she is ready to go. She smiles and nods her head yes, I can see in her eyes she shares my nervousness. I make a weak attempt to reassure her silently as I grab my helmet. We slip into the car, and start putting on safety belts.
Nerves make it take longer than it should. I hear a race car roar to life up the line, my hands start shaking. I reach for the ignition key, close my eyes, and twist.. It just cranks, no start. My heart drops. It has NEVER failed to start. I try again, crank, crank, crank, no start. My eyes go wide, my mind starts racing. Did the rain get the distributor wet? Did I blow a fuse? Is the fuel pump dead?
I give it one last shot, hold it a bit longer. Just before I let go it rumbles grumpily to life. As it settles into its normal rough idle, I exhale hard. As I pull up in line to MTC 1, I can feel my heart pounding. I recheck my safety gear, my world is about to be turned upside down.
As the worker hands us our time card we are reminded that our time out is 6:09 pm. I pull away from the MTC, and immediately turn north out of Park Rapids. It is a 36 minute transit to Special Stage 1. As we drive, Jenny apologizes for not being talkative. I reassure her that the decision to chat is hers, and I hold no ill will about it. Whatever weight I have on my chest, must be ten-fold on hers. I admire her strength.
She follows the tulips and leads me to Stage 1. As I pull in behind the FC RX7 running ahead of us, I struggle to control my breathing. My mind is racing again; I have never been this excited in my life. I wonder what she must be feeling.
Waiting to start the stage…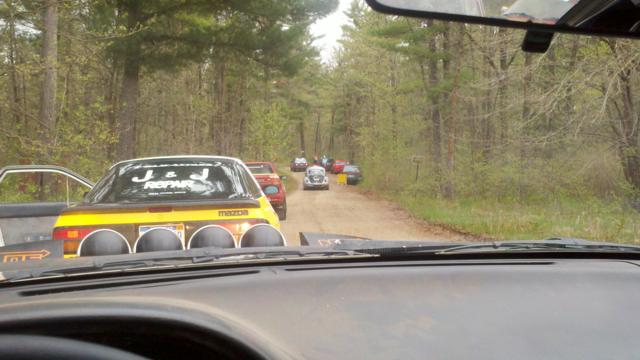 I'm still doing mental checks as 6:45 clicks over on her watch. She points me forward, it's our minute. The cloud of mosquitoes around the workers does not seem to have dampened their mood, it has stopped raining. They ask if we are ready as Jenny hands them the time card. We both nod. I pull forward as she stashes the card back in her route book. As we queue up a few yards behind the start control, I hear the growl of a V8 coming from the Ford Sierra a few cars ahead. The hair on my neck stands up as he powers away down the stage. As the RX7 pulls foreword, I look at Jenny and I ask her if she is ready. Her eyes are bright, she nods. I reach back and turn on the in-car camera.
Moments later the silence is broken by the rasp of a rotary working towards redline. As we roll up to the start, the smiling worker asks the same question, our answers haven't changed. She tells us 30 seconds. My palms are sweating. When the clock reaches 10 seconds she starts counting down. I slip the shifter into first gear. At 5 she starts dropping fingers. Her fist swings down. The outer pedals switch positions as the cabin is filled with the scream of angry combustion…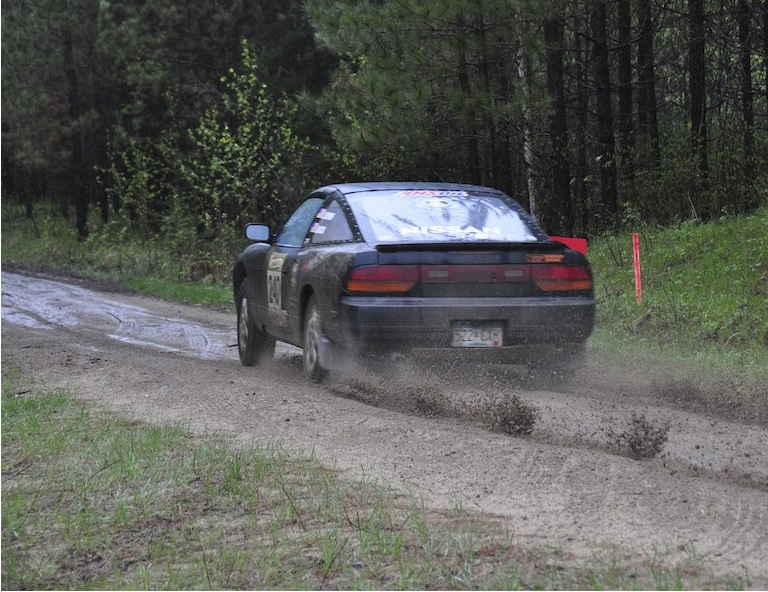 A year and a half after the project began, the NICOclub 240sx rally car is competing… but will it be competitive?
Keep reading – Debut of the 240sx rally car (Part 3)