NICOclub's Official Rally Team makes its competitive debut in Minnesota, brings home much more than a win.
by Ian Seppanen (FlatBlackIan)
It's just after 5am and my alarm is going off. I think to myself, "Where am I?" Then my conscious mind catches up with the rest of my body. Registration opens in less than 4 hours. Despite the fact that I've been averaging 4 hours of sleep a night for more than a week, I'm up and getting ready in seconds. Today is the day.
I pick up my phone and dial my Crew Chief, Cale. Normally a heavy sleeper he answers with grogginess in his voice, I hear road noise in the background. Good, he's in the truck. It's nearly 6 am as I force down some cereal. I haul all my extra clothes and some last minute tools down to the driveway just as Cale pulls up in the Titan. The race car is just where I left it the night before, sort of, securely strapped to the trailer. The bed of the truck overflowing with spares, tools, and gear. It had only been 4 hours since we finished loading everything, yet it felt like another year. The tightness in my chest had been growing for days. Let's hit the road.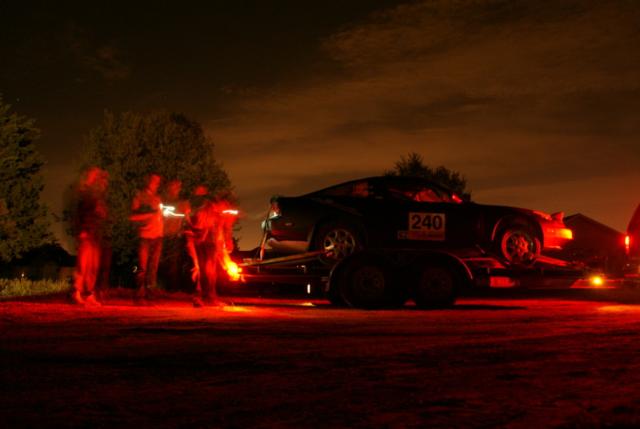 The truck is heavy, but the engine seems happy to be pulling it, the miles roll off. The trip happens in the blink of an eye; before I even feel ready we're in Park Rapids. It's time to get the car off the trailer. We're already behind schedule, it's almost 10 am.
I check my phone, Chris Gordon and Jennifer Majszak are already starting registration and should be back to help in a few minutes. The rest of our service crew is running 3 hours behind. Chris and Jennifer show up as the car comes off the trailer.
I shake Jennifer's hand; at 5′ 2", and not enough pounds, she makes me feel like a giant. It's good to finally put a face to a voice and a name. I wave hello to Chris, his mood seems to have lightened since I last saw him, it lifts my spirits. They had driven up the night before from Traverse City MI, both look tired. First things first, I ask Jennifer to sit in the car. Without anyone her size on hand, I had estimated belt length and seat position. My guess is good. The belts are tight, and she can reach the computer.
Perfect, let's get the car to Tech. My chest tightens up as Chris tells me that both Jennifer's head/neck restraint and her fire safety suit are coming with another competitor. Both need to be checked before the car can be cleared by the event's Technical Inspectors. This does not help my nerves. Having been through many Tech inspections, I know what I'm in for, but this is a "new construction", and it's my car, what if I missed something. Will there be time to rectify the mistake? There is almost no time to worry; we still need to work out registration.
Cale and I head to headquarters to finalize entry. Chris begins the process of teaching Jennifer how to use the rally computer. This will be her first time co-driving a rally car.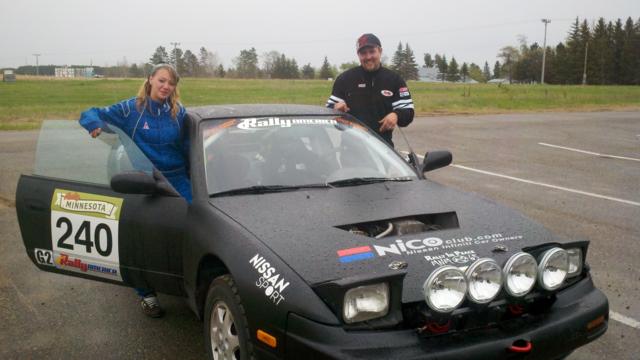 Registration complete, we head back out to the parking lot. It's nearly noon, Jennifer and I both need to attend "Novice Training". This will be our first time competing in an event as Driver and Co-Driver. Cale will need to Tech the car solo. Tech inspection closes at 2 pm which won't leave much time to fix any issues that crop up during inspection. I feel like my nerves are reaching a breaking point, the only thing keeping my lid on is a similar amount of excitement.
As Jennifer and I are about to head inside, the remaining safety gear shows up courtesy of Matt Bushore, and Jimmy Brandt. Chris sets them in the back of the race car. Cale jumps in, and heads off to get in line for Tech.
The 240 being tech inspected: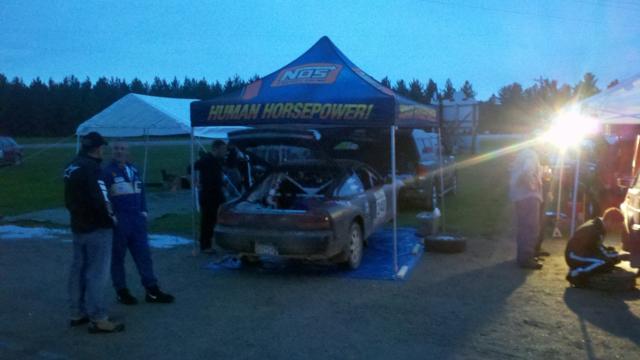 Inside the hotel room I survey the other novice drivers and co-drivers. I try to squash the feeling that I'm the newbie; we are all in the same boat here. The event safety steward begins going through the basic things you need to know to safely run a stage rally. I try to keep my mind on track. I glance at Jennifer, her eyes seem to be mirroring the same nervousness, she smiles, it calms me down a little.
Halfway through the class I get a text from Cale. The car passed Tech! A broad smile crosses my face; I fight the urge to throw a fist into the air….
Keep reading – Debut of the 240sx rally car (Part 2)