By: rsmithdrift
Ok so some of you know I got my Megan Streets in May of 08. My car has been through a lot since then.. Engine malfunctions, collisions with guard rails, being in and out of impound, and sitting for 9 months since then. If anything can test a set of coilovers its been my car.
When I first got them all nice and shiny and installed… they felt too stiff. Almost like having solid suspension. I thought I might have made a mistake at first. However apparently springs have a break in period and for mine it was about 1 month for that initial super stiffness to wear off. They have felt perfect ever since then. They are very stiff and unforgiving over big bumps and pot holes but it's worth it because of how good they feel. Even in those big harsh situations its not even too bad because they are dampened just right so it takes a lot of the harshness away and it just feels solid; like it should. Until 6 months ago I had stock arms so my alignment was less than desirable to say the least being lowered 2″. They handled good then even, but now that it's all lined up right my car handles perfect. It's important to note that I have no front sway bar because in 2007 a bolt broke off of it when a friend of mine went through a ditch in it and it was not really fixable so I just removed it shortly after installing the coilovers. (it was causing the car to handle unevenly because it was only working in right hand turns.) Also having no front sway bar corrects for mid corner understeer that s13 are known for. Even with out it it still corners flat and stable because of how firm the suspension is. This thing handles perfect too I mean it. The car is loose at any point in a turn. The rear approaches grip limits just before the front just like it should. EASY to control also.
Because of the stiffness, the car is unforgiving over larger bumps, but because of the balance and well tuned suspension it recovers quickly and stays in control. THEIR IS NO BOUNCE. The bump/rebound settings feel perfect. Firm without being too harsh. This is really saying something too because the roads around here are TERRIBLE. I know of 4 places to catch air easily at 60mph and the pot holes in this town are rediculous.
The dampers are 32 way adjustable but it's not really necessary. I keep them all half way (16 clicks) the rears I have varied occasionally by no more than 4 clicks depending on what System I have in my hatch at the time. (I've had 4 different boxes since 08) The wieght in the back makes a big difference. 2 clicks stiffer with the heaviest box and 2 clicks softer than middle currently (light box and 50lbs removed from back end elsewhere) I just adjust them by how they feel going down the road to work/back every day.
I HAVE ONLY HAD ONE PROBLEM in all this time. About 8 months ago the pillow ball retainer bolt came loose. It's the one under the damper adjust screw that keeps the pillowball from moving. It started making an audible bang over bumps and I had assumed it was ball joints and it the banging kept getting worse over time till finally I said screw this and replaced the lower control arms about 6 months ago. When that didn't work I found the loose bolt. It was backed off very far from its origional position causing the pillowball to separate over bumps and bang very loundly when it came back together when the wieghtof the car got put back on it. It must have done some damage to the pillow ball because now when I turn sharply quickly like when pulling out of the driveway it makes "TINK TINK TINK" sounds. Which I assume would be the pillow ball having a nick in it and it catching on the now rough uneven surface of the beaten and likely damaged pillow ball retainer surface. The only other issue is just a little cosmetic rust on the ride hight adjust bolts and the upper pillow ball mounts that are visible under the hood.
I give them a thumbs up for anybody wanting a good set of coilovers for their street/track car. But only if you don't mind sacraficing a little ride comfort for handling and control.
NOW FOR PICS!!!
Note the slight surface rust on the silver parts.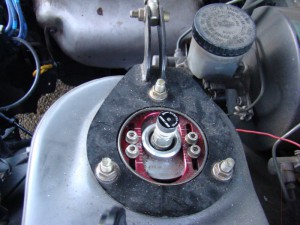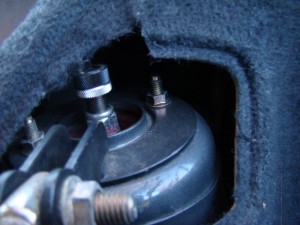 dirty inside the wheel well. Dust covers still in good shape. Everything tight and crack free.
And the slight surface rust on the ride height adjust bolt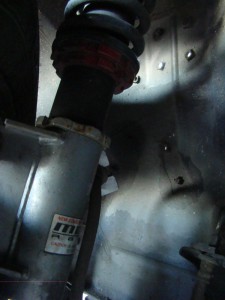 I've put 30k miles of pure hell on them. Driving washboarded gravel roads occasionally hitting small speed bumps hard falling into massive pot holes on the INTERSTATE and catching air at 60mph in certain places just for fun. They still ride the same as they did 2 years ago. PERFECT. Maybe I got lucky… But these were the best thing I've ever done for my car.
If you;re a 240sx owner, you owe it to yourself to join us in the 240sx forums. We'll see you there!