Ok, so you've heard about some of the fabulous deals on the nation's favorite internet auction site and you'd like a slice of the action. But before you press the 'bid' button on that classic, take a deep breath and follow our top ten ebay buying tips first!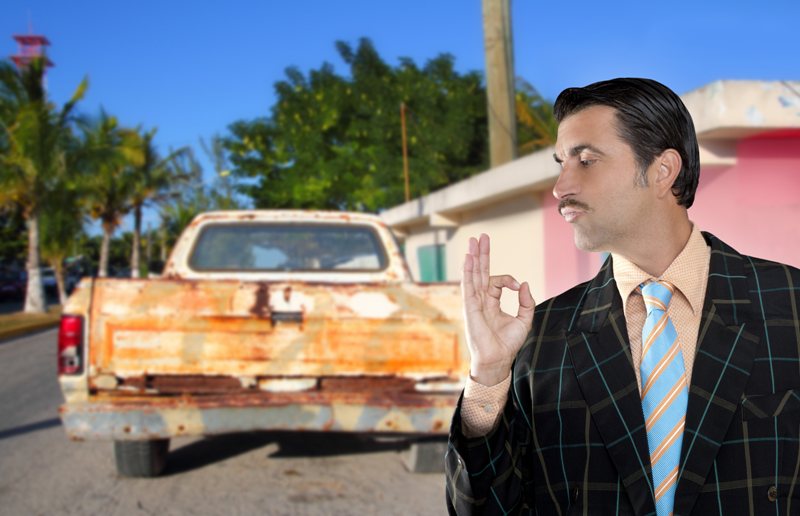 1. Read the description
It's all too easy to get carried away and ignore the seller's description. Read it, then read it again – and don't ignore small print regarding payment and delivery. Ask yourself, do all the facts stack up – the year, model, color, specification – is the car exactly as described? Reading between the lines, you can tell a great deal from the seller's narrative – specifically, the way the listing has been worded and the reasons why the car is being sold.
2. Feedback
Check what other people think of the person you're buying from. If there's been any bad experiences, or instances where the buyers have been left with a sour taste in their mouth – give it a miss and don't bother bidding.
3. Check it out
As a rule of thumb, always view a car before bidding and be suspicious if the seller appears reluctant to arrange a viewing. There's still a huge number of rogue sellers out there, so don't take anything on face value and cross reference the car's registration (and chassis number if possible) with an independent vehicle check agency (such as Carfax in the US, HPI in the UK) to rule out stolen cars, cars that have taken on the identity of another, ones that have been written off in a crash or still have outstanding finance on them.
As Andy Gregory from VW Heritage commented: "Always look at another example, even if it's out of your price range or the wrong colour or spec – the more you know about a specific car, the more informed you will be when viewing a prospective purchase." Remember, if a car sounds too good to be true, it probably is.
4. Build rapport
Make contact with the seller and get a dialogue going. You'll usually be able to gauge from this whether they're genuine or not and whether what they're selling is kosher. An honest seller will provide detailed answers to any questions you pose, while someone with something to hide will be less forthcoming. Go by your intuition.
5. Who's selling it?
Be sure you are buying from the actual owner – confirm their name and address and check this out, and avoid parting with cash in carparks or motorway service stations.
Depending on what country you live in, your consumer rights may depend on whether you are buying from an individual or business, but worryingly many businesses pretend to be private vendors. If a car is being sold by a private seller, it must be theirs to sell and correctly described but otherwise you haven't got any real comeback if things go wrong. On the other hand, registered businesses must adhere to more stringent regulations so you may have more rights. If you click on 'Buy it now' it doesn't count as an auction and a business seller must adhere to distance selling regulations which means you have the right to change your mind and return the car if you want.
6. Don't impulse buy
Lots of folk get a lot of fun out of 'browsing' – especially on a Saturday night after a few adult beverages – and you might come across a real hidden gem this way. However, it's more likely you will end up bidding for a car that you had no intention of buying. Go into the whole process with a clear idea of what you are looking for, down to the make, model and engine size.
7. Do your homework
Before getting carried away by the whole bidding process, do your homework regarding values. Check out what other similar vehicles are going for on the site, set yourself an upper limit and don't go (too much) above it.
8. Money matters
Assuming you place the highest bid, you'll need to pay for your purchase – and it's important to go through the correct channels. Don't send cash or transfer money other than by PayPal. If you pay by PayPal you will normally qualify for ebay's Buyer Protection and be entitled to a refund if things go wrong. Payment on collection is best, so if you arrive and a car isn't as described – don't part with your money! Never pay a deposit or put down a payment to reserve a vehicle.
9. Retract your bid
By bidding you are entering into a legally binding contract to buy the item. However, if you bid by mistake and want to retract your bid, you can usually do so – as long as the auction hasn't ended. You'll need to contact the site's administrators.
10. Buyer beware
Undoubtedly, there's plenty of bargains to be had on internet auction sites – but at the end of the day, there are risks involved and the onus is on you to avoid getting duped. Keep your emails, do all your transactions via the site and carry out all the detective work necessary before bidding to minimise the risks.
11. Inspect it in person
Often, there will be someone in the community who lives within a short drive of the car you're looking at. If you're a member of a forum community, this is a great opportunity to reach out to someone in the area, and ask them to go have a look for you. Of course, you'll also want to return the favor if someone asks this of you – but that's what a community is all about.
About the Author:
Ian Cushway has been writing about cars largely for 20 years, cutting his teeth on classic stuff at Practical Classics but has also contributed to titles such as Top Gear, BMW Car, GT Purely Porsche and Auto Express as well as editing a whole range of newsstand titles too, including Used Car Buyer, Classic 999, Performance French Cars and latterly VW GOLF+ and Total BMW. You can find more of his most recent articles on the blog at VW Heritage.