Written by: frapjap
Article created by: 300ZXttZMAN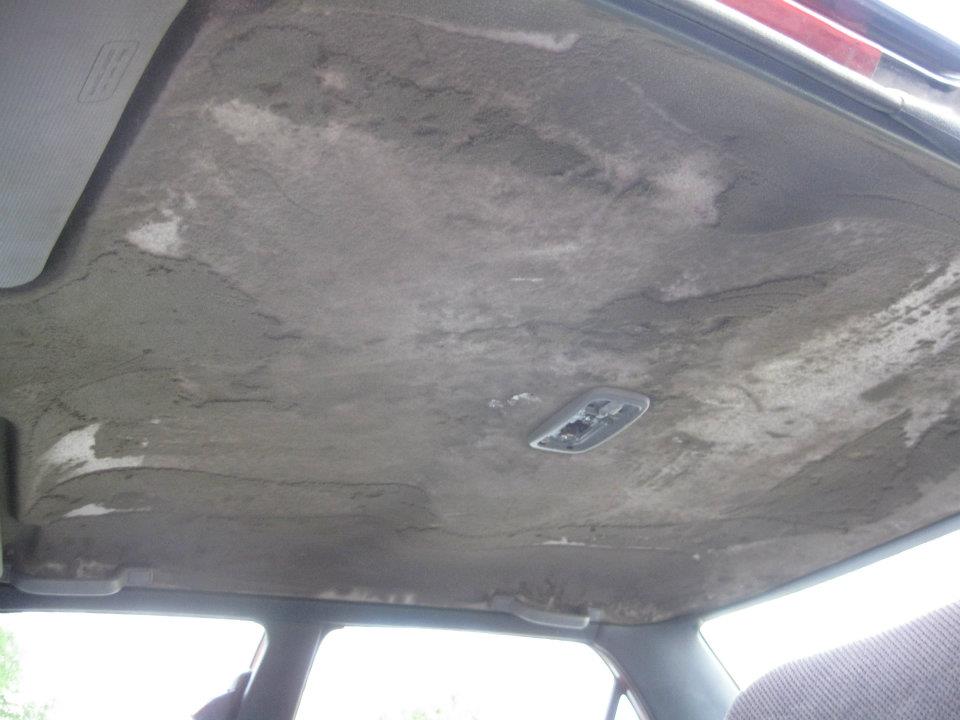 Alright, so you've got a car with a sagging or nonexistent headliner. You're tired of it hanging on your head and breathing in the fuzz that your friends like to write swear words into while you're driving. You've finally decided that its time to tear off the fabric and fix your problem without tacks and safety pins. If you've got about 2 hours on your hands a handy list of supplies some basic craft skills, you can recover your unsightly headliner.
Materials/Tools needed:
– Screwdriver(s)
– Panel popper tool (makes life easier)
– Wire brush
– Spray adhesive
– Gorilla glue/quick set glue or other more accurately applied adhesive
– Hobby knife
– Fabric
Step 1
Unscrew/bolt anything that appears to be holding the headliner to the roof. This includes but is not limited to:
Sun visors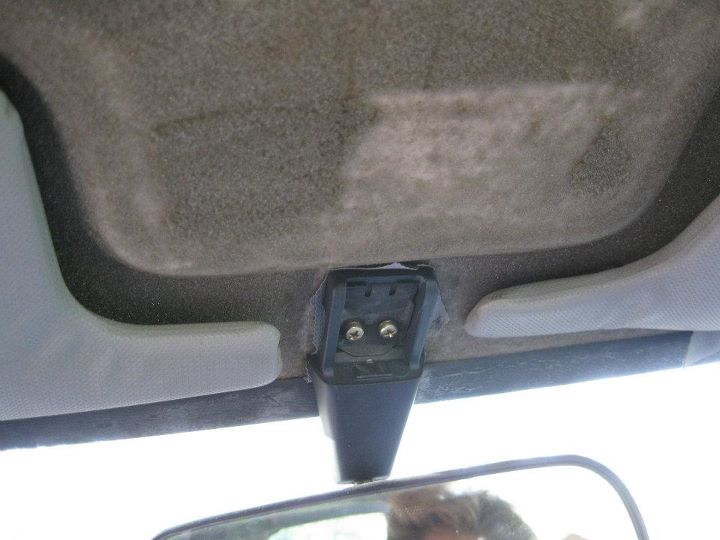 Rear view mirror (I love that mine isn't attached to the windshield)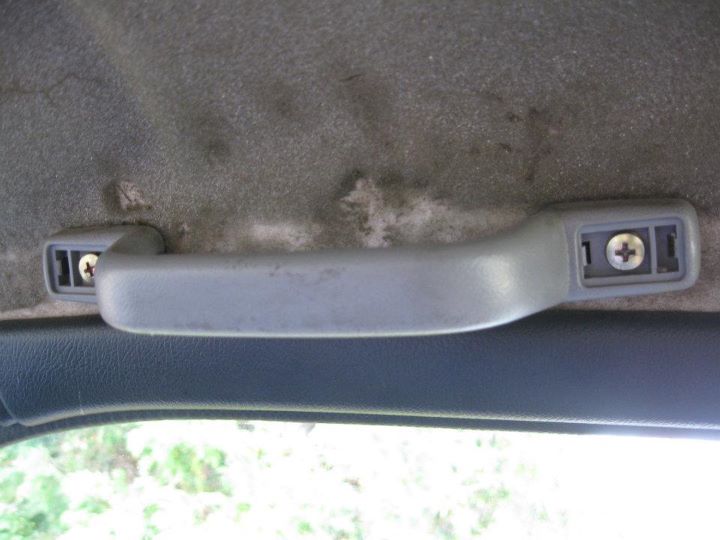 Oh sheit handles
A-Pillar and other trim such as the dome light.
Every auto manufacturer has their own way of holding panels and trim on. The headliner I'm removing here is from a Toyota. There are clips like these: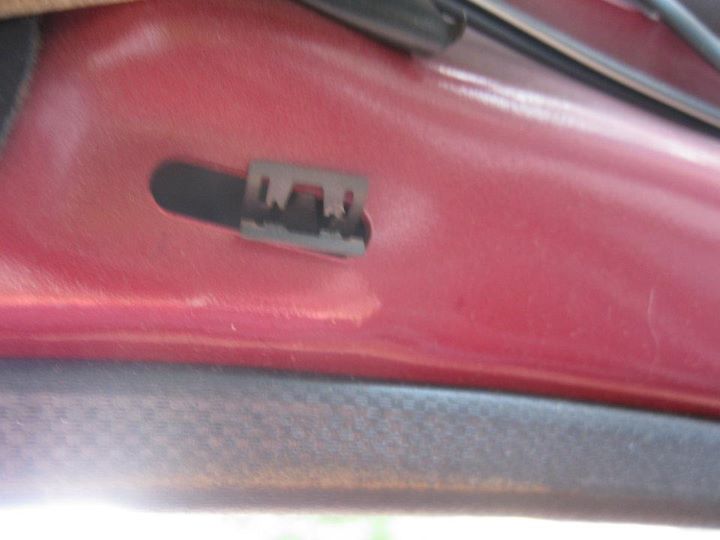 …that slide into plastic tabs inside of the trim panels. Sometimes they break from being brittle and old. Take caution removing and replacing.
Step 2
Once you've removed everything that holds the headliner board to the car, its time to take it out of the vehicle. When removing the actual headliner, I find it easiest to take it out the passenger door. Remember to recline the seats to give yourself more clearance. There are no photos of this act because I worked alone and was trying very hard not to break off a corner (more on this later).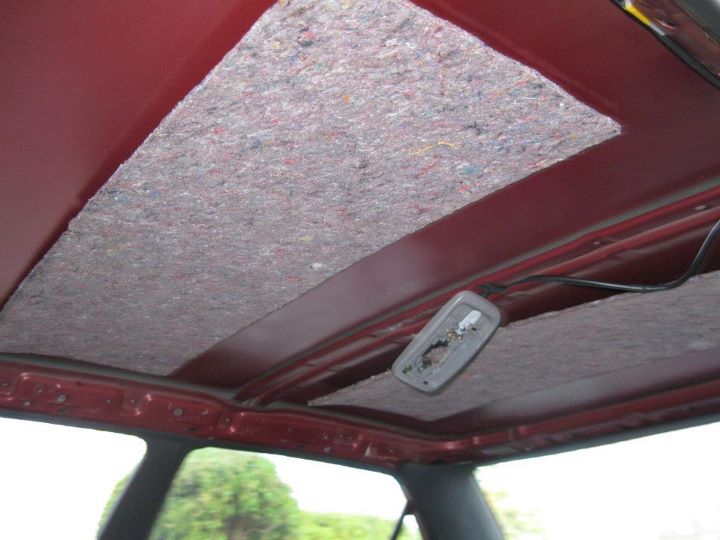 Well, I'll be damned. There is some sound deadening up there. Its up to you if you'd like to give your econo-box a little more hush since you're here. I did not. If you do, I really like the Dynamat Extreme, or any of the self-adhesive sound deadening products made of tar / butyl rubber. Or, if you live in a hot climate, a layer of heat-blocker is a good idea (you can get it at Home Depot, and it looks like bubble wrap sandwiched between reflective foil).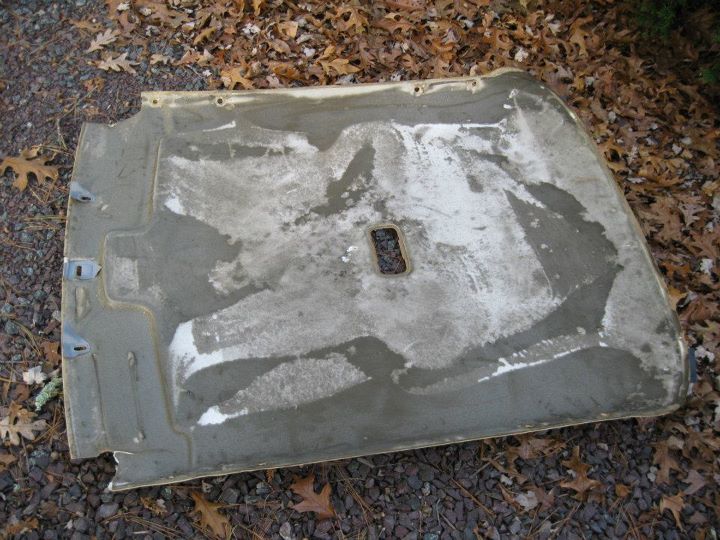 Here is the headliner out of the car. The material in this particular vehicle is a thin Styrofoam. Others are cardboard or chipboard. Depending on what the headliner board is made out of can work for or against you.
Step 2 B
You can see that I broke the driver and passenger side corners. This is why you should recline those seats or employ your wife/girlfriend/neighbor to help you maneuver the panel out of the car in one piece. No fear though- if you do crack or break it, quick set glue along the seams will glue it back in place. Though your repair will be fragile, when you add fabric, you'll also add some structural integrity back into it.
Step 3
Alright, now see all that nasty glue/fuzzy stuff? Use a wire brush to clean off the material. Do it more than once if you want to be extremely thorough. Remember, this is the mating surface that your fabric will be anchored to. The cleaner the better. The wire brush also roughs up the headliner material to give more surface area and grooves for the spray adhesive to stick to.
You should be left with something like this.
*NOTE* I don't recommend doing this project in the yard – best to do this repair on your garage floor or driveway or some other clean surface.
Step 4
Roll out your fabric of choice and trim. I always purchase a little more than needed for any project like this. Remember, do it once, do it right. You can always take away, you can't add it back. The same principal goes for trimming the fabric to fit.
*A note on your fabric choice* The fabric should be light an airy so that gravity does not pull your fabric down again. JoAnne Fabrics has a great selection at many different price points.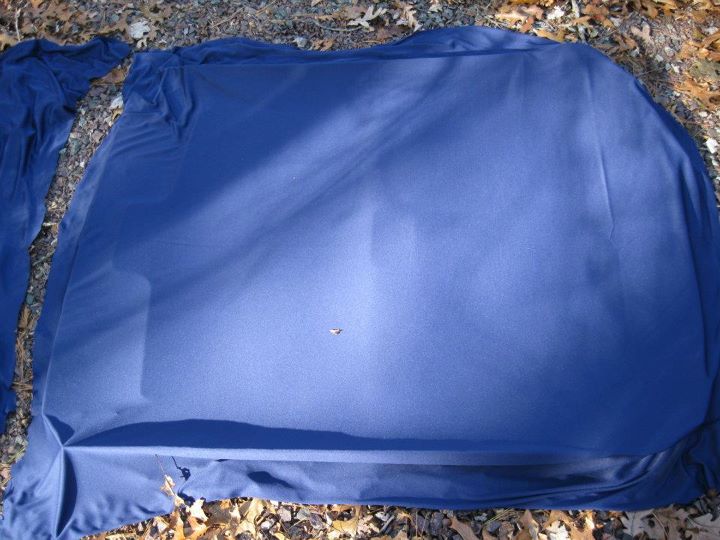 Step 5
Once you have your fabric trimmed the way you'd like, fold back approximately half the length. Spray the board with spray adhesive. This stuff sets up and gets tacky very quickly so you have to work fast, but concisely and with precision! If half of the fabric is too daunting, glue in quarters.
Lay down the fabric and pull taunt. Smooth it out with the palms of your hands. Follow the contours as well as you can. If you realize that you made a mistake (or a leaf ends up under the fabric, D'OH!) you can only really get away with peeling back the fabric once.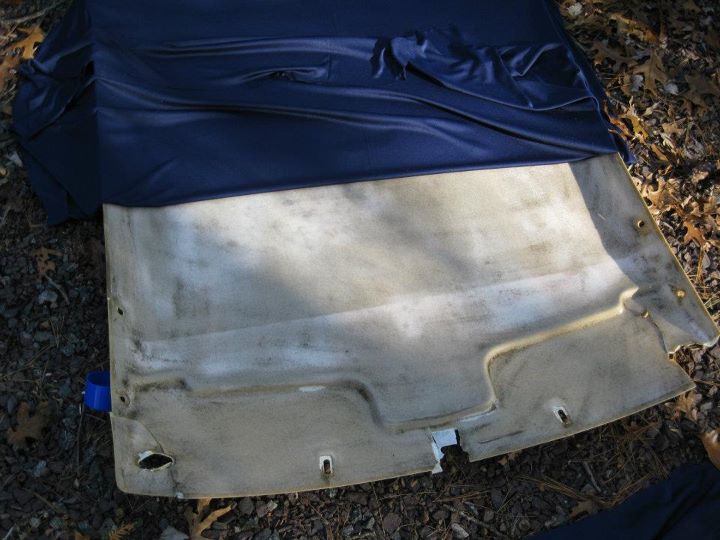 Repeat for the other half.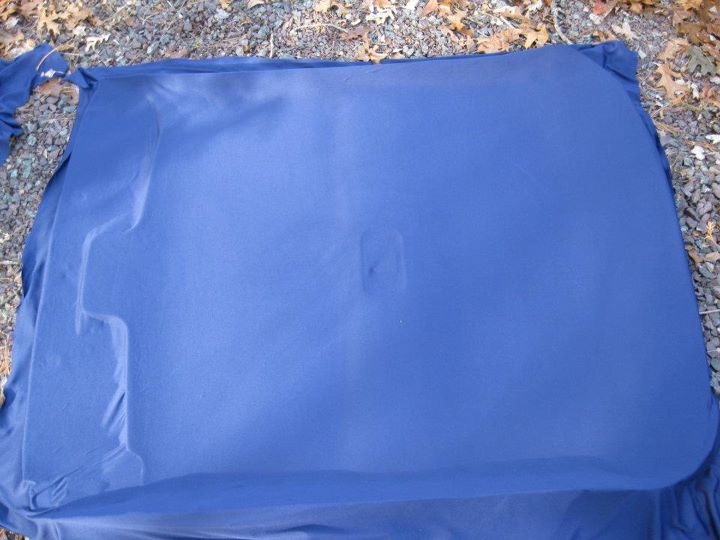 Nice and smooth!
Turn over the headliner, spray more adhesive, and smooth out the fabric again. This is the place where you can add more structural integrity to the parts I told you not to break.
Step 6
By now you've realized that you've covered up all of the holes for the screws and mounting points. Poke some guide holes with a hobby knife. Don't cut it out completely unless you want to accidentally have gaping holes that your trim and mounting points don't cover. I know its tempting, but taking your time and being more precise and trimming each one during installation will make the job look more smooth and professional.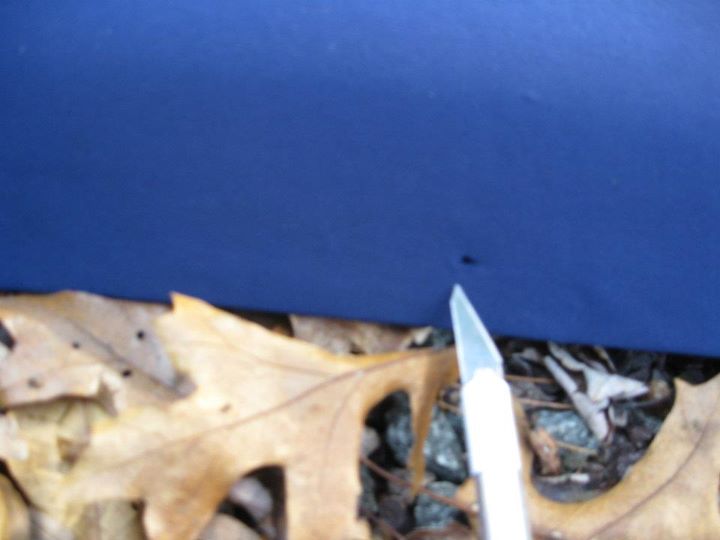 Step 7
PATIENCE PAYS OFF HERE. Hold up your headliner and get it in place. I like to screw in the dome light first- its a great natural mounting point. Plus, the screws don't go through the headliner itself so you can still adjust forwards, backwards, left, or right to line up your guide holes with the appropriate mounting points. Take your time and trim the holes out with your hobby knife. Be sure not to snag the fabric while replacing screws and trim or you'll have to start all over again when you pull the fabric from the board.
Replace all of the panels, trim, sun visors, rear view mirrors, oh sheit! handles, and screws reverse of removal.
Enjoy your new headliner and admire the class you just added to your car!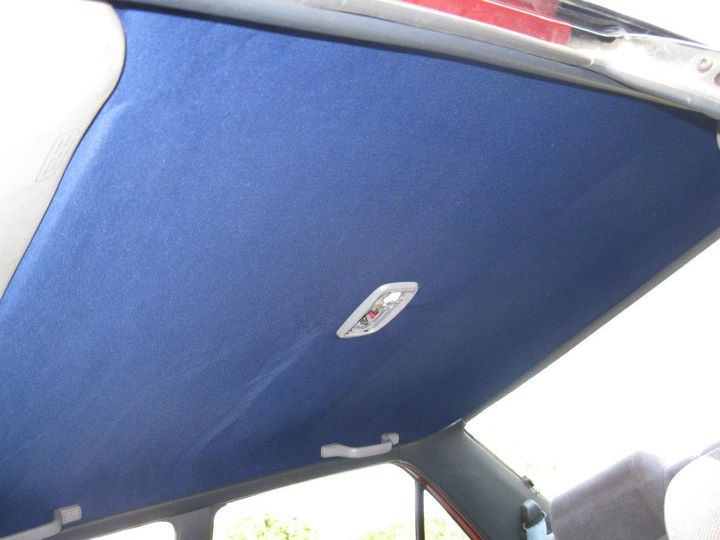 Questions or comments about this article? How To: Refinish / Replace Your Headliner.