Parts:
iPod gateway module kit (999U7-ST000)
N-Bus Harness for iPod gateway (999U7-VT000)
N-Bus Harness for SAT radio (999U7-VT001)
Tools used:
Phillips Screwdriver (#2), Drill with 1/8" and ¾" drill bits, 10mm wrench
Vehicle Prep:
1. Apply parking brake
2. Record radio presets (as the negative battery cable will be disconnected)
3. Make sure the car is in park (or first gear for the manual transmissions)
4. Turn ignition to off
5. Open hood and disconnect negative battery cable to prevent short circuits (the 10mm wrench is the one that fits best)
6. Remove the following interior parts
a. Glove box housing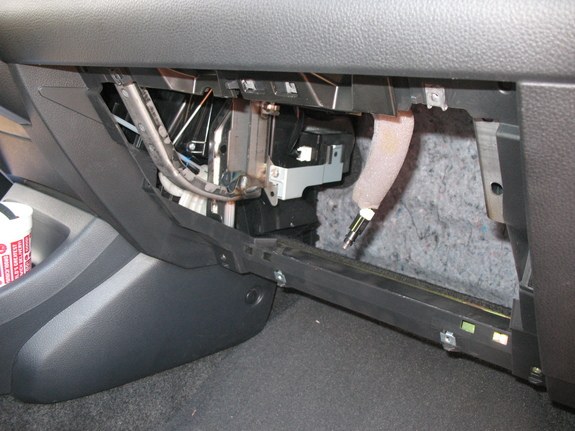 b.Instrument Finisher E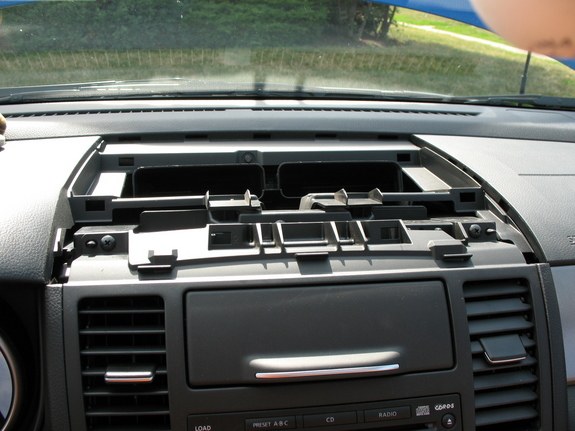 c. Cluster Lid C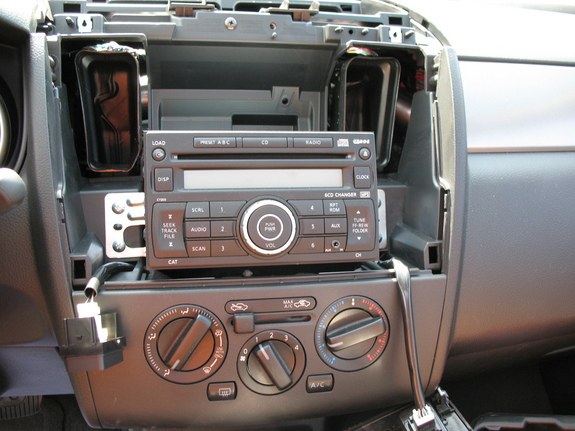 Harness Routing:
1. Disconnect the main harness and N-Bus connectors from the head unit.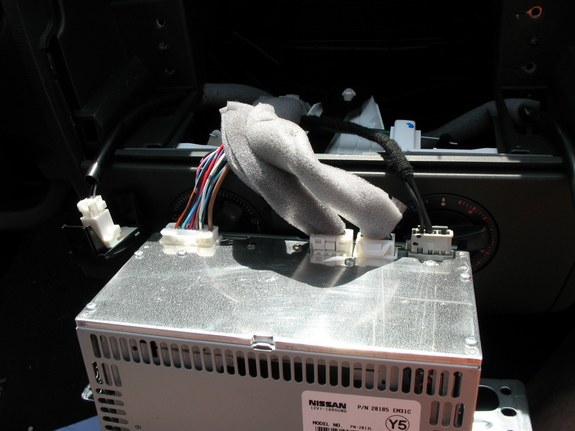 2. Attach connectors of iPod gateway harness (999U7-VT000) to the head unit and main harness.
3. Route other end of the iPod gateway harness toward the iPod gateway module mounting location.
4. Attach the connector for the satellite radio harness (999U7-VT001) to the disconnected N-Bus behind the head unit. Wrap one piece of foam tape around the connectors.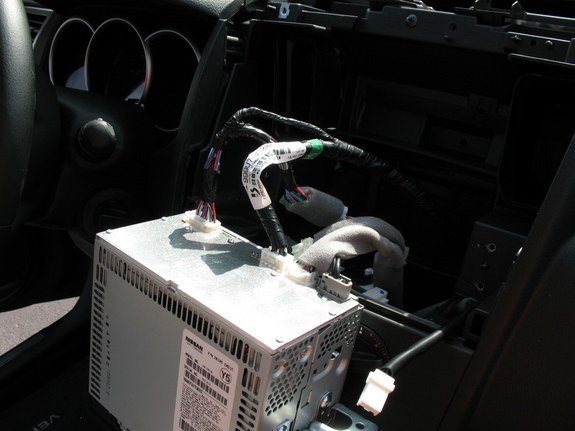 5. Route harnesses into and along the side of the glove box cavity.
6. Loosely secure the harnesses to the existing harnesses with the small cable ties. They will be cinched tight later after routing the iPod cable.
7. Bundle the harnesses leaving enough room to connect the module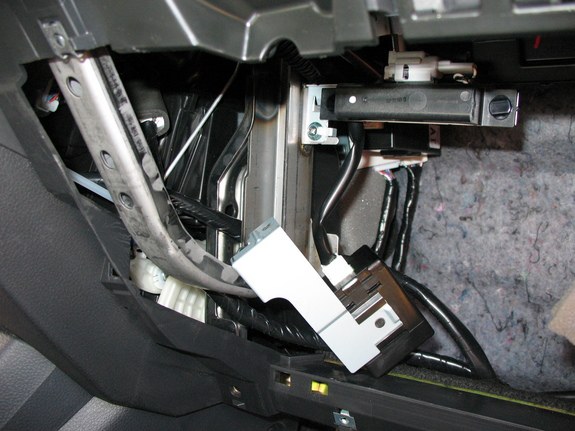 8. Take the ground wire taped off to the N-Bus harness and route up to the screw. I picked the screw that is holding the hanging piece in the picture above.
9.Using phillips screwdriver, remove screw, attach eyelet connector and tighten screw (ground wire not shown here – this was taken before I figured out where I was going to put it).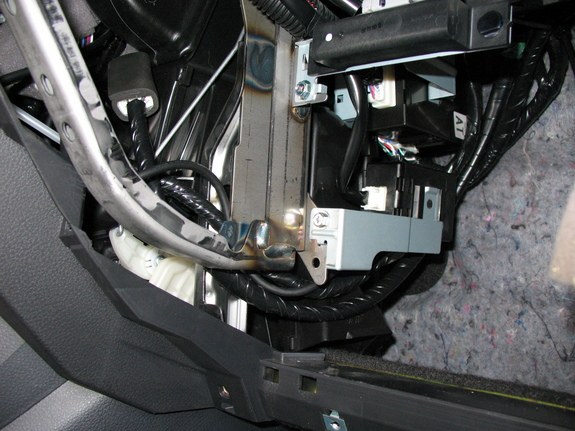 iPod Cable Routing:
(the original instructions show that it should go to the glove box, but I chose to route it to the storage compartment above the radio. I think it is much more convenient for a driver to reach)
1. Drill a 1/8" pilot hold roughly 20mm from the rear and left edges (assuming you're looking at the bottom.See picture.
2. Open the hole with the ¾" drill bit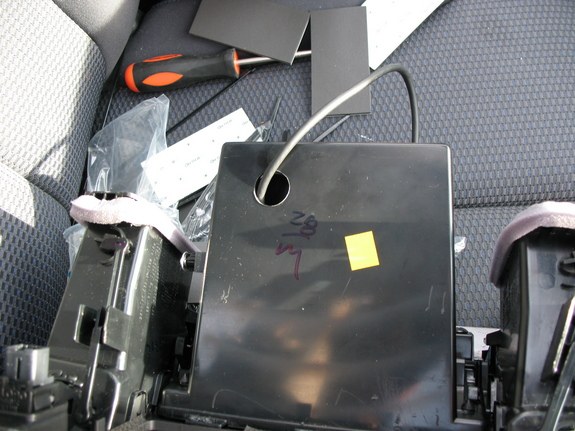 3. Start routing iPod cable from inside of compartment with DIN connector end (barrel shaped) down the hole behind the head unit (See picture in step 9 of harness wiring).
4. Place the split grommet over the wire and insert into the drilled hole.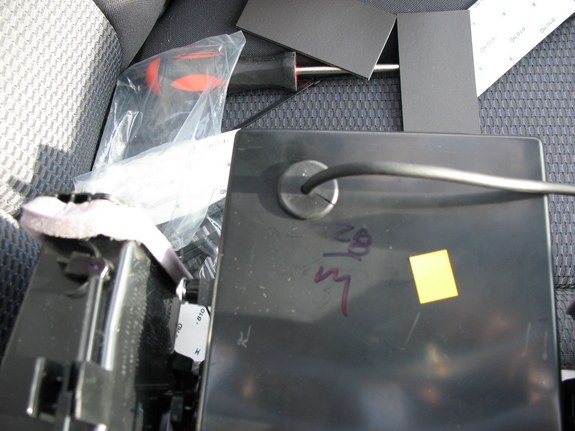 5. Route iPod cable to the module mounting location along same path as previously routed harnesses and though the loosely attached cable ties.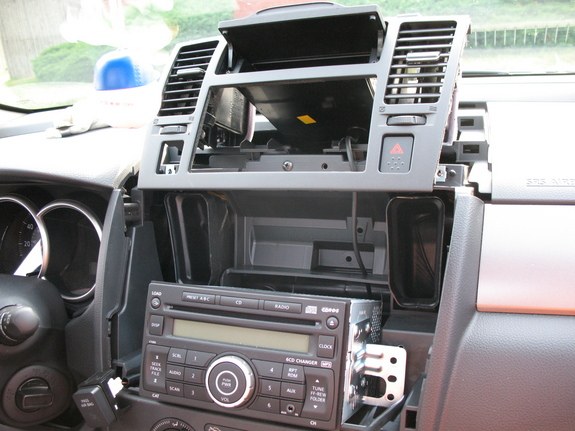 iPod Gateway Mounting:
(Here's where I'm the most different from the original instructions.The originals show that you should route it to the outer wall of the glove box cavity. I couldn't find a flat enough spot to do that, so I ended up putting it on the inner side closer to the center of the car in order to find a flat spot to tape it to.)
1. Using the provided alcohol wipe, clean the bottom of the module and mounting location.
2. Attach the provided double-sided tape to bottom of module.
3. Remove the tape liner.Attach module to the back of the "AT" module. (See picture in step 9 of harness wiring).
4. Apply equal pressure to the module for at least 20 seconds. Let the module sit for 5 minutes to ensure good adhesion before applying any pressure.
5. Connect harness/cable to the iPod module.
6. Cinch all cable ties tightly and reassemble.