This article is to help out anybody who is looking into buying a 240sx convertible. There are a couple of things people should look for in a 240sx convertible before purchase.
Engine/Trans:
As with any car, check for normal wear and tear and other drivetrain issues. I'd say the average 'vert has around 110k on it. 240sx Convertibles were only made with automatic transmissions. So if you you don't like driving manual or have no interest in learning it, then this shouldn't be a problem. However, if you do like rowing your own gears and you find a 240sx convertible with a manual swap for cheap, then go for it. Many people do these swaps to their verts. The majority of the owners on this site have done the swap themselves as well. If you find a factory MT 240sx convertible it could be one of two things:
1. The owner is lying
2. You're in dream land
I say this because I believe only 6 convertibles were made in MT for dealers… If the seller is lying about the transmission, then I would reconsider the deal altogether.
Timing chains
The timing chains on most 240sx's rattle on the guard. This can sound far worse than it really is. All you have to do is remove the chain guard and the sound is gone. Cleaning up the tensioner is also recommended while you are at this stage. A thread on this topic:
240sx chain guide rattle – How to fix it!
Body/Exterior:
For the most part, you will find these cars in good body condition. It's no soccer mom car or grocery runner, so the bodywork will usually be in good shape. Main things to look for on the outside of a 'vert:
1. Back window condition
The back windows on these cars can get pretty bad. This is a good condition rear window of a 240sx convertible.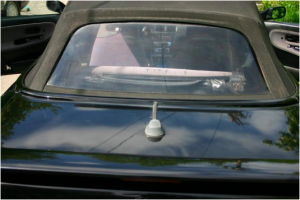 Here is a picture of a bad one.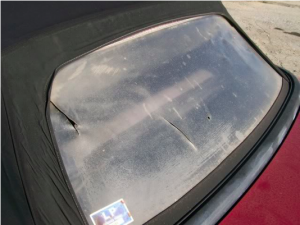 The windows are a pain to change by yourself. If you take it to a shop, you should expect to pay around $300 – $400 to get it changed.
2. Convertible top
Look for any nicks or tears because chances are you will keep the factory top. It's around $1200 for the whole top change including parts. Here is a link to a thread showing the process of changing the top:
240sx convertible top replacement – DIY
Usually the top won't have major tears, maybe some loose threads here and there. Also be sure that the top is free of leaks, even if they are very small. Small leaks can accumulate into things like this: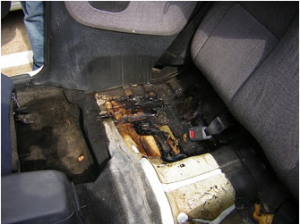 3. RUST!
Look for rust on the body, rust on the frame, anywhere – thoroughly check for rust. Most of these cars are CA and FL cruisers so if you buy one from that area, check for rust. A Texas or Arizona car = No rust almost guaranteed. Here are some places to check for rust:
-Trunk lip above the brake lights
-The place where the hydraulic rams for the top are, behind the door
-Rear fenders/rockers
-Undercarriage frame rails
-The unibody part of the front wheel wells
-Inside the rear fender below the antenna. also check down in the rear fenders (inside the trunk sides) for any corrosion, water, debris, that kind of stuff.
4. Trunk struts
Although this is not a big deal and can easily be replaced, almost every vert has this problem. The gas struts that push the trunk up will usually be worn out, leaving you to awkwardly wedge your hand through to lift up the trunk, while holding all your belongings. One replacement "Sachs" trunk strut and one worn trunk strut will do fine. Most retail parts suppliers will tell you that you can use trunk struts from the hatchback. Don't listen to them, they're stupid. Instead, request this part number or look for the lift with this part number: SG359005, the brand being Sachs.
5. Convertible boot
The convertible boot covers the top when its down so no one sees it. Here's a picture of the boot: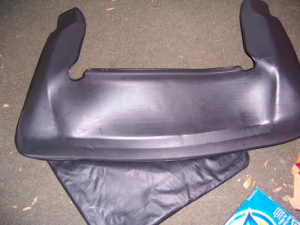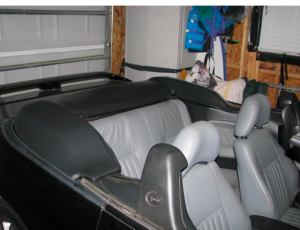 They are extremely rare and hard to find because Nissan does not produce them anymore. The prices are also very steep, they range from $200 – $500. If the 'vert you are trying to buy has one, then that's all the more reason to buy that specific one.
Interior:
1. The first thing I am going to touch on in this subject is the door panels. Every vert owner hates their door panels. On the 240sx convertible, the panels are poorly made and tend to break easily. The panel insert especially tends to separate from the rest of the panel.
As you can see, the cloth-covered panel insert is nastily screwed in place to keep it from separating from the door panel. There are other better-looking fixes for this however. You can swap the whole door to a 240sx coupe or hatchback door, or you can remove the seatbelt pillar and swap the panel to a coupe or hatchback panel. Both modifications require seatbelt relocation.
Pillar Removal Thread:
http://forums.nicoclub.com/zerothread?id=90488
Door Swap Thread:
http://forums.nicoclub.com/zerothread?id=136978
The door swap requires a lot less work then the pillar mod in my opinion.
2. Rear quarter windows
The rear quarter windows on the verts are prone to coming off the track and then not closing properly. This can be fixed by taking the window apart and replacing the piece. Here is a thread for that:
240sx convertible quarter window repair
3. Seats and Carpet
The driver's seat on the 240sx convertible, as with any other 240sx I'm sure, wears out and tears in one spot.
This is caused by the drivers rear rubbing against the same spot while entering and exiting the car. You can either live with it, get a new seat, reupholster the seat, or get a seat cover.
If the carpet on the 240sx convertible gets VERY dirty, it's going to be tough to replace. To my knowledge it is difficult to find carpets for this car. You can either retrofit one from a hatch/coupe, or find another vert in a junkyard and take that carpet.
As far as dash cracks and such go, the dash is actually more likely to crack than hatches or coupes, simply because of more exposure to the sun. But because the 240sx convertible was a $20k car, usually these were garage-kept cars so typically the dash will be in good shape.
We have been developing a 240sx convertible registry as well. This is a great resource if you are buying a vert and know the VIN number. If you know the vin number, go to this page:
If the VIN is in the system, then you can find out more information about that car.
Overall, the 240sx Convertible is a very good car – they just need routine maintenance as with any other car. They are VERY rare. Here are production numbers:
Year / Quantity
1992……..2327
1993……..4602
1994……..1391
Total…….8320
They are fun to mod, fun to drive, you will get a lot of stares, and you'll have a lot of fun. And best of all, in the summer when you're driving with some buddies that have hatches, you can pull up next to them with your top down while they're all cooped up in their boxes and let out a nice big grin.
– Krash
The author, Prakash (Krash) is a Moderator in the 240sx Convertible forums.