…or, "BOV for Dummies."
This article applies to both blow off valves and recirculating valves. We're going to show you WHAT a BOV is, HOW to select one for your application, and HOW to adjust it to operate properly for your vehicle.
First of all, what is a blow off valve and what does it do?
A BOV is actually quite similar to a wastegate, with some key differences. A wastegate keeps the turbocharger from creating too much pressure (boost). It does this by opening slightly to bleed off pressure at a predetermined PSI, preventing an overboost condition and preventing engine damage.

The BOV utilizes diaphragms, springs, and valving and operates not just at peak boost, but any time there is a pressure differential between your charge piping and your manifold. In simple terms, this means when you close your throttle (lift off the accelerator, such as to shift) your manifold pressure goes negative (or vacuum) but your turbo is still spinning and trying to push air. This pressure differential causes the diaphragm inside to move, the blow off valve to open, and gives the pressurized air a place to go. Without this, you create a pressure spike and stall or damage your turbo.
Our 3 Best Blow Off Valve Picks
The following three selections are based on the consensus of the staff here at NICOclub. With nearly 100 turbo builds between us all, these are our preferences: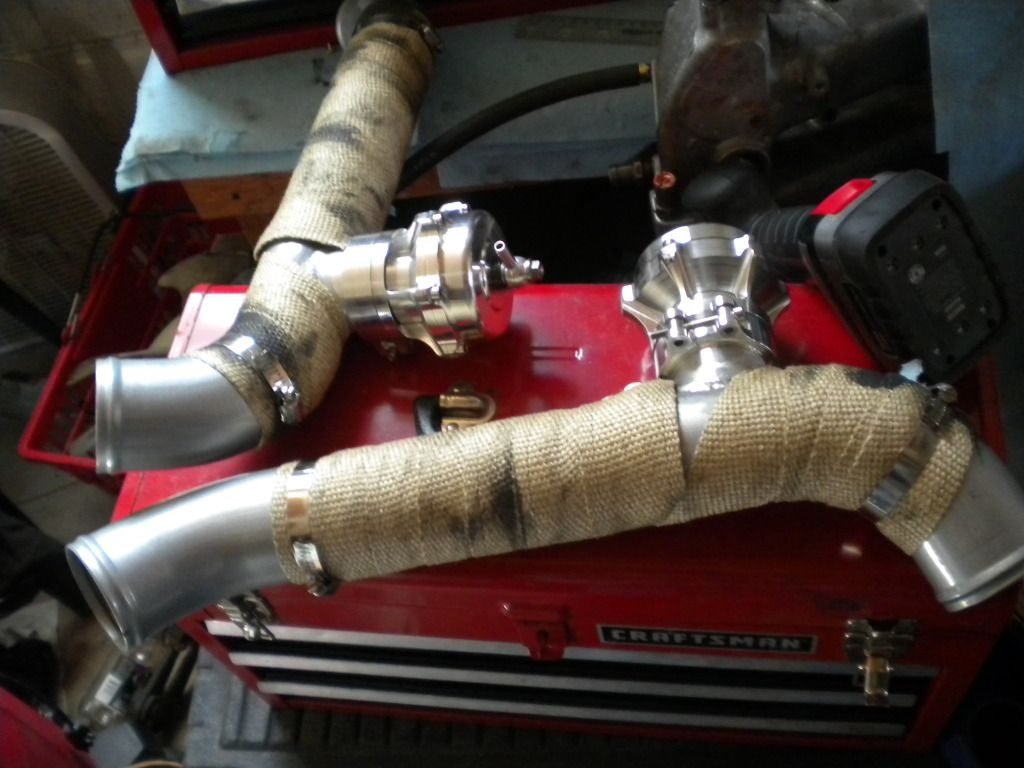 Customizable, simple, and durable are three factors that make a good BOV. In this case, the QR (recirculating) unit allows for customizable outlet ports as well as a variety of springs to perfectly match your build.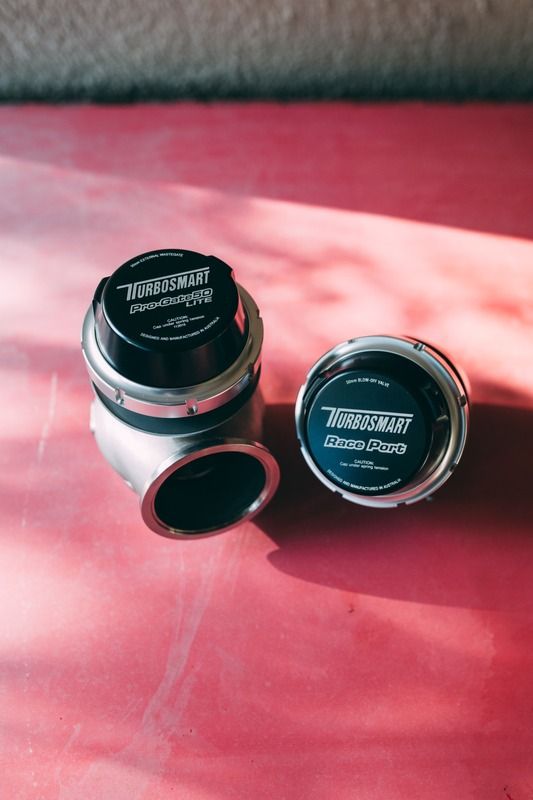 Manufactured in Australia, the compact, modular design of a Turbosmart BOV shouldn't fool you – these units flow more CFM than any other unit of its size, and they're relied upon for big-power builds.
The sequential design of the HKS BOV allows more precise relief of excess boost pressure and its pull-type valve operation handles a wider range of boost without leaking, but not designed for a recirculating system.
A few common misconceptions about blow off valves:
It's a very common misconception that all blow off valves are the same in performance and function. Sure, some make different sounds than others, and have different internal materials that may last longer, but it actually goes deeper than that. We'll get into this momentarily.
Another common misconception surrounding a BOV and selection thereof is the idea that "turbo flutter" or "turbo sneeze" is a good thing. This is what happens when your blow off valve is too stiff or restrictive, or if you don't have one at all. Here's what it sounds like:
It can also be in the form of chatter or "flutter." When searching for these videos, I got the impression that for some reason people think this is cool and/or good.
This is correctly referred to as turbo surge, and It can also appear in the form of chatter or flutter. Make no mistake, this is not good. Your turbo is going from a bajillion (yes, a bajillion) RPM (over 100,000 RPM, actually) down to almost nothing (or even REVERSING) in a very short period of time. It doesn't like it, and it doesn't like you if you do it to it.
Keeping your turbo spinning (spooled up) between shifts also reduces lag. If you stall your turbo, you have to get that joker back up to speed, which takes time.
One more issue to consider, once you've selected your ideal BOV:

Some BOV manufacturers pack their available springs inside the BOV housing. This results in a blow-off pressure that may be FAR above what your engine is built to handle. For example, most factory turbo cars are designed to function around 5-10psi. Removing your factory-set BOV out and replacing it with a BOV with a spring pressure of 30-40psi means an instant overboost condition and catastrophic damage.
How do I choose the proper blow off valve for my car?
Choosing the appropriate BOV for your application is critical to getting the most performance out of your expensive build.
Understanding what type of engine management you use is critical to correctly select a BOV. For a car that uses a mass airflow sensor (MAF), you'll want to select a BOV that allows recirculation. Why? Well, a MAF measures airflow after it enters the intake, so if you use a BOV that vents to atmosphere, the engine computer will be looking for that already-measured air that you just launched into the atmosphere – resulting in incorrect air/fuel ratio and possibly even hesitation and stalling.
Beyond that, different BOVs utilize different flanges to mount to your plumbing. If you're replacing a stock BOV on a factory turbo car, check to see what will bolt up to your stock flange (to save yourself some fabrication).
You'll also want to understand how much space you have for installation and select a BOV that has the physical dimensions you seek.
Most BOVs are identified by their inlet port diameter – 38mm to 60mm encompasses the vast majority of available sizes. Understanding how much boost you'll be running and selecting an appropriately-sized BOV is another consideration. Be aware, bigger isn't necessarily better, but it's hard to overdo it – A good rule of thumb is a 50mm inlet port unit is great for a single turbo street car up to roughly 750 horsepower. Smaller units are commonly used as an upgrade for a factory BOV where lower boost is expected.
Historically, I've found that cruising the forums and chatting with other folks with similar, successful builds is a great way to learn what will work best for your application. Also, consider having a discussion with whoever will be tuning your car, as they may have some expert insight as to what will best suit your build.
How to Adjust a Blow Off Valve
So, now you've selected a BOV for your car. Let's talk about how to set it up and how to adjust it to avoid the aforementioned 'turbo sneeze or flutter.'
It all comes down to how easy the valve is to open (how much pressure differential is required to open it), how quickly it opens, and how much it opens (which, among a few other things, determines how much it can flow).
These factors are all controlled by the specifications of the spring(s) in the BOV – the pre-load they have, the spring rate, the mass of the piston, and the size of the diaphragm(s). Unfortunately you, as the consumer, aren't always privy to a lot of this information.
You CAN control the size of the ports going into the BOV (from the charge pipe – bigger is better), the length of that port (shorter is better) and signal line going to the valve from the manifold (bigger is better… this isn't just a "signal" line, you're actually moving diaphragms here, so you need some volume). Some blow off valves are adjustable.
For the purposes of this article, we'll demonstrate using a Greddy Type S blow off valve. Let me start by saying I don't like this model. I believe the TiAL Q Blow Off Valve to be a far superior unit. Also, it's important to match your BOV to your turbocharger, as softer spring pressures are recommended for turbos with journal bearings.
We'll demonstrate using a Greddy Type S blow off valve.
Let me start by saying I don't like this model. I believe the TiAL Q Blow Off Valve to be a far superior unit. Also, it's important to match your BOV to your turbocharger, as softer spring pressures are recommended for turbos with journal bearings.
Here it is, removed from the vehicle: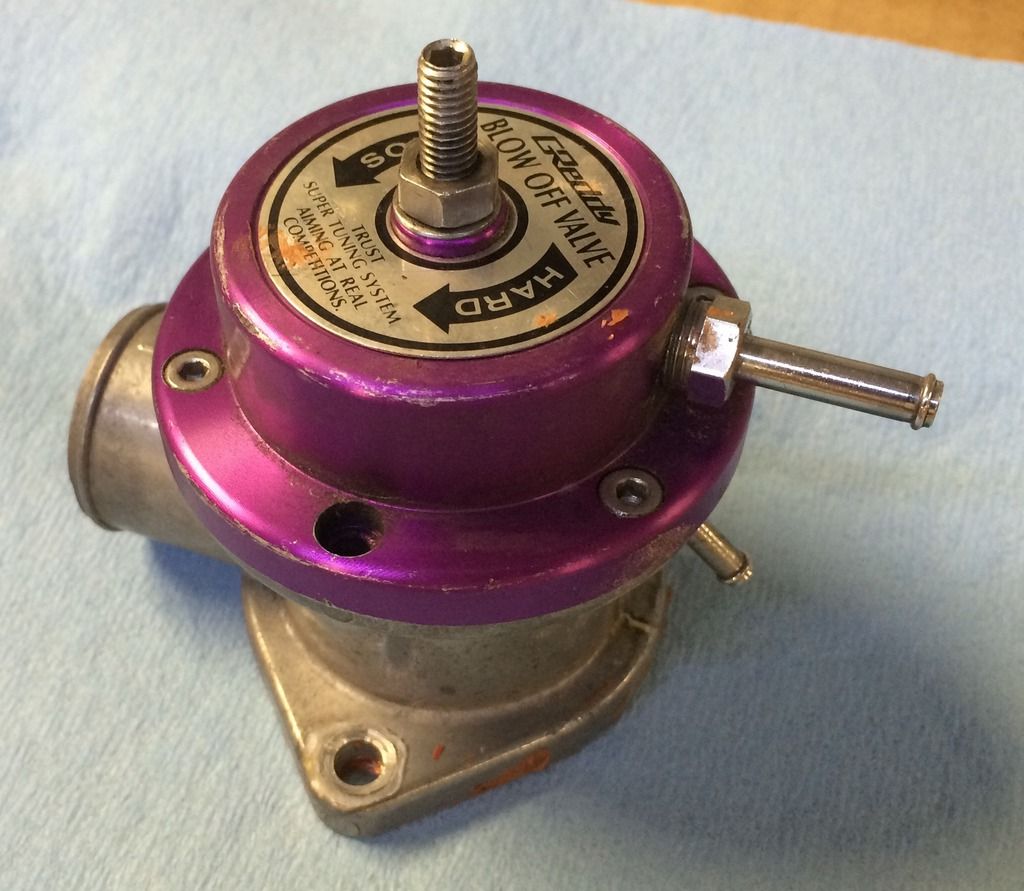 Remove the bolts except for 2 that are opposite of each other. Contents are under spring load, so put some pressure on the cap while you remove the last 2 bolts (evenly).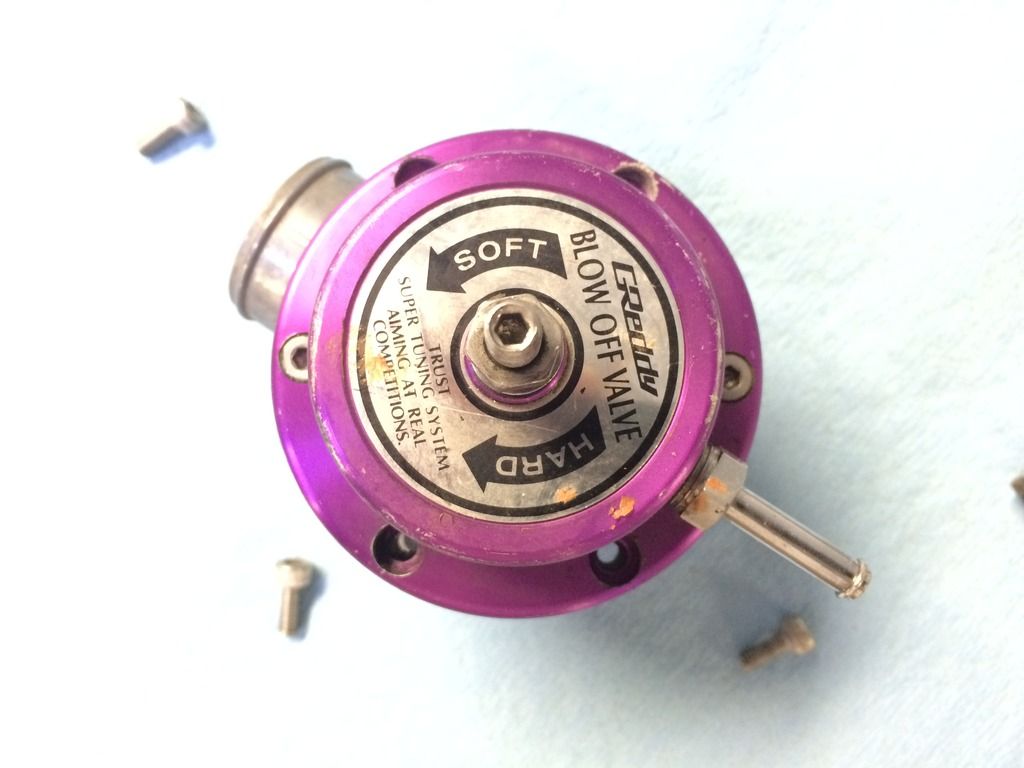 The top should pop off and reveal the guts.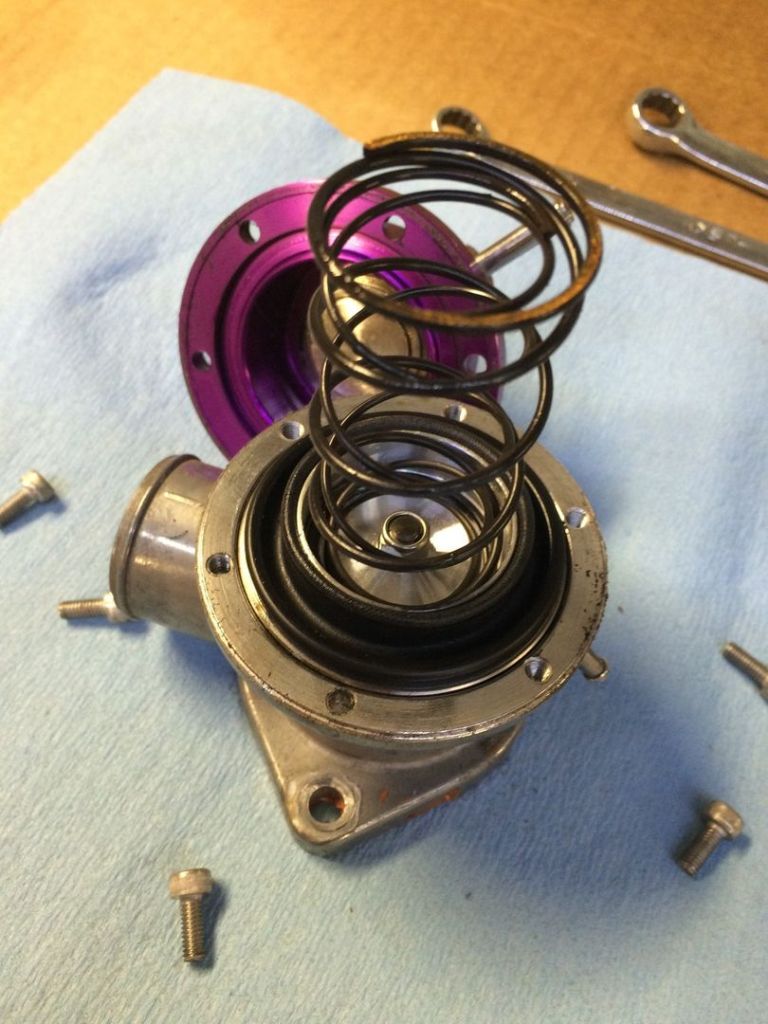 This unit has two springs. It is generally accepted that removing the small spring (on this particular model) gets this BOV to acceptable performance levels for most automobiles. I have yet to read a review that suggests this valve worked for anyone right out of the box. Seems like literally everyone has to do this spring mod.
Here is a handy chart that the DSM guys made that shows basically everything we've been talking about until now.
This valve also has an integrated secondary boost source – the bottom nipple that seems to confuse the heck out of everyone, as is evident by this picture here: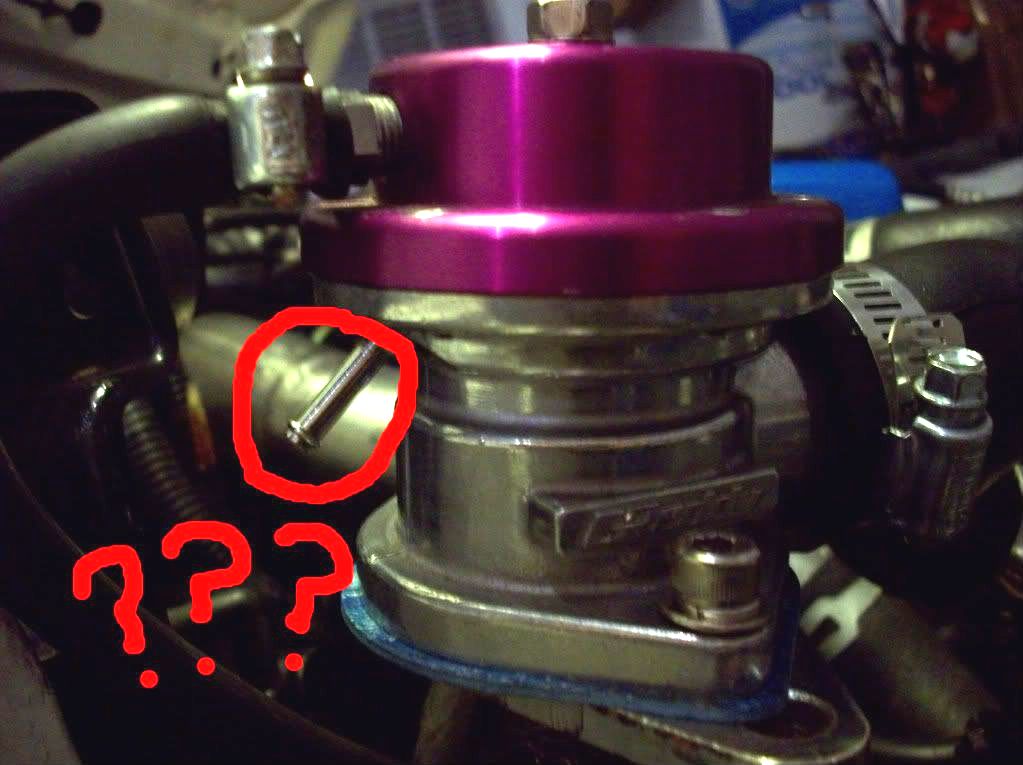 I'm not sure why they don't recommend connecting it, but in my eyes, you want all the assist from the boost pressure as you can get, so I leave it connected. Of course, to connect it, you have to drill a hole in your intercooler piping and put a fitting on it… not sure why they don't just incorporate it into the valve…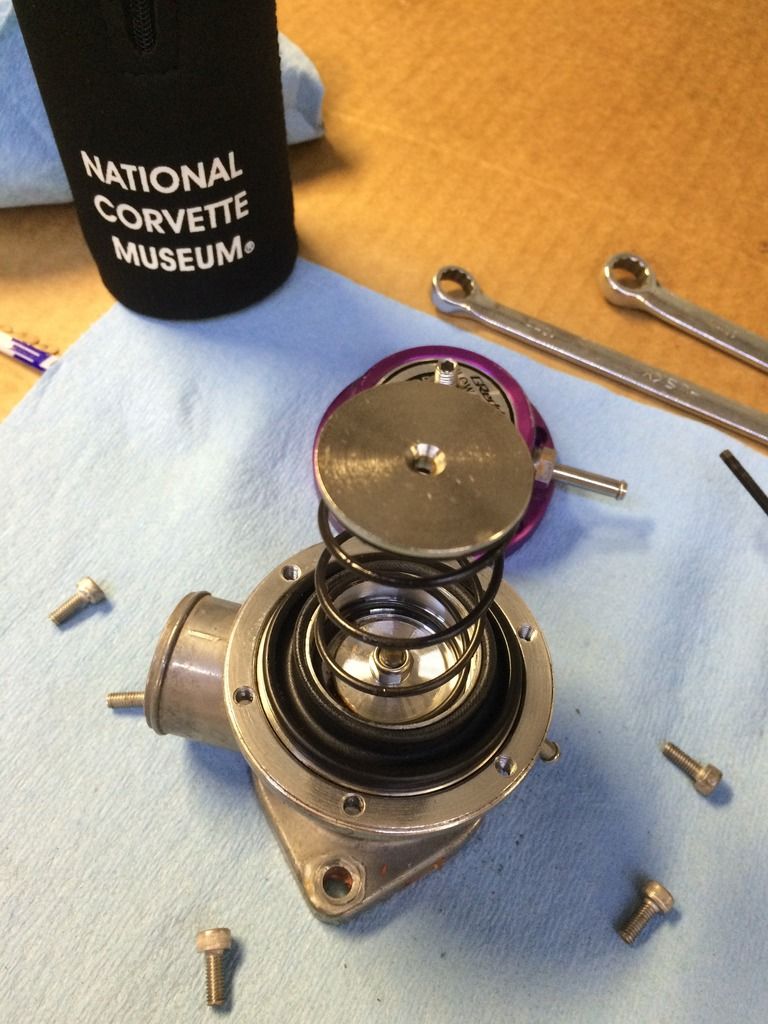 Once you've decided what setup you'd like to use, you re-assemble the valve.
Put the little top hat doohickey on there, make sure the adjustment screw is backed all the way out, and put the valve cap back on (again, EVENLY!). Make sure the diaphragm is seated normally. Adjust your adjuster down to where you think it needs to go (take a guess if you have to), put it back on your charge piping, hook the lines back up, and take it for a ride.
For the purposes of this article, I'll mention this: I still get VERY slight turbo sneeze, despite the aforementioned adjustments. I'll have to try backing off on the adjuster a bit. If that doesn't work, I'll have to swap in the small spring. Unfortunately, this valve now opens while I'm driving and makes a wicked annoying whistle as I go down the road at anything more than atmospheric pressure. If the turbo was bigger, it wouldn't have this problem (wouldn't be making as much pressure at that amount of vacuum & RPM). Obviously, I've selected a BOV that wasn't ideal for my application, which is what we'd like you to avoid.
One more note: Venting to atmosphere?
Silly. Save that for the kids revving in the parking lot at the mall, trying to impress high school girls. Plumb that sucker back into your intake system (recirculate) for easier tuning, increased performance, and a more professional image. If you're selecting a BOV based on the sound it makes, rather than what will perform best for your application, you're in the wrong place.
Thanks for joining us for "BOV for Dummies." We hope you found this article useful.
If you have questions regarding selecting an appropriate blow off valve and adjusting it to your application, feel free to post up on the forums – We're glad to help out.
Happy boosting!