In July 2001, Wiring Specialties began their journey into the world of performance tuning and Nissan engine swaps. Through grueling research and development, they have been able to develop and deliver industry leading, reliable Engine Conversion Wiring Services to the Nissan enthusiast community. All of their research and development is done in-house and work is documented to ensure reliability, consistency and customer support. Their commitment to delivering the best wiring solutions to the customer does not stop with performing the wiring work, but is backed with an industry-exclusive 7-day per week phone support.
Tuners and car enthusiasts work very hard to get maximum horsepower out of their modified engines every day. One aspect of the car that often gets neglected in that process is the Engine Wiring Harness. Can the Engine Harness really improve performance? Absolutely…
The ECU is the brain that controls all aspects of engine operation, which in turn produces power. If the wiring harness is not providing exact signals to and from the ECU, performance suffers. Poor ground connections are also a tremendous power-robbing culprit. With age, moisture and heat cycles of the engine operation, wires end up corroding over time. Corrosion reduces the conductivity of copper, which in turn reduces the signal quality and grounding between the ECU and the engine components. This fact reduces effectiveness of the sensors and reduces engine performance drastically.
Have you ever worked on a car with a harness that looks like this?
Unfortunately, even the soldering that is done during a wiring conversion, no matter how clean, adds to the disadvantage list. Soldering and shrink wrapping traps moisture in the harness with exposed metal underneath. Over time, the harness will continue to corrode and lose its effectiveness. These are the reasons why Wiring Specialties has been working hard at designing and manufacturing the pre-made harnesses with Brand New wiring, proper moisture seals, using the shortest possible distances between the ECU and the sensors, and using OEM wiring junctions with no soldering necessary.
It makes much more sense to work with a harness that looks like this!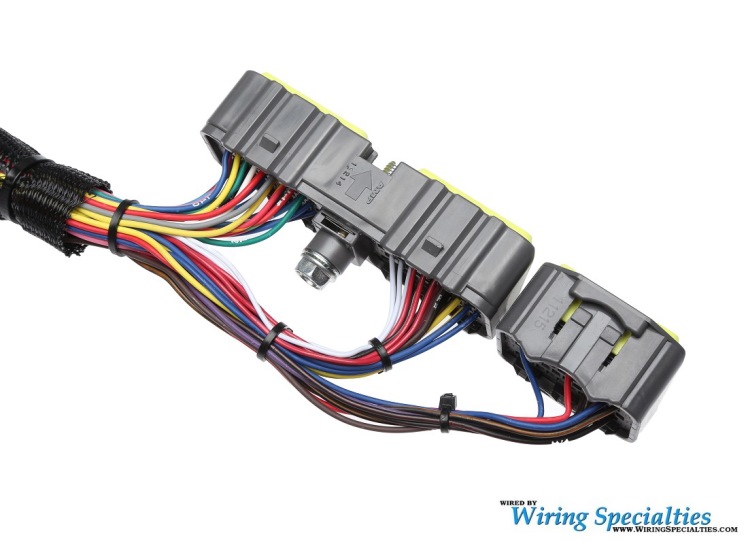 So, how to not lose out on HP you ask? – Get the New, pre-Made harness from Wiring Specialties custom made for your engine conversion and gain HP with the switch alone. Call up Yury and tell him you read about Wiring Specialties on NICOclub.com!