In the summer of 1988, a team of designers in La Jolla, California, under the direction Keiichi Shinohara, started work on a "personal" luxury sedan for Infiniti. The Nissan Design International team focused on balance and excellence in all categories – a complete package – not just excelling in a single area.
A shape for this new vehicle was drawn – an ellipse with a gracefully balanced arch running through it. It was nontraditional, and very unique. Through four years of sketches, concepts, and finally scale models… the ellipse shape remained.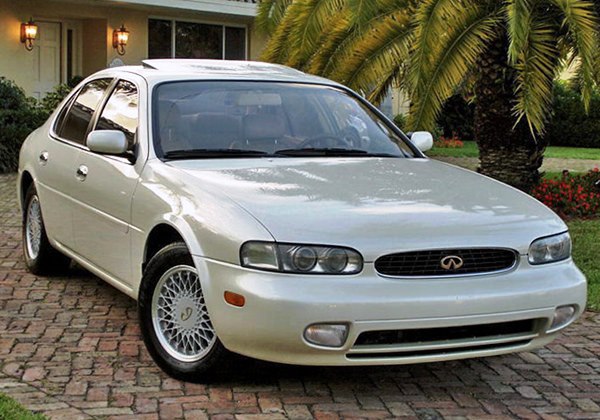 What emerged in showrooms in March of 1992 was a stunningly beautiful vehicle. An aggressive front end, with an ovoid grill and flush projector beam headlights, flowed into a coupe-like roofline that culminated with a smooth sloping decklid and full-width taillights. The 1993 Infiniti J30 was striking from any angle.
Under the DURASTEEL® body panels (steel with 50% more corrosion-resistant plating thickness), the interior of the J30 was every bit as impressive. Designed at the Nissan Technical Center in Atsugi-City, Japan, the standard leather-appointed interior was highlighted with subtle wood accents. Dual power seats, inclusive power accessories and keyless entry completed the package. The 200-watt Bose Audio System, with in-dash CD, was also standard on all J30's.
Occupant protection was important to the design teams. Standard safety features included driver and passenger air bags (later upgraded to include side air bags), pre-tensioning seat belts, and four-wheel disc brakes with anti-lock control.
A 210-horsepower engine powered all J30's. Based on the 3.0-liter DOHC 24-valve aluminum alloy V-6 used in the Nissan 300ZX, the version under the hood of the J30 was further refined. The intake and exhaust manifolds were modified while Nissan's SOFIS (Sophisticated Optimized Fuel Injection System) was added for improved drivability, cleaner emissions, and reduced noise and vibration. The J30 engine utilized variable valve timing, and a direct ignition system with platinum spark plugs for reduced maintenance.
The only available transmission was an electronically controlled four-speed overdrive with a lock-up torque converter. A DUET-EA interactive transmission control system helped ensure smooth gear changes and eliminate shift shock by retarding engine power between shifts.
The rear-wheel-drive J30 featured an advanced four-wheel independent suspension highlighted by a precision tuned front strut-type and multi-link rear. Front and rear stabilizer bars were standard, and they kept excellent control of the body as it rode on the standard 6.5JJ-15 cast alloy wheels wrapped in 215/60-15 tires. A high-performance viscous limited-slip differential was standard.
In addition to the "base" model, a J30t (for Touring) was available. It offered of version of the Super HICAS (High Capacity Actively Controlled Steering) system found on the Q45. The system used a precise, computer-controlled hydraulic rear steering unit on the rear wheels. At high speeds, the rear wheels were steered up to one degree in the same direction as the fronts. At low speeds, the system would momentarily turn the wheels opposite the fronts (to help point the J30t into the turn) before turning them in-phase. The sporty J30t also received revised spring calibrations, new alloy wheels, and a rear spoiler.
As expected, purchasing the luxury and technology found in the J30 wasn't easy on the pocket. For most of the production years, the base price hovered just below $40,000. On a positive note, the beautiful J30 came relatively loaded in base form. Optional features on cars from Lexus and Acura were standard on the Infiniti. Leather, anti-lock brakes, dual airbags, and CD player rounded out an impressive list of standard features.
Behind the wheel, the J30 is an effortless cruiser. At 3,500 pounds, acceleration with 210 horses is adequate but not neck-snapping. The ride is very controlled, and cornering is stable. Keep in mind you aren't going to win (or even enter) an auto-x with the J30. It's a luxury touring vehicle, not a sport sedan.
Today, you'd be hard-pressed to find an example of the J30 with fewer than 75,000 miles on it. A near mint example with 100,000 clicks on the odometer will likely cost about $6,500 – less if you want to compromise condition. Of course, you can find used J30's for much less, but don't settle for one without consistent maintenance records as repairs can really add up once systems start to fail. Find the right car, at the right price, and you own a striking example of Infiniti luxury.