READ MORE – Page: 1 | 2 | 3 | Photo Album
When we arrived at Thompson Raceway Park, we had learned that there had been a friendly battle going on between some of the guys. However, Rob came out on top, having run a 10.91 in the ¼ with a full interior B13 Sentra. We were somewhat disappointed that we had missed seeing Rob's run, because he seemed to be done for the day. However, later in the day, Rob decided to hit the track one more time, and managed to pull off a [email protected] time down the track. Full interior! This coming from front wheel drive, B13 Sentra. Simply amazing.
The track closed and 4 that day, so as soon as the cars were done running, Rush and I headed back to the hotel and headed out to dinner. One of the places that both Rush and I make a mandatory stop at while in Cleveland is Melt Bar and Grilled. If you've never heard of Melt, it is a local restaurant in Cleveland with 5 locations. One of which, happened to be located across the street from our hotel. This is a famous restaurant that has even been featured on TV shows such as Diners, Drive-Ins and Dives as well as Adam Richman's Man vs. Food. Take a look at our sandwiches below and you'll see why it's a mandatory stop.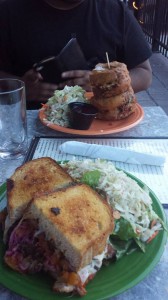 For our final night in Cleveland, we once again headed back to the hotel parking lot to party. Another batch of margaritas were made, more moonshine was consumed, more beer was bought, and more fun was had. Although Saturday night had a neat twist of the festivities. Pat "Klutch" Davis asked if he could plug his phone into my car to play some music. I obliged, and am glad I did. What came next was 30 minutes of a rap battle—SR20 themed.
I've seen rap battles on YouTube videos, and in movies such as 8 Mile, but I had never witnessed one in person. Usually they involve dissing the other person about how they can't rap, and other topics such as that, but this battle was a collaboration to dis those that didn't come to the convention. I only managed to get about 10 minutes of the battle recorded, but it is some pretty amazing freestyle rhyming that is SR20 related. Warning though, it is not work safe as there is some pretty harsh language in it.
Being wowed by the awesome rapping, and our livers asking us for a break, we called it a night. The next day would be our final day at the convention, and we needed energy to drive back to Chicago Sunday night. When we woke up on Sunday, we headed off to the final convention venue of the weekend, the 103rd OVI Civil War Museum. This is the location of the car show, BBQ, and raffle. Everyone that had attended all weekend got to show off their cars and winners were voted on. We divulged into some excellent burgers and hot dogs and watched as the winners of the car show were announced. Then the raffle came, and thanks to some very generous donations, we had some amazing prizes that could be won. Things such as dyno tuning gift certificates, DeWalt impact gun, injector cleaning, and more were greatly appreciated by everyone that won.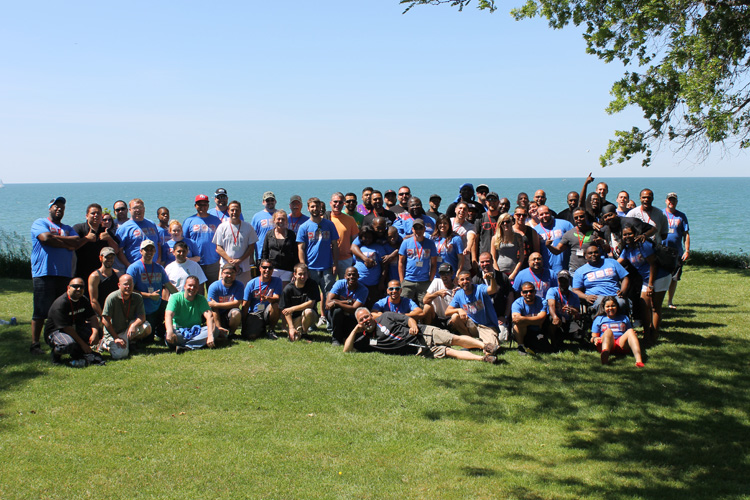 We finished the weekend off by doing a group photo with Lake Erie as our backdrop. We did this once before in 2012 in the same location, and it was great to return. Everyone had an amazing time and we couldn't thank everyone enough that had a hand in putting this convention together. Wherever 2015 will be, we'll be there! Make sure to check out the rest of the photos from this event below!
READ MORE – Page: 1 | 2 | 3 | Photo Album