-by David Muramoto
Unlike the planets Jupiter and Saturn, which are labeled 'gas giants' since they are primarily made up of gasses such as hydrogen and helium, these two recently-introduced Nissan models haven't yet been around for billions of years. Rather, they've been introduced for the 2017 model year with a newly-revised version of the gasoline-powered 5.6-liter V-8 (labeled the Endurance VK56VD). This engine replaces the venerable VK56DE and features a host of improvements. Utilizing direct injection for precise injection control, reduced knock and combustion stability, Nissan was able to increase the compression ratio to 11.2-to-1 (as compared to a 9.8-to-1 ratio in the outgoing VK56DE), a quantum leap made possible by revised piston design and carefully metered temperature control.
The result? A 73-horsepower increase to 390 HP at 5,800 RPM and a 12-15% increase in EPA fuel economy for both models. The VK56VD design also utilizes VVEL (Variable Valve Event and lift) control of both intake timing and lift for better wide-open throttle response. This feature has allowed Nissan engineers to directly control the intake valves for throttle control, vs. the older method of electronically controlling the throttle valve itself. Yet another step shadetree mechanics (myself included) will have difficulty with in diagnosing and working on our computer-controlled wonders in the future. It's also worth noting the new Endurance V8s are tuned to use regular unleaded fuel, rather than premium. Both the Armada and Titan tested utilized Nissan's HD seven-speed automatic transmission in AWD form.
2017 Titan Pro-4X Crew Cab


Unlike the Titan XD tested last summer, this particular Titan features the Endurance V8 in a half-ton chassis. While not as robust in construction, the standard Titan is lighter than the XD and shorter in wheelbase by almost a foot. Nissan has aggressively priced it as low as $29,580 for the single cab, 4X2, S (base) model. They made it clear their aim was to fill out their truck lineup as time goes on, and this lighter duty truck (with crewcab and single cab options) with five grade levels is proof of that. All gas-powered 2017 Titans still come with the VK56VD and seven-speed transmissions, and this Pro-4X is no exception.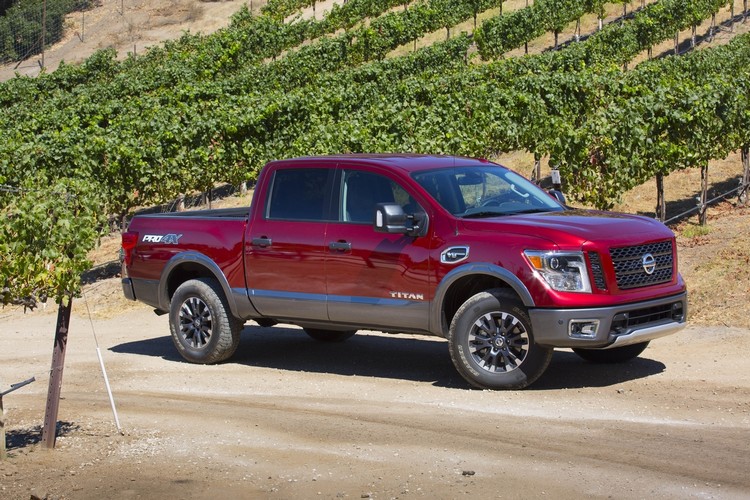 It's a big step up into the cab, even for this 5'11" racer/writer, so step bars are a must on your option list. The cockpit is best described as a blend of rugged functionality and upscale technology. I seem to fit the Titan's "zero gravity" seats well and did several hours of driving without discomfort. Utilizing an I-key, the start button wakes up the VK56VD with a distant rumble, and you can already tell the NVH [noise/vibration/harshness] levels are lower than the preceding Mark I Titans.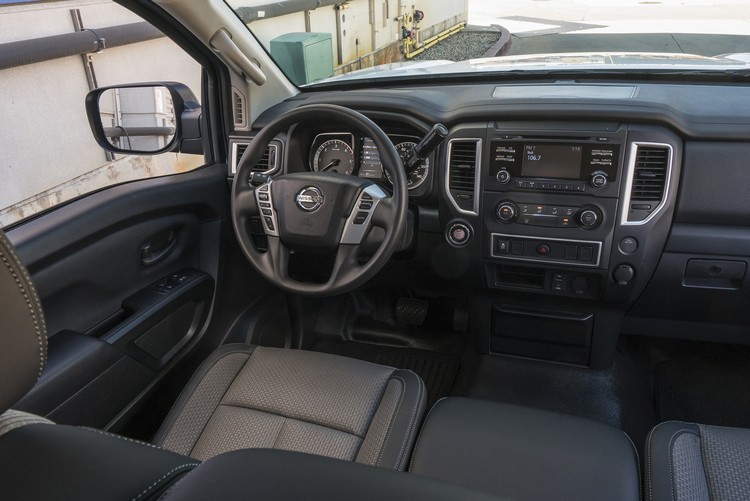 Pulling away from the stop sign, it's encouraging to note how easily the gas powered Titan accelerates. There's no hesitation as I noted on an unladen Titan XD with the 5.0-liter Cummins V8 diesel. That truck really comes into its own when there's 8-10K pounds of weight strapped to its receiver or bed, but for just driving around town, I liked the VK56VD better. Steering feel and brakes felt similar to the XD, although with almost 1,000 pounds less weight, the gas Titan moves more easily in almost every way.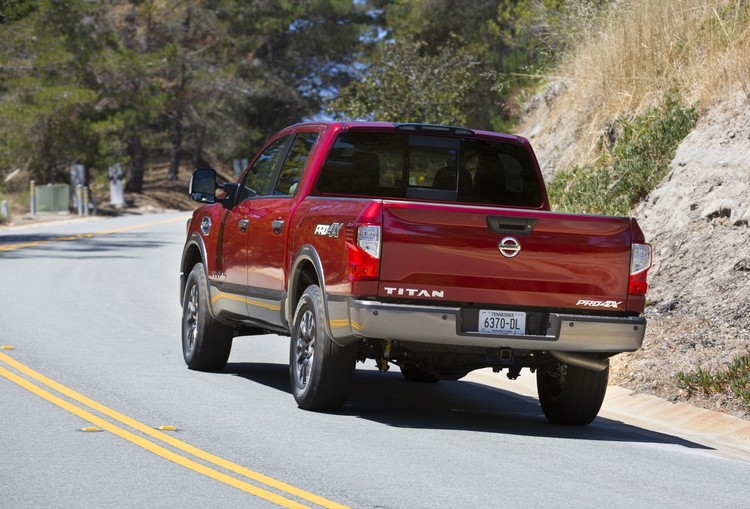 My interest in the Pro-4X is particularly high when it comes to towing. Sliding under the rear of this Titan revealed it has the same class 3/4 receiver the XD uses. Since my fully loaded 24" enclosed race trailer uses a weight-distributing hitch, the receiver is rated as a class 4, and it hitched up just fine. But unlike my previous test of the XD (NICO 2016 review: "Nissan's Big Bad MoFo"), the Pro-4X showed a bit more strain at handling the 9K pounds of this load. It's likely a combination of the lighter chassis and shorter wheelbase, but there was an appreciable amount of rear squat even before we moved down the road. Still, the Pro-4X was equipped with the optional ($1,820) "Utility and Tow" package and after a bit of adjusting, I was off for a short haul. For all the new technology in the VK56VD, it certainly felt similar to my older '08 Titan – initial acceleration, mid-range power going up hills and even the seven speed tranny kicking down to fourth gear on some of the steeper stretches. My five-speed tranny would do a lot of searching between third and fourth in those same stretches, but the overall speed and throttle position were similar.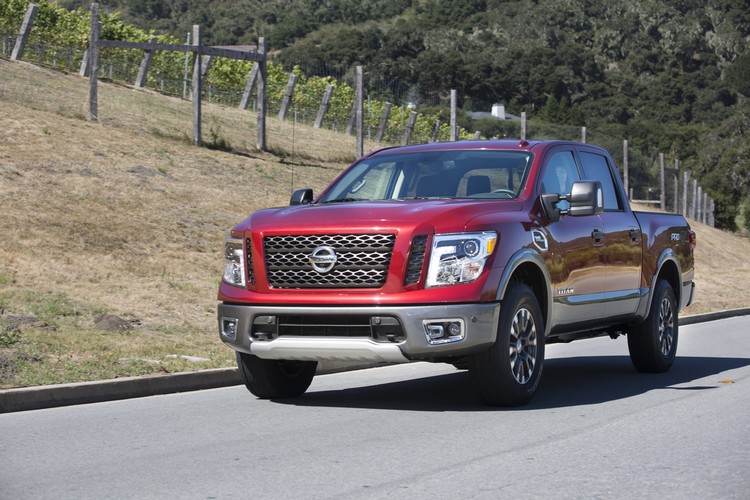 Checking the fuel economy after this run, it was a bit disappointing to find the VK56VD averaged about 1.5 MPG better than my VK56DE while towing. But since my average VK56DE towing figure is only about 8 MPG in the first place, even that small number ends up being an 18% improvement! Without the load attached, the Pro-4X is EPA rated at 15 city/20 highway/17 MPG overall on unleaded regular. And while I still prefer the specialized tow package installed on my first-gen Titan (including Firestone Ride Rite airbags in the rear and Bilstein HDs on all four corners) with an extra-long wheelbase King Cab variant, there's no doubt the '17 Titan Pro-4X was the quieter, more relaxed and comfortable ride overall. With an MSRP of $52,305 (including three option packages and a $1,195 destination charge) it's a package that makes me rethink my priorities for the future.
Next page: 2017 Nissan Armada Platinum 4WD