I thought about this for about five seconds – National Motorsports Manager for Nissan? Naturally, I told John to put me at the head of the list. John and I were acquainted back in our early Triumph days, as he was a employee there also. He was amazed that I would be willing to do the job, as I had not been "under a corporate banner" for a lot of years. Nissan's priority at that time was to get the GTP program out of the doldrums and give the company some bragging rights. That particular program had become very unpopular with the executives, as it was not running in the front of the series or even near the middle.
The meetings in the beginning, before I was hired, were rather interesting. Nissan was retiring VP personnel at the age of 55 – and I was 56 at the time. The V.P. of marketing had a big meeting and asked me my thoughts. During my interview, I came right over the top with my observations of the team, and efforts, and the whole management of the program, as being really dismal. Particularly, I reacted harshly to the race car being painted black. I told them when you beat everyone and are the top dog in the league, then you can paint it any color you want, but until then I think a better scheme would be a red, white and blue pattern.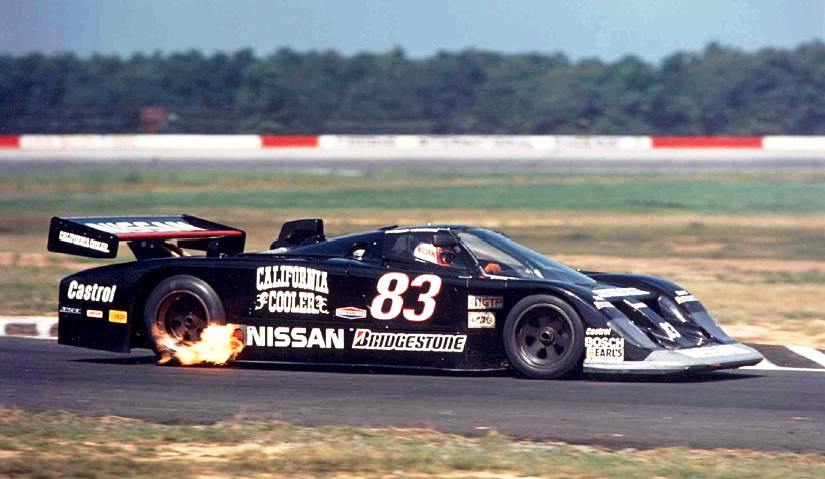 The Lola T810 California Cooler Nissan
I really did not know if they were going to hire me or not. If they had passed on hiring me just because I told them their program was junk, then they did not want to face the truth. I found out – after I was hired – from other people that were in that meeting that they were rather taken aback by my outspoken manner and blunt criticism. The director of H.R. was surprised that I was willing to come under a corporate umbrella after so many years as my own boss. I explained carefully to him that I viewed this as a challenge and that my interest in that racing series matched that of Nissan's – He bought that story.
The first days were tough on everyone, but especially me. I did not know a person other than my new boss, John Borgen. Frank Honsowetz was the acting Motorsports Manager while Nissan was trying to fill the job. We talked quite a bit and seemed to be okay with each other. Frank was a racer – and that helped as far as I was concerned. That meant he liked his job and will work hard at it. It took a little while before everyone became comfortable with me, as I do tend to be a little short when dealing with stupid trivial things. Over a rather short period of time, I think the motorsports crew bought into my vision. I raised the level of the department from a hidden away non-entity to a position of respect – A department that had a sharp bark and a deep meaning to the company. I think all the people in the department enjoyed having someone who would go to bat for them and the department.
I was more than a little concerned, though, when I found that several of Nissan's directors and upper management really wanted to just ditch the GTP program – Worrisome to say the least. So I guessed I'd better get after it with a big stick. My mornings were spent in the Nissan buildings, but at about 11AM each day I would go over to El Segundo and spend the balance of the day working with the Electromotive GTP team and the people responsible for building and racing GTP cars. It was time well spent. The primary thing I found in the very first big meeting with the managers of the Electromotive facility was that they were grossly under-funded and that they were expected to maintain a schedule that was next to impossible – If they were going to have any chance at good results, I was going to have to change that immediately. I cancelled their next events, endurance races at Daytona and Sebring, and turned that time into a testing session to focus on development for the sprint races. One of the big assets I had was the owner of Electromotive was Don Devendorf. Donny and I were great friends, as he had driven for me for several years when I was running the Triumph program. He knew how I looked at things, and that I had no time for listening to excuses.

The Electramotive Team went through several team managers in quick succession, perhaps as many as three in less than a year. None seemed to have the spark to bring the team together. That is, until one of the team members, Ashley Page, agreed to take over the post of running the team. He was terrific and brought out the best of the entire group. With the team working together it was possible to make some longer term plans and see the GTP car through to its full potential. With a smooth-running team, more talented people were were drawn to work for join the company.

I hired Trevor Harris as the team engineer to work specifically with the drivers in understanding and bringing the car to better results. Having Trevor work for me instead of the team gave me the control I needed, and he was quite a big help right off. He and I worked alone on my plan to update the chassis to a new configuration. The original chassis had limited scope for tuning and was a nightmare to change engines, taking as long as eight hours for a change. That is simply not sustainable for a successful racing chassis, so the new chassis was designed and given to an independent California company for manufacturing. I had to find the funds for this. At my request, there was a big meeting with all the Nissan department heads and vice presidents to discuss the future of the GTP program, and even the continued viability of the entire Motorsports Department. Some Nissan executives still wanted to scrap the entire program, and send me along with it.
In this meeting, I asked to have a loan of funds from the following budget year, to fund this new project so that the team could advance. It was a closed session of about twenty people. I made a long speech and after much discussion, in the end, my request was granted. I had unexpected assistance from a couple of the Japanese VPs, and that turned the tide for that deal. Years later I found out that one of the top managers in the meeting (who I happened to report to) was directed by the Senior VP of Nissan to make sure I was NOT successful in my requests. But, he missed his chance – I was a better salesmen than he was a blocker.
Of course, we had plenty of other racing programs at Nissan, most of which were running okay without too much intervention. The off-road truck programs and the amateur racing program were on schedule and giving good results. To spark up the showroom stock racing programs, I offered a first prize of $5000 dollars. The other manufacturers were offering $250-$500 for winning, so my offering was unheard of at that time. I wanted more participation and to show that Nissan was a company interested in the people racing its cars. Frank Honsowetz, the top manager under my direction, thought I was crazy. We laughed about it at length when he said he might want to run a 300ZX turbo stock car himself. That was not allowed of course, but I was very glad to see how the idea grabbed him – that meant that the idea would grab other enthusiasts as well, and it did. Ultimately, we wanted more participation from 300ZX owners, which would lead to more results for the advertising and promotional departments.

The Electramotive GTP team & the Bob Sharp racing team at Laguna Seca – in the middle are Jim Fitzgerald and Paul Newman, and in back of them, Kas Kastner
A brief aside: Before I came aboard, there had been a fast change of National Motorsports managers. The executives at Nissan in Japan were a little slow to invite me to Japan for any consultation on the programs. I was not offended by this delay – I understood they had worked with the previous manager, only to see him resign six months into the job. He was not a racer and found the people in the program impossible to deal with. Racers are tough folks and are not reluctant to speak their minds. I remained patient, knowing that when I starting showing results, everyone would want to be part of the team in one way or another.
Years of hard work finally pay off – Join us for Part 4!