Page 3
Travis was approved in April to run Pikes Peak with another driver in the Pikes Peak Open class. The car was under construction, like ours, and had a few sponsor and supplier problems, like us. Travis joked at one time that if his car wasn't ready for me to save him a seat. I, of course, told him, "No problem! " Just before I left for Pikes Peak I heard a few reports that their car would be done in time for the race, so I didn't install a passenger side window net, and I didn't have a seat cover in the passenger seat. Well, it turns out that the reports on their car were false. They weren't going to get done in time. I got a call Sunday night asking if it would still be possible to get Travis into my car. Wow. I started making a list of all the stuff we would need to do to get Travis in the car. Obviously we would need a window net, seat pad, I would have to add a strap system for his feet and legs, and I would need to move the fire controls and make sure he could reach the kill switch in case of an accident. We are due to tech the car on Tuesday and I have to get all this done before we roll through. Not only that, but the main concern is whether or not the race director is even going to approve this. I am, after all, a rookie driver on the peak (past experience on the ATV doesn't count when you switch to cars), and they haven't seen the car. Now, the race director is a friend of mine on Facebook, so he knows ALL the stuff we have been going through with the car. This would be tough. I really wanted this to happen, so we started to figure out where we could get some of the stuff we needed to make the car ready.
Steve is still back in Dallas and is flying up Tuesday morning. There are no local suppliers that have the seat cover in stock, so I call a shop back in Dallas. They have it and Steve will go by and pick it up and bring it on the plane with him Tuesday. We find a window net mounting kit and ribbon net at a local shop and pick it up Monday. All the rest of the stuff we can do with what we have. We get to work and do most everything done. I have talked to Travis and I am supposed to tow the car down to his dad's house and we'll weld in the window net and set the leg and foot straps later that night. Things don't go as planned.
I get the car loaded and start to head down the highway, then, BANG…it's not a tire…one of the trailer hub bearings has broken and it's starting to eat itself. I call my friend Lee, and he comes to see if he can help. We decide I can't continue tonight and limp back to his house. I'm starting to wonder again…
Tech day. The morning starts off with me at a Castle Rock Tire shop getting the hub fixed. It didn't start off well. Apparently this is a not so common hub, and the bearing isn't readily available. The shop calls all of its resources and finally finds the bearing we need and it's on its way over. Hopefully, the broken bearing hasn't trashed the axle. Luckily, they are able to clean up the spindle. The new bearing arrives and I am finally on my way.
I reach the host hotel where Tech inspection is set up. Hopefully I have done what I need to do to pass. How embarrassing would it be to show up after all this work, and all these troubles, with a car that won't pass tech inspection? The window net still isn't in place. I'm wishing I had brought my welder after all. When we get to tech, they already know that we want Travis to ride up with me. They tell me that they are waiting on Phil Leyton, the race director, to approve Travis before they will issue an inspection sticker. They tech the rest of the car and my safety gear and I get compliments on the clean installation and the car passes with flying colors. We are asked to pull the car aside and wait to be contacted by Phil so we can have a discussion about Travis.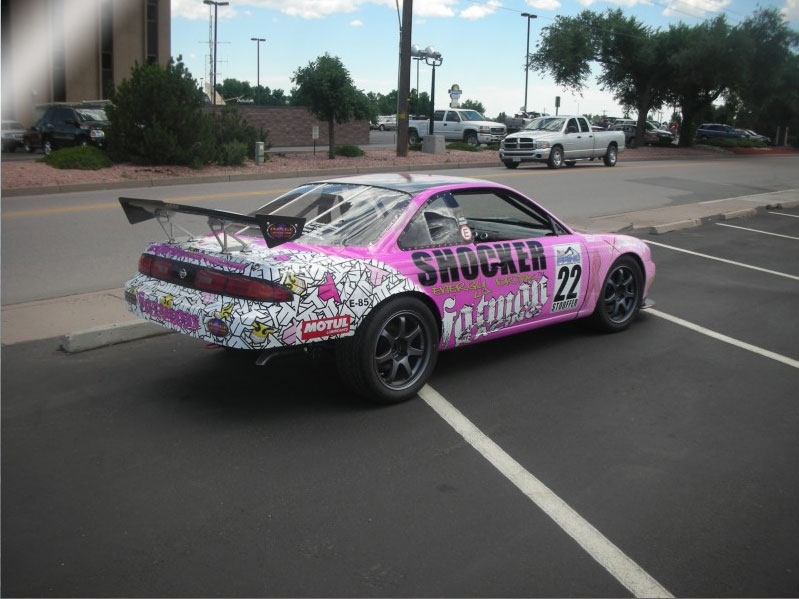 I had no idea what to expect from the other competitors in my class. One of them is multi-time drift champion, and all around great driver, Rhys Millen. He was right behind us in tech, and he was very friendly and started up a conversation. He had heard about some of our problems and was commenting that he was glad we had made the race and even more glad that we decided to stay in the Time Attack class (some others had switched to Pikes Peak Open, saying the rules in Time Attack were too limiting). After we rolled through tech, Rhys came over and pulled me aside and I was blown away by what he said; "Do you guys need anything?" Really? Wow. Well, do you know anyone that might be able to help us find a spare set of tires. We ran out of time and money and weren't able to bring a spare set. "No, but you can borrow a set of my wheels and tires…you don't mind running 18's do you?" OK, this man doesn't know me from Adam, but he's offering up a several thousand dollar set of wheels and brand new tires. I couldn't believe it! I told him, thanks, and if we had some trouble and needed the tires, we would come over and talk to him.
Late in the afternoon Phil shows up. Just about this time, Travis gets there and sees the car for the first time. Travis is the graphic artist who designed the pink and white wrap on the car. I came to him with the idea several months earlier and he came up with this incredible design. So, the fact that he might be getting to ride up in the car that he designed the graphics for seemed fitting.
We loaded Travis into the car and Phil came over to have a look. We discussed the different safety issues and our ideas for strapping in his feet and legs. We talked about the window net release, and other issues regarding escape, etc. Phil had a few concerns, one being that I am a rookie driver. Would I be able to handle the added distraction of having a passenger? Would I be able to handle the added media distraction during the week? How will I react in an emergency if I needed to extract Travis from the vehicle? And for Travis, would he be able to manage the fire pull if I weren't able to, and can he reach the kill switch, etc. We had a long discussion with Phil, and other members of the Pikes Peak Hill Climb Board of Directors. Everyone had concerns and we did our best to address them one by one. After the discussion and after a thorough evaluation by several members of the safety crew, Travis and I were called into the meeting. They detailed a few items that they wanted done before practice the next morning, and also laid out the additional rules we would be held to. Then they gave us the thumbs up. We were approved! We were all pretty excited. I was glad to have Travis with me and his family was really happy. The media found out soon after and almost immediately we had interviews on the agenda.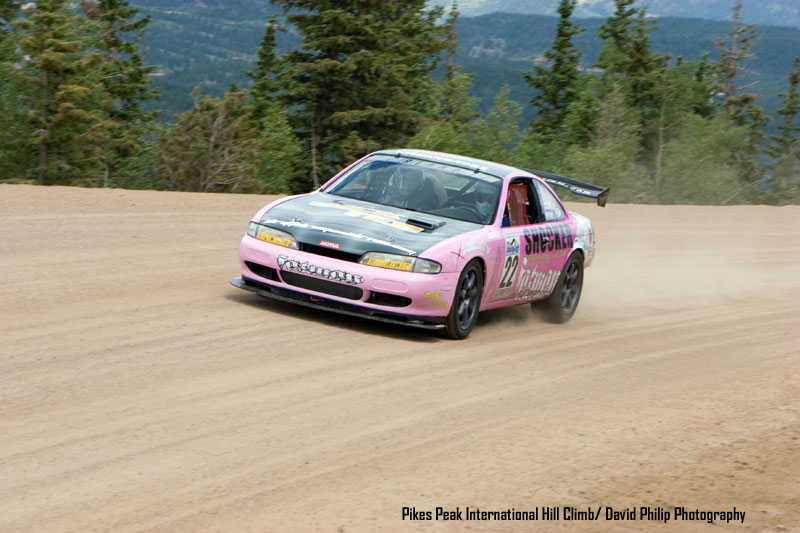 Practice Day One – Devils Playground to the summit. Practice is held each day from 5:30 AM to 8:30 AM. We arrived at the Devils Playground parking area at about 4AM. We unloaded the car and fired the engine to get some heat in the motor and make sure we could idle at 13,000 ft (I have no IACV on the car). I was told at the meeting the night before that I would be required to run each section by myself a few times to get comfortable before they would let Travis in the car. There was a drivers' meeting at 5AM and after that we had a brief meeting at our car with the safety crew. They were shown the newly installed window net and its release mechanism, and also went over Travis' oxygen supply. We were lined up last in the first run which was fine with me. I wanted to be sure I could take my time on the first run and see how the car was going to handle the dirt. The car in front of me went off and I slowly staged my vehicle and waited for the green flag. A very long year of work had led up to this moment. I had all of fifteen minutes in the car and I was a bit anxious to see what we had to work with.
The green flag dropped. I revved the motor (not quite enough) and dumped the clutch. I was on my way. I bogged a little, as I expected to up here, and the engine revved out smoothly. The boost started to come on and the torque was impressive. When I was just fully on the boost, the car took a hard right and had me pointing off the edge of the mountain. Not good. I corrected and stayed in it for just a second more, but the car was having trouble recovering. I eased off and eased back in, and each time the boost came full on I found myself getting way too sideways. This was a nightmare. I eased back off and cruised the road at moderate speed (maybe 45-50mph), using this first pass to see the changes in the road from last year and try to figure out how to drive this car.
Back in the pits after the first run I told Steve the problem. He asked if I wanted to make a change. I said no. Not sure where to go with it just yet. Let me take another run and see where I have control and where I don't. I found that if I kept the RPMs down on the lower part of the boost range that it would stay relatively straight. We still weren't hooking up really well, but at least we weren't all over the road. Run two was a bit better, but still not nearly as fast as I had hoped. The road was dry slick, I was on cheap tires, and I had no time in the car. All of these add up to a slow ride. Run three was a bit better, and I was getting a feel for the car, somewhat. It still wasn't great, but much less anxiety than the first couple runs. I am told when I get back to the pits that I will get one more run. We decide to load up Travis for the last run. We are the last to go for the day. I'm really pretty comfortable with Travis in the car. I want to do well and keep us both safe. We get the green and we are on our way. The last run of the day is the best. I am feeling more comfortable and we have a pretty good run. Just before the summit we see that one of the Big Rig race trucks has gone off the edge just ahead of us. We have to avoid a flag man in the road and keep out of the ditch. A bit of a tense moment for sure. The big rig driver, Shane Chapman, is fine and so is his race truck. When we make it to the summit, Travis tells me that this is the first time he has been up there since his accident.
When we get back to the hotel after practice I get a good nap in and then get started on the car. I get the oil changed, make a few other adjustments, and spend most of the evening cleaning out the dirt from the interior. I'm not sure what to do on the suspension so I send a quick text message to Forrest at PTP. Loose in the dirt. Too loose. Where do I go? I'm in a part of town that has really bad cell service so he doesn't get the message till the next morning.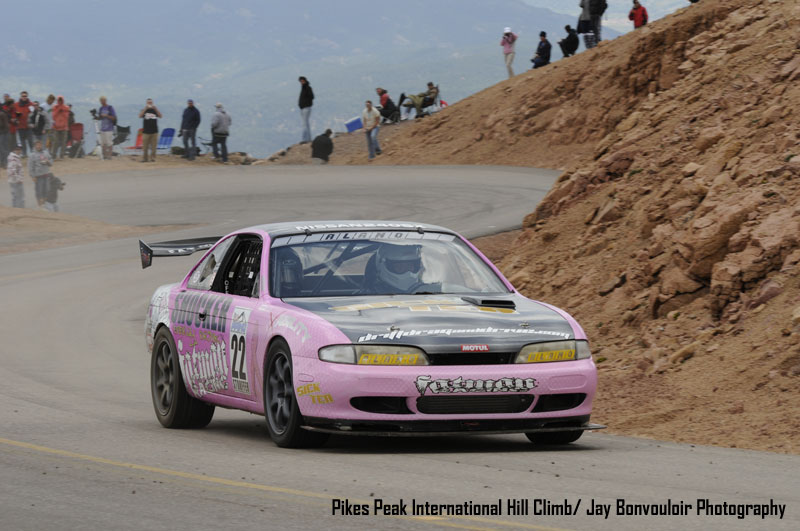 Practice Day Two – Start Line to Glen Cove. We qualify today. This section of the road is paved for the first three miles and dirt for the last three and a half miles. We should get about four runs today. I'm looking forward to how the car will handle on the paved sections. I've never been much of a dirt driver. Even on the ATV's I preferred the pavement. My first run goes well. Easy, again, to get a feel for the car and see what the road is going to give. The paved sections feel ok, and the dirt section is, again, a problem. Still wants to get too sideways when I'm in the boost. This dirt is different from the upper section dirt. They spray calcium chloride on this section to retain moisture and it should blue groove really quickly. My second run goes a bit better, and I'm getting comfortable in the paved section. I can easily gauge now when the boost is going to hit and I'm getting a better feel for what gear I should be in where. I am noticing that we are not really geared properly. I think the stock gear is a 4.08. I'd like to have something in the car around a 4.50 or 4.60. Get me into the boost quicker, and not have to shift into first on some of the tighter hairpins. Getting a stock transmission into first at anything more than idle is not easy. And it's really tough on parts. The third run goes well, and I'm even finding places on the dirt where I am comfortable. Just one problem…the brakes are going away. I have to double-pump the pedal to get any pressure. There's an air bubble somewhere.
As I'm driving back down the hill after the third run I hear a strange clunking noise coming from the right front corner. I hadn't heard it before… but, really, this is the most relaxed I've been in the car all week, and I'm starting to notice more going on around me. I can't figure out what it is, but I know I'll need to check it our before our last run. I make it back to the pits and they tell me I'll only get one more run. We haven't had Travis in the car yet, and I need to check out this problem. I quickly climb out of the car. "Get Travis loaded…we need to look at the front end and get the brakes bled!" All we have is a small jack so I start getting the passenger front in the air. I look down to loosen the lug nuts and one of them is about to fall off. The other four are really loose. I can't believe we didn't check the lug nuts before practice this morning! ! Turns out they weren't tight yesterday either. Wanna guess why she took a hard turn when the boost came on!? As soon as I noticed this I looked at the other three wheels. ALL of them were loose. Some more than others, but still, this was a big problem. Turns out we never did a final torque on the lugs after the last brake bleed when they were installing the wrap.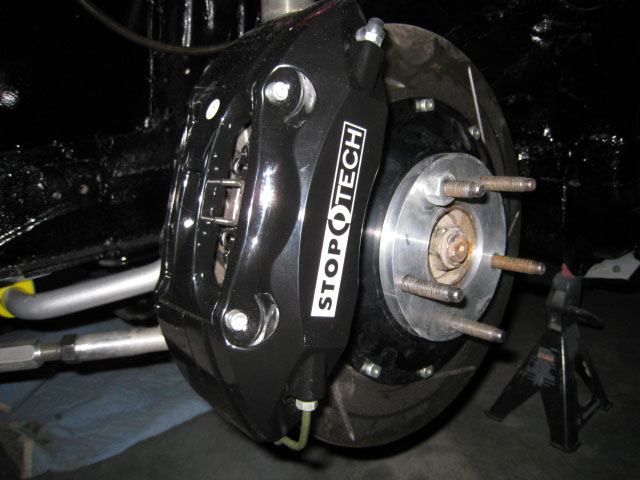 A crew member from another team sees us scrambling to get the brakes done and comes over to help. Randy Rhule, the top safety guy in the Pikes Peak organization, came over to see where we were. He was trying to hold things up to make sure we got everything done and could take a final run. Some of you might remember Randy from Monster Garage. He was part of the episode in 2004 when Jessie James built and drove a car up Pikes Peak. We were just about done getting the brakes bled and were doing a final bolt check on the car before heading to the line. Just as we were about to fire the car, Shane Chapman left the line. We heard his turbos scream, and the tires squeal, and then we heard a bang. Shane had gone off the road again…right in front of us…again. This held things up long enough for us to get things done and we rolled up to the line. They really wanted us to get a final run in, so they cleared Shane's debris from the road and gave us the green flag. Wow…what a difference tight lugs and good brakes make. The car was handling great and was much more predictable on the dirt section. This last run, our qualifying run, was a full thirty seconds faster than any of my previous runs. I was pretty happy. We got back to the pits and got our time. We had qualified fourth, out of four, BUT we only missed third by four seconds. Melissa Keeney got third. She's a great driver and has been competing at Pikes Peak in the same car for a few years. So to only be off her time by a few seconds wasn't too bad. Just after practice I get a text from Forrest at PTP, he had just gotten my text from the night before. "Rear toe, soften shocks". I hate my cell phone service.
Back at the hotel we do a complete bolt check and change the oil. Then a long nap for me. Later in the evening I'm back outside, once again, cleaning the dirt out of the car. Man, I can't wait till this thing is completely paved.
Practice Day Three – Cove Creek to Devils Playground. This section is all pavement. Did I mention that I hate my cell phone service? Won't get to find out if the changes I made to the suspension work until race day. Bummer. This is a short section and we should be able to get in five or six runs. I am still exhausted from the day before so I decide to nap during the first couple runs. I LOVE this section and feel like I can get away with less practice. This section is the called the W's. There are seven hairpins and it is all above tree line. Most drop offs are well over two thousand feet and are very exposed. You don't want to screw the pooch in this section. It's the most technical on the hill, and the most dangerous. I had a big fear of this section my Rookie year on the quad, so I came up early and drove it for a full day. Probably forty or fifty times. That's all it took to get me over the fear. I set off on my first run and the car is running well. I get through he first couple corners and then slow for the first hairpin. I have to jam the tranny into first and it's not liking it. I have to find a speed slow enough to engage first without leaving bits of the transmission scattered on the road behind me. I'm REALLY wishing I had a lower gear. Now I'm thinking 4. 60 or better would keep me from having to shift into first. I'm driving the car harder than I ever have, and really getting a feel for it at higher speeds. I'm groaning every time I have to slow down so much for the hairpins. Another option would be to back into the corners like a drift car. Only problem there is that I have no e-brake to get the back of the car around. That's another add-on I'll need to make before next year. I'm losing a good two to three seconds on each hairpin and I know it. The car I am gauging myself against is 24 seconds faster than me in this section. She has a lot more power than me, and has been driving her car for a few years. If I weren't losing those few seconds per hairpin, I'm right there with her best time. I love this section. And now I know what I need to go faster through it.
Practice and all the anxiety that go with it are finally complete. We now have the rest of Friday and all day Saturday to relax and make the car ready for Sunday. We decide to cover the car and take Friday off and make it down to Fan Fest for the evening. It was cool to see everyone who had cars on display and check out everything else going on. Rhys was on display and he was kind enough to take a few minutes to talk to us about the week and, again, ask if we needed anything for race day. I felt really lucky to be racing with such great people.