FATMAN RACING TAKES ON PIKES PEAK
We found out about NICOclub.com several years ago when we were still working on our 300Z project. That project was bought out before we really got it finished. But we had come to know NICO as a great source for information and parts and were anxious to begin telling the story of the 240SX we were about to build for Pikes Peak Time Attack.
The car itself was originally one of two fully sponsored entries from Nissan USA for the Speedvision series that was run with the ALMS program in the early part of the decade. Although it currently has a 1995 front fascia, it is a 1997 model. Ed Shairbaum campaigned both cars. This one was put into service in 2001 after a crash that ended up being terminal for the first car. This brand new car, directly off the assembly line in Japan, had been in a storage facility sitting dormant since 1997, waiting for its turn to be put onto the track. They had four days to get this car together and on the track for the next race. They stripped and hastily put a cage in the car, transferred as many parts as they could from the old car, and made the next race just in time.

The car was raced for the next two years without incident until the ALMS race at Road Atlanta in 2003. Its Speedvision career came to an abrupt end on lap two of the feature race when it was tapped from behind and spun 180 degrees, hit head on and turned sideways and then t-boned on the drivers side.The Speedvision races were always a contact sport, especially mid-pack, where Ed had started on this day. The car was totaled and Ed made the decision right then to take a break from racing for a few years. He sold the car, just as it was, to a guy from Houston who was looking for a car to drift. Crazy coincidence, I was working in Atlanta in 2003 and just happened to be at the track the day the car was totaled. It was the only ALMS race I have ever attended.
The new owner had the car in his possession just long enough to have a new front clip grafted onto the structure and also have some really horrible body work done to the driver's side, where the car had been t-boned. It's my understanding that he either lost interest or funds to complete the project and it sat in a garage until December 2006 when I found it.
I had done some other business with the guy who owned it at the time (second owner since Ed) and had seen it in his garage. I thought it might be a good foundation for a track day car or occasional drift car.The owner and I came to terms on a price and I hauled the empty shell back to my garage.
Just a few days later my wife and I decided to part ways, and divorce proceedings began. The car would have to wait.
Fast forward two years later, August 2008. I'm recently re-married and that, along with other changes in my life, has made me consider a shift from motorcycle and ATV racing back to auto racing. They had recently created the Time Attack division for Pikes Peak and the rules looked like they would suit the 240 pretty well. So, after some discussions with my wife, and a few meetings with potential sponsors, I decided that the 240 would be my next ride up the Hill. The only question was whether or not we could complete the build in time to get it sorted and have it ready for 2009. Getting a car done in that short period of time I knew would be difficult, but it was something I wanted to tackle. And just to add to the difficulty, my wife got pregnant. This was one of a few things that happened right away that made me think the timeline would be impossible. We were expecting to have the car completed and on the track for testing in mid March 2009. Things didn't quite go as planned.
Construction officially began on August 12, 2008.I had a basic plan in place for the car: Naturally aspirated 200hp motor, simple modified stock suspension, use the existing 17×7 Forgeline wheels that came with the car…you know, a basic build to get some experience. Plans started changing almost immediately.
The back end and trunk area of the car were in fairly bad shape from a couple years of close, fender to fender racing. So I planned to cut out most of the trunk area.Well, when we got it out, we decided that since we've come this far with the back end, why not go ahead and replace the entire rear sub frame with a tube frame and build in a fuel cell. That one change alone probably added three weeks to the project.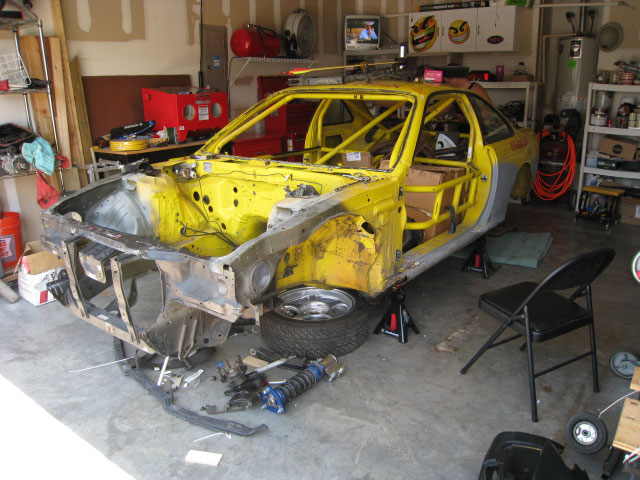 I also began to take apart the crappy bodywork on the driver's side and knew I was going to have to make some changes. I ended up cutting the entire lower side out of the car and replacing it with sheet metal from a junkyard 240sx. Add another couple weeks to the project. The body work wasn't the biggest problem with this part of the project. I can handle body work like this, no problem. The biggest issue facing me at this point was that I didn't have ANY tools to do the job at my garage.We have built several cars, but they were all done in the Fatman shop. Since our last complete build, I had moved over an hour away from the shop. With a new wife and a baby on the way, long nights and weekends away from home were not advised. And I couldn't just take the tools I needed from the shop because Steve (the Fatman of Fatman Racing) needed them to run his everyday business. So add to the budget a couple thousand dollars for a welder and associated tools to outfit my shop to complete the build.
The Time Attack rules call for a passenger seat and harness. Unfortunately, there was a roll cage support bar going right through the passenger seating area. Removing this wasn't a problem, but I knew that we would have to strengthen the cage to make up for this lost support. I cut out the offending bar and began re-designing the main hoop support and a few other elements to make sure we didn't lose any integrity.
I had been selling some items on ebay to help the budget, and through one of those sales I met Jared Roberge of Driftdraganddrive.com. Jared is a 240SX junkie and from the day I met him and told him about the project, he has been a huge source of help and support, and probably the car's biggest fan. He was immediately on board, asking how he could get involved and what he could do to help. He got us in touch with Kyle Yepsen and Forrest Windecker from a local (Ft. Worth) shop, PTP (Pro Tuning Performance). PTP were also interested in the project – with their track experience and resources I knew things were going to get easier. PTP committed to providing suspension setup and engine tuning help. They were a big help when it came time to find parts for the car and provided some solid advice on the construction.
I probably should have spent more time thinking about the consequences of adding a turbo to the mix before I did it. A good friend used to work for STS (Squires Turbo Systems) and still had some contacts over there, including the owner, Rick Squires. He thought we might be able to add a turbo for minimal cost and decided to make a phone call.Discussions started with STS and before long we had a turbo recommendation and a new turbo was on its way to the shop. We were committed. After all, we wanted to go fast. Problem is, once you decide to up the ante from the planned 200hp to over 500hp, everything changes. Stock brakes and rotors weren't going to cut it. Stock fuel tank and pump weren't going to cut it. The slightly modified engine certainly wasn't going to cut it. A complete new plan was necessary and it still had to fit the existing time line. The new plan also included a change to the type of fuel we would run. Everything at Pikes Peak runs hotter because of the altitude so the decision was made to run E85. We had heard both good and bad things about E85. We have had good success in the past running methanol in our race engines but the Time Attack rules don't allow for methanol. The ethanol properties are similar and we figured some of our knowledge would carry over.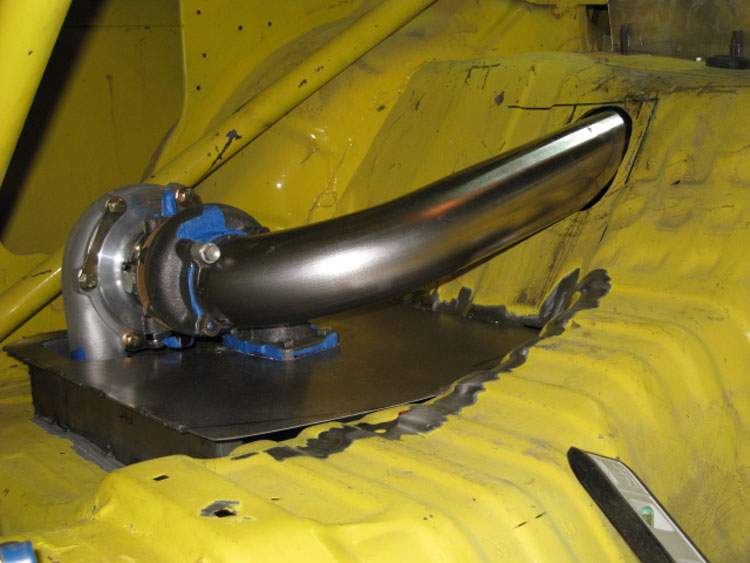 The deadline for entry had come and gone, and we were in with both feet. Entry fees had already been paid and we had already come to agreement with several paying sponsors including Sick Tea and Shocker energy drink.
We started on the new plan immediately and began sourcing the parts needed for our new direction. We had a few talks with StopTech and they were eager to return to Pikes Peak. They have had great success there in the past and were enthusiastic about our project. They came through with a big brake kit and a couple sets of Hawk Pads. Todd Cook at TCE in Tempe, Arizona helped out with a new pedal box and master cylinders from Wilwood. PTP again came through for us and sourced the Aeromotive fuel pump and filters and 1200cc Lucas injectors that would be needed to carry the additional fuel required.
In mid December 2008 I got a call from a number I didn't recognize and when I answered the phone I was greeted with "Hello, Ken? This is Ed Shairbaum. Does that name ring a bell?" To this point I had never met Ed, but I knew he was the driver of the car when it was in the Speedvision series. I said, "Yeah, your name is all over my race car!" We had a great conversation about the car and Ed gave me thorough details about the car's history, etc. He found out about the project through his daughter, who is dating a guy that happens to be a NICOclub.com staff member, and he saw my thread detailing the build. That thread includes photos from the car in action back in its Speedvision days.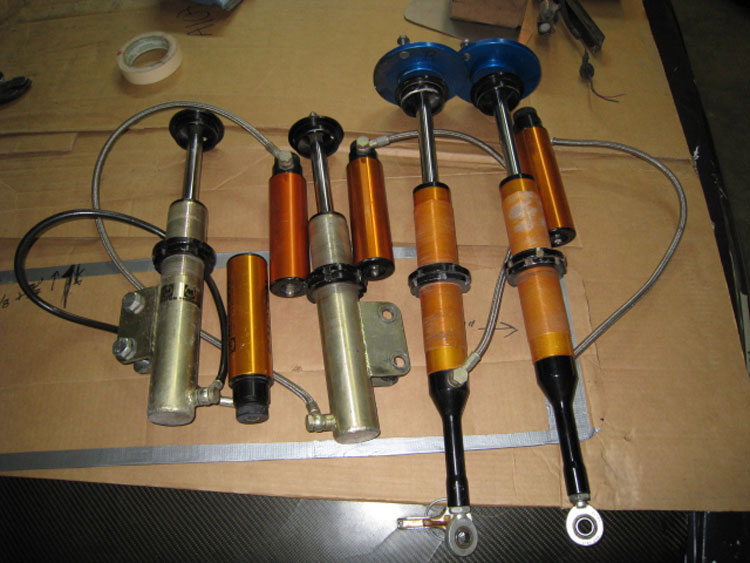 Ed also mentioned that he was still in possession of the original racing coilovers that he used on the car. He was holding on to them just in case he decided to go racing again. He offered them to me, at a ridiculously low price, and I couldn't pass them up – although, I probably should have. Besides the initial cost to buy the shocks, $1600.00 for the set, which is a great price considering they are about $2000.00 EACH when they were new, I had to have them rebuilt. These are Motons…I had no idea that it would cost another $400.00 EACH to have them rebuilt. Then, as my luck would have it, one of the bodies was slightly bent, so we had to order a new one from Moton (Add $450.00).This was not an easy prospect, since only one or two sets of these were ever made.It took nearly 8 weeks to get the new shock body from Moton in Germany.Another fun fact about the Motons is that the top plates are different from any other strut on the market, so we had to order special top plates…the only set available was in Holland. Add another few weeks and another $800.00 to the mix. My bargain, top of the line coilovers were not such a bargain anymore. I was now into these Motons for well over $4000.00. Yikes. Nearly one third of my original budget was wrapped up just in the coilovers. I was assured, however, by people that really know racing suspensions that this setup was worth every penny that I spent on them, and in the end I'd be glad I did. So far, they are right.