PAGE 4
Saturday is an off day. We don't really get the day off. We have a laundry list of stuff that needs to be done in order to be ready for the race on Sunday. Another bolt check, including the lug nuts this time, is included in the list. We also have to do a repair on the splitter frame. I hit something yesterday and the frame is broken in one place and bent in two others. I'm wishing I had my welder…again. Other than that we need to do basic service and apply the suspension changes recommended by PTP. It was a long day, but we finally got everything finished and cleaned up the car so it would look good for Sunday.
Sunday is Race Day. The Pikes Peak Hill Climb isn't like any other race in the world. The race starts at 9400 ft and finishes at the 14,110 ft summit of Pikes Peak. (Editor's Note: I live at 1000 ft above sea level – Imagine building a car that will even run properly at the BOTTOM of the track! Where would you test it? ) You are racing along 12.42 miles and 156 turns of narrow road, through five atmospheres. Everything wants to boil or burn up. You have to be smart with your setup or the odds of making the summit are slim. You need to know the road, but you also need to drive by sight and not by memory. The racing line through the dirt sections can move, and might not be the best or fastest line. Going fast in those sections depends on your ability to be able to drive fast on a bad line. You have to contend with wildlife, fans and changing weather. It could be sunny and 85 degrees on the start line and snowing on the summit (like it did this year). You just never know what to expect.
We get into our pit spot around 5am and get everything settled. We have a few of my ATV friends pitting with us this year. I'm feeling a bit anxious, but I'm trying to relax. We are scheduled to go off around 11am. The morning is dragging on. I spend time wandering the pits and talking to friends and watching the other classes go off. The morning was relatively uneventful. There have been no major incidents and things are moving along smoothly.
As I'm watching the last of my ATV buddies leave the line, the race director comes over and tells me and Travis to load up. Rain is moving in. Travis and I get loaded and we are rolling into the fourth position in the staging area and the rain starts coming down. The hail soon follows and soon we are in a mini-monsoon. A drenching rain. We have people holding umbrellas over the side windows, but Travis and I are still getting pretty wet. So is all the stuff just inside the window, like my tachometer and electrical gauges. I don't think any of it is water proof. We are waiting out the rain when Randy Rhule comes over and informs us that instead of going last, we're going first. Rhys, as the number one qualifier, has the right to reverse the run order in our class. And since it has been pouring rain for the last 30 minutes, he decides to use us to help dry the track before his run. No problem. Not only do I have little time in the car, but I have no time in the car in the wet, and I have little confidence in my bargain basement tires. This should be interesting. Oh well, just one more challenge in the long list of things we have had to overcome to this point. Rhys comes over and leans inside the window; "Sorry mate. Good luck, I'll see you on the summit". Travis and I roll up to the line behind the last couple cars of the class in front of us. We get reports that there is standing water on the course for at least the first two miles.
The green flag drops. Time doesn't start on the green flag, it starts when we cross a timing loop buried in the road about 75 yards in front of us. I am taking my time. I look over at Travis and ask him if he's ready. "YES!" I rev the motor and ease out the clutch. We are finally on our way. I immediately find that the road is slick and my tires have little traction. The feeling is similar to the dirt sections, except we have more traction in the dirt. Each corner we enter I can feel the front end pushing hard and as I reel it back in, the back end starts to get loose. I have to drive more conservatively than I want to. We're making our way, but it's a real handful.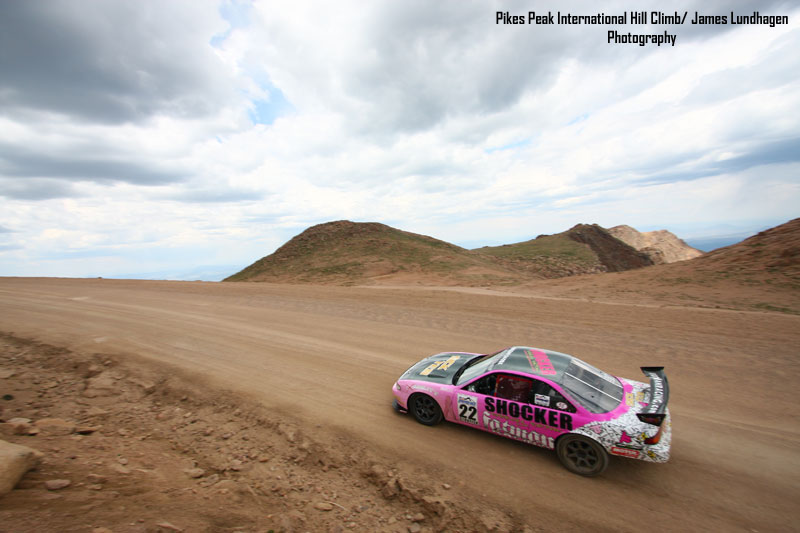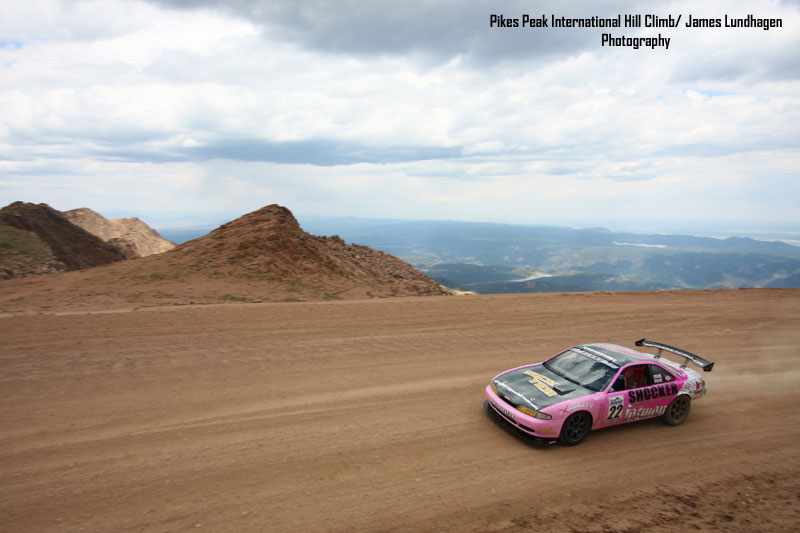 A little less than two miles in and we are still making our way through standing water and very slick conditions. Then, suddenly, we come around the corner at Horseshoe and the road is completely dry. It was as if it hadn't rained here at all. I looked over at Travis and smiled, and then I put the accelerator on the floor. We had about another mile of pavement to make some time and I was doing my best to take full advantage of it. We got in and out of the hairpin at Engineers pretty quickly and we had a great run into Halfway Picnic Grounds. I'm not sure how fast we were going there, but I'm sure it was as fast as the car had ever gone. We work our way through the lower dirt section. I feel like we made pretty good time considering the wet start. The second paved section above Glen Cove goes really well. I am keeping a close eye on the temperature gauges since we haven't had very long runs under power until today. As we get to Ragged Edge, just below the W's, I see the water temp gauge start to crawl past 200. Until now the temp hadn't gone above 190. I'm not slowing down. This is my favorite section and I'm determined to get through here quickly. On the second leg I see the temp at 210. I'm a bit concerned. I don't want to burn down before we make the summit. I feel like if we can get up to Devils without overheating we should be ok. There are a lot of long straight runs above Devils, and it's all dirt, so I won't be working the engine quite as hard. We get a good run onto the fourth leg heading into Devils. There are thousands of people up here and they are all by the road cheering us on. I brake hard coming into Devils and get the back end around smoothly. We're back on the dirt and look down and see the temp gauge slowly coming back down to 190. We safely negotiate the corner going into Bottomless Pit, named for the 6000ft drop off waiting for you if you miss the turn. Safe? Not yet – some idiot runs out and crosses the road just in front of us. A quick brake check before the corner and now we're creeping up the 10% grade leading out of the turn. Thanks buddy! We get back on the boost and continue up the road. We're doing well. I feel that we are faster than we were on the practice day. Of course, all the lugs are tight today, so we should be. We make it through Gravel Pit and Boulder Park and have the finish line in our sites. Just Cog Cut and Olympic Hairpin and we are home free. Cog Cut goes well and as we are coming into Olympic, we see our friends, and Travis's dad, who had finished the race earlier, cheering us on and waving us towards the finish line. In my enthusiasm, I almost blew the exit and tried to drive us into the ditch. Narrowly averting disaster, I was able to collect the car and we made our way across the finish line.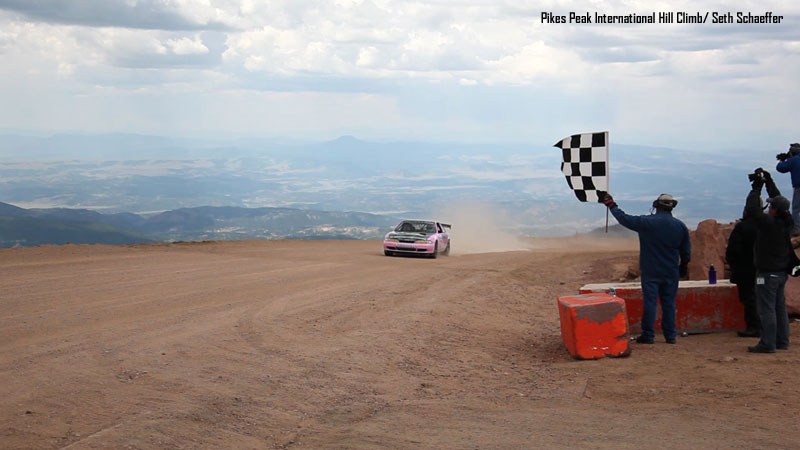 What an amazing feeling. I didn't know if I should scream or cry or what. Turns out, I didn't do anything. I just looked at Travis and thanked him for sharing the experience with me and we rolled up to the spot the safety team directed us to park. I asked Travis which truck had brought his chair up. He pointed it out and I crawled out of the car and began to make my way over. Not three steps out of the car and Monster Tajima was heading my way with his hand extended. I was now shaking hands with the current Pikes Peak record holder. He was the first to congratulate us and immediately began taking pictures of the pink car and was leaning in the window to speak with Travis.
I looked around and saw that someone had already retrieved Travis' wheelchair. We hauled him out of the car and got him settled in his chair, and two seconds later we had radio and print media hitting us up for interviews. I was pretty stoked. This is the first year anyone has wanted to talk with me after the race. Pretty cool!
Weather had begun to move back into the area as Travis and I were doing our interviews. We watched as our fellow Time Attack competitors made their way to the summit. Rhys Millen came across the line with a new record on two shattered tires and no fifth gear. What an incredible driver.
We get our time. A bit slower than I expected. I really figured we were in the 14 minute range somewhere. But with the loose dirt and wet start it just wasn't there. I'm standing in the summit already thinking about what I need to do for next year.
The ride down is great, as it is every year. You are greeted by the fans on the roadside and getting thousands of hi-fives on the way down. In the crowd, several of our friends are cheering for us. It's a great moment after all the hard work. We stop briefly at Glen Cove to speak with Jared, who came up from Texas for the race. I thank him again for his support and we make our way back down to the pits.
After getting the car settled back in the pits, we head over to the VIP area where the awards ceremony will be held. One of the quads on our team, a quad I built and still own that was ridden by Lee Kent, got third place in his class. So we're pretty excited to see our friend get his trophy. We decided to stick around and see the rest of the awards ceremony and I'm glad we did. Race Director, Phil Leyton, gets to hand out a few awards each year. One of them being the Donner Award. It's a sportsmanship award named for the Donner family. They have a long and very successful history on this mountain and it's a real honor to be presented with the award. I was given the award for letting Travis ride up the hill with me. So essentially I got an award for doing something I really wanted to do anyway.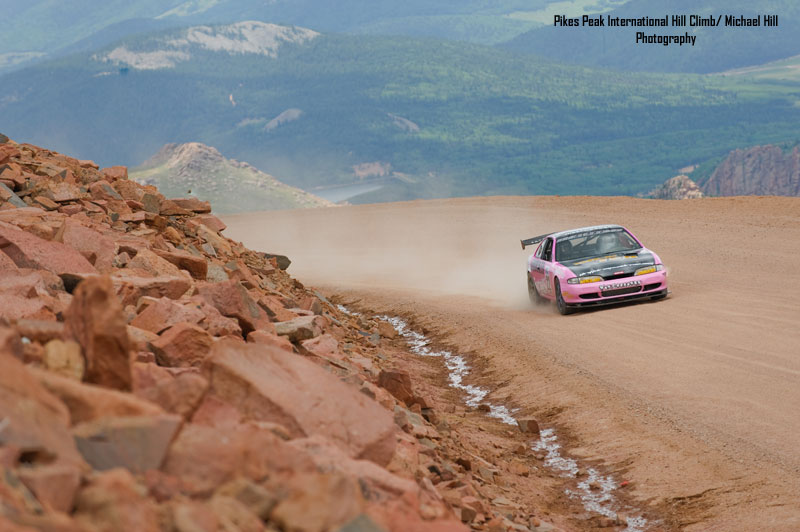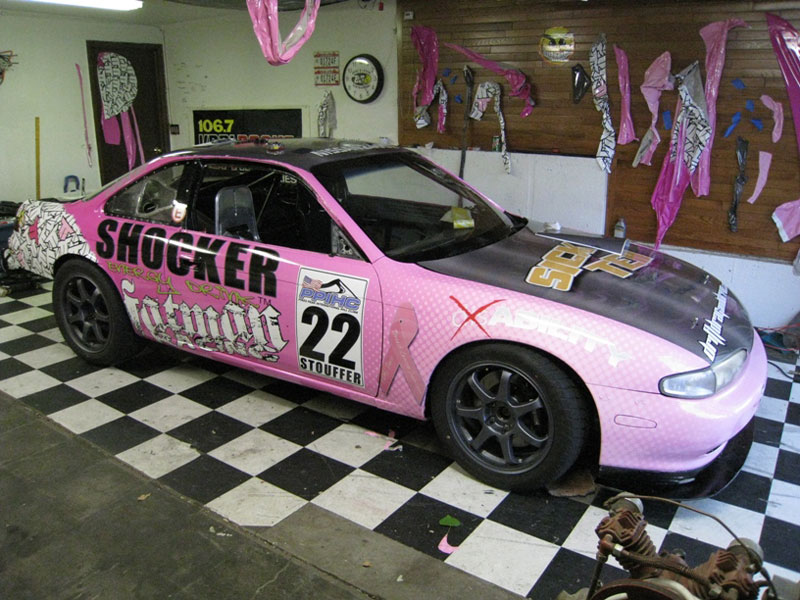 With the award ceremony over, we load up the car and head back to the hotel. Another year is gone. I really want to take a run at Rhys Millen's record – and I feel like we have a good start at it.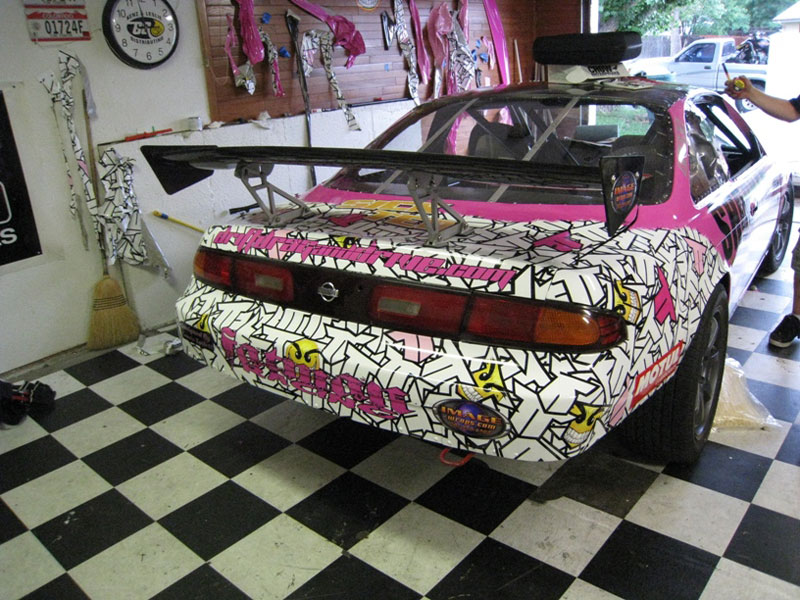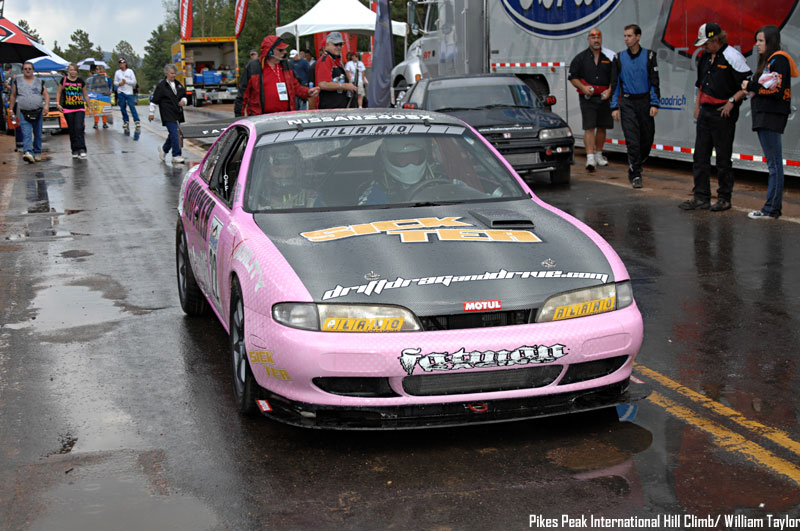 It's been such a long year. All I can think about now is getting home to my wife and kids. I'm taking the month of August off to spend with them and I'm really looking forward to it.
Details on the car:
Build time = 11 months
1997 chassis
1995 front end
2.4L KA24DE-T
L19, 11mm head studs
O-ringed deck and copper head gasket
Lightly ported intake and head
BC Springs, Retainers and Locks
Kelford 272 Cams
Eagle Rods
Fully balanced crank
1200cc Lucas injectors modified by Alamo Autosport
Competition stage 5 clutch and flywheel
Stock Transmission
B&M Short shifter
Stock driveshaft
Stock third member with S15 Helical diff and 4. 08 gear
Stock axles
Z32 rear brakes and rotors
StopTech front big brake kit
Modified stock suspension links
Megan Racing rear lower toe arms
Wilwood pedal box and master cylinders
MB Weapon wheels
17×8 front with 245/45-17
17×9 rear with 275/40-17
Precision 60-1 turbo with . 36 AR
STS system mounted in back seat
TiAL 38mm Wastegate
TiAL BOV
18"x9"x2.5" in and out IC
Custom 2. 5" and 3" exhaust
AEM ECU
AEM Boost gauge
AEM UEGO
Stewart Warner Gauges
AutoMeter Tach
Kirkey racing seats
Crowe restraints
Def-N-Der Neck Brace
Simpson helmet
Tuning by Brice Yingling at Alamo Autosport
Suspension setup and corner balancing by PTP (Pro Tuning Performance)
Vehicle graphic design by Travis Tollett
Printed and Applied by Imagewraps
Very Special thanks to:
Shocker Energy Drink
Sick Tea
Pikes Peak Hill Climb
PTP (Kyle, Mark and Forrest)
Alamo Autosport
Driftdraganddrive. com
NICOclub. com
StopTech
Def-N-Der
Dent Sport Garage
Ben at Cloudfactory
Travis Tollett
All my Family and Friends
My Wife, Jenifer, and our kids Brandon and Sophia


AUTHOR: Ken Stouffer (NICO member: kenno470)