"Always Be Prepared."
-Scout motto, 1907
Robert Baden-Powell didn't have a dead car battery in mind when he wrote that ubiquitous motto well over a hundred years ago – but he'd certainly agree that a dead battery can wreck your day.
While most of us "car guys" are usually equipped with a set of jumper cables, they don't do you a bit of good if you're on a lone country road or in a strange neighborhood in the middle of the night. Even jump-starting your car off another car can be risky, especially on a busy highway or in inclement weather. Calling for a tow truck is a good way to drop $100 or more, and who wants to sit around waiting for an hour?
No, if Baden-Powell were around today, he'd be impressed with modern lithium ion battery tech, and he'd be carrying one of those pocket-sized devices capable of jump-starting a car.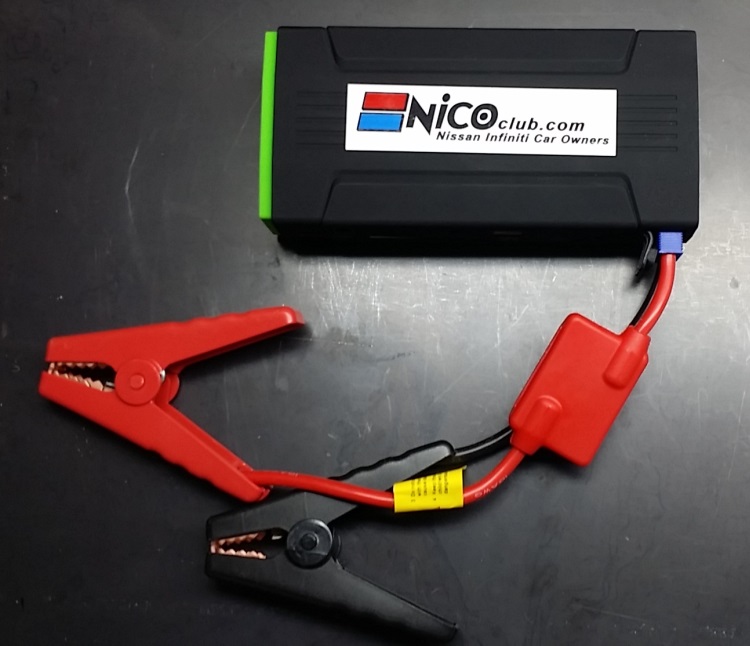 The NICOclub Headquarters is the ideal location to make good use of one of these – Why?
We have a collection of obstinate old Datsuns that don't always get driven a lot, so their batteries discharge over time.
We've got teenagers who tend to leave lights on, dome lights on, or a door open – usually right after I've paid way too much for a new battery.
On road trips and event weekends, we burn a lot of battery life (phones, tablets, laptops) to keep the business rolling.
I'm often asked to do some under-hood diagnosis – so the bright flashlight (and the ability to jump a dead battery) is helpful.
After doing a lot of research, I learned a few things:
One, most all of these jump starters are manufactured in a very small area of China. The Chinese are the kings of miniaturization, and their competition for market share means they're continually adding more and more features to their pocket-sized electronics.
Two, there are literally THOUSANDS of these units on the market priced from $75 to over $200. However, like other products, most are re-branded for marketing purposes. For example, the unit I selected is also re-branded by a well-known tool manufacturer (who slaps on a hefty $120 markup just for their name).
Three, this thing packs a punch – It will jump-start a diesel pickup TWELVE times on a single charge, a full charge will provide between 15 and 40 jump starts, the flashlight (and emergency strobe light) is a beast, and it powered my Galaxy Note IV from dead to 22% in 11 minutes!
EDIT: Since this article was written, I've upgraded. Here's my new unit, and I like it even better!
https://www.amazon.com/NOCO-GB40-UltraSafe-Lithium-Starter/dp/B015TKUPIC
Grab one for yourself and one for your significant other – That's cheaper than a new battery, cheaper than a tow truck bill, and cheaper than a couple good sets of jumper cables.