In one of the most significant events in V8 Supercar history Japanese car giant Nissan will join the pinnacle of Australian motorsport and touring car racing by entering the Championship from 2013.
– First new manufacturer to join the Championship under the Car of the Future program
– Kelly Racing to race four Nissans in the Championship from 2013
– Nissan leads grid in opening Championship to new manufacturers
After a 20-year absence from the Australian Touring Car Championship, Nissan Motorsport (Australia) will run four cars with up and coming V8 Supercar team Kelly Racing.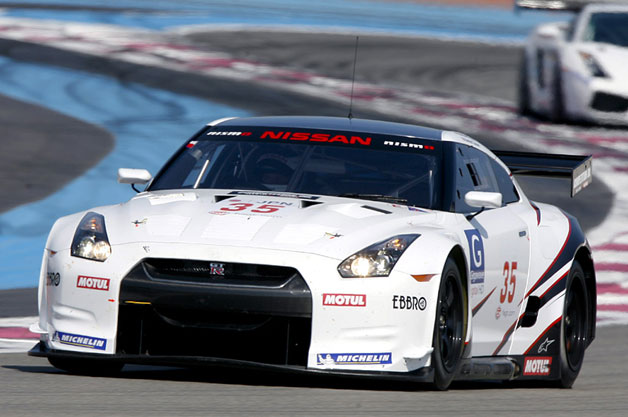 From 2013, Kelly Racing will campaign as Nissan Motorsport – a formalised factory team. The announcement was made in Melbourne today by Nissan Australia Managing Director and CEO Dan Thompson; Ian Moreillon, Executive General Manager, Sales and Fleet, Nissan Australia; V8 Supercar Chairman Tony Cochrane, and; V8 Supercar CEO David Malone. They were joined by V8 Supercar Commission Chairman Mark Skaife; Kelly Racing Chairman John Crennan, and; Kelly Racing co-owner-drivers Todd and Rick Kelly.
Nissan is the first manufacturer to take advantage of the Car of the Future program which virtually two years ago to the day was unveiled with an aim to cutting running costs and encouraging other marques to compete, in turn broadening fan and sponsor appeal. Nissan's decision confirms that the Car of the Future program is high on the agenda of V8 Supercar teams and potential new manufacturers.
V8 Supercars expects more manufacturers to follow Nissan's lead given the high profile of the sport domestically and internationally. The sport intends to grow to 18 events world-wide (up from the present 15 Championship events) across 40 weeks in the coming years. The first Car of the Future prototypes were unveiled at the Sydney Telstra 500 just last December.
Nissan's entry into the V8 Supercar Championship reflects its brand promises of "innovation and excitement": innovation with the Car of the Future program, and excitement through the attraction and popularity of V8 Supercars.
It also believes the sport will add significant momentum to its primary and corporate brand profile in Australia.
Nissan is highly acclaimed and successful in global motorsport, its products having won the European-based FIAGT1 Drivers' Championship, Japanese SuperGT Championship and the LMP2 class (1st and 2nd) at Le Mans last year.
Managing Director and CEO of Nissan Australia Dan Thompson said: "We plan to use our presence in the series to strengthen our passenger car credentials in Australia.
"Nissan believes that, alongside Ford and Holden, we possess the most convincing motorsport DNA and track history in Australia, making a V8 Supercars debut in 2013 an obvious initiative.
"We are targeting No.1 importer status in Australia and already making progress towards that as one of the country's fastest growing brands. V8 Supercars will boost that momentum."
V8 Supercar Chairman Tony Cochrane, who announced the Car of the Future program in March 2010, said it confirmed the global demand for V8 Supercars by manufacturers and destinations was very real.
"We welcome Nissan with more than open arms," Mr Cochrane said.
"This announcement confirms all we have known about V8 Supercars for a long, long time – that we are truly an international player, an extraordinarily popular sport amongst fans globally and in great demand by big business and corporate players.
"I applaud Kelly Racing for this pioneering move to embrace Nissan and take one of the world's biggest brands on their journey within the V8 Supercar Championship. Todd and Rick are truly remarkable businessmen, visionaries and drivers."
Kelly Racing will from 2013 be a fully-fledged Nissan factory team developing its own cars and engines, utilising the global resources of the giant NISMO motorsport organisation.
Rick Kelly, a V8 Supercar champion and multiple Bathurst winner, was enthused about the move.
"I couldn't be more excited with the opportunity Nissan has offered Todd, myself and the entire team at Kelly Racing to become their official factory team," he said.
"Nissan's genuine enthusiasm, unwavering support and absolute professionalism through this evaluation has been tremendous and underpins their absolute intentions of Championship success in the category – a dream we share and hope to deliver on.
"This new partnership has only been made possible by the endless amount of hard work that John Crennan has done for Kelly Racing on this project, and that of Ian Moreillon, Jeff Fisher and the team at Nissan of which Todd and I are very grateful.
"The Nissan Car of the Future (COTF) project is a huge undertaking however Todd and I are firmly focused on the job at hand this season ensuring that Kelly Racing takes those important steps forward on and off the race track.
"Development of our cars and recruitment of key personnel in the off-season should assist us to realise these immediate goals.
"This new partnership brings with it a host of opportunities for the team, our business partners and of course fans and delivers the vision that we have shared since our inception in the category in 2009."
Business partner and elder brother Todd Kelly said Kelly Racing's innovative business strategies fitted perfectly with Nissan's desire to enter the V8 Supercar Championship.
"Rick and I have had one clear goal that we have been striving for since we started Kelly racing, that was to become a benchmark race-winning team with factory support," he said.
"The timing with Car of the Future has enabled us to engage a manufacturer and achieve that. We couldn't be happier to be a factory Nissan team and Factory Nissan drivers.
"Nissan is a fantastic brand that we will all be extremely proud to represent and their international motorsport heritage and engineering capabilities are both key factors in our new relationship that will help us achieve our goals."
Car of the Future architect Mark Skaife said the ground-breaking announcement was only the start. "This opens up a whole new chapter for V8 Supercars," Mr Skaife said.
"The sport and the brand have been so successful over such a long period of time with today's news reinforcing the direction of the business, coupled with imminent international expansion to multiple destinations globally.
"Nissan has clearly acknowledged V8 Supercars as a major component of their future plans within the Australian car market and motorsport internationally. V8 Supercars will deliver on their expectations.
"There is no doubting the entry of more manufacturers now that Nissan has taken the first step to recognize what the relationship will do for their brand."
The three-year Car of the Future project, led by Mr Skaife and a key team of engineers, designers, car builders, V8 Supercar team personnel and drivers, is complete with 2013-spec Holden Commodore and Ford Falcon fully tested and on the showroom floor.
The cars, developed with the sponsorship support of Dunlop, represent the next generation V8 Supercars, paving the way for new marques.
V8 Supercar teams have already commenced building their new cars before the compulsory roll-out in 2013.
About V8 Supercars
V8 Supercars is a touring car racing category run as an international series under Fédération Internationale de l'Automobile (FIA) regulations. It is the premier motorsport category in Australasia and one of Australia's fastest growing sports. By 2011 the competition had millions of television viewers in Australia, an international broadcast footprint and had achieved multi-million dollar sponsorship at the Series and team levels. V8 Supercars is one of the few truly national sports in Australia, with 14 events held across Australia, plus an event in New Zealand and in Abu Dhabi. On average, 126,000 people attended events in Australia and New Zealand in 2011. V8 Supercars was created in 1997 to professionally manage, market and promote the sport of V8 Supercars racing around the world. Until May, 2011, V8 Supercars was owned 25 per cent by Sports & Entertainment Limited (SEL) and 75% by TEGA, the body representing the teams. Following the investment of Australian Motor Racing Partners Pty Limited (AMRP), V8 Supercars Australia is owned approximately 40% by the teams and management and approximately 60% by AMRP. More information at www.v8supercars.com.au