By: n00b240
So I got my BRM catback exhaust system yesterday, and installed it this morning. I tried to take as many pics as I could, for reference for the next n00b who wants to install this exhaust on their car.
Installation process:
We are talking bolt-ons people, its not rocket science. Stock exhaust is in two pieces, using a wrench I removed the nuts from the bolts near the muffler. Using the same wrench I unbolted the pipe from the catcon. No elbow grease needed, simple as simple does. Here was the tricky part. I spent 5 mins trying to get the muffler off the rubber hangers. Damn near impossible. Then I sprayed some WD40 all up in the rubber hangers. Muffler slid clean off. No elbow grease needed. Removed the pipe by putting WD40 on the hangers again, no stress at all.
BRM muffler install was easy as slicing cake. The fabbed hangers slid right into the rubber hangers with no issue. BRM resonator pipe hangers slid right into the rubber hangers no issues. Of course gaskets were put in place. 2 bolts came with the BRM system, so I bolted those up appropriately. Bolted the resonator pipe with gasket back to the catcon. (thanks for this extra gasket greg, mine was completely shot)
And then I pulled the car down. Total install, 40 minutes. Took 5 mins to wrestle with the rubber hangers (just use WD40), 5 mins to find the right wrench. So really this install took 30 mins.
Car in air with stock exhaust system in: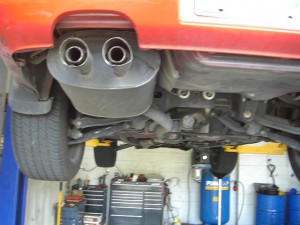 240sx exhaust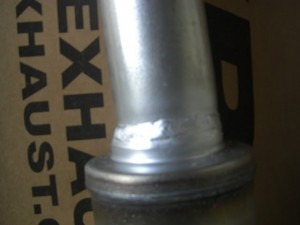 The stock to BRM comparison: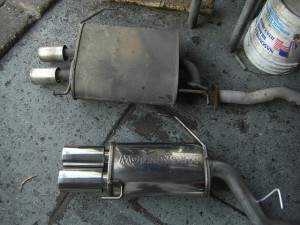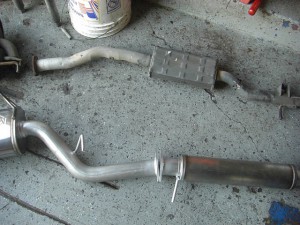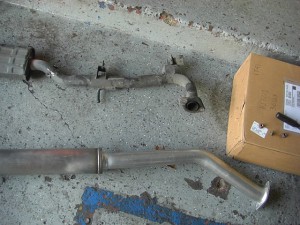 Absolutely perfect clearance: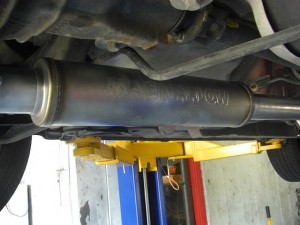 Tips come out a bit farther than I expected: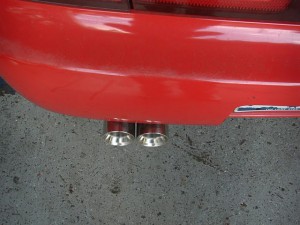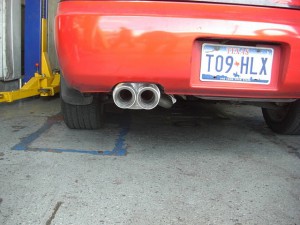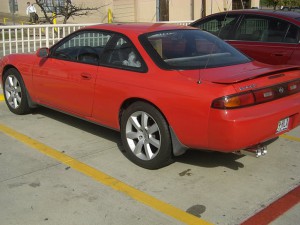 Now for the quick sound review. Sound clips are out there already. I think the exhaust sounds much louder on youtube than it does on my car. When you start the car, its a hella nice deep throaty tone. And then its almost as quiet as stock if not quieter.
Rolling around town, is as quiet as stock if not quieter. Now you do hear the deep notes as you are rolling around town, but its not that much louder than what you would hear inside the car. Outside the car however…its a very very nice sound over the stock notes. I've also got the solid subframe bushings so I will hear a bit more than you guys with ES bushings or stock bushings. But its nothing, as I said, just as quiet as stock IMO.
The highway is a different ballgame. Nothing a lil Sports-Radio cant handle. But the speed limit on the highways here are 70. So I go 75, and the exhaust note is quieter than stock I kid you not, but mind you, you can hear the deep tone. Around 60-65, the note is louder than stock. Might have to crank that radio up some, or tell the GF to speak up. Its louder than stock yes, but nothing that is annoying. If anything its enough to make you either speed up or slow down. Speeding up works best for me.