NICOclub's 240sx Convertible Project Car: "The Droptop From Hell"…
At last update, Project Vert was done and rolling, and looking clean. Reliable power, good handling, and head-turning looks are a great basis for any project car, and the Convertible has them in spades.
However, too much is never enough, and I wasn't satisfied with the NICOclub Project 240sx Convertible being just "one of the best" in the nation. No, this car deserves better – It needed to be "over the top" – Outlandish, outrageous, something that would just dominate any discussion of the "best-built S-chassis" chats that go on at meets, on forums, and wherever 240sx owners congregate. Something that would drop panties, cause accidents, and strike fear in the hearts of so-called "tuners" on the streets of the Phoenix metropolitan area.
The VQ35-powered S13 droptop built by Mickey (110octane) from Team Falken was the final straw, and was the catalyst for the decision to go even more radical with Project Vert.
So without further ado, welcome to Part IX of NICOclub's 240sx Convertible Project Car: "The Droptop From Hell"…
Rolling stock is probably the most important and obvious component of any tuner car build, and Project Vert was already well-situated with some old-school, super-rare, 1988 Work wheels. With the trend towards bigger, wider wheels, and the ever-increasing influence of Japanese VIP and EXE styles finding their way into the 240sx realm, it was an obvious choice to go with something flashy, outlandish, and eye-catching, while retaining the old-school flavor that Project 240sx is known for.
Several choices made their way onto the drawing board, and my intention was to lean towards something that would necessitate some body modifications, and something that would give people cause to say, "Oh my God, WTF is THAT?!?!" After careful evaluation of sizing and styles, and much consultation and input from NICOclub's resident "baller wheel" gurus, a suitable set of wheels was located in Japan.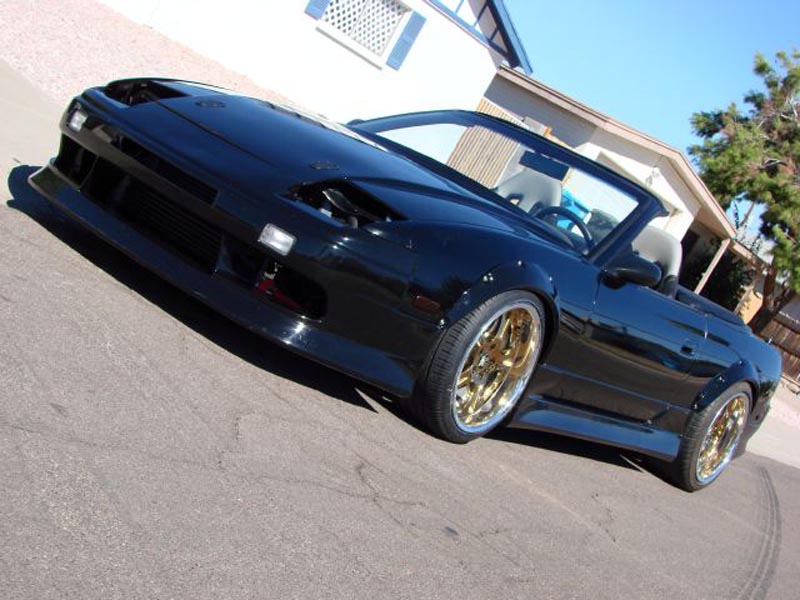 Weds Kranze Cerberus II in gold-face with a polished lip, 18×9.5 +14 and 18×10.5 +14 were selected and test-fitted for clearance. The addition of a set of 20mm spacers created an ultra-wide track, offered sufficient caliper clearance, and made SURE that the only way to fit them was to do a lot of fender cutting.
The intention was always to forego the all-too-common "widebody" fenders and run something a little more old-school, so a set of PJ Bonifacio bolt-on flares was sourced from a NICO sponsor. The fasteners had to be an integral part of the finished product, and I searched high and low for just the right hardware. The guys at Ace Hardware welcomed me into the "bolt and nut showroom", and allowed me to select the perfect fasteners to give the right look and functionality. I settled on some stainless steel allen-head capped bolts with black rubber washers. Not cheap, but they'd give the exact appearance I was looking for – Something that would scream, "Bolt-on flares!" and provide some visual detail to the all-black beast.
No turning back now, time to break out the plasma cutter and start sacrificing her virgin bodywork to the God of Fitment.
An afternoon of test-fitting, marking, taping, prepping, and raising and lowering the car with the wheels installed was time well-spent. I could see how the wheels would fit throughout the range of suspension travel, and could set the flares properly to allow just enough clearance for hard driving, while keeping all of the tire inside the bodylines.

Four hours of cutting left Project Vert scarred and ragged, and the time to drill for the flares was upon us. Note: Installing flares is NOT for the faint of heart. FRP flares are fairly rigid, and don't follow the S13's body contours very well without some massaging. If I had it to do over again, I'd almost consider having some replicas made from urethane, for flexibility and ease of installation.
Tires were chosen with a few criteria in mind. While the "stretched" look is popular, a super-lightweight S-chassis with 400whp on tap is a poor candidate for a set of low-profile 235's on a 10.5″ wheel, unless your intention is to drive around sideways all day. Fortunately, a 275/35/18 fits beautifully in the rear, is not too much taller than the OEM tire, and should theoretically provide almost enough traction to keep her planted under power – More on this later. 245/35/18's were selected for the front, and give a nice "raked" stance, without overpowering the fitment in front.
Once everything was bolted up, camber settings were adjusted. 2 degrees negative camber on all four corners seems to be optimal, and the newly-shaped fenders allowed another .5″ of drop all the way around. Ground clearance is ridiculously minimal, especially with the engine dropped nearly an inch lower in the cradle.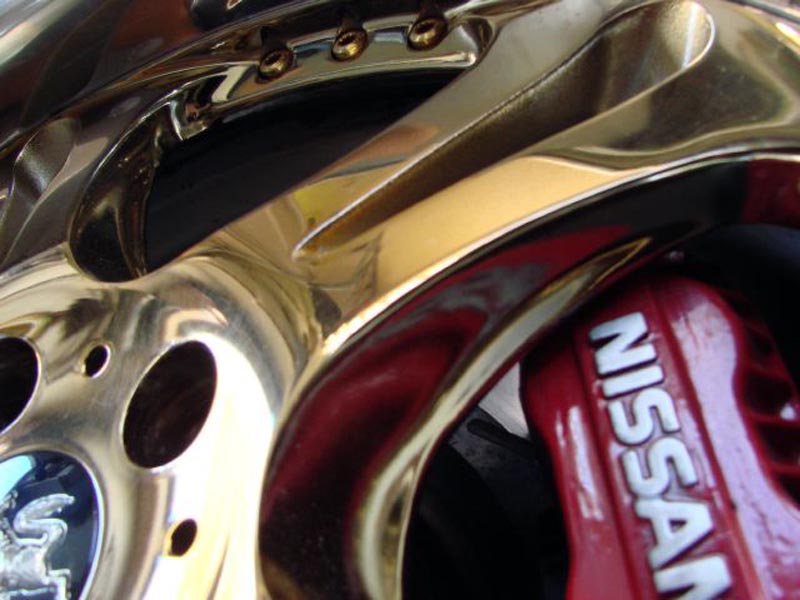 Driving impressions are mixed. The 17″ fitment certainly handled better, partly due to the larger sidewall and less unsprung weight. However, the slight negative impact on handling is negated by the car's impressive new look. Aftermarket tie rods will help, and have been ordered at this time. In addition, she'll be getting a set of SPL Parts rear upper control arms for increased accuracy in adjusting rear camber.
View other segments: