Welcome back! Sorry for the delay, it's 2 am and I'm writing instead of resting!
Before we go too much farther, I've got to recognize someone real quick. Throughout this build, I've consulted several times with the local "Godfather of Datsuns", Richard Lowell – also known as Doc510. I've given up counting the number of times Richard has given me some helpful pointers or cautioned me on something that he's already learned from his decades of experience wrenching on 510's. I'd also like to thank Ryan Newman and the team at Desert Datsun. Great group of guys, and Ryan's been another huge help in getting this car put together.
I'll mention a few more folks who were instrumental in getting this project done as we go along…
Since wrapping up the front suspension, the Arizona summer has arrived, and we've gone from highs in the 80's to triple-digits. Therefore, even though this part of the job is so dirty, we'll be working indoors for the duration of this build. a half-hour covering the rest of the cars will pay off when it comes time to take them out again, because we're gonna be making dust and slinging 40-year-old grease.
I won't bore anyone with the disassembly pics – Suffice it to say, my cordless impact wrench got a workout, and I spent way too much time laying on a hard garage floor. Like I said before, anytime you're doing work like this, take a LOT of pictures throughout the process. I don't care HOW good you think your memory is, or HOW many manuals you have to refer to – Nothing beats a set of digital photos if you get stumped later – especially if you run into something that was installed wrong by some mechanic 20 years prior! It's helpful to have an assistant around with a camera, because if you're like me, you'll get in a groove and forget to snap some pics.
Anyhow, here's what we're starting with. Note the 45 years of accumulated grime (click to enlarge):
With the rear subframe removed, we can see this rear end wasn't in bad shape. The grime has preserved it really well, and now that it's out, it'll be easier to work on. The 510 subframe is relatively simple to drop: Two front bolts, two rear bolts, the brake lines and the parking brake cable – I dropped mine in less than 10 minutes by myself using 2 jacks.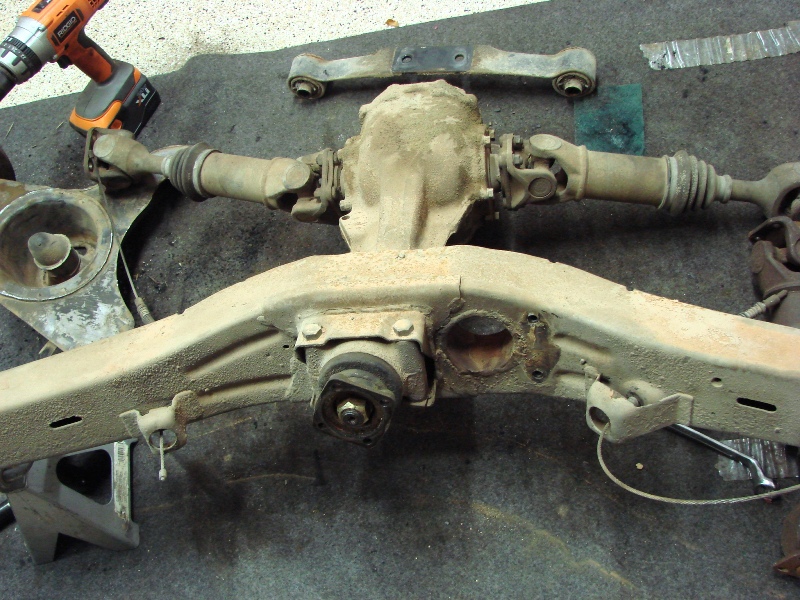 Have a look at these subframe bushings… Yeah, these weren't doing their job at all!
The next couple days in the garage was spent with a wire wheel, blast cabinet, torch (for burning out the old bushings), a reciprocating saw with metal blade (for removing old bushing shells), and lots of degreaser, green scrubbing pads and paper towels.
Since the old drum brakes did a fine job stopping the Dime without drama (when they're adjusted properly), the decision to leave them in place and simply refurbish them was an easy one. Again, make sure you shoot pics of things before you start dismantling them.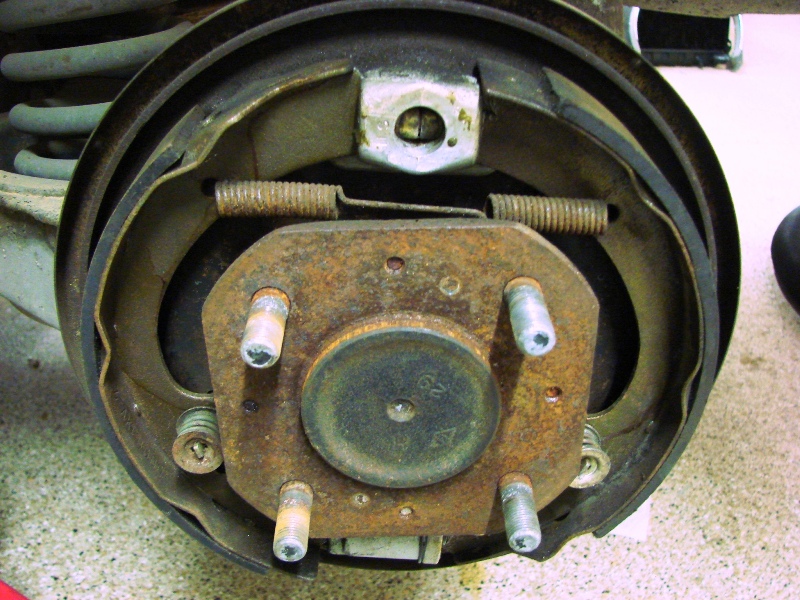 Before I dug into the suspension, I wanted to get the replacement differential refurbished, so that I could just attach it to the subframe and reinstall the whole thing as an assembly. I chose a R160 LSD differential with a 3.90 gearset, which should perform nicely with a 5-speed and a built L20b. So, the whole thing got pulled apart and cleaned. Since the diff carrier itself was such a grungy chore, I went back to an old hot rodder's trick of using acid to degrease and prep the metal. After removing the seals and all components, the carrier got dunked in muriatic acid for the better part of a day. NOTE: Pool acid is cheap and effective, but it will burn the living piss out of anything it contacts, will eat right through clothing, gloves and skin, and creates noxious gases that will put you on your ass with a quickness. Unless you've used it before, skip it. Seriously. However, I'm a professional (yeah, right). After sitting in the acid, the carrier was hoisted out with a hook, rinsed thoroughly, dried with an air gun, and painted immediately (to prevent flash rusting). Dispose of the acid PROPERLY (no dumping it in a drain or on the ground)! Here's some before and after photos of the diff carrier restoration:
Some of this stuff is like watching a good cook in the kitchen – When I really get in a groove, I'm getting multiple things done at once – I've got parts soaking in cleaner, parts with fresh paint drying, parts in the tumbler being polished, and, of course, parts on their way – I can hear the UPS truck from a mile away!
As with the front suspension, all the hardware got tossed in the tumbler for refinishing while the rest of the parts were being worked on. Here's what they look like after being rinsed and clear-coated, as well as pics of the rear control arms and subframe after getting fresh paint and new polyurethane bushings:
During reassembly, DON'T forget to use the "snot" (silicone-based lubricating grease) on your new bushings – If you don't, you'll have squeaks and it'll all have to come apart again. Take your time and do it right the first time. This stuff is fun, right?!
OK, that's enough for tonight. In the next installment, we'll get the rear brakes upgraded and refurbished, and we'll reunite the subframe assembly with the 510, one step closer to the goal!
Click here for Part 4 of the 510 build!