Next order of business? Suspension! Over the past several restorations, this has turned into one of my favorite parts of the process. I'm not sure why I enjoy it so much, but I probably spend way more time and effort on the suspension components than any other phase of the build. When you consider the fact that most of this work will never be seen, it's probably overkill – but *I* know it's there, and that's what's important. Plus, you'll get to see it come together.
The ball joints, bushings, bearings and seals on this car were all original – Thankfully, it had spent most of its life in an arid climate, which helped preserve some of the parts – but seeing some of the wear items, I'm amazed that Aaron and I covered over 750 miles driving it from Northern California to Arizona. God looks out for fools and idiots… and Datsun collectors, apparently.
It's always a good idea to take lots of pictures of things before you take them apart, just in case you need to refer to them later. Even though I own a Factory Service Manual for almost all Datsuns ever built, I've still got a bad habit of never referring to them. Here's the front suspension before disassembly:
Much like the engine bay, I wanted to keep everything clean and simple, using only "metal-tone" finishes on each part. I also like to keep some contrast between parts, so that I can easily see any misalignment issues or leaks.
As an aside, Bex picked me up a really cool new tool for my shop, which I've been using on this build – it's an Eastwood Vibratory Tumbler, and this thing is just awesome. As I'm disassembling components, I toss the hardware in the bucket. By the time I'm done refinishing the big parts, the small parts are perfectly clean, polished, and ready to reassemble. Who wants to build a project car using nasty old greasy, rusted bolts and nuts? I highly recommend adding one of these to your shop – it's definitely worth having around. Check it out:
I took a lot of "before" pictures of the grimy, nasty parts – Like I said earlier, it always helps to have plenty of pics, so that you can refer to them later as you begin to reassemble everything. I won't bore you with most of them, but here's an example of the various stages of "de-funking" the front control arms. The pic on top is after an overnight soak in degreaser (I like a product called "Grez-Off", and sometimes I'll use "Purple Power"). The bottom pic is after spending some time with a wire cup brush and a drill. The old bushings were burned out with a torch and the bushing shells were carefully cut out with a reciprocating saw with a metal blade – NOTE: When cutting the bushing shells, make sure to make your cut on the "big" side of the control arm, not the small. That way, if you slip and nick the actual arm, you're not compromising the integrity of the small-diameter outer area.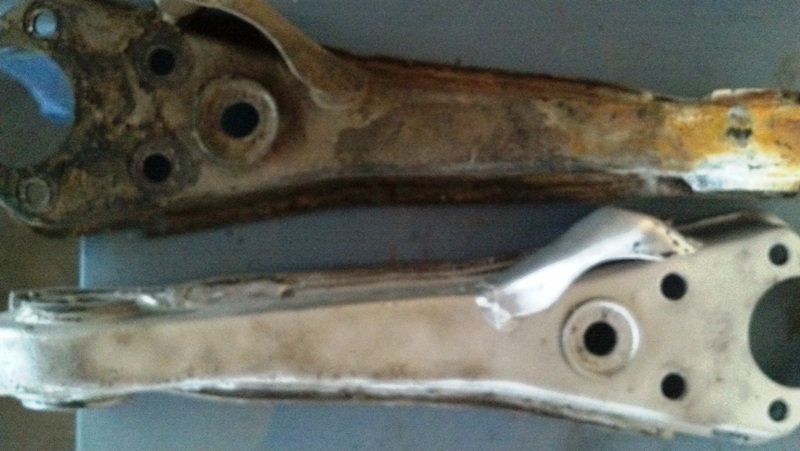 You'll notice I use a glass bead blast cabinet to clean a lot of parts, but the cast iron and stamped steel parts usually need something a little more aggressive (plus, you don't want to waste expensive glass media on steel parts that are loaded with gunk, they'll clog up your blaster gun!)
Here, you'll see some of the front end components after refinishing. The control arms and idler arm mount are painted with a gold high-heat metallic. The steering center link is painted with a dark graphite metallic wheel paint. The steering arms and tension rods are wire-brushed and clear-coated with Eastwood Bare Metal Coating.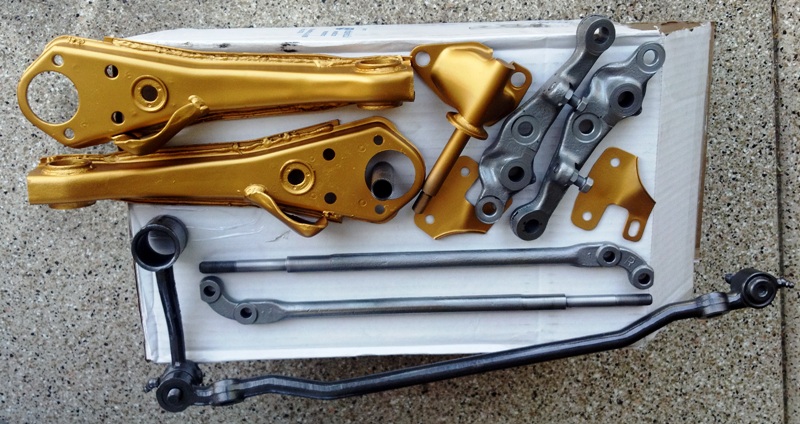 While refinishing suspension components, I took advantage of the down time and removed all the old "stuff" from the wheel wells with a scraper and a wire wheel, wiped it down with acetone, and reapplied fresh rubberized undercoating. The control arms got fresh ball joints from Rock Auto and new urethane bushings from Suspension Techniques, the crossmember got refinished with aluminum paint, all the threaded holes were chased with a tap, and all the hardware got a dab of anti-seize. It's really a joy reassembling things when they're perfectly clean! Here's what it looked like during the reassembly (click the pics to get a better view):
NOTE: As with all projects, some of it you'll improvise as you go along. In this case, the refinished front tension rods were to be assembled with urethane bushings. However, as I was assembling them on the chassis, I noticed they don't allow much movement of the lower control arm (up and down). Even if I put my body weight on the tension rod, it's really, really rigid. Now, I know the tension rod is supposed to prevent fore and aft movement of the strut and wheel assembly, but the suspension needs to be free to move throughout the range of compression and extension, vertically – without any interference from the tension rod. A quick search revealed a couple "horror stories" of tension rods with urethane bushings snapping, which leads to the entire strut assembly folding backwards into the rear of the wheelwell – with catastrophic results. The solution was to use a more purpose-built tension rod assembly, which I found at Techno Toy Tuning. It's got a beefy heim joint and is adjustable for caster. The refurbished OEM rods with fresh bushings were loaded on ebay and sold.
Now, before we move on, remember how I said at the beginning that this was going to be a "build on a budget"? Well, around now, I've spent about $450 in parts, paint, and supplies – At this rate, there's no way I could stay under budget. The next day, the Datsun gods smiled on me. See, a few weeks prior, I responded to a Craigslist ad – A local guy had a colossal stash of 510 parts from a southern California race shop that closed in the late 80's, specializing in 510's. I had bought a few parts from him, and being in the same line of work, we got along great. On my third trip to go scrounge through his trailer full of loot, he said, "I'm tired of dealing with people coming over here and rummaging through my garage and trailer – Why don't you just buy the whole load, keep what you want, and sell the rest?" I really didn't have time to catalog, clean, photograph, list and ship a whole garage full of parts. After some arm-twisting and persuading, he made me a deal, and I couldn't pass it up.
Little did I know then that a LOT of those parts would make it onto this project, some would be used as trade-bait, and the sale of the rest would finance the ENTIRE restoration. For the next two months, I sold over 200 items on ebay. With a TON of help from Bex (packing and shipping), the restoration of Betty became, in effect, free. It was hard work, but I learned a ton, made some new friends, and even had a lot of stuff left over to give away to fellow Datsun folks in need. Good times.
Part 3 – Ready to tackle the rear suspension? Click here! I hope you're enjoying the build so far…