Advanced FLOW Engineering (AFE) is a manufacturer of high performance air intakes, filters, exhaust systems, intake manifolds, intercoolers, and throttle body spacers for domestic and import cars, trucks and SUV's.
Our 2005 Frontier has been the NICOclub.com "Support Truck" for a couple years now, and it gets used to haul parts, as well as for towing our numerous project cars here and there. So, even though the 4.0-liter engine and 6-speed trans are up to the task, it's always nice to have more power!
After installing a JBA catback earlier in the year, we had been looking for a nice intake for Project Frontier. However, if you're anything like me, you want parts from a company that won't make wild, outlandish claims, and will stand behind their product after the purchase.
Fortunately, Takeda / AFE Power has something that looked to be perfect for our needs, so we placed our order for the AFE system. Here's what we got: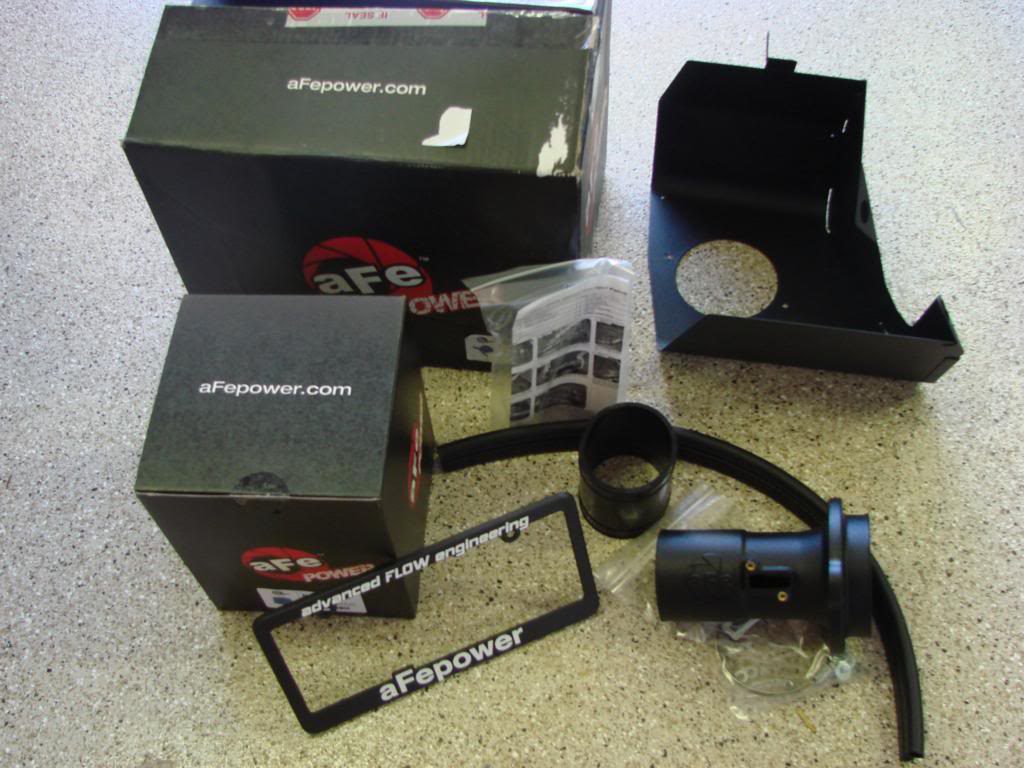 According to AFE: Enclosed in a durable 16 gauge, powder-coated heat shield; this air intake system features a washable and reusable conical air filter that improves airflow for increased horsepower and torque.
So far so good!
It's GOT to be an improvement over the OEM system, pictured here:


The instructions provided with the AFE system are clear and easy to follow – We had the entire swap done in less than an hour, and that included me adding some additional heat-reflective material to the intake shield: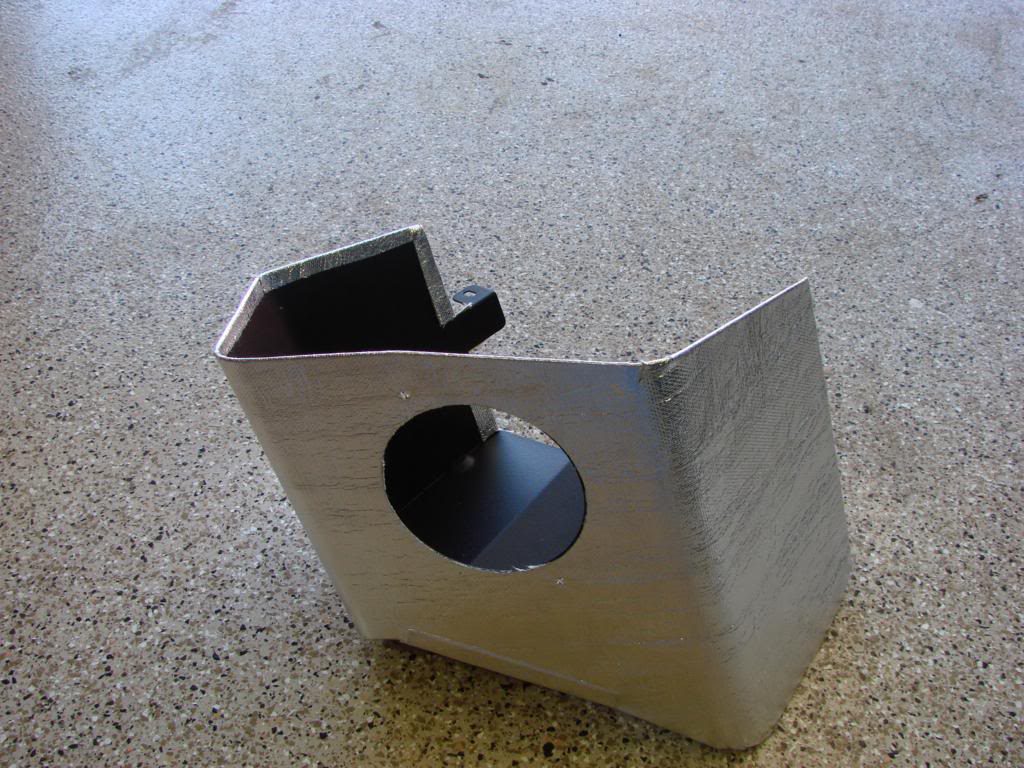 According to AFE: This intake system also features a heat-insulating molded plastic tube that replaces the stock intake tract and directs increased air flow with improved volumetric efficiency for maximum performance.
The intake tube is VERY impressive. It's lightweight, cleanly-molded, and the interior of it is slick and smooth, with nothing to interrupt flow.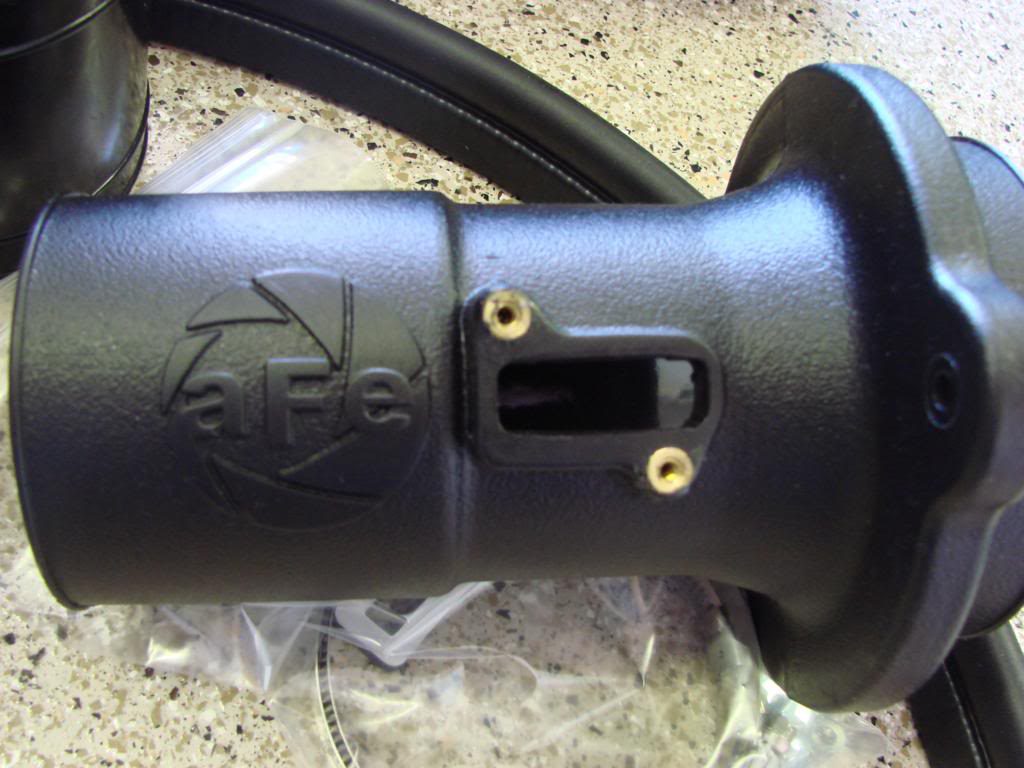 Here's a couple pics of the heat shield installed: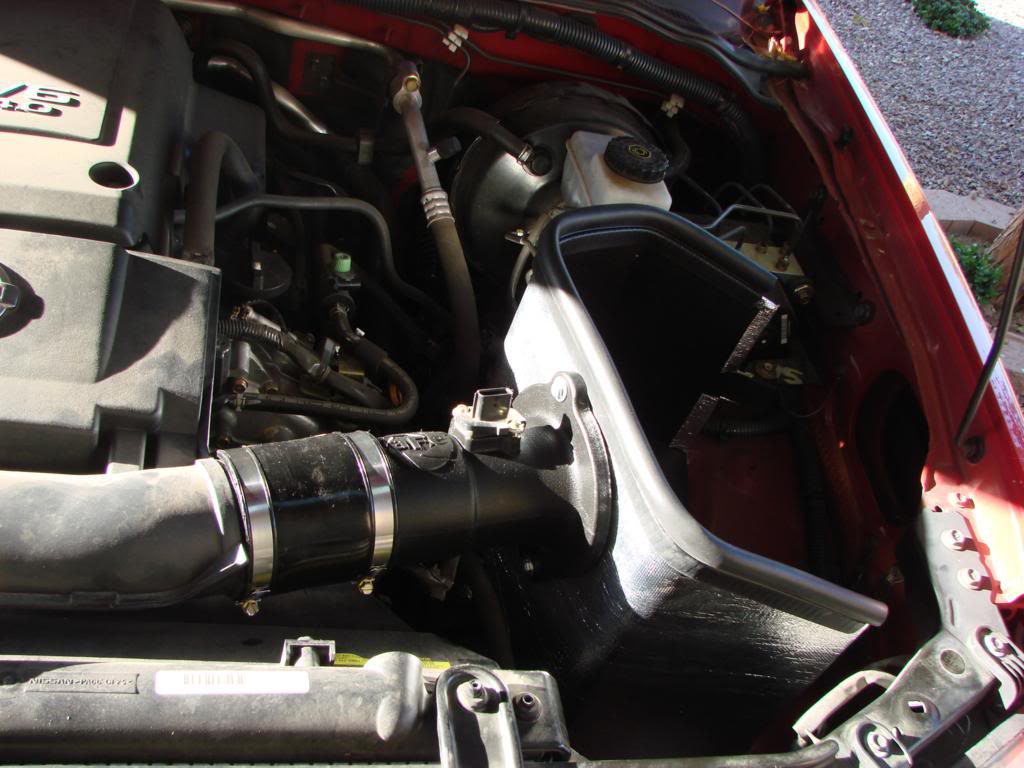 The washable, reusable filter they provide is obviously a high-quality unit, and it's MASSIVE!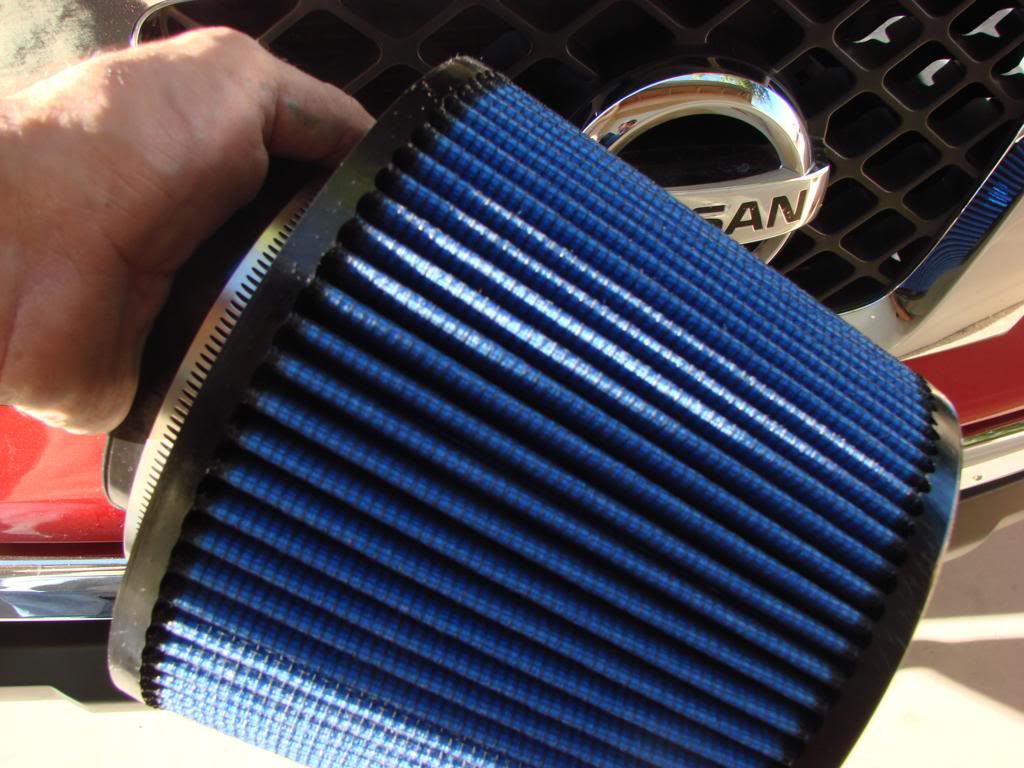 Here's the finished installation: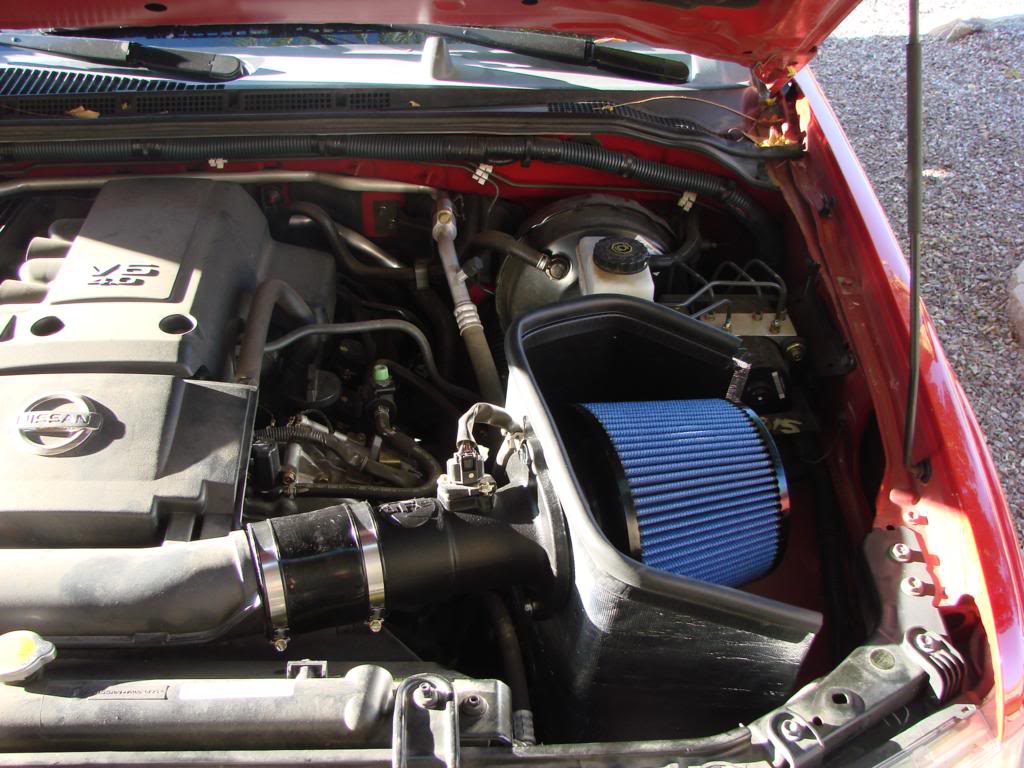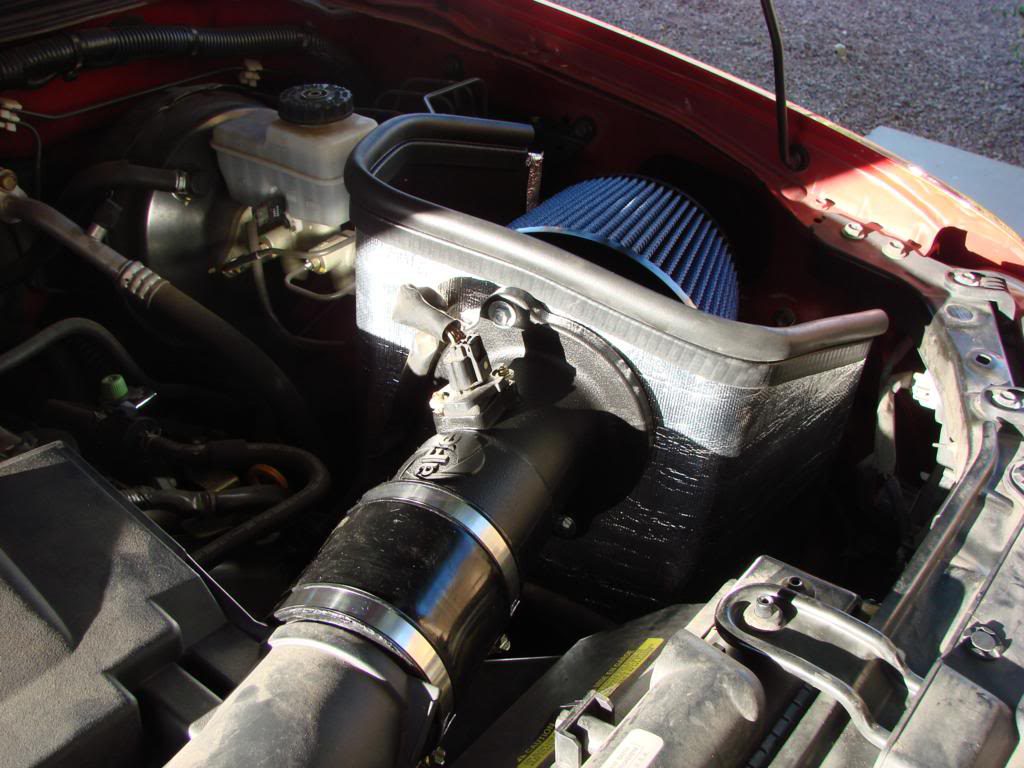 Closed the hood and took it for a spin. Now, I could sit here and tell you about all the incredible power this modification made, and you may or may not believe me. The fact is, everyone's "butt-dyno" works differently. So, I drove it normally in order to get a good assessment. Clearly more power throughout the rpm range, but the biggest difference seems to be in the higher RPM range.
Just for fun, I executed a couple "drag-strip" style runs (0-60). Project Frontier has always been able to spin the tires on dry pavement from a stop, and always provided a little "chirp" on the 1-2 shift. Now, the 1-2 shift provides a much more noticeable bark, and I even got a little chirp on the 2-3 shift… with 20″ wheels and sticky tires!
More impressive is the pull at higher RPM's. Cruising at 50mph in 4th, throttle response is snappier and more authoritative. Definitely will come in handy next time we're towing another old Datsun home on a trailer or hauling a couple engines out to our builder in Riverside!
All in all, a great compliment to the catback system, and a must-have if you've got a newer Frontier, Pathfinder, or Xterra. They also make a sweet system for the Armada / QX56, and their intake is 50-state legal for all you Californians!
Stop on in and join the discussion in our Nissan Truck forums! Nissan Frontier AFE Power Intake Installation