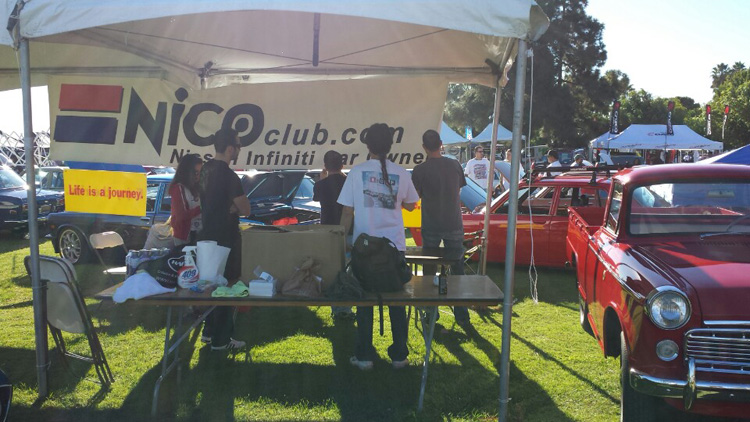 2013 Marks our 5th year bringing NICOFest to JCCS. And once again, the show did not disappoint. This year's event was the largest on record, and with the temperature being about 20 degrees cooler than last year, we were more inclined to walk around to take a look at the awesome rides without fear of the fireball in the sky melting us.
We started the weekend off by arriving late Thursday night.  In fact, we'll just call it early Friday morning.  I myself had a delayed flight and didn't get in until after midnight.  More NICO staff rolled in around 5 am, and the rest finally made it there Friday night.  Because Thursday was such a late night, Friday got a late start as we set up the NICOFest area with some of your favorite rides.  '63 Bluebird, '67 411 Wagon, and '72 240Z.  Alongside us was also another very special 510 that you may remember from the Ultimate Road Trip: Coast to Coast in a 510 article.
After parking trailers and getting the cars shined up, we headed out to dinner.  Friday was September 27th, which also happened to be the release date for the movie Rush. Because I'm a huge F1 fan, as many of us are, I had planned an evening to see the movie that Friday night. While at dinner, Greg (AZhitman) received a call from James (greenblurr93), who was towing Greg's '68 510 to the show from Arizona, that the hood had come unlatched and caught in the wind.  Luckily, there was minimal damage, but the hood was trashed.  We decided the best way to show the vehicle would be sans hood.  After dinner, we headed to the airport to pick up Christine (skydragoness) then met up with the rest of the NICO staff to see the movie.  If you're not familiar with the movie, it is an excellent recount of the 1976 Formula 1 season and the battle between Niki Lauda and James Hunt.  I won't go into any more details, but you should definitely go see it.
As it was a late night after the movie got out, we turned in as soon as we made it back to the hotel.  Saturday morning we got up early to head to the show.  If you've never been to the show before, you would be blown away at the quality of classic Japanese vehicles you'll see.  When walking into the show field, you immediately notice dozens of 240Z's, 510's, B210's, as well as other notable marques, such as Toyota, Mazda, Subaru, and Honda.  Looking harder, you'll find some vehicles that are a little more obscure, such as Isuzus and even an old Daihatsu.
The NICOFest tent was near the back of the show field, and because of that, you have to walk through the entire show field to get there.  But believe me, that's plenty ok.  While walking through the show field, you'll find yourself ogling at things like Mazda 787B's, Toyota 2000GT's, and an array of other historic and priceless vehicles.  Mazda and Toyota show up big, with their rigs and racecars.  But just because Nissan has no corporate presence, doesn't mean you won't find an enormous amount of Datsuns and old Nissans on the grounds.  Between the 510, B210, 240Z, and various other Datsuns, Nissan still has the largest presence of any marque.
This is a show that words can not describe, so take a look at our photo album here:
2013 Japanese Classic Car Show Photo Album
During the show, as we were chatting, we were welcomed by an absolutely amazing surprise.  Andy (Ozzie), and his wife Cathy, had planned to come to the U.S. on vacation, and he had told us he would not be arriving until Monday after JCCS.  To a complete surprise to us, Andy and Cathy made an appearance at the show.  We were ecstatic with joy seeing our friends from down under make it to the show!  Apparently they had planned on being there all along, but only let Kenny (MaximA32) know of their real plans.  Sneaky Ausie's!
After an amazing show, we watched the other show cars roll out.  One of the advantages of being near the back of the show field, is that when it's time to leave, every car there has to drive out past you.  This is an excellent time to take a look at cars that you didn't see when walking the show.  Seeing a $1M Toyota 2000GT slowly drive past you is the kind of thing that gives you goosebumps.  Seeing 3 of them is the kind of thing that makes your jaw drop.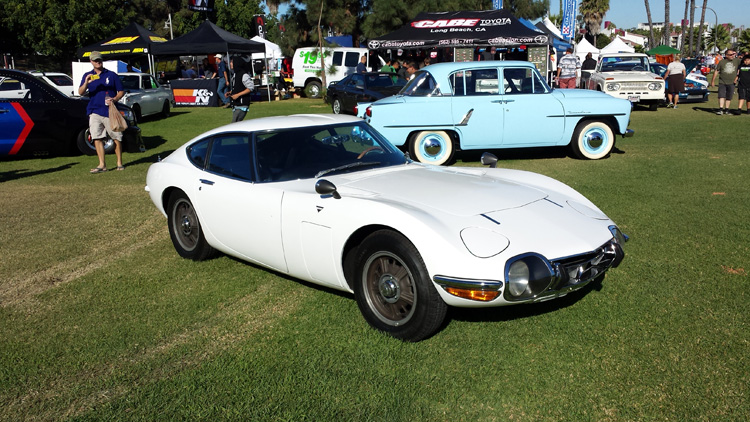 Once all the cars were gone, we loaded up our trailers as well.  We then headed back to the hotel to freshen up before we headed out for dinner.  We called ahead to Yardhouse in Long Beach to make a reservation for our table of 16, but were told they don't take reservations.  However, after getting there, we were very pleased to be seated in just a few minutes, with all of us at one table, and on a busy Saturday night.  The staff there really knows how to accommodate us!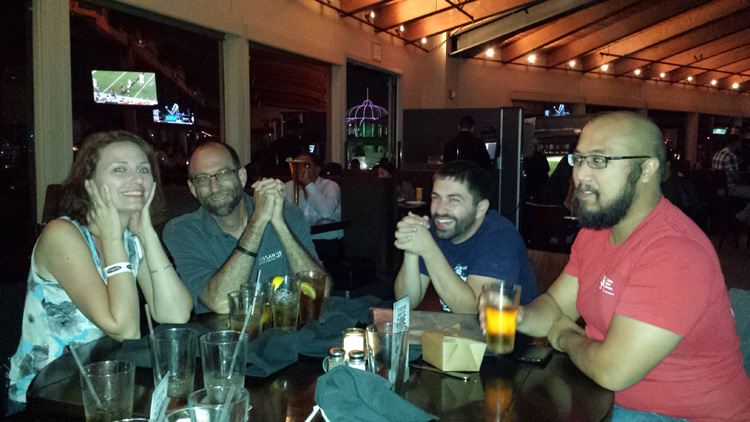 A few half yards of beer later, and after some excellent food, we headed back to the hotel.  It was a little chilly, but we decided to hang out at the pool for a few more drinks.  As we were sitting by the pool knocking back some beers, we noticed a room near the pool that had an unusual amount of people entering it.  We quickly learned of a party.  It wasn't our crowd, so we opted to do some people watching rather than join the festivities.  We're glad of our choices, as we watched security break up the party.  Of course, they weren't happy about us being at the pool that late either, so we politely escorted ourselves back to our rooms.  A few more drinks and shenanigans later, and we decided to call it a night.
Sunday morning came way too early as a few of us had to get up to get to the airport or on the road.  But it was worth it.  This year has been the best JCCS to date, and we hope it only gets better going forward.  See you next year!
Author: Torry Skurski, NICO Events Coordinator