With the interior done, we were set to put some miles on our new acquisition. Just for fun, I threw on a set of GAB Sport wheels I sourced from Japan. They were sitting around from an abandoned previous project, and they looked good on the car, and saved me from having to buy new tires right away.
We posted up a few pictures and for a few months, we drove Alice around – short trips to the store, a few Datsun meets here in town, a couple trips here and there. We were amazed at the amount of attention and thumbs-up it got, even in its unrestored state. This car got more attention than our restored Datsun Roadster!
A little photoshoot before the restoration started: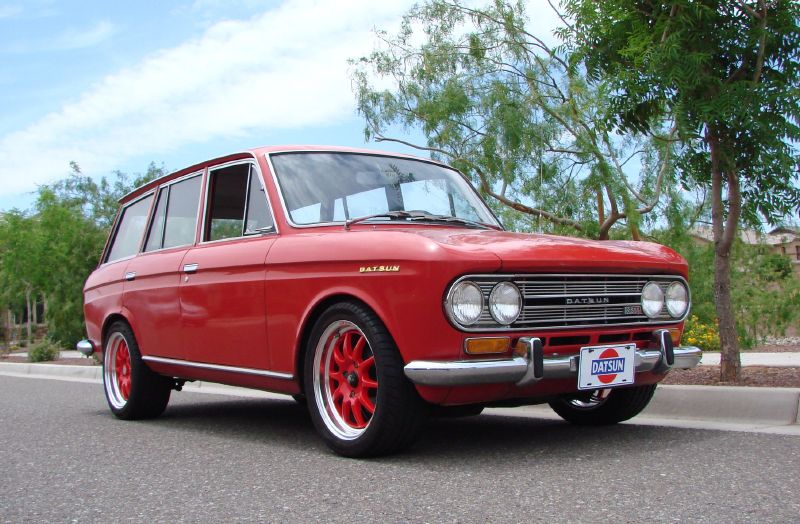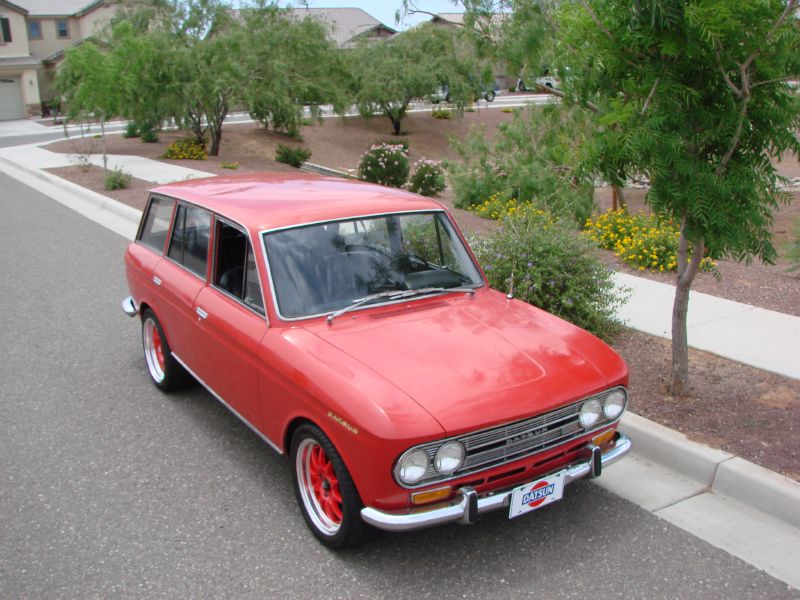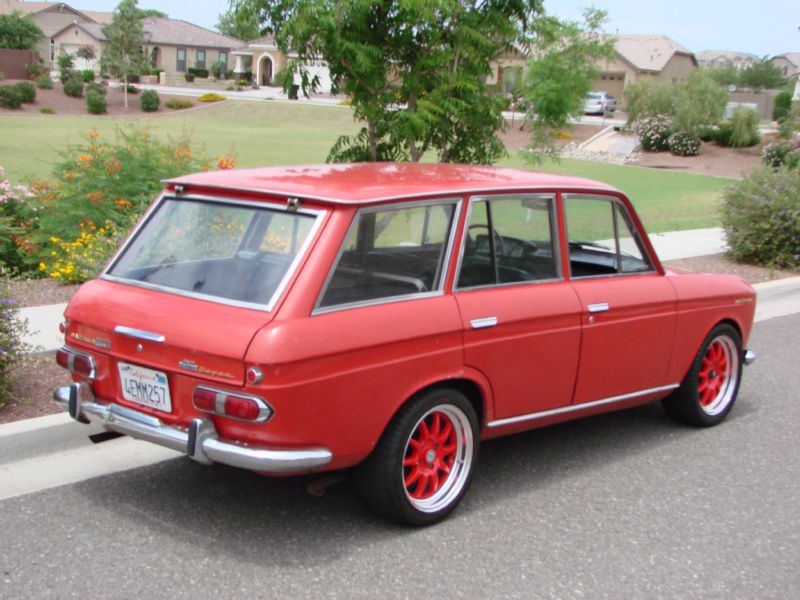 Unfortunately, on the way home from one of the local Datsun meets, she started spewing fuel from the front carb, and almost at the same time, something went haywire in the steering or front suspension – she was not only a ticking bomb with fuel running down near the exhaust manifold, she was hard to steer and keep on a straight path. Time for some repairs.
A compression test revealed the engine was pretty tired. Carbs needed rebuilding, and her transmission was leaking pretty good by now. A good friend "Ron", who is a huge Roadster expert, referred me to a gentleman by the name of Kevin Desirello. Kevin's kind of a big deal in the Roadster community, as he's built several impressive 311's. Most notably, he does SR20 swaps that look factory-built. Not wanting to go that radical, Kevin and I began discussing options for this car. He'd be right at home working on the engine, since it's a 67 Roadster engine with a few tweaks (as mentioned above). I wanted to preserve the originality of the car, due to its rarity, but I also wanted more power and greater reliability.
We settled on a plan to build a stroker motor. A stroked 1600 is a fairly common build. Basically, it involves using the U20 crank (from a 2000cc Datsun engine) and different pistons. Ultimately, we decided on a .030 overbore along with the stroker crank and rods, and a custom ground cam (440 Lift / 276 Duration)… These changes effectively make the 1600 into a roughly 135-hp, torquey 2-liter (without sacrificing appearance or reliability). Since the 1967 came with a 3-main block, and we wanted to use a more robust 5-main block, a motor from a 69 Roadster was sourced. I retained the original block (just in case anyone ever wanted to return it to a "numbers matching" car).
With a plan in mind, Becky and I scheduled a day to pull the engine to deliver to Kevin (who lives in Riverside, CA). She and I had the engine out in less than two hours, and we dropped the engine and the donor block in the Frontier and set out for CA. The next time we saw the engine, it would be bored, stroked, restored and re-sealed. Sweet.
The transmission was delivered to a local shop, on recommendation from one of our local Datsun pickup fanatics (NICO member Charlie69). He'd had a couple automatic transmissions done by this shop, and had good luck with them.
Alice was now well on her way to being mechanically sound. Little did we know…
Read more: Yes, everything we own DOES have to be taken apart into a thousand pieces.