Arrived in Philly on time last night only to discover my friend Dave's flight had been delayed for two hours in Chicago. Dave Czracki and I headed to the bar at the airport Marriot for some refreshment. Dave finally arrived at about 7:00 PM and the three of us headed to Bethlehem, PA for dinner with Dave's fiancé, Marie. We had a very nice dinner at a neighborhood haunt, totaling two bottles of red in the process.
This morning we met for breakfast at a local diner then stopped by to meet Scot (the mechanic who prepared the car) before heading to the garage where the 510 was stored. This was the first time seeing the car in the flesh and having an opportunity to really check it out.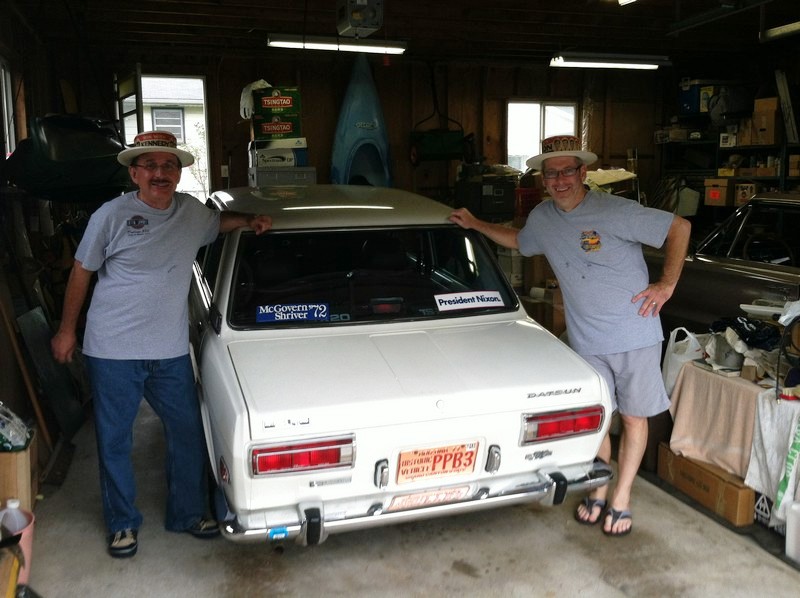 Fortunately the car was as advertised so we immediately began preparations for hitting the road. I brought a new speedo cable and installed it in about 30 minutes and we were off and running. The weather looked ominous and within five minutes the rain was coming down hard and we had no wipers…or so we thought. My first 510 lesson was that the on/off switch for the wipers was a pull, not a turn. We discovered that lesson after 30 minutes of peering through raindrops and contemplating what we were going to do all day without wipers. We ended up dodging rain nearly all day and encountered winds up to 40-50 mph through the mountains, which slowed us down to 55-60 mph.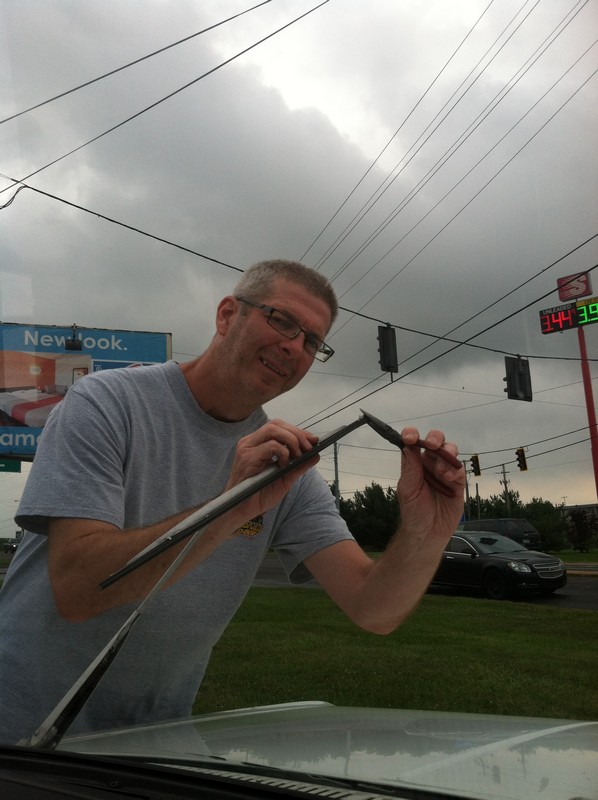 50 miles into our trip the car started missing badly, acting like it wasn't getting fuel. This went on for perhaps 10 minutes and then just as quickly it went away till later in the afternoon when it returned worse than before. Since the car had been off the road for so long we thought we might have a plugged fuel filter, so jumped off the freeway and swapped it out for a new one I had brought along. That cleared everything up and the car was now running better than ever. Believe it or not we even touched 80 mph at times, though that was really pushing the little 1600 automatic. The car really seems most comfortable at about 70.
About noon we fueled up and thought we'd check fuel economy for the first time and were blown away to see 28.3 mpg. The second fill yielded 24.5 mpg. We'll continue to check fuel economy and report on it throughout the trip.
Last night we got a call from Jim, in Akron, OH who wanted to meet up later today, which we did on the east side of Akron. Jim met us at the exit with his very nice early 260Z and escorted us to our dinner spot, where there was supposed to have been a car show, but apparently the rain chased everyone else away. Jim graciously bought our dinner (thanks again Jim) and then led us to the local auto parts store to pick up a glass fuel filter with replaceable filter elements to keep a better eye on what's happening in our fuel system tomorrow. We also bought some fuel system additive to clean things out. In addition to the 260Z, Jim has two Datsun Roadsters which he stopped to show us as we headed past his shop on our way to the motel.
Mid-day today we received three or four phone calls from members of the Z and Roadster Club in Columbus OH, interested in running with us from Columbus towards Indianapolis. It looks like we'll meet up with them around noon on Friday.
We had planned to make it from Bethlehem to Youngstown, OH, but were on a roll so decided to keep going another 50 miles to Akron and meet up with Jim. We drove about 425 miles today. All in all it was a very satisfactory day, though we're hoping for better weather tomorrow. We made it to the hotel tonight at about 9:30 PM and turned in soon after. The car garnered comments and smiles at nearly every stop and we received a number of encouraging comments for even attempting the trip.
Continue on to part 5! Datsun 510 Road Trip – Part 5