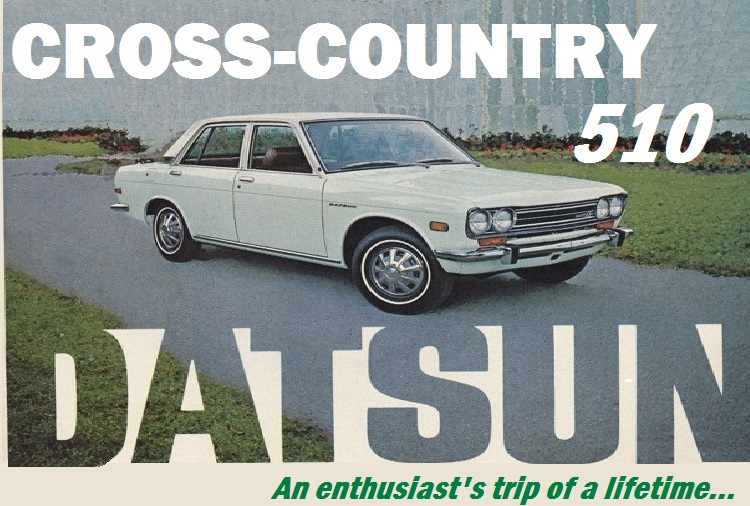 Background:
By definition, most classic car enthusiasts have purchased more than one classic for their collection. Several have stories of buying an old car sight-unseen. Even fewer can say they bought the car sight-unseen and drove it home, and then there are the real rare birds – guys who buy a classic car sight-unseen and embark upon a cross-country road trip to bring it home.
Randy Lewis is a long-time car guy, Datsun collector, close friend of NICOclub.com, and some might say a little bit nuts… but he's doing exactly that.
What's better, is that we're going to invite the entire Datsun and Nissan community to join him for his journey!
The Plan:
We'll be bringing you guys a fully-documented real-time opportunity to follow Randy on his cross-county road trip to retrieve a classic, unmolested Datsun 510 "barn find." Randy will be communicating with viewers via email from the road, and updating us on his adventures frequently from the road.
Here's the coolest part: Randy has asked us to encourage individuals along the route to meet up with him on the road, run a section of the route with him, or just catch up for a meal and a photo opportunity. This is the road trip of a lifetime for Datsun enthusiasts, even if only participating vicariously!
Check the route – If Randy's going to be near your area, consider catching up with him, or just wave as he cruises by!
Meet The Car:
The car is a one-family, 1972 Datsun 510 sedan (PL510-366555) purchased new from Rothrock Motors in Whitehall, Pennsylvania. This car has been off the road in dry storage for over 16 years. It has just over 49,000 original miles, is factory original in every respect, and was undercoated when new resulting in rust-free condition.
Meet The Driver:
A third generation "car guy," Randy Lewis was born and raised in Detroit where he developed his love of automobiles at an early age. He has restored countless vintage sports cars. Currently he owns and wrenches on five Datsuns, including 1971 and 1972 240 Z's, 1966 and 1967 ½ Fairlady Roadsters and the 1972 510. Randy's also reproducing vintage Datsun parts off shore for sale to enthusiasts.
Randy began his professional career in automotive marketing, advertising, brand marketing and merchandising for 17 different automotive brands, and includes motorsports marketing for NASCAR, NHRA, and SCCA.
In the 1990's, Randy worked with the legendary J. Mays, Ford Motor Company's current Group VP of Global Design, to help visually position Ford's domestic brands, Ford of Europe and Mazda. Currently, Randy is Production Manager at "Fine Sports Cars," a world leader of remanufactured and sanctioned sports racing cars.
The Route: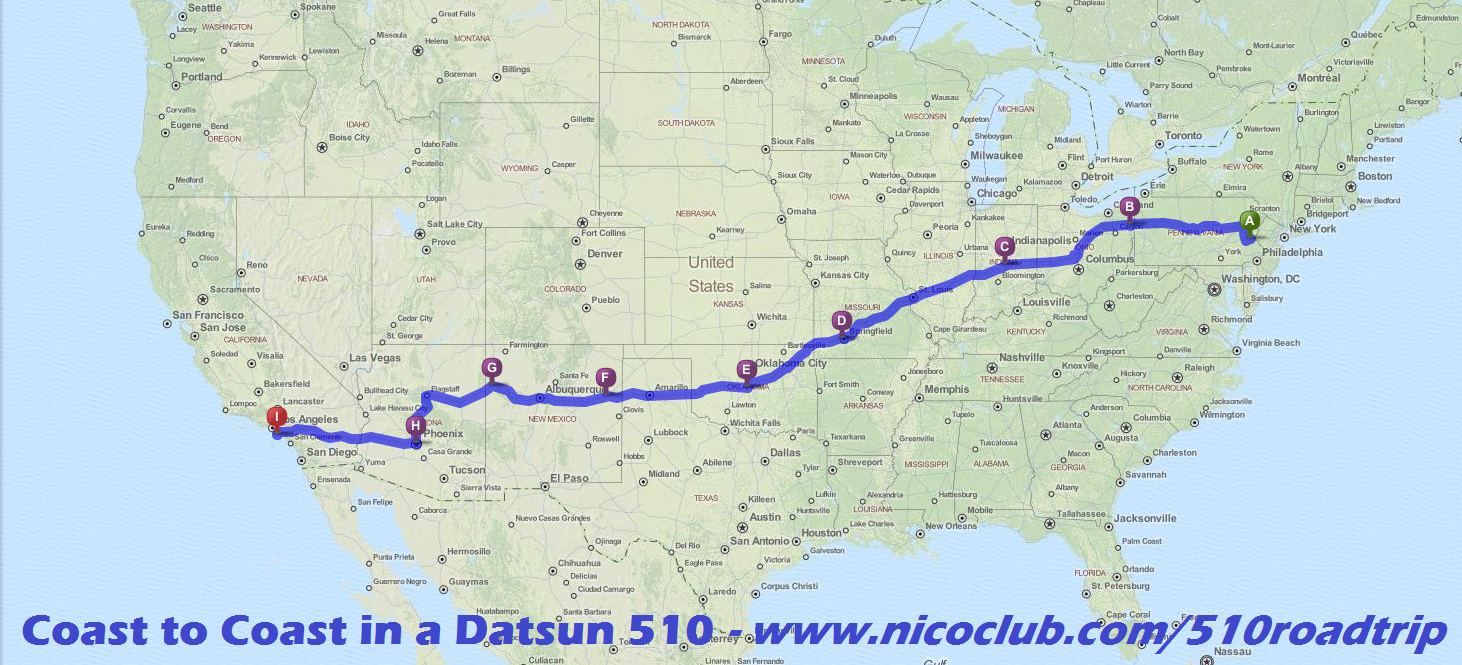 •Day 1- Bethlehem, PA to Youngstown, OH via highway #80
•Day 2- Youngstown, OH to Indianapolis, IN via highways #76, 71, 70
•Day 3- Indianapolis, IN to Springfield, MO via highways #70, 44
•Day 4- Springfield, MO to Oklahoma City, OK via highway #44
•Day 5- Oklahoma City, OK to Tucumcari, NM via highways # 44, 40
•Day 6- Tucumcari, NM to Gallup, NM via highway #40
•Day 7- Gallup, NM to Phoenix, AZ via highway #40
The Schedule:
Randy and the 510 will depart Bethlehem, PA on Thursday, September 12. It's anticipated the 2,500 mile road trip will take approximately 7 days (300-400 miles per day), with an expected return to Phoenix, AZ on September 18. Upon arrival in Phoenix, Randy and his local Datsun friends will prepare the 510 for its reveal at the Japanese Classic Car Show (JCCS), the largest all-Japanese car show in the country in Long Beach, CA on September 28, 2013. The 510 will be showcased there, completing its nearly coast-to-coast journey.
Sponsorships:
Sponsorship opportunities are being offered to help defray costs of the trip, and we'll be recognizing any and all contributors here on NICOclub. Interested parties can contact Randy Lewis at 602-312-4038 or email at: [email protected].
We'll be following Randy's trip from the minute he arrives in Pennsylvania, until he rolls onto the show field at JCCS in Long Beach, right here!
If you'd like to share the updates on Facebook, Twitter, Google+, or with another group of Datsun enthusiasts, here's an easy URL to use: https://www.nicoclub.com/510roadtrip
If you have questions, comments, want to arrange a meetup, buy him dinner, or just want to wish Randy safe travels, here's the spot to do it: Datsun 510 Road Trip
Enjoy, and check in often as we bring this old Datsun back to her new life in the western US!
Continue on to Part 2: Datsun 510 Road Trip – Part 2