Welcome back! Thanks for sticking with us this far!
Well, I guess I spoke too soon yesterday. We left Tucumcari this morning, after exploring the old part of the city along Route 66, and set off across New Mexico toward our destination in Gallup. The car started off running strong but about an hour out it started acting like it wasn't getting adequate fuel again or it wasn't running on all cylinders. It seemed to have lost the power necessary to climb the hills we were now encountering on I-40. At first we chalked it up to a bad tank of low 86 octane gas but after getting off the freeway and filling it again with premium, there was no change. In fact, we nearly got stranded in the middle of an intersection with traffic coming from all directions.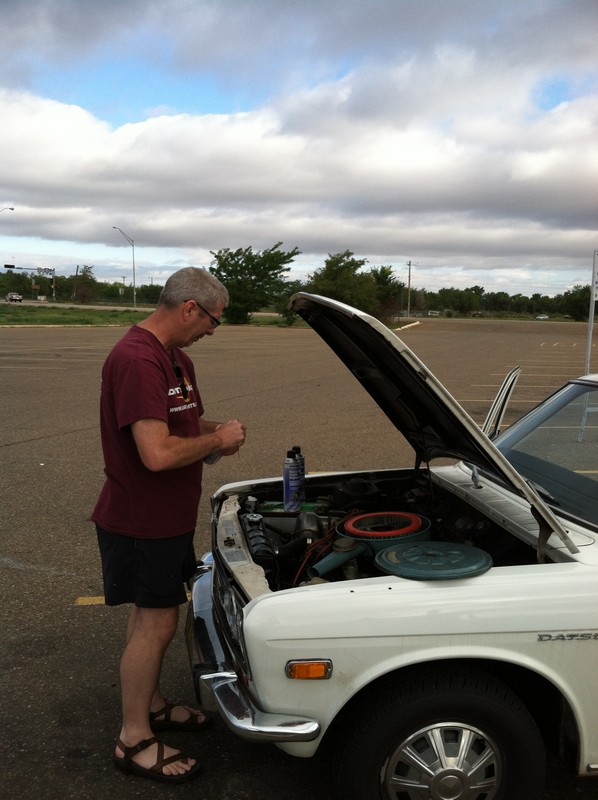 At that point we pulled into AutoZone and popped the hood to take a closer look. I also called my buddy in Phoenix, Doctor 510, seeking his advice. He thought we might have an ignition issue and advised us to check the point gap and disable the second set of points in the distributor to try and isolate the issue. I opened the point gap a little bit an in the course of examining the distributor noticed that one of the male/female connections had not been fully connected. We also tossed a can of dry gas in the tank just in case it was water in the fuel. We thought we'd solved the problem but as we started out on Route 66, instead of the freeway, we discovered nothing had really improved. We were 30 miles away from Albuquerque and decided to limp into town to enlist some additional help.
As we neared town we passed by a small shop, Anton's Auto Haus, specializing in imports, primarily German. We met Gene, who dropped what he was doing to come out and take a look. After a variety of questions he hooked up his emission testing equipment to see how lean or rich we were running. After leaning things out, raising the idle and advancing the timing five degrees the car was running noticeably better but still not the way I thought it should. Gene reminded me Albuquerque sits at about 6000 feet of elevation, which he thought might be impacting the way the car was running. With the car idling I noticed air bubbles through the window in the float bowl, leading us to wonder if there was an air leak somewhere that was contributing to our problems. After slipping Gene $20 we got back on the road hoping to make Gallup.
Check out this gallery of awesomeness – If you're ever in the area, you gotta stop by!
Earlier today I received a text from a guy in Gallup wondering where we were. At lunch I got another text checking our progress, indicating he would be waiting at Love's Truck Stop in Grants, NM when we passed. As we pulled in I was shocked to see Ryan, the head of our local club, Desert Datsuns, walking towards us with his camera. I had no idea who the texts had come from and was completely surprised to see him 350 miles from home. Great meet up!
We did finally make it to Gallup tonight but more than two hours later than expected. We pulled into the Red Roof Inn but after talking with the front desk decided to try another motel. We got back in the car and … it wouldn't start, so we are here for the night wondering what we'll face in the morning, our last planned day out.
As the pictures will show, we did actually have a chance to stop at another Route 66 car museum before our troubles began. Hoping for a better day tomorrow.
Ready to join us as we roll home to Phoenix? Almost home – Part 9!