We woke up this morning looking forward to making it home after seven days on the road, while spending our evenings in cheap motels. The car started right up but as soon as we put it in drive and headed down the driveway to top off fuel, the car quit, rolling into the gas station next door. There was no restarting it this time. Another call to Dr. 510 (6:30 AM his time) and we had several things to try, to begin eliminating potential issues. There were three things we thought could be the culprits.
After removing the air cleaner, we noticed the automatic choke didn't seem to be opening fully, even when the car was fully warmed up. This would account for the loss of power and the recently declining fuel economy, since the throttle plate was never fully opening. But this wouldn't likely contribute to the car stalling and not restarting. Nevertheless, I wired the choke fully open and replaced the air cleaner lid.
Next, I unscrewed the bolt that gave access to the small bronze carb filter and float valve, to make sure there was no debris in them and that they were functioning properly (all good).
Finally, we checked the points to verify the gap was correct. Doc had previously mentioned this was a common issue on 510's, leading to all kinds of drivability issues. One of the point sets was gapped properly but the other one was nearly closed when it should have been open .020. After opening the points up and putting everything back together, the car finally started and ran with some power again.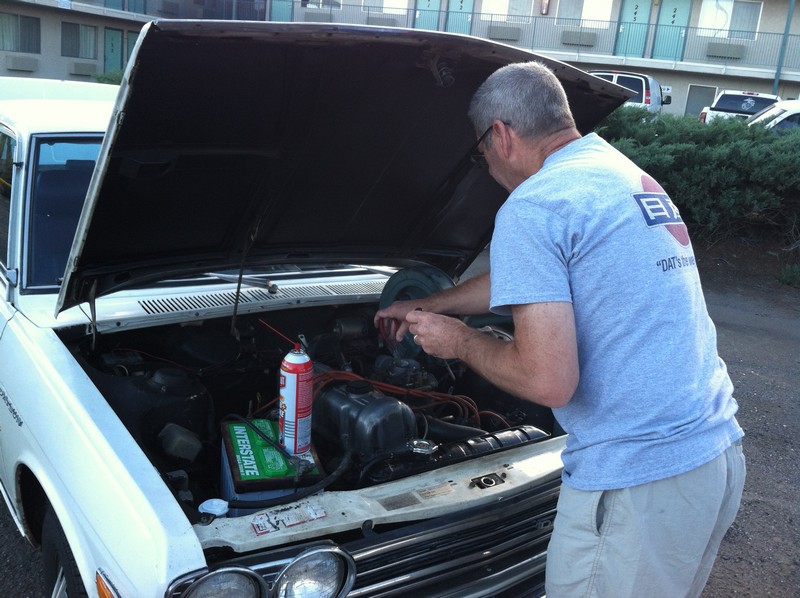 Though we'd lost an hour fiddling with the engine, we were back on the road by 8:30 AM, headed to Flagstaff. We vowed not to stop until we got there; as neither of us was terribly confident we'd fully solved all the issues and did not want to risk trying to restart the car. We knew we'd be gaining more elevation, up to 7000 feet in Flagstaff, and were unsure how that might further contribute to the way the car ran. Fortunately, that also meant we would be heading for cooler temperatures which might somehow help offset the altitude.
We made it the 185 miles to Flagstaff without incident, arriving at 11:30 AM. Being back in our home state was somewhat comforting; now knowing if we had any issues at this point, help was only a few hours away. We had lunch in Flagstaff, which was a beautiful sunny, breezy, 70 degrees. After filling the tank again we headed off "down the hill."
Three of the guys in our car club, Desert Datsuns, told us previously they would like to meet up with us on the final day and escort us into Phoenix. We decided to meet at the "Sunset Point" rest area an hour north of Phoenix. It was great to see familiar faces and show off the new car before getting back in for the final hour home.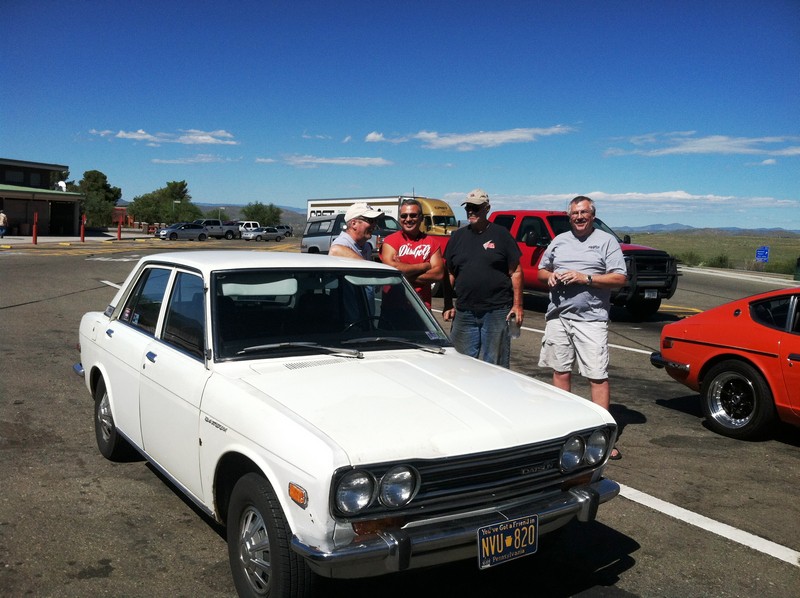 We all arrived in Scottsdale, AZ about 3:30 PM, seven days and five miles shy of 2600 miles, from the beginning of our trip in Bethlehem, PA. Without the mechanical issues we experienced, I'm sure we would have ended up with an even higher MPG average than the 24.6 we ended up with. Still, that's not too bad for a 42 year old car that I'd not had a chance to sort out. We added ½ quart of oil and ½ gallon of water to the radiator over the 2600 miles.
The story is not over yet. We have a little over a week to prepare the car and drive it over to Long Beach, CA for JCCS, the Japanese Collector Car Show, on September 28th. That round trip will add another 800 miles to the 2600 just completed. That's 3,400 miles in a little over two weeks. With all that recent driving the car will still have less than 53,000 original miles on the odometer and a lot of new stories associated with it.
Thanks to all who joined us on our journey, and I hope this inspires you to start searching for a classic Datsun of your own to restore, modify, or just DRIVE.
Here's the finale of our journey – Cross-Country Datsun 510 Road Trip Ends at JCCS!