We decided to do a little sightseeing today as we covered three states (Oklahoma, Texas and New Mexico) in the old 510. Our first stop was the Route 66 Museum in Clinton, OK. We saw a billboard and decided, what the heck, let's stop. Supposedly, this is the largest museum dedicated to Route 66 on the Mother Road. It's a nice little museum that does a good job documenting the road from the 20's forward to today. They also captured everything related to travel by decade apart from the road (gas stations, motels, diners, music, commercial transportation, etc.). This is definitely worth a stop for only $5.00 if you're in the area.
Our next stop was for lunch at The Big Texan in Amarillo – a tourist trap for sure – with a shooting arcade, gift shop, their own motel and seating for maybe 500 people. We had a hankering for Texas Bar-B-Que so we both ordered up a brisket sandwich, which did not disappoint.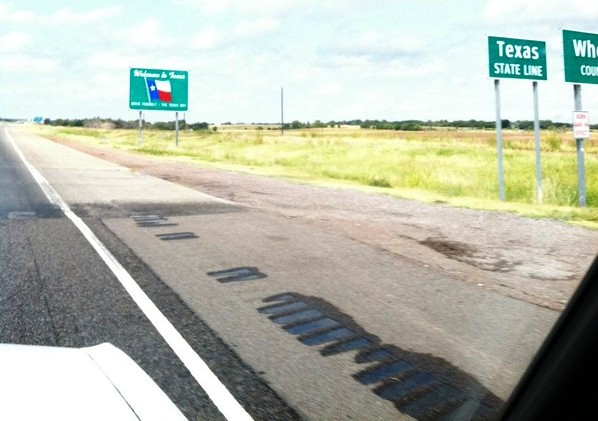 After lunch we were back on the road on the lookout for Cadillac Ranch. For those who don't know, years ago someone buried ten vintage Cadillacs nose-first with their tail fins pointing skyward. Over the years the cars have become a canvas for visitors who have made a practice of spray painting them colorfully. When we finally found the ranch, it was about a 50 yard walk from the road to get photos before continuing toward New Mexico.
The weather was really beginning to look ominous at this point, with very dark clouds, but we escaped all but some sprinkling. Soon after entering New Mexico we saw another billboard advertising a free car museum which of course we also decided to take in. This museum was actually a combination truck stop, 50's diner, grocery store and car memorabilia museum. Seems a local businessman combined his business with his auto passion and decided to share it with the public. His car collection included about 30 vintage automobiles, most of which were 50's era convertibles. I'd also recommend this stop.
By this time we were 40 miles from ending our day in Tucumcari, NM so we got back in the 510 to try to beat an approaching storm. We made it about 4:30 with plenty of daylight for some more detailing on the exterior of the car. You may be wondering why there was so little mention of the car today. The little guy has now actually settled into rhythm and there was really nothing to report. We are both amazed that a 42 year old car, that's been off the road for 16 years, is making this trip so effortlessly with only minimal prepping. This is really a tribute to Datsun and the durability of the 510 model.
This evening I headed into town for dinner and to check out main-street. This was the first time in Tucumcari for me. The town sits right on old Route 66 and there are still many remnants of the old road (signs, old buildings, neon, etc.). It's sad to see so many vacant and rundown buildings. It makes me wonder what this town must have been like when the only way west was through the middle of it.
Tomorrow we're hoping to connect up with some of the Datsun community in Albuquerque, NM, where there is a sizable contingent.
I hope you're enjoying our updates from the road – If you're along the route, please hit us up tomorrow!
Thanks for reading – Join us for part 8! Datsun 510 Road Trip – Part 8