There's only two weeks left before I fly to Philly, meet my friend Dave, and embark on the 510 road trip, so it's time to make final preparations and check and double check everything. I talked to the seller a couple of times this past week to make sure everything was in order mechanically. I had a friend gift me a used radiator which I shipped to Philly a few weeks ago to have re-cored to replace the original (the top tank was too far gone). The road trip car has an automatic tranny and the radiator I sent was for a manual, so we'll be using an external transmission oil cooler (which should actually provide better cooling anyway). The radiator was repaired and put back in the 510 for its shakedown run late this week by the seller and his mechanic friend Scot.
Everything seems to be working fine, except the speedo cable, which broke while out for the test drive. No problem, I just ordered one up from Rock Auto and had it shipped direct to Dave so we will be able to calculate fuel economy via the odometer. We're not so concerned about the speedometer working, as I'm fairly sure with the 1600 and automatic I couldn't exceed the freeway speed limit if I tried.
I'm also having Scot wire in an inexpensive triple-gauge pack under the dash to monitor oil pressure, temperature and charging to give us a little bit more precision than the idiot lights. I think that's all that's left to do on the car.
So on to the "fun factor." I thought it might be cool to make the car as period correct as possible by ordering a couple of 1972 presidential campaign bumper stickers (Nixon and McGovern/Shriver) from eBay that I'll affix to the rear bumper for our trip. Those should look great in the car photos and are sure to be a conversation starter, as if the car's not enough on its own.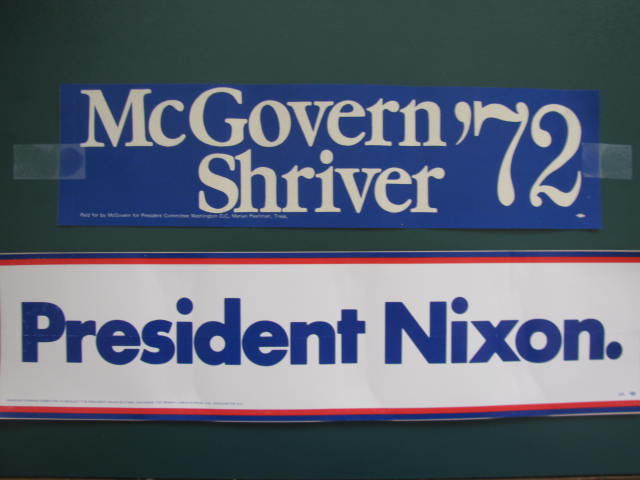 One crazy idea begat another, and that spurred the idea of picking up additional bumper stickers along the way promoting local establishments or tourist destinations. I remember seeing those on the back bumper in the "old days," as a way of bragging where you'd been.
I also thought it might be neat to design some t-shirts to commemorate the trip. I already had a t-shirt press and my wife Lisa is a graphic designer, so why not?
Of course the 510 has no air conditioning, so I have been closely watching daytime high temperatures along the way for the last couple of weeks. This past Thursday, 8/29, I started to worry just a bit. Going east to west the highs were as follows:
Bethlehem, PA 82 degrees
Youngtown, OH 90 degrees
Indianapolis, IN 95 degrees
St. Louis MO 99 degrees
Springfield, MO 91 degrees
Oklahoma City, OK 97 degrees
Tucumcari, NM 99 degrees
Gallup, NM 84 degrees
Flagstaff, AZ 79 degrees
Phoenix, AZ 99 degrees
We still have a couple of weeks to go, so I'm hopeful we'll drop 10 degrees or so to make the trip a little more comfortable.
We're still hoping to meet some of you along the way for drinks, grub or gab. Feel free to call me on my cell, 602-312-4038, to coordinate a meet up somewhere along the road. We're optimistic we won't need to call any of our Datsun brethren for needed assistance, but would welcome offers should the unexpected happen.
Looking forward to a lot of fun and loads of stories to share!
-Randy (Randalla)
Continue on to Part 4: Datsun 510 Road Trip – Part 4