Day Two of Nissan360 started off with a spectacular gourmet breakfast and a walk around the hotel grounds… At a resort such as this, you're bound to see some impressive cars, and no car guy can resist snapping a few pictures!
It's about a 20-30 minute bus ride to El Toro, so I thought I'd do a little research on the place and learn about the history… Until the closure of the base in 1999, El Toro was the largest Marine Corps air installation in the western United States. The station was used for fighter jet training activities for almost 50 years, to support the operations and combat readiness of Fleet Marine Forces. El Toro MCAS is included on the U.S. Environmental Protection Agency's National Priorities List of hazardous waste sites requiring cleanup, and the question of how to use the 4,700 acres of publicly owned land is one of the most controversial issues facing Orange County today.
Forget about all that – Today, all we care about it that it's a great place to host a HUGE automotive event! Rolling onto the property, we were greeted by columns of helpful Nissan360 staffers, handing out bottled water, helping people find their way around, and ready and eager to answer any questions we might have. Looking around, we could see the main Nissan360 headquarters.
Also on-site were the Nissan Performance and Technology Center, as well as stations for Trucks and Light Commercial Vehicles, an Autonomous Vehicle Station, the World and City Drive Station, and various other assorted facilities such as the Nissan Refreshment Van, an Information station, a Bose Audio and Technology demonstration tent, and even a Media station (with wi-fi and charging ports). Amazingly, ALL of these buildings and structures are temporary, constructed specifically for the Nissan360 event… The logistics of this project is enough to make your head spin!
Entering the main Nissan360 Headquarters for our first presentation, several of us grabbed some caffeine at the coffee bar – Go ahead, try and stump this young lady with your Starbucks-style order. She had it down to a science!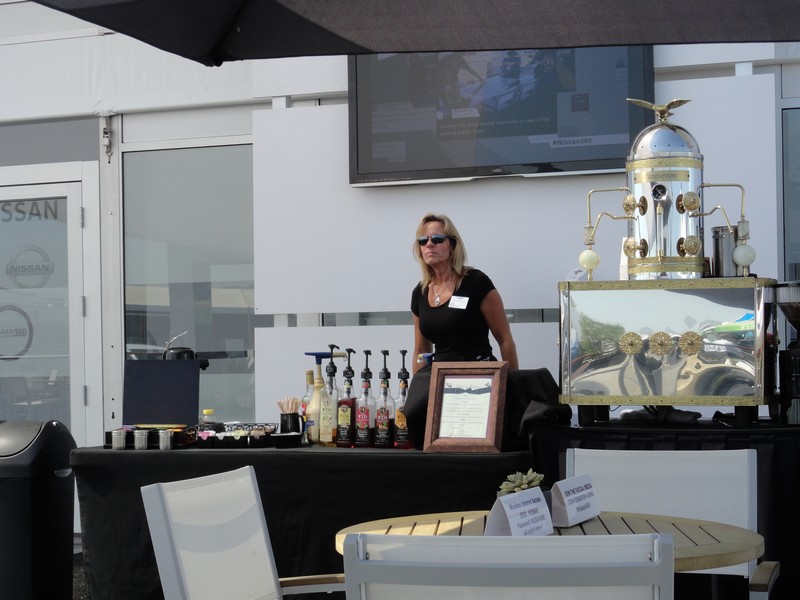 The first multimedia presentation gave us some in-depth insight into Nissan's role in emerging technologies, including safety systems, in-car connectivity and automation – all fields where Nissan has secured industry-leading positions. We also learned about how Nissan is aggressively extending its global presence through its longstanding alliance with Renault, complemented by more recent partnerships in different vehicle or engineering segments with Daimler, Mitsubishi Motors, AvtoVAZ, Dongfeng and Ashok Leyland.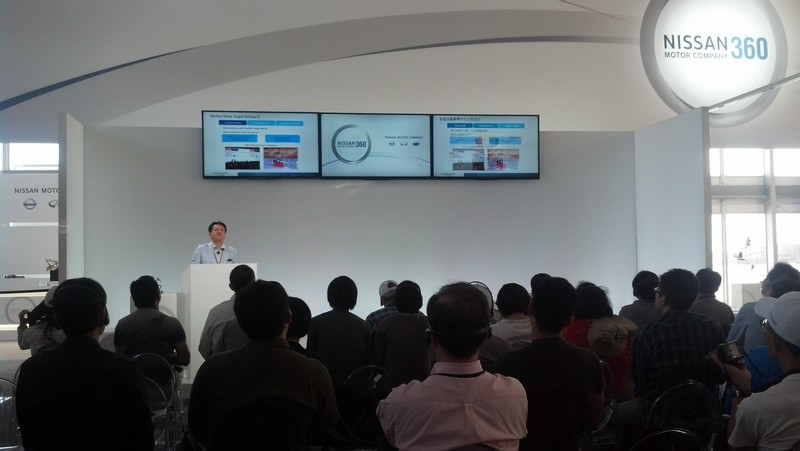 With the presentation over, attendees were free to engage in their activity of choice, and I made an immediate beeline to the Nissan Performance and Technology Center, where I was able to get up-close and personal with some of Nissan's current motorsports hardware. Also in this area were the NISMO Test Track, and the GT Academy competition display.
Ready to check out some Nissan Motorsports? Join us for Part 5!