Whew! All that truck driving made me hungry… but where to eat in the middle of a decommissioned airfield? Nissan had that handled too. Three of Southern California's award-winning food trucks were on site for three hours, serving up gourmet fare. I highly recommend the Original Dogzilla (but I went back for seconds, and got some Mahi Mahi tacos – because, you know, I needed to write about 'em. Right?) Just in case you're the dessert type, there was a Ben & Jerry's cart tucked among the food trucks, scooping up big servings of ice cream to keep us cooled off in the hot California sun.
After lunch, we attended another Executive Session, where Victor Nacif spoke at length about Nissan's research and design elements, its advances in zero-emissions motoring, and its global alliances. This is the kind of stuff that the end-user doesn't often get to learn about, but it's interesting for those of us who are industry enthusiasts.
With the drive tracks opened again, I thought I'd go wander around and sample some of the world cars… Before I could, my event device alerted me that I was to report to the Nissan360 GT Academy Face-Off. I figured it had to be a mistake, considering my difficulties with the whole video game thing, but I guess my best time kept me in the mix. Each driver would get one timed lap in the NISMO 370Z, with the fastest time winning the event.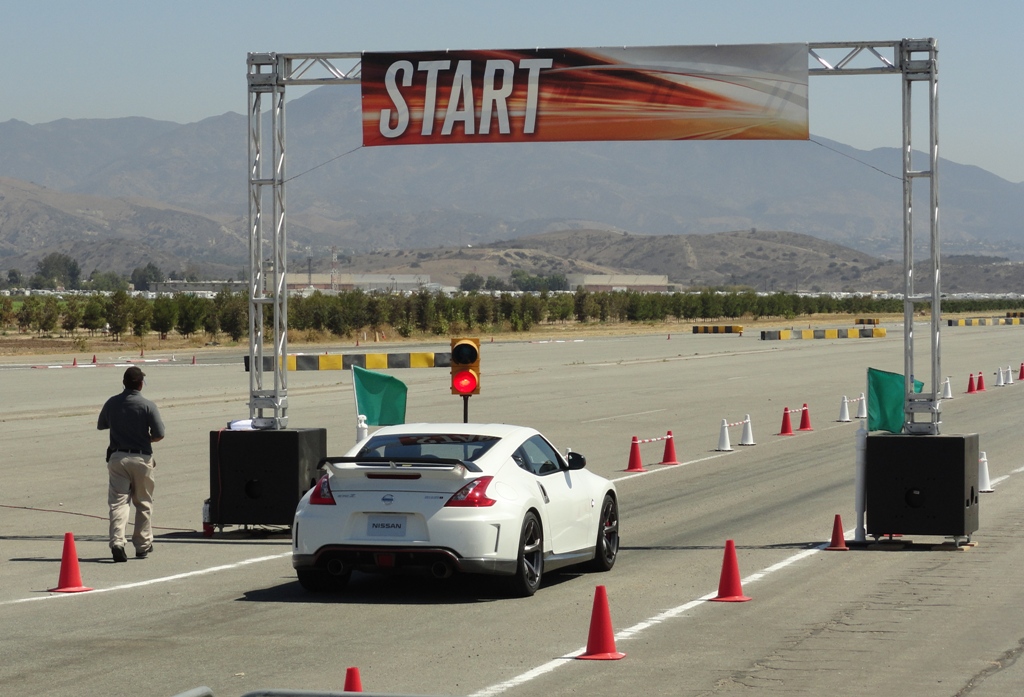 Sadly, two drivers beat my time (including a fellow who decimated two defenseless cones, earning a +2 second penalty). Sorry, guys – I really wanted to bring one home for the NICOnauts.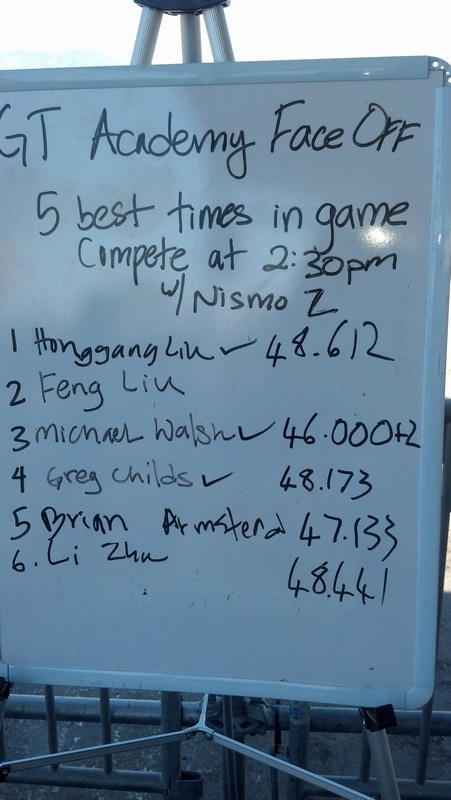 The day's big winner? Brian Armstead, Editor in Chief at Automotive Rhythms. Brian and I got to be buddies over the course of the event, and I learned three things about him: One, he's 6′ 9″ (and barely fits in a 370Z), two, he had a LOT of practice driving that NISMO 370Z on the course while I was off playing with trucks (cheater!), and three, he's a talented automotive journalist – Check out his site!
After sustaining that humiliating defeat at the hands of the Jolly Giant (HA!), I needed some relaxation – I found it at the Bose display, where Mary Ma, Senior Marketing Manager, showed off the Infiniti Q50's impressive Bose system… with a big-screen television in front of the windshield, and a live concert playing on the system, it really did feel like being in front of a live band. The soundstage demo was equally impressive, with one of the National Geographic-style nature videos showing off the multi-dimensional theater capabilities of the in-car entertainment system. You can check out the infographic here:
Infiniti Q50 Bose Audio System Details and Specifications
I hope you're all still hanging in – Next, we're going to go check out some concept cars! Nissan 360 – Part 8