The ZEOD RC (Zero Emission On Demand Racing Car) the world's fastest electric race car, will reach speeds of more than 180 MPH and is powered by the same lithium battery technology as the Nissan LEAF. It will make its competitive debut at the 2014 Le Mans 24 Hours, where it will be driven by Le Mans veteran and inaugural GT Academy champion Lucas Ordonez.
You're all familiar with the Red Bull Infiniti Formula 1 car, and it's incredible in person.
And this was playing on the big screens – Too cool not to share. Check it out!

After chatting with GT Academy winner Ashley Oldfield, I decided to try my hand at the Nissan360 GT Academy Face-Off. The five best lap times for the day (Suzuka Circuit, GT4) would get the opportunity to compete in the NISMO 370Z for bragging rights. A one lap, winner-take-all, mad dash to the prize. Now, I'm no video game guy. I rarely sit still, and it's been well over a decade since I played any video games. In fact, Gran Turismo was still in its first iteration… Still, I climbed into one of the Sony Playstation Gaming Sleds that are used in the qualifying rounds of GT Academy, muddled through a few laps, and didn't expect to be in contention for a spot in the Face-Off at 2:30 pm.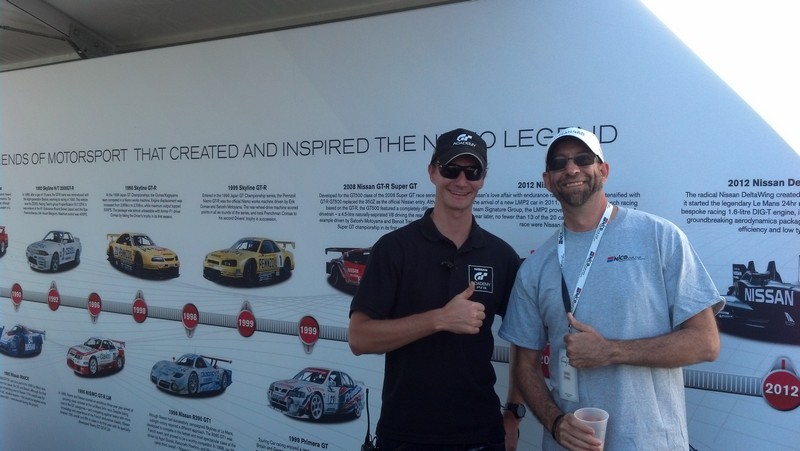 In the meantime, I took a couple spins in the NISMO Leaf RC – the world's first 100% electric, no tailpipe, track-ready race car. Lest you think this thing is a marketing gimmick or a trailer queen, you'd be wrong. The RC uses a standard Leaf's lithium-ion battery pack and 80-kW, 107-hp AC synchronous motor. However, it's all wrapped in a carbon fiber monocoque and body panels, weighing in at 40% of a standard Leaf.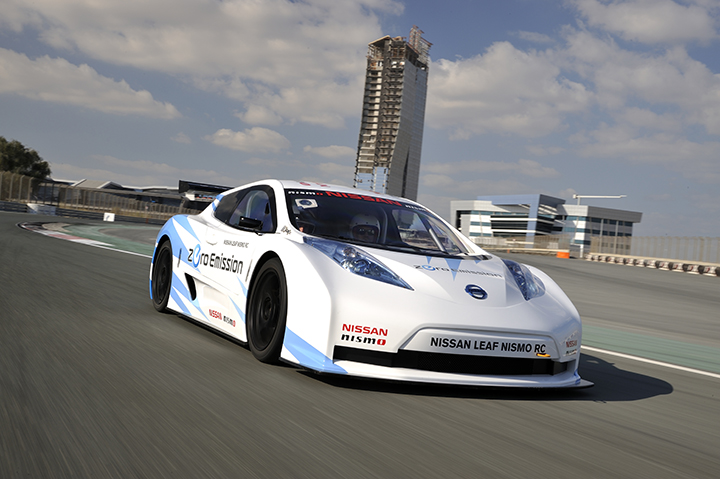 We're talking about the beauty of power-to-weight ratios here, and the Leaf RC suspension is more "shifter kart" than "street car." Watching it navigate the course, you're struck by its silence, even at full-boogie.
Driving the Leaf RC, you notice a few things: One, it only has two pedals, and realistically, the left (brake) pedal is rarely needed. Two, steering is less than a turn lock-to-lock – with instantaneous torque, the steering needs to keep pace with the responsiveness of the drive wheels. Lastly, despite what you hear when watching the Leaf RC from the outside, the driver gets a different sensation – You hear everything. The R-compound tires continually spray the bodywork with pebbles, the electric motor whines aggressively, and when off-throttle, you can distinctly hear the air rushing over the contours of the car. It's a car that doesn't LOOK terribly impressive on paper, but is an absolute adrenaline rush when you get behind the wheel. I was so enthralled with the instantaneous acceleration, I bypassed the first turn, taking a quick shortcut between the
cones… Here's a video of my first outing in the Leaf RC:
After my outing in the NISMO Leaf RC, I took a few more laps in some of Nissan's and Infiniti's finest track-worthy cars. The G37 IPL has come a long way since I sold my supercharged G35 Coupe, and it's a car I could definitely live with on a daily basis. In fact, I found it easier to drive fast than the Nismo Z (which we'll get back to later). The 370Z Roadster and Coupe are both cars you could daily-drive, and enjoy the occasional HPDE track day or autocross event, without risk of embarrassment. The 370Z Roadster has really come a long way since the 2005 350Z Roadster I drove back in 2006, and it's easily in the running for top choices if you're looking for a droptop GT under $40k.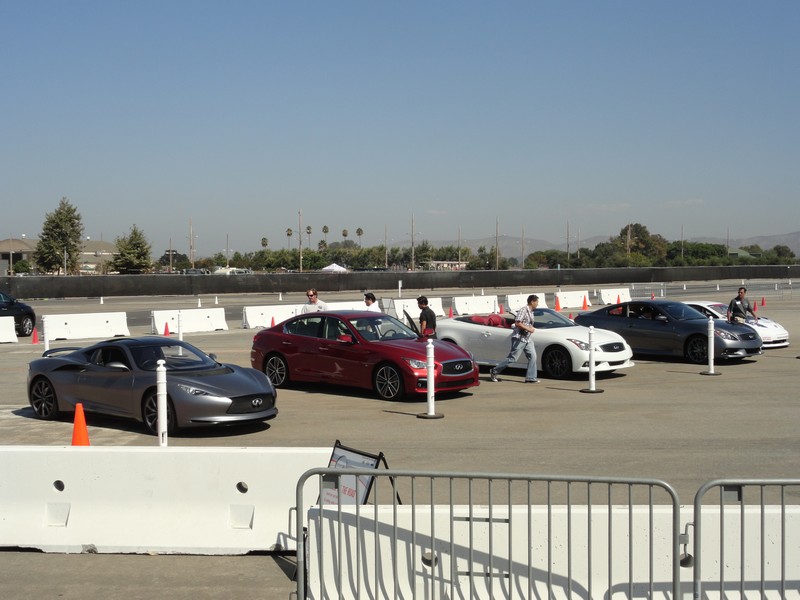 Obviously, I couldn't drive and film at the same time, but here's a video of some of the vehicles that were available to drive, showing them on the courses Nissan set up for us:
Sadly, I didn't get to experience the Infiniti Emerg-E Concept, but there it was in all its menacing glory. Several other attendees got to take laps behind the wheel of this technological marvel, and I think it's a car that could give Acura, Porsche, Tesla, and Audi a run for their money.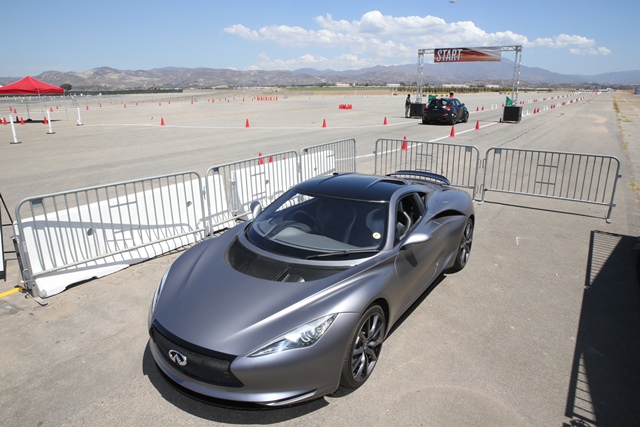 Let's go check out some TRUCKS! – Join me here: Nissan 360 – Part 6